Guests

8

Cabins

4

Model

Motors

Year Built

2005
Additional Rate Information
Additional Rate Information
Additional Rate Information
June & September: EUR 7.950,00/per week
July & August: EUR 8.450,00/per week
Plus: VAT 12% and A.P.A. 25%
Weekly Rates include: yacht, crew of 2 in separate quarters.
VAT rate is determined by applicable tax legislation and may be subject to change without prior notice or responsibility on the Broker, the Stakeholder or the Owner. Should any changes in applicable tax legislation take place after the issuance of a charter agreement resulting in changes in total amount(s) due then the difference will be credited or debited accordingly to the Charterer.
Location Details
Summer Area: Greece
Winter Area: Greece
Location Details: She is located at Marina Alimos/Athens

CAPTAIN: Vasilis (Bill) Malles
Born and raised in Greece, he has always been fascinated by the strength of the wind,
the beauty of the sea and the open horizon.
He started living his dream getting salty on board a 34 feet Sweden Yacht sailing boat.
He's been privileged and honored to meet and sail with extremely experienced sailors and
even compete with them logging thousands of miles in offshore racing and a few trophies.
At some point in his life he found himself living abroad accumulating training and
sailing experiences. He's holding a series of sailing certificates such as US SAILING, RYA,
Hellenic Offshore Racing Club.
He has been working as a freelancer, skippering various kinds of boats (sailing, power,
traditional Greek caïques) and sharing his passion for sailing the Greek waters with his
occasional crew. When he is not working he is sailing on board his own sailing boat.
HOSTESS / DECKHAND: Roula Tamaresi
Born and raised in Greece, she used to spend her childhood summers in a small fishing
village on her family's island of origin, somewhere in the Ionian Sea, on board small fishing
boats owned by the family and in her mother's kitchen where her mom and grandma were
mastering local recipes capturing her senses.
These childhood experiences and her many years of experience in the business world
after her college studies in marketing forged, besides her organizational skills, her high energy
can-do attitude at all times, her creativity flair and her genuine hospitality services to meet
her guest's and captain's expectations. "We were treated like family", that's her goal.
Previous Experience
Stewardess – 3 years experience on Gulets in Greece.
| | | | | |
| --- | --- | --- | --- | --- |
| Captain | Vasilis Malles | Greek | 1971 | Greek, English |
| Crew | Roula Tamaresi | Greek | | |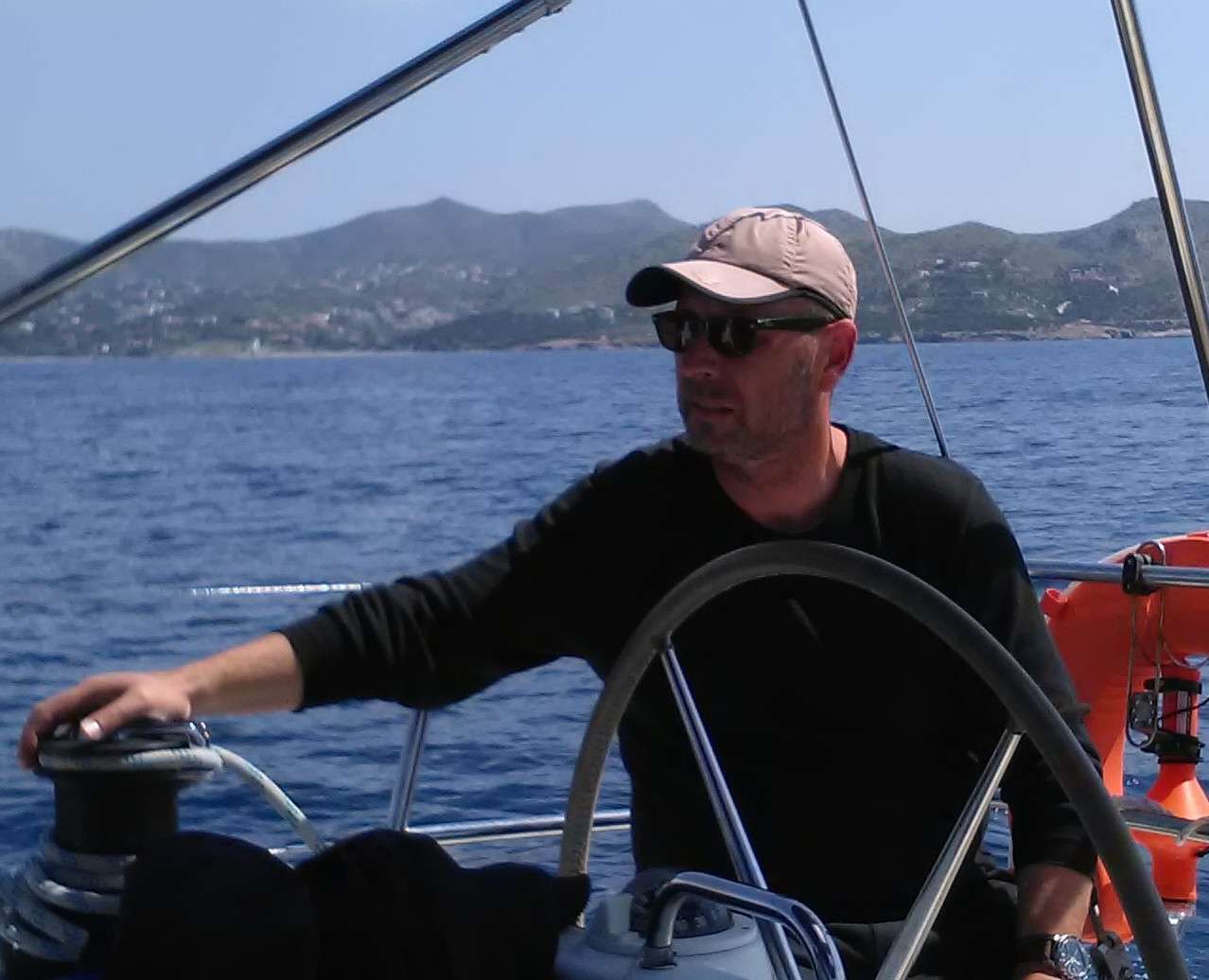 Captain
Vasilis Malles
Ammenities
Generator
1 x Onan 13.5 kw
Other Toys
Board games:
Tavli
Monopoly
Chest
Scrabble
8 guests in 4 cabins
Four Double Bedded Cabins
Two cabins with en-suite facilities
Two cabin sharing the same bathroom / WC
Independent A/C in all cabins
BREAKFAST
Coffee (regular, espresso, cappuccino, instant, frappe, Greek coffee) / Tea / Milk (Low Fat and Regular) / Natural Juices (orange, grape fruit or other selections) / Corn flakes and Oatmeal / Fresh and Toasted bread (slices) / Butter / Jelly-Marmalade / Chocolate spread/ Greek Honey / Greek Yogurt / Eggs (omelet, sunny, poached, scrambled) Cake, Croissants, Fruits in season
MEALS
MENU 1 
Appetizers: "Greek Tzatziki" strained yogurt with cucumber, minced garlic and virgin olive oil
Salad: Green salad with fresh spinach, croutons, trimmed goat cheese and orange vinaigrette 
Main Courses: "Moussaka" sweet eggplants layered with potatoes and creamy béchamel sauce                                                                                             
Dessert: "Baklava" honey-soaked layers of crunchy phyllo dough filled with spiced walnuts and pistachios
MENU 2
Appetizers: "Melitzanosalata" smoky purple eggplants dip
Salad: Greek salad with tomato, cucumber, pepper, olives, red onion, caper and feta cheese
Main Courses: Roasted lamb with rosemary, lemon and mustard served with baked potatoes
Dessert: "Rizogalo" rice and milk pudding with vanilla extract and lemon zest
MENU 3
Appetizer: "Tyropita" small cheese pies with Greek feta cheese, eggs and yogurt
Salad: Tossed romaine lettuce tomato and radish with virgin olive oil and fig balsamic vinegar
Main Course: Greek "Yemista" baked tomatoes and green bell peppers stuffed with a mixture of rice, chopped vegetables and fresh herbs
Dessert: "Chocolate Tahini Halva" sesame seeds paste with honey and chocolate
MENU 4
Appetizer: "Dolmadakia" summer vine leaves stuffed with rice and herbs
Salad: "Cretan Dakos" barley rusks with fresh pomodoro tomatoes, feta cheese and black olives
Main Course: Greek "Beeftekia" grilled beef patties served with Artichokes a la Polita
Dessert: Bergamot spoon sweet and almonds served with soft vanilla ice-cream or Greek yogurt
MENU 5
Appetizer: "Gavros" lemon marinated raw anchovies with garlic and parsley
Salad: Tuna salad
Main Course: Shrimps "saghanaki" cooked in tomato sauce with Greek Ouzo, feta cheese and fresh basil served with orzo pasta
Dessert: Creamy panna cotta served with strawberry sauce
MENU 6
Appetizer: "Spanakopita" traditional pie with spinach, leafy greens, herbs and feta cheese
Salad: Boiled fresh vegetables with oregano, virgin olive oil and fresh lemon juice     
Main Course: Chicken fillet with colored bell peppers, caramelized onions, corn and
sweet-sour sauce served with basmati rice
Dessert: "Bougatsa" sweet pie with vanilla custard, ground sugar and cinnamon
MENU 7
Appetizer: "Tyrokafteri" feta cheese spicy dip with red chilies
Salad: Beetroot salad with Greek yogurt
Main Course: "Pastitsio" Greek lasagna dish with cooked minced meat and béchamel topping with nutmeg and cheese                                                                                                                           
Dessert: Greek semolina halva
MENU 8
Appetizer: "Taramosalata" fish roe dip
Salad: Steamed mixed vegetables
Main Course: Honey Mustard Glazed Salmon
Dessert: Greek yogurt with thyme honey, walnuts and cinnamon
We can also prepare for you a variety of dishes according to your preference. This is only an indicative list to which you have the flexibility to choose and combine whatever you would like to taste.
Ed Hamilton & Co. endeavors to provide the most up-to-date yacht information, availability and rate details, however, all information published on this site is subject to change without notice. Please contact us for the most current yacht information, availability and rate details.