Guests

8

Cabins

4

Model

Cat

Year Built

2012
Additional Rate Information
Additional Rate Information
Additional Rate Information
Additional Rate Details:
HIGH SEASON (July – August): EURO 10,700.00
MID SEASON (June & September): EURO 9,700.00
LOW SEASON (Rest months): EURO 8,400.00
Plus: Vat currently at 12% and APA 20%
Above rates include crew of 1.
7 days minimum charter during high season or upon request.
VAT rate is determined by applicable tax legislation and may be subject to change without prior notice or responsibility on the Broker, the Stakeholder or the Owner. Should any changes in applicable tax legislation take place after the issuance of a charter agreement resulting in changes in total amount(s) due then the difference will be credited or debited accordingly to the Charterer
Summer Base Port: Athens
Summer Operating Area: Greece
Winter Base Port: Athens
Winter Operating Area: Greece
Location Details:
Marina Alimos, Kalamaki, Athens.
Location Details
Summer Area: Greece
Winter Area: Greece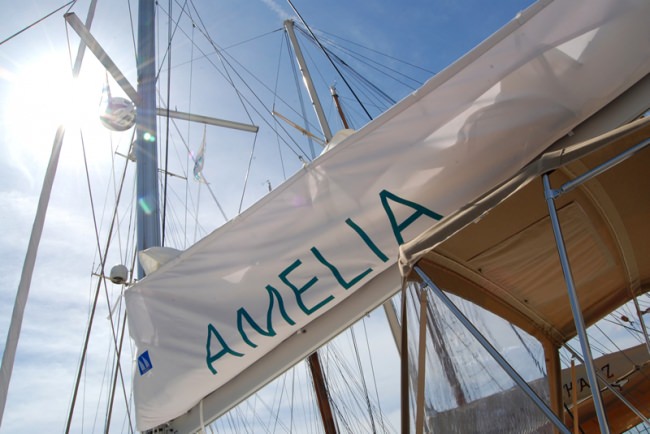 CAPTAIN: Periklis Safaris
Periklis has had extensive experience with most Greek Charter companies as skipper for Island Sailing in the Mediterranean waters for Greek and Turkish waters, since 2012.
Also he has worked for numerous major Yacht Builders for International Yacht transportation e.g Jeanneau, Beneteau, Bavaria , GibSea, Lagoon, Fountain Pajot, Feelings, Bristol etc.
Periklis has a high ability to live and work with other people in places where communication is important and in situations requiring teamwork.
Also his ability to address specific mechanical problems has made him a valuable Skipper on board through the years.
Education AND SPECIALIZATION:
RYA/MCA YACHTMASTER OFFSHORE, power and sailing certificate of competence
RYA Power Boat Level ΙΙ Certificate.
Racing sailing course of P.O.I.A.TH.
Off-shore / open sea skipper license of P.O.I.A.TH.
Technological Educational Institue of Athens: Food Engineer – Department of : Oenology and Technology of beverages.
IEK Anavryta: School of Viticulture and Vinification
OPEN UNIVERSITY OF GREAT BRITAIN: Arts and Humanities – History of arts
Racing Sailing:
His participation in offshore sailing competitions: six (6) entries in the international Aegean Rally, four (4) entries in the Aegean Regatta Sailing Rally of North Aegean and many participations in local / regional races (Ionian Sailing Week, Cyclades, inshore triangle races etc.)
| | | | | |
| --- | --- | --- | --- | --- |
| Captain | Periklis Safaris | Greek | 0 | English, Greek |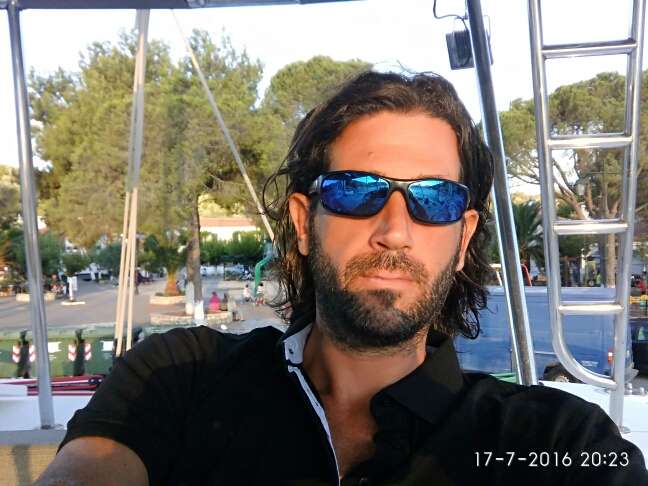 captain
Periklis Safaris
4 double bed cabins all with private facilities
Four heads
All cabins fully air-conditioned.
Crew of two in separate cabins.
Breakfast:
coffee, tea, fresh orange juice, Greek yogurt with honey and walnuts, pancakes with eggs and bacon, French toasts with eggs and bacon, fresh fruit platter, Greek omelet with toasted bread, fresh bread, croissants, cake (eggs can be grilled, sunny, poached, ad scrambled)
Snacks & Sandwiches:
A variety of snacks will be served two times a day (before lunch and during sunset cocktail) including but not restricted to : spreads and dips, olives, marinated fish, a selection of local Greek meze, cold cuts and cheese platters, omelets, eggs and bacon, yogurt and fruit/nuts/honey, Club Sandwich (Ham or Turkey), Smoked Salmon, Feta Cheese and Tomato Sandwich.
Salads:
Many salads based on fresh local produce are prepared on board. With extra virgin olive oil from some of the finest Greek olive oil producers, selected vinegars and balsamico crèmes as well as some of the finest mineral salts and spices complement this feast of fresh and invigorating tastes. Among others and not restricted to: Greek Village Salad, Chefs Salad, Salade Niceoise, Caesars Salad, Tuna Salad, Pasta Salad, Rucolla & Parmesan Salad, Spinach and nuts Salad.

Main Dishes:

Agrιmi Chicken:
Chicken Filet toped with virgin olive oil scented with fresh fruit juices and local Greek spices and herbs. Served with Green Salad or rice and or boiled vegetables. 

Poulet aux fruits:
Chicken with a sauce of fresh fruit, ginger and wine. Served with Green Salad or rice and or boiled vegetables. 

Chicken with Yogurt:
A very refreshing recipe toping chicken filet with a fine sauce of Greek yogurt, cardamom and sweetvgreek chili. Served with Green Salad, rice and or boiled vegetables.

Sausage with Orange:
A recipe from Crete with ginger simmered in wine and topped with Kalamata balsamico cream. Served with green salad and yellow local cheese. 

Arnaki/Katsikaki sto fourno:
A traditional Greek celebration dish. Lamb or piglet in the oven scented with lemon and oregano with olive oil. Spiced with a variety of Greek spices and herbs. Served with baked potatoes and Greek salad. 

Filet a la creme or aux poivres:
Served with oven baked potatoes and rice and vegetables.

Psari sti Gastra:
Fresh fish baked in the oven topped with a sauce of olive oil and lemon scented with oregano. Served with boiled vegetables potato salad and feta chese. Fresh Salmon baked under a layer of fresh tomato and potatoes. Served with rice and salads.

Fresh salmon a la Creme de Champagne:
Served with pasta and salads.

Fish a la Spetsiota:
Toped with virgin olive oil, fresh tomato and scented with Greek herbs and spices. Baked in the oven and served with boiled vegetables feta cheese and Greek salad.

Florina Peper in the oven:
Green Pepers from the area of Florina stuffed or not with white Greek cheese baked in the oven, served with Greek salad.

Fasolakia Ladera:
Avery common traditional Greek vegetarian dish with green beans and potatoes in tomato sauce served warm or cold with feta cheese, olives and Greek salad.

Ntomates kai Piperies Gemistes:
Another very common traditional dish that can also be vegetarian. Tomatoes and Green Peppers stuffed with rice and herbs and minced meat baked in the oven with potatoes and olive oil. Served with feta cheese and Greek salad. 
A variation of pasta dishes can also be prepared.

Desserts: 
Yogurt with honey and nuts, Strawberries with fresh cream or cream caramel, Greek baklava, Greek chalvas, Galaktompoureko, Fruit in Season, Ice-cream, Coffee
During meals a bottle of wine per two guests is served or beer and refreshments.
We can also prepare for you a variety of dishes according to your preference. This is only an indicative list to which you have the flexibility to choose and combine whatever you would like to taste.
Ed Hamilton & Co. endeavors to provide the most up-to-date yacht information, availability and rate details, however, all information published on this site is subject to change without notice. Please contact us for the most current yacht information, availability and rate details.