Guests

8

Cabins

4

Model

Cat

Year Built

2019
Additional Rate Information
Additional Rate Information
Charter Rates Per Week
| Rate Period | Terms | 2 Guests | 3 Guests | 4 Guests | 5 Guests | 6 Guests | 7 Guests | 8 Guests | 9 Guests | 10 Guests | 11 Guests | 12 Guests |
| --- | --- | --- | --- | --- | --- | --- | --- | --- | --- | --- | --- | --- |
| Summer 2020 | Plus Expenses | €34,000 | €34,000 | €34,000 | €34,000 | €34,000 | €34,000 | €34,000 | €0 | €0 | €0 | €0 |
| Summer 2021 | Plus Expenses | €34,000 | €34,000 | €34,000 | €34,000 | €34,000 | €34,000 | €34,000 | €0 | €0 | €0 | €0 |
Additional Rate Information
WINTER 2020-2021 – ATHENS, NAPFLION – UNAVAILABLE
2 guests: USD 40 000
4 guests: USD 41 500
6 guests: USD 43 000
8 guests: USD 44 500
NEW YEAR WEEK: 2-8 guests: USD 53 000
XMAS WEEK: 2-8 guests: USD 50 000
We suggest to collect a small APA of 10% to cover:
Transfers
Cruising permits, local & governmental taxes outside the BVI's
Champagne, specific alcohols orders & special requests (for Grenadines, also standard table wines and beers are in extra)
License and fishing permit if any
Marina fees if any
Customary crew Gratuity at Charterers' discretion
Included:
Full board for guests and crew
All beverages including standard wines & bar within reasonable consumption (except in the Grenadines)
All cruising permits, local & governmental taxes in the BVI's only
Leisure & sport equipment aboard
Flowers on the embarking day
Internet & WIFi access
Fuel for engines & tender
Delivery might be required.
SUMMER 2021 – Weekly rates for 2-8 guests / MYBA terms
July – August: 34 000 Euros + 30% APA + 13% VAT
May – June-September: 32 000 Euros + 30% APA + 13% VAT
October: 28 000 Euros + 30% APA + 13% VAT
Location Details
Summer Area: Greece
Winter Area: Greece
Location Details: WINTER 2020-2021: UNAVAILABLE
SUMMER 2021: Available from May in GREECE (Greek licensed)
Early season in the SARONIC GOLF then in the IONIAN ISLANDS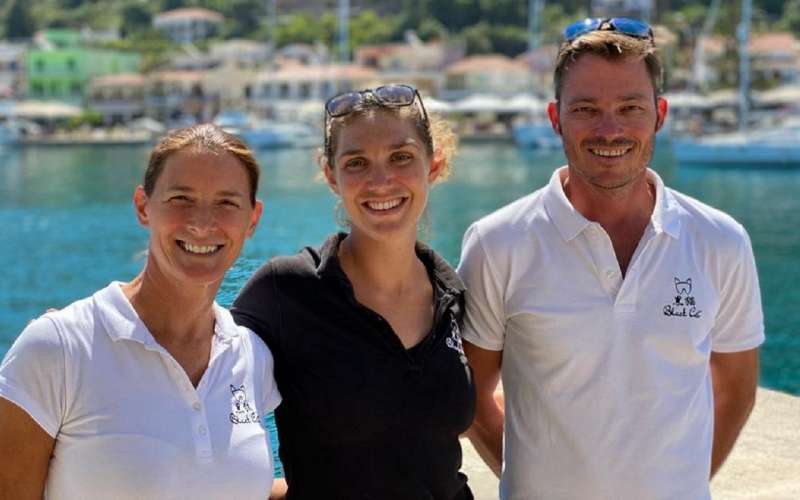 CAPTAIN: Sebastien TSCHULL
French
STCW 95 – PADI Divemaster, level 4 CMAS
Languages: French, English
CHEF: Pauline BOULAY
French
STCW 95 – PADI Divemaster, level 4 CMAS
Languages: French, English
Since 8 years we are sailing, from Mediterranean Sea to Pacific Ocean and we know very well West Indies.
Our shared passion is the sea. We love playing with the wind and sail along the water to discover her wildlife and wonderful landscapes.
What we love is to share these magical moments, a perfect anchorage, sunrises or race with dolphins,…and to offer to our guests an unforgettable experience.
With our great cruises experience we can adapt as close as possible to the desires of our guests.
Sebastien knows perfectly the wakeboard and love learn and frame nautical sports.
For those who like to put the head under water, we accompany who wants for snorkeling. We are both dive master and level 4 CMAS and know very well marine species from Mediterranean and west indies.
Sebastien studied manufacturing plastic and composite. He began to work by producing carbon mast for sailing vessels like one off, race and for famous shipyards. After spending 8 years of manufacture he had decided to focus on sail.
His several navigations, off shore and inshore, and greats knowing permit him to become a Captain.
He gets all his degrees top of his class.
He had sailing on a lot of kind of vessels like mono-hulls, catamarans and trimarans.
As he had many miles on the sea he is prepared and trained for all types of situations. Cruises be held in a climate of trust and security.
His seriousness and perfectionism are exploited to be as close as possible to the expectations of his guests.
Pauline was always passioned by cook. She became cook 8 years ago for the first time on a sailing vessel. She decided to learn also to sail. She passed his captain license, so she can help the captain when he needs.
Each new destination is perfect to learn new recipes. She knows very well French cook but also Italian, West indies, Polynesian, and Asian cook. She especially like to cook fresh fish that she buys on the coast or the best way, the one we fish!
She only works with very fresh products and as possible organic. Meals are always healthy and balanced. But she doesn't forget the gourmand, she cooked also delicious pastries.
She proposes during all day different snacks, sweet or salted, and cocktails or smoothies.
STEWARDESS: Coraline RAVIDAT
French
STCW,
Languages: Fluent English, Basic Italian.
I'm working in yachting world since 8 years, I have mainly worked on M/Y from 65 feet to 147 feet. Naturally positive and smiling, I will do everything i can to ensure that my experience makes your stay unforgettable.
In first I studied and worked in the world of architecture and interior design. Then life led me to discover the world of yachting where I was able to put at service my skills and personal values in a context more corresponding to my personality. Let this be in my sense of detail, the pleasure to fill, to surprise with little attentions, my artistic sense to create beautiful tables to sublimate the succulent dishes of Pauline.
Some other "wellness" assets that can be appreciated: trained and graduated in India "international yoga instructor", trained in rebound treatments, energy massages or even "beauty" assets: makeup, manicure, various esthetic treatments. (On request only, please let me know your interest when booking).
Today, I am happy to have joined the team of "Black Cat" with Sébastien and Pauline. So to have the chance to welcome you with the quality and the requirement of a 5* service.
| | | | | |
| --- | --- | --- | --- | --- |
| Captain | Sebastien TSCHULL | French | 0 | French, English, Italian |
| Crew | Pauline BOULAY | French | | |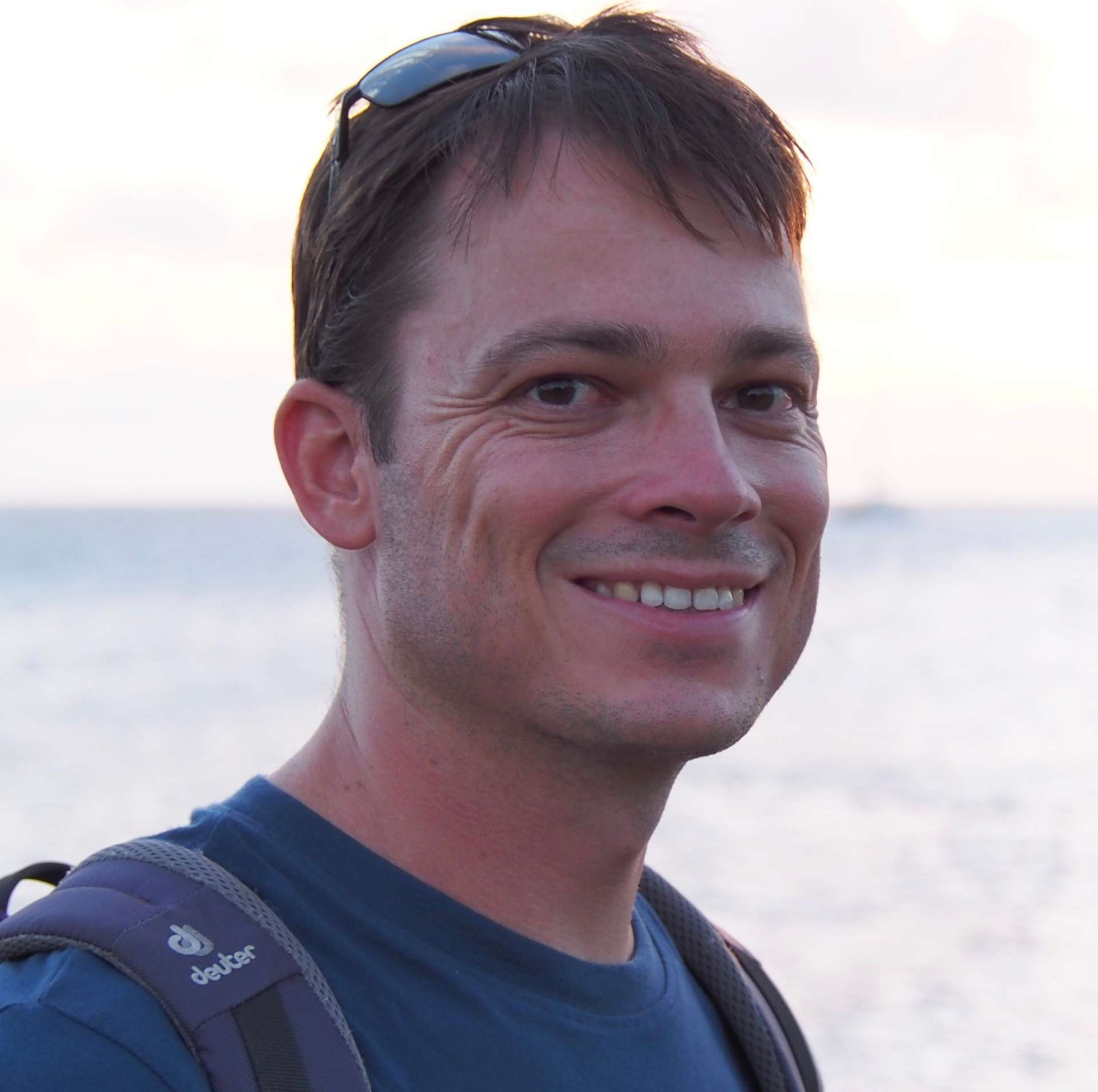 CAPTAIN
Sebastien TSCHULL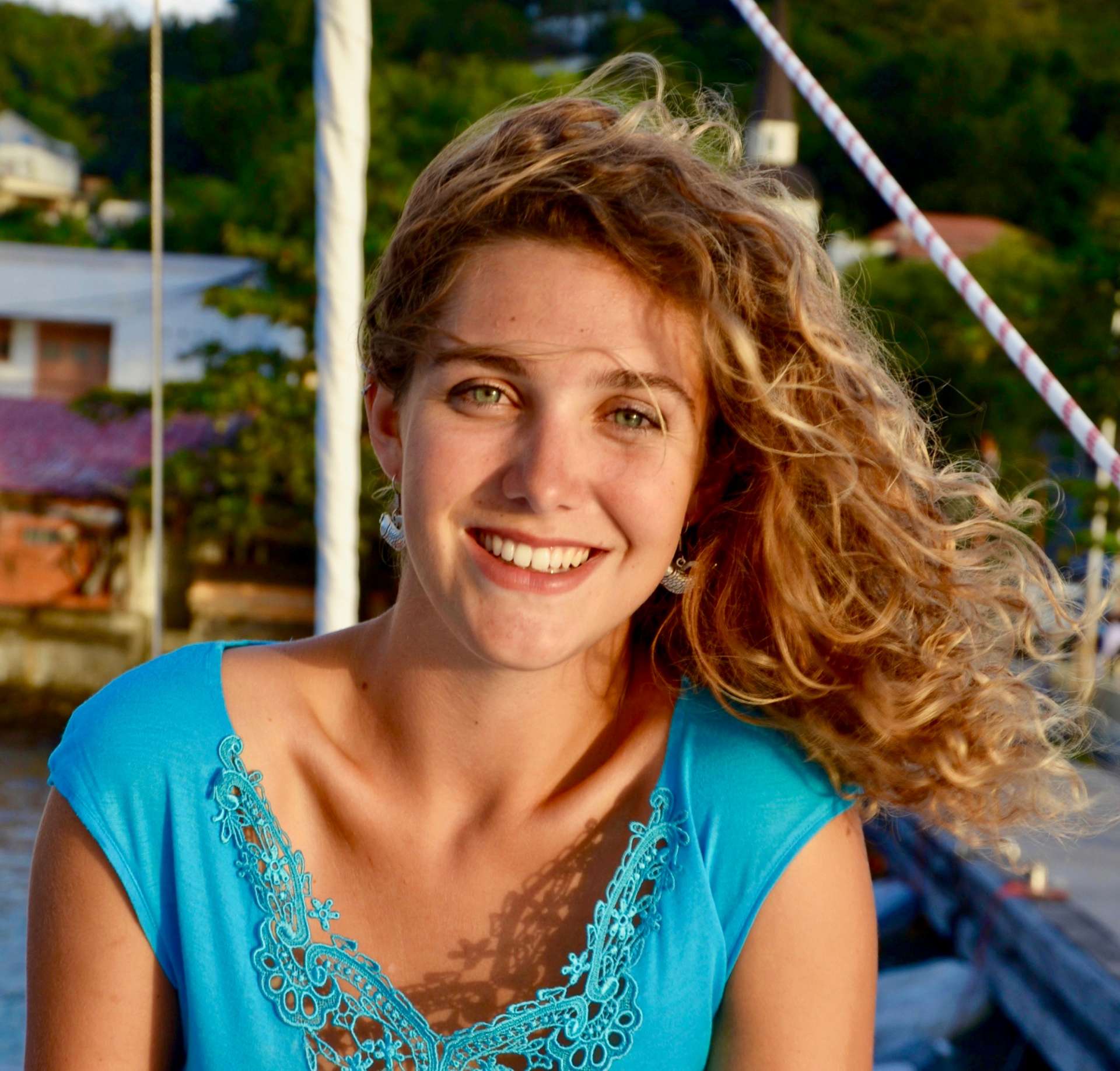 COOK
Pauline BOULAY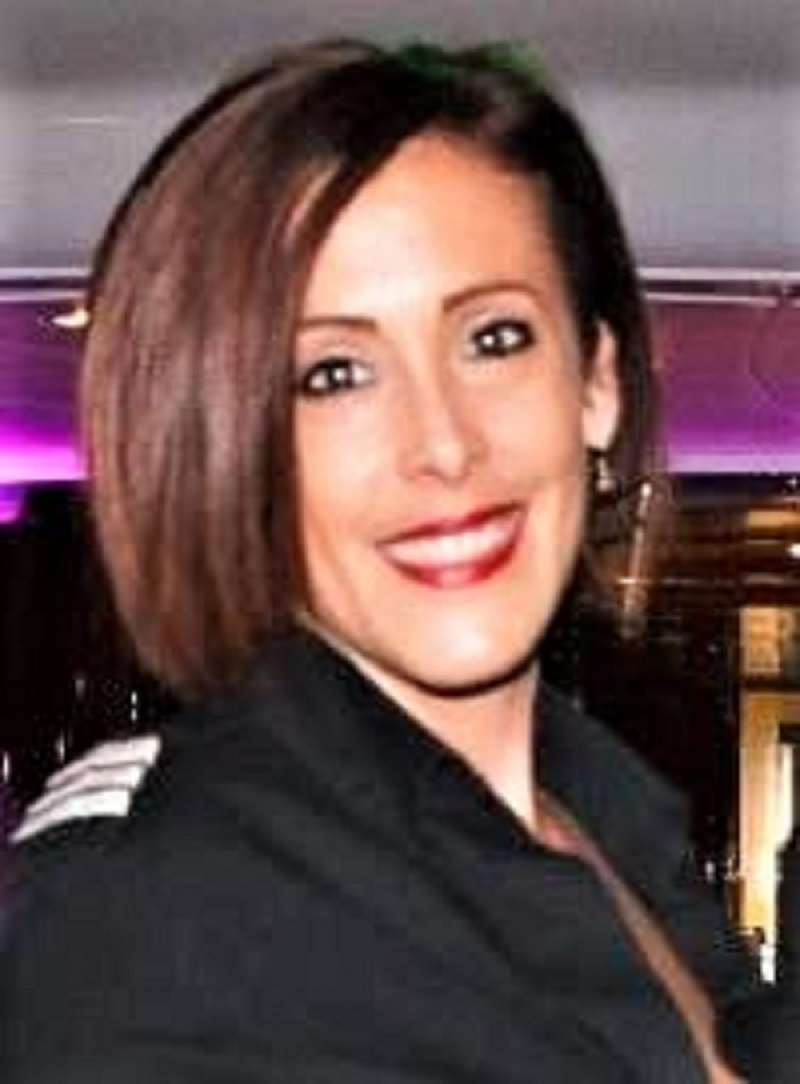 STEWARDESS
Coraline RAVIDAT
Ammenities
Generator
D3 / 150 CV Volvo Penta
Leisure
Dinghy
Williams Tenderjet 435
Other Toys
Williams Tenderjet 435 / 150 HP / 14.27 ft. / 7 guests

2 Water skiing for adults (bi & mono) + 1 Water skiing for kid (bi & mono)
1 Wakeboard for adults + 1 Wakeboard for kid (shoe size 37 to 44)
2 Seabob F5S
2 inflatable Windsup (SUP)
2 inflatable 6.56 ft. kayaks (with an additional small kid possible)
1 Boy JobSea ESTA for 3
Snorkeling equipment for 10
Fishing equipment (3 rods, belts and lures)
1 Gopro
Noddles - Beach games
1 drone - crew use only and depending of weather conditions.
BLACK CAT is accommodating up to 8 guests as below:
Starboard:
1 Master cabin with King size bed
1 ensuite double cabin with Queen size bed
Port side:
2 ensuite double cabins with Queen size beds
All cabins (except the peak) are equipped with TV, bluetooth, plugs, ,hair dryer, private A/C control and offering bathroom set
The Master cabin is offering also a safe.
BLACK CAT
SAMPLE MENU by Pauline BOULAY
 
BREAKFAST
All breakfasts are served with coffee, tea, milk, chocolate, local fresh fruits juice and fresh fruits
Eggs: scrambles, fried, boiled or omelet, with spinach, mushrooms, ham
Plate of cheese, bacon and ham with toasts
Homemade bread, brioche and cakes. Pancakes, crepes or bagels
Yogurt with fresh red fruits and granola with a little bit of honey
 
APPETIZERS
Goat cheese espuma and smash zucchini glass
Green mango salad and pickles
Puff with homemade tapenade and dried tomato.
Accra, Samosa
Makis with fresh fish or vegetables
Mix of fresh vegetable with humus and tatziki
 
COCKTAILS
Mojito, PIna colada, Gin tonic
Tequila sunrise, Margarita
Punch coco, Manhattan
Arranged rum, Ti punch
 
STARTERS
Fried shrimps with sweet sour dressing.
Fresh cold soup with pumpkin, ginger, coconut milk.
Mango and crab tartar.
Eggplant nems with lemon dressing and ricotta.
Ursin Flan.
Roasted scallop with vanilla dressing.
Exotic salad with shrimps, avocado and grapefruit.
 
MAIN COURSES
Columbo pork and local vegetables.
Grilled lobster and different kind of dressings with fresh salad and smash vegetables.
Papillote fish with green pepper and smash sweet potatoes.
Shrimps risotto with crustacean espuma.
Duck breast with orange chutney with roasted potatoes.
Entrecote with a mix of dressing and vegetables.
Marlin blanquette with linguine.
Fish carpaccio with ginger and curcuma dressing with sashimi sauce
Tahitian fish with rice and coconut milk and roasted banana plantain
Smoked fish with quinoa salad, nuts and ginger dressing
Chicken with coconut and lemon dressing with roasted fresh vegetables and basmati rice
Grilled fish, « beurre blanc » dressing with vegetable flan
Half cooked tuna with sesame seeds and soja sauce, salad
Nice salad with chicken stuffed with pesto sauce, nuts, apple, cheese and dried tomatoes
 
DESSERTS
Profiteroles
Mille feuilles
Roasted pineapple with coconut mousse
Banana cake
Exotic tiramisu
Maracudja mousse
Chocolate cake
Fresh fruits and vanilla salad
Fruits and sabayon
Tatin pie
Homemade sorbet
Ice cream cup
Moka
Fresh fruits with chocolate dressing
Ed Hamilton & Co. endeavors to provide the most up-to-date yacht information, availability and rate details, however, all information published on this site is subject to change without notice. Please contact us for the most current yacht information, availability and rate details.