Guests

6

Cabins

3

Model

Cat

Year Built

2019
Additional Rate Information
Additional Rate Information
Charter Rates Per Week
| Rate Period | Terms | 2 Guests | 3 Guests | 4 Guests | 5 Guests | 6 Guests |
| --- | --- | --- | --- | --- | --- | --- |
| Winter 2021 to 2022 | Inclusive | $16,500 | $17,000 | $17,500 | $18,000 | $18,500 |
| Summer 2022 | Inclusive | $16,500 | $17,000 | $17,500 | $18,000 | $18,500 |
| Winter 2022 to 2023 | Inclusive | $17,000 | $17,500 | $18,000 | $18,500 | $19,000 |
| Summer 2023 | Inclusive | $17,000 | $17,500 | $18,000 | $18,500 | $19,000 |
Additional Rate Information
GENERAL NOTES:
LESS THAN 7 NIGHT CHARTERS: For 6 nights divide by 7N X 6N. For less than 6 nights, divide by 6N X number of nights.
MINIMUM NIGHTS: 6 inquire for less.
If cruising area includes BVI, rates are PLUS permits, licenses and fees which are to be paid by client.
BVI PORT FEE: Add $400 each end for BVI ports other than West End or Jost
SLEEP ABOARD Sleep aboard the night before charter dates. Available for $1,200 per night. Includes snacks, welcome cocktails & continental breakfast. Dinner is to be taken ashore at client expense. EXCLUDES: Christmas and New Year's weeks.
HALF-BOARD OPTION: Includes 7 breakfasts, 4 lunches & 3 dinners, happy hour canapes, standard ships bar and snacks. Other meals ashore at client expense.
2@$16,700 3@$17,050 4@$17,400 5@$17,500 6@$17,850
LOCAL FARE OPTION: Includes 7 breakfasts, 5 lunches & 6 dinners, happy hour canapes, standard ships bar and snacks. Other meals ashore at client expense.
2@$16,850 3@$17,275 4@$17,700 5@$17875 6@$18,300
CHRISTMAS/NEW YEARS: 7 night minimum, VIRGIN ISLANDS
CHRISTMAS: 1-6 pax $20,000
NEW YEARS: 1-6 pax $22,000
New Years must start no earlier than 12/27
Christmas must end no later than 12/26
Location Details
Summer Area: Caribbean Virgin Islands
Capt. Nick Boin
Many people don't initially consider Chicago to be a Coastal City, but it is. It has a thriving boat community, and it is the starting line to the longest fresh water sailboat race in the world. This is where I'm from. I love being from Chicago. I love city bike rides, the delicious food, and in the winter I loved taking vacations to somewhere warm and tropical. I remember always being amazed by the ocean and all the beautiful sea life.
After completing my degree in engineering I travelled around a lot but eventually I ended up finding a new home on the Island of Maui, Hawaii. This is where I got my first boat job crewing for snorkels and whale watches. I had never loved any job more, and my engineering background made me extremely useful. As my skills as a deckhand sharpened I jumped on the first opportunity to crew on a sail catamaran, the rest, as they say, is history.
Enrolling in captain school was my birthday present to myself. Shortly after completing captain school is when I met Lauren. We both loved the ocean, hiking, and adventure sports and it turned out we grew up not too far from each other so we naturally hit it off. We started racing on a mono haul sailboat together and formed strong bonds with our team. Lauren had caught the sailing bug too, With enough determination we knew we could use this skill to see the world. We are excited to be in the Virgin Islands and want to share our adventure with you.
Chef Lauren Wylie
As the first mate, chef and professional photographer on board C'est La Vie, I will ensure total guest satisfaction and more on charter!
Growing up on a lake in Wisconsin I always felt at home on the water. I've been water skiing and wakeboarding since I was 6 years old. In college I studied photography in Milwaukee. In 2014 I moved to Maui which was the best thing I could have done for my then budding wedding photography career. In my free time I took up all the awesome water sports that come with living on a tropical island.  I took a job on the boats just to get closer to the whales. But what I really found was a combination for my passion for the water and for photography onboard sail catamarans.
My Mother's side is Croatian, so I grew up cooking traditional Croatian cuisine but don't worry my palate doesn't stop there, I like to incorporate all different styles of cuisine in my cooking and am always up for any special requests guests may have!
| | | | | |
| --- | --- | --- | --- | --- |
| Captain | Nick Boin | USA | 0 | English |
| Crew | Lauren Wylie | USA | | |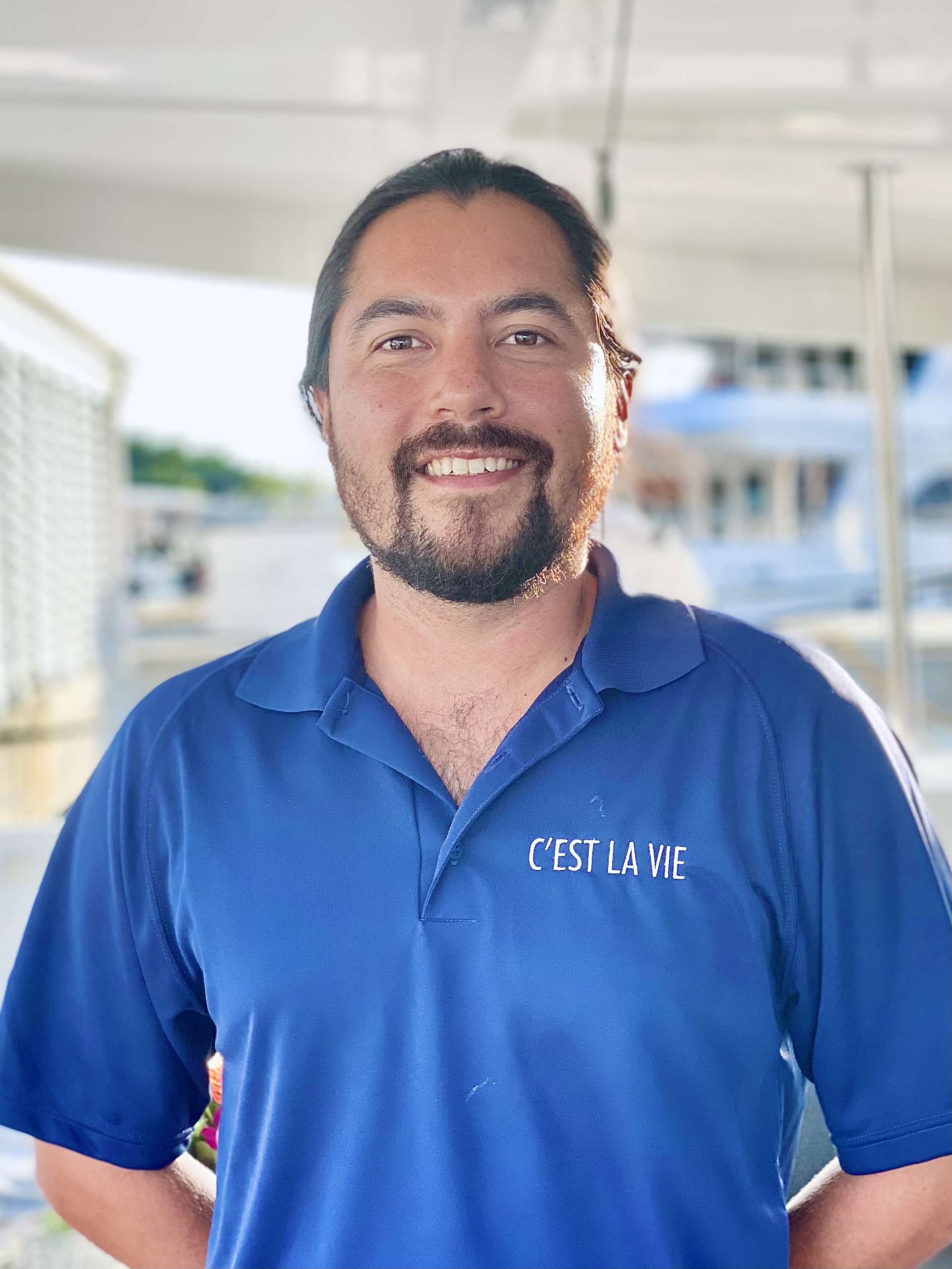 Captain
Nick Boin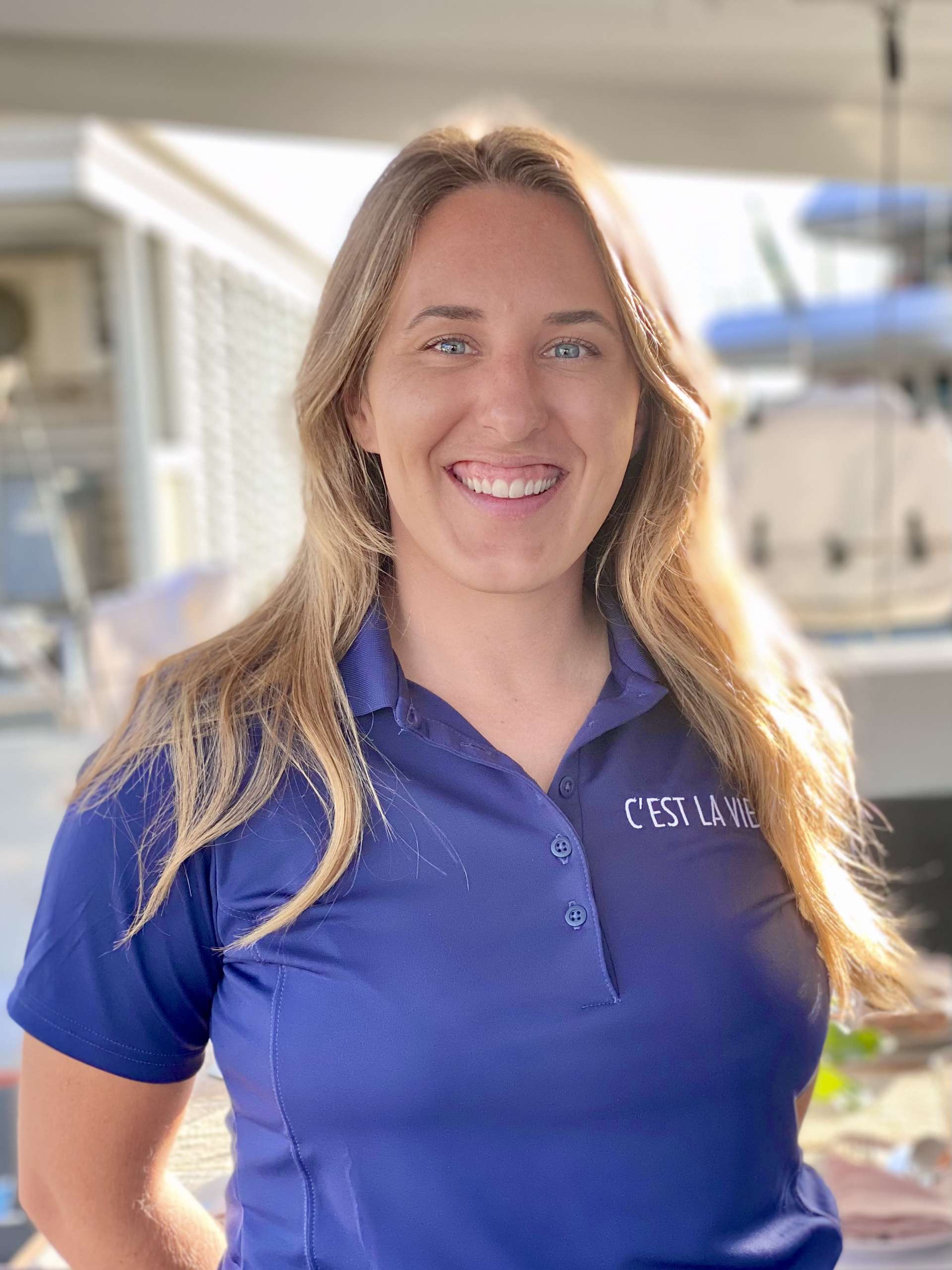 Chef/First Mate
Lauren Wylie
Ammenities
Generator
Onan 11Kw Generator
Water Maker
yes 7.92 gallons/ho
General
Guest Smoke
smoking allowed on sugar scoop
Leisure
Dinghy
Highfield 11.16 ft.
Other Specs
Turn Around
48, inquire for 24hr
Boarding Ladder
Sterntern sugar Scoops
Scuba Onboard
Yacht offers Rendezvous Diving only
Three queen staterooms each with ensuite electric toilets, shower stall and vanity. All cabins are fully air-conditioned. Spacious salon, aft cockpit, forward cockpit plus top fly-bridge for lounging options.
Appetizers
Walnut and apricot Brie with cucumber and artisanal cracker
Roasted Red Pepper Hummus Platter with cold couscous salad and tzaziki sauce
Butternut squash ravioli with goat cheese and arugula
Breakfast
Eggs Benedict / Florentine
Lox Bagels with capers red onion and cream cheese
Crepes with fresh fruit
Omelets (Denver, spinach and goat cheese, )
Cinnamon Rolls with fresh fruit
Avocado Toast with eggs made to order
Lunch
Chicken and red pepper Empanada with cilantro avocado sauce
Jerk Chicken with pineapple salad
Steak/chicken/mahi-mahi tacos with fried plantains
Cubano Sandwich with pickle and chips
Hawaiian Hamburger – Swiss Cheese, pineapple, ham, teriyaki sauce
Veggie Option – sub Black Bean Burger
Dinner
Blackened Mahi-Mahi with mango chutney, Cajun style rice and coleslaw (Tiger
Sauce if possible)
Steak with Asian Sesame Green Beans and mashed potatoes
Chicken Parmesan with angel pasta and Caesar Salad
Caribbean Shrimp with black bean and rice
Drink Menu
Pain Killer with fresh nutmeg
Mint Mojito
Passion Fruit Margarita
Dark Rum
Ed Hamilton & Co. endeavors to provide the most up-to-date yacht information, availability and rate details, however, all information published on this site is subject to change without notice. Please contact us for the most current yacht information, availability and rate details.