Guests

6

Cabins

3

Model

Cat

Year Built

2020
Additional Rate Information
Additional Rate Information
Charter Rates Per Week
| Rate Period | Terms | 2 Guests | 3 Guests | 4 Guests | 5 Guests | 6 Guests |
| --- | --- | --- | --- | --- | --- | --- |
| Winter 2021 to 2022 | Inclusive | $17,000 | $17,500 | $18,000 | $18,250 | $18,750 |
| Summer 2022 | Inclusive | $17,000 | $17,500 | $18,000 | $18,250 | $18,750 |
| Winter 2022 to 2023 | Inclusive | $17,000 | $17,500 | $18,000 | $18,250 | $18,750 |
Additional Rate Information
GENERAL NOTES:
LESS THAN 7 NIGHT CHARTERS: For 6 nights divide by 7N X 6N. For less than 6 nights, divide by 6N X number of nights.
MINIMUM NIGHTS: 6 inquire for less.
If cruising area includes BVI, rates are PLUS permits, licenses and fees which are to be paid by client.
BVI PORT FEE: Add $400 each end for BVI ports other than West End or Jost
Sleep aboard the night before charter dates. Available for $1,200 per night. Includes snacks, welcome cocktails & continental breakfast. Dinner is to be taken ashore at client expense. EXCLUDES: Christmas and New Year's weeks.
HALF-BOARD OPTION: Includes 7 breakfasts, 4 lunches & 3 dinners, happy hour canapes, standard ships bar and snacks. Other meals ashore at client expense.
2@$16,700 3@$17,050 4@$17,400 5@$17,500 6@$17,850
LOCAL FARE OPTION: Includes 7 breakfasts, 5 lunches & 6 dinners, happy hour canapes, standard ships bar and snacks. Other meals ashore at client expense.
2@$16,850 3@$17,275 4@$17,700 5@$17875 6@$18,300
CHRISTMAS/NEW YEARS: 7 night minimum, VIRGIN ISLANDS
1-6 pax $20,000
NEW YEARS: 1-6 pax $22,000
New Years must start no earlier than 12/27
Christmas must end no later than 12/26
Location Details
Summer Area: Caribbean Virgin Islands
Winter Area: Caribbean Virgin Islands
Originally from Atlanta, Ga, Sy was born in 1987 to a family rooted in hospitality and
travel. His passion for the ocean began early during his summers on the shores of
Amelia Island, Fl. After college he spent nearly a decade in hospitality management.
Prior to finding his passion as a Merchant Marine he managed an event venue and
Historic Bed and Breakfast in Amelia Island. In early 2017, Sy stumbled upon the
beautiful islands of the Florida Keys. Although initially a three month sabbatical from
work sailing on a friends Cheoy Lee, the journey quickly changed his life forever. The
crystal clear waters and fruitful life offered in Key West captured his heart. Three of the
past four years he has spent sailing catamarans for FURY Water Adventures.
Specializing in snorkeling, backcountry mangrove tours, and parasailing.
Born in Perth, Western Australia in 1988 and raised in the harbor city of Darwin,
Northern Territory. Kara is the oldest of eight adventurous children raised in the bush
of the Outback. Her father inspired the love of the sea with regular sails along the
coast of northern Australia and throughout neighboring Indonesia. After a career
driving haul trucks in the mines of Australia she set off to explore the world. Living
throughout Indonesia, Thailand, and Europe she eventually found her way to the US.
After a two year stay in New York City she found her way to eclectic Key West, Fl in
2016, soon there after taking work as a crew member with FURY Water Adventures.
Sy and Kara's love for each other started with their mutual love for the ocean. They
met while working with FURY and living on neighboring boats in the mooring field of
Key West. They have spent the last 3 years together growing as a couple as well as
individuals. Kara worked as chef and mate for a charter spearfishing company as well
as working during the summers as ground support and chef for a TP52 Series Team in
Europe. Sy has grown from mating on 65' catamarans to becoming a proficient
captain of the vessels, and eventually becoming fluent with all the catamarans in the
FURY portfolio. Together these guys have driven across two countries and
circumnavigated the continent of Australia in their faithful LandCruiser. They are a
polished well rounded duo who aren't afraid to roll their sleeves up in the name of
adventure.
***CREW IS FULLY VACCINATED AGAINST COVID-19****
| | | | | |
| --- | --- | --- | --- | --- |
| Captain | Sy Hubert | USA | 1987 | |
| Crew | Kara Bellemente Hubert | Australian- US Permanent Resident | | |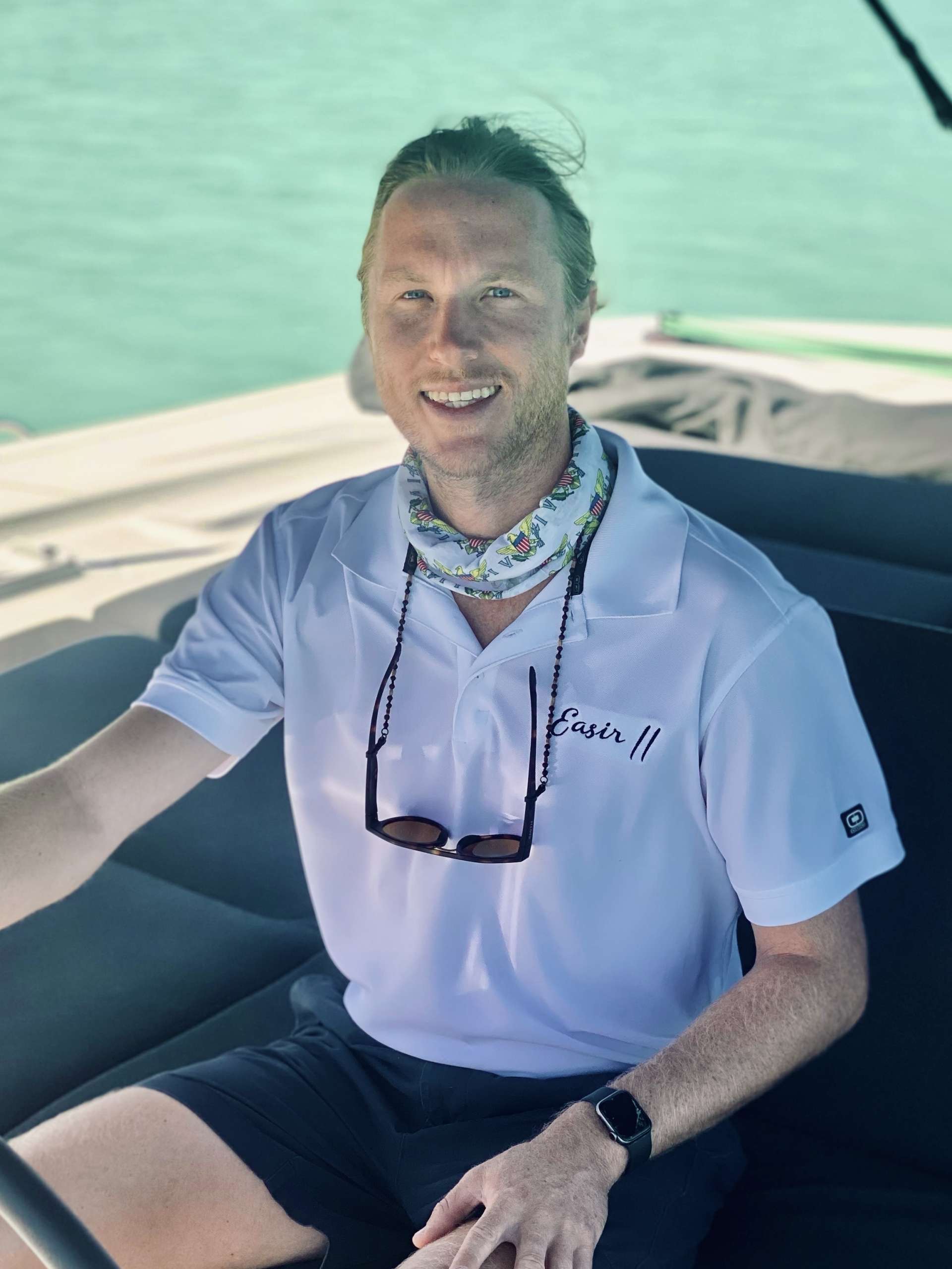 Captain
Sy Hubert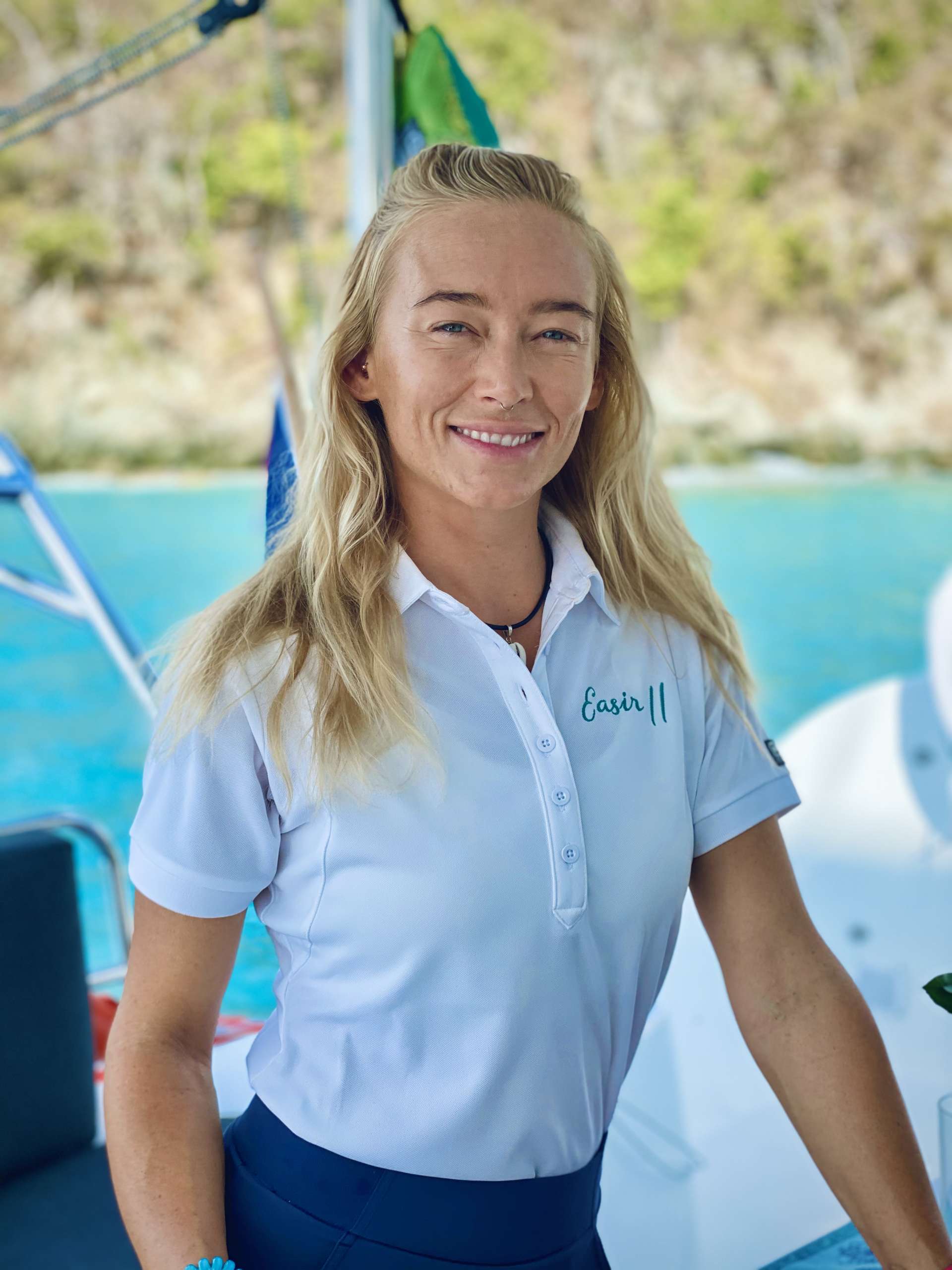 Chef/Mate
Kara Bellamente Hubert
Ammenities
Generator
Onan 11Kw Generator
General
Min Child Age
Water safe - bring life vest
Leisure
Dinghy
Highfield 11.16 ft.
Other Specs
Turn Around
48, Inquire for 24
Scuba Onboard
Yacht offers Rendezvous Diving only
Other Toys
1 - Lily pad
1 - Subwing
BBQ
Breakfast
Southern Eggs Benedict
poached egg with pulled pork on English muffin topped with homemade hollandaise sauce
Kam's Gluten Free Banana Pancakes
pancakes made of blended bananas and egg w/fresh fruit, maple syrup, and bacon

Cook to Order Omelettes
your choice of local sourced veggies, protein, and cheeses cooked to order in a 2 egg omelette

Smashed Avo on Toast
smashed avocado on toasted bread of your choice, topped with feta cheese and balsamic glaze – accompanied with poached egg on a bed of arugula

Texas French Toast
conventional french toast with a southern twist of a cornflake casing, served with 100%
maple syrup and fruit garnish

Shakshuka
poached eggs in bed of tomato, onion, and garlic; garnished with feta and cilantro

Sweet Crepes
classic crepe topped w/ homemade fruit syrup and cream

Two Egg Breakfast
two eggs any style, sausage or bacon, & homefries or grits

Breakfast Burrito
onion, jalepeno, egg, bacon or sausage burrito topped w/ cilantro sour cream and pico
Lunch
Ozzy Burger
classic hamburger w/ an ozzy twist on a brioche bun with your choice of cheese and topping

Fish Sandwich
catch of the day (grilled or blackened) on a brioche bun w/ homemade aioli

Chicken Salad Wrap
homemade chicken salad in a spinach wrap

Fish Tacos
grilled or blackened catch of the day served in a flour tortilla, rice, and beans

Greek Salad
traditional Greek salad w/ homemade dressing topped with your choice of avocado or catch of the day

Mediterranean Gyros
roasted lamb & onion w/ lettuce served on pita, topped with homemade tzatziki

Stacked Watermelon Caprese Salad
Watermelon tomato mozzarella arugula salad with homemade balsamic glaze w/ catch of the day

Classic Cuban
Cuban sandwich, served with plantains and kettle chips

Buffalo Chicken Sandwich
panko breaded chicken sandwich w/ fingerling potatoes & homemade aioli

Pasta Salad
local source veggies on a bowtie pasta topped with feta and a homemade vinaigrette

Jerk Chicken Skewers
jerk chicken and pineapple skewers served with avocado corn salad


Hors d'œuvres

Ceviche of the Day

White Wine Garlic Mussels

Charcuterie Board

Buffalo Chicken Dip

Caprese Skewers

Spinach Artichoke Dip

Stuffed Peppers

Bacon Wrapped Asparagus
Dinner
Green Curry
Vegetarian curry over long grain basmati rice – add chicken or shrimp

Steak Night
Filet mignon with baked potatoes sour cream

Thai Salmon
salmon topped w/ ginger & cilantro paste served with pearled cous cous

Kara's Paella
Traditional paella with fresh local seafood and a secret Australian twist!

Chicken Piccata
Crumbed chicken with a buttery lemon caper sauce served with mushroom parmesan risotto

Spaghetti bolognese
made from scratch sauce available w/ ground mince or vegetarian

Ben's Sunday Roast
Slow cooked roast w/ potatoes, gravy, and honey carrots

Low Country Boil
Classic Cajun Boil w/ corn, onion, potatoes, andioy sausage, & shrimp

Surf and Turf
slow marinated London broil & blackened shrimp served w/ veggie medley

Christmas Dinner
oven roasted poultry, Mary's homemade dressing w/gravy, & green beans
Side Salads
(all served with house made dressings)

Caesar Salad

Greek Salad

Fresh Lemon & Arugula
Desserts
NY Style Cheesecake w/ Raspberry Compote

Apple Crumble w/ Ice Cream

Chocolate Mousse

Maple Vanilla Baked Pear

Greek Yogurt Parfait w/ Fruit

Brownie w/ Cream
** All menu items subject to local availability **
Ed Hamilton & Co. endeavors to provide the most up-to-date yacht information, availability and rate details, however, all information published on this site is subject to change without notice. Please contact us for the most current yacht information, availability and rate details.