Guests

7

Cabins

3

Model

Power

Year Built

2017
Additional Rate Information
Additional Rate Information
Additional Rate Information
Xmas + 10%
New Year + 15%
APA approx. 35% and can be assessed for each trip depending on itinerary.
Arctic and Antartica Rates*
Rates are assessed at £8,000 GBP
Weekly rate of £56,000 GBP + expenses
* additional 15% fees apply for Svalbard for Guides
Summer 2021 High Price: 30000 GBP
Summer 2021 Low Price: 30000 GBP
Winter 2021/2022 High Price: 35000 GBP
Winter 2021/2022 Low Price: 30000 GBP
Location Details
Summer Area: Northern Europe, Arctic
Winter Area: Antarctica
Location Details: Location Summer 2021: UK & Northern Ireland
May to September 2022 Norway, Slavbard, Greenland
She is available to head to the Southern Hemisphere in Winter 2021-2022 for South America, the Falklands and Antarctica.
She plans to relocate to Norway for Summer 2022 and will be available for cruising there, in, Sweden and Svalbald (June to September).
Rate Details: Based in the Channel Islands, Grey Wolf will be available for 'staycation' charters starting and ending in Guernsey.
The Channel Islands charter rate for cruising is inclusive of:
– Tax
– Breakfast
– Light lunch
– Snacks and light tapas
– 2-course evening meal
– Hot and cold drinks
– House alcohol (table wine and beer)
– Fuel for agreed itinerary
– Marina fees for agreed itinerary
Extras (to be charged at cost):
– Pre-order of any specific food/beverages
– Pre-order of any specific toiletries etc
– Crew gratuity
3 1/2 day itinerary with fixed price of GBP 15,000 based on the above inclusions/exclusions and the below itinerary:
– Day 1, Embark in St Peter Port, Guernsey at 1000 and sail and anchor overnight off the island of Alderney
– Day 2, Mid morning departure from Alderney and sail to the island of Sark with a stop seal spotting at Grande Amfroque on route.
– Day 3, Early morning departure to Herm, don't forget to get up early to watch a stunning sunrise over France. Spend an afternoon of activities on the island of Herm before returning to Guernsey and disembark at 1800.
Stretch this itinerary on to 5 days to be more relaxed with a fixed price of GBP 25,000.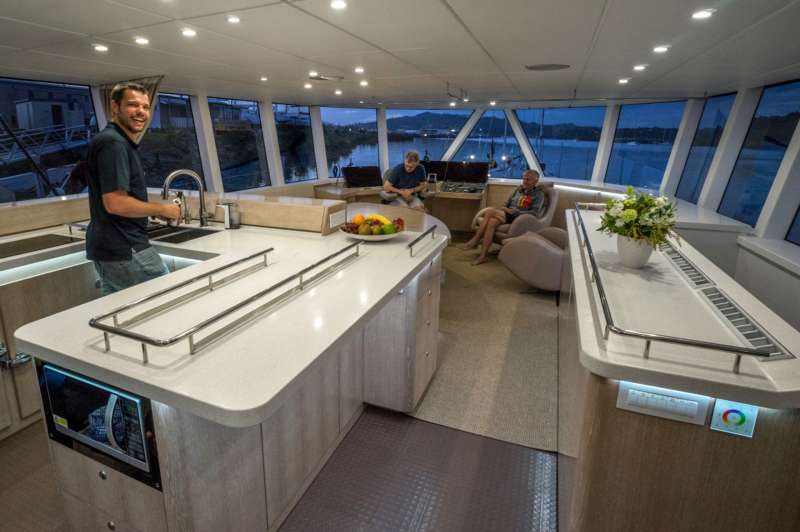 Captain Simon Lucas
Simon was a born seafarer, literally. He says, "I've been on a boat since the womb. Dad retrofitted the yacht to have baby seats, so he and mum could take the kids cruising. So, I have always been at home on the sea." He grew up in the small, seaside town of Whangaparaoa, near Auckland, New Zealand. His dad is a marine engineer, so much of his time was spent playing and working on boats. The rest of the time he was fishing, diving, hiking, and hunting. He also become an avid and talented photographer and videographer.
Simon completed his university studies in 2010 and set off to discover the world. He explored much of the planet; Europe, North and South America, Africa, Caribbean, South Pacific and Antarctica. He directed a documentary film of a two-month canoe trip from Canada to Alaska. He worked the gold mines of Northern Canada. He logged 18,000 miles in just eight months on a sailing yacht delivery. Then he met Peter on GREY WOLF.
GREY WOLF is a very special yacht, and Simon, as Captain, is a perfect fit. He is a highly experienced seaman in all ocean conditions. He loves meeting new people and sharing stories. He is a natural teacher and encourages his guests to venture just beyond their comfort zone. He says, "It's an incredible world we live in. I am privileged to have the opportunity to guide people to remote destinations and to share the experience with them. The beauty of GREY WOLF is that we can do it all and bring some homey comforts along for the ride." Charter Grey Wolf and let Simon launch your adventure.
Simon is licensed as MCA Master 200gt Unlimited, Yachtmaster Ocean, STCW Proficiency in Medical Care, MCA Approved Engine Course 1 & 2, Dive Master, 5 Basic STCW Certificates, Firearms Licence holder, BSc Zoology, PGDipSc Wildlife Management.
Ice Pilot/Captain Peter Watson
Peter's passion for adventures at sea is not surprising. It's in his blood. He grew up in Bristol, UK, a city with a strong maritime heritage. As a child he did a lot of exploring, sailing aboard his Dingy, and hiking or horseback riding in the Welsh mountains. By the time he entered college to study marine electronic engineering, he was already focused on a maritime career. Today, Peter is a highly accomplished seaman, with numerous certifications and licenses acquired during his 30 years in the marine industry.
GREY WOLF will be available for charter in the Antarctic and later to breathtaking destinations within the Arctic Circle. Peter's knowledge, experience and contacts in the Polar regions makes this journey possible. He is a qualified ice pilot. His lengthy list of achievements includes Polar Basic and Polar Advanced qualifications at the internationally renowned maritime college, Aboa Marine, in Turku, Finland. The school has been training mariners since 1813. It is one of the very few colleges to train in accordance with the Polar Code and IMO model courses.
Peter has traversed the world's oceans. His exotic adventures make for lively evening conversation aboard GREY WOLF. High latitude sailing, especially trips to Greenland, and Svalbard, is a passion. Among his most amazing recent voyages, The Long Voyage Home of FPB 64 GREY WOLF was an epic journey from Auckland to Guernsey via the Panama Canal. The trip took three months and covered more than 13,000 nautical miles. GREY WOLF is a safe, comfortable and luxurious explorer yacht. But it's Peter that makes every charter expedition the experience of a lifetime.
Chef Eve Ryan
Eve Ryan, nick-named Evie, is described fondly by friends as trustworthy, kind-hearted and brilliant. She has traveled worldwide, volunteered in Malawi, learned to sign and clocked some 10,000 miles at sea. She was born and raised in the beautiful countryside of South Staffordshire, Midlands, Britain. It was an idyllic setting for her favorite hobbies; horse riding and photography.
After graduating from UKSA Superyacht Academy, Evie worked as a stewardess on private yachts in the Mediterranean. In May 2016, she completed her first transoceanic passage, 9,500 nautical miles from Seattle, WA to Imperia, Italy. She logged the equivalent of three back-to-back Atlantic crossings. Evie's passion for adventure has led her through the Panama Canal, trekking in the Costa Rican rainforest, hiking Alaskan glaciers, salmon fishing in British Columbia and shooting aerial photos of humpback whales, orcas and grizzlies.
Evie is an innovative chef with a flair for preparing healthy living food, especially vegetarian, vegan, gluten free and paleo-style dishes. She especially likes to create dishes based on recipes collected during her travels. To expand her menu, she also completed classes at the Ashburton School of Cookery. Guests will be delighted by Evie's high level of service, thoughtful attention to detail and delicious fine dining, served up with a warm smile.
| | | | | |
| --- | --- | --- | --- | --- |
| Captain | Simon Lucas | New Zealand | 1988 | English |
| Crew | Peter Watson | British | | |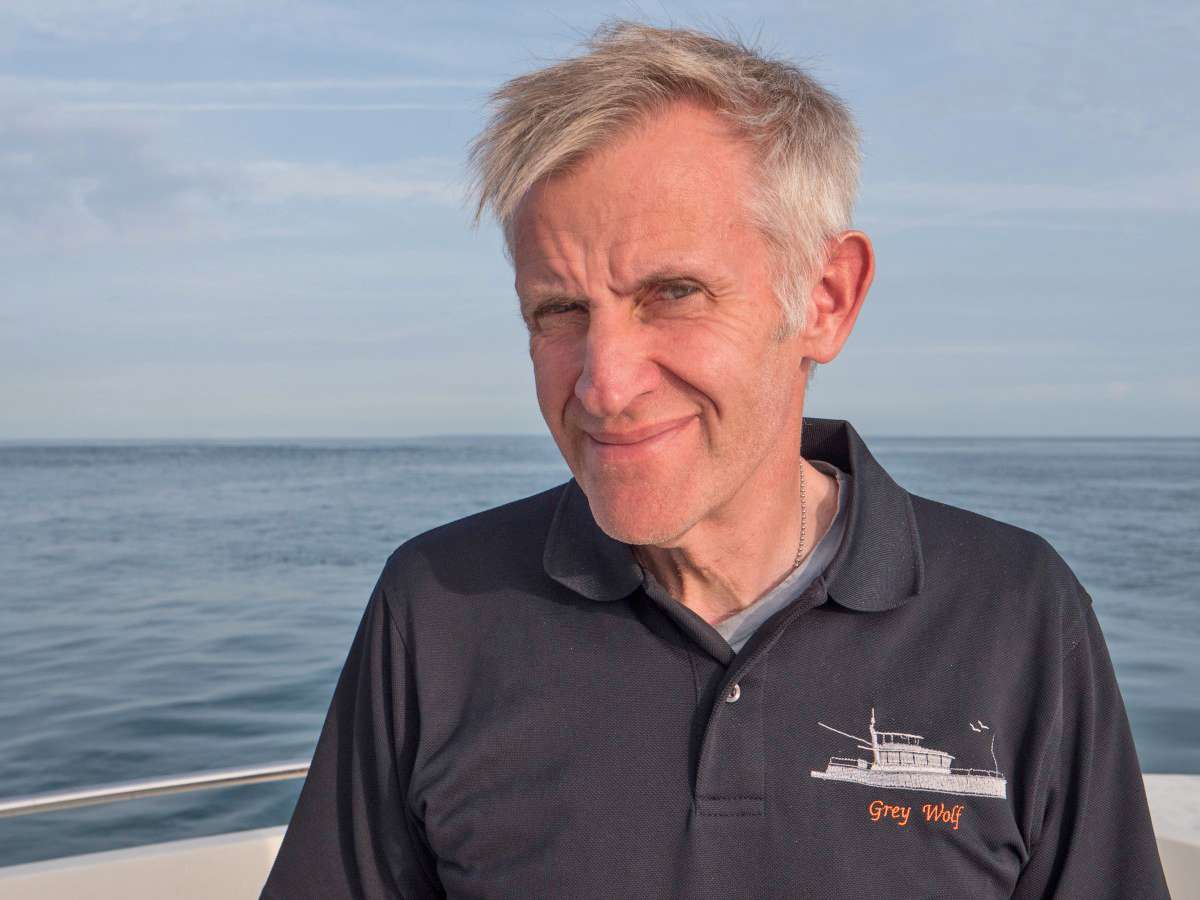 Ice Pilot / 2nd Captain /Mate
Peter Watson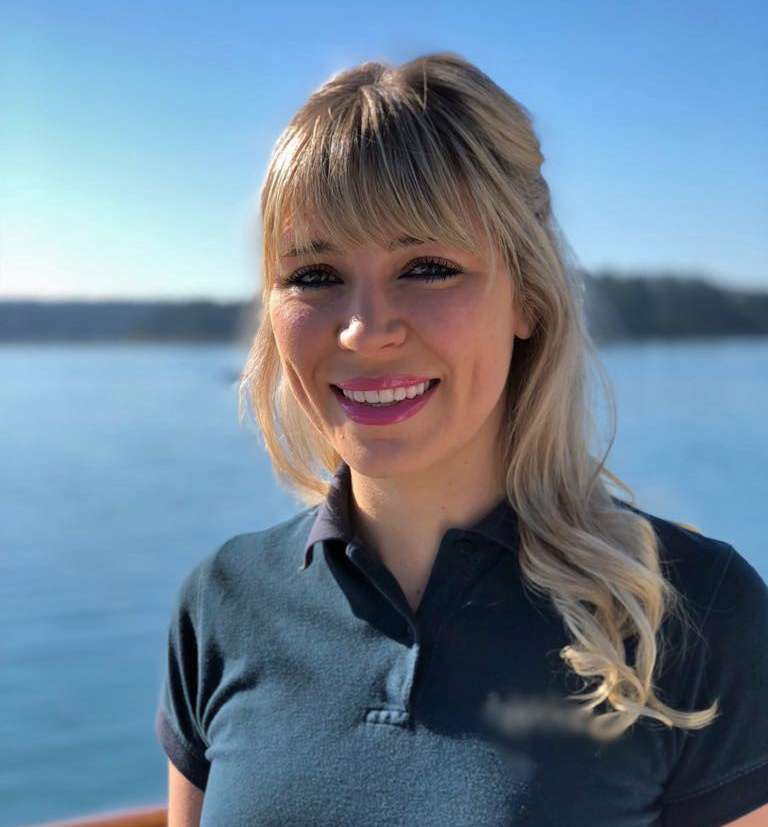 Chef
Eve Ryan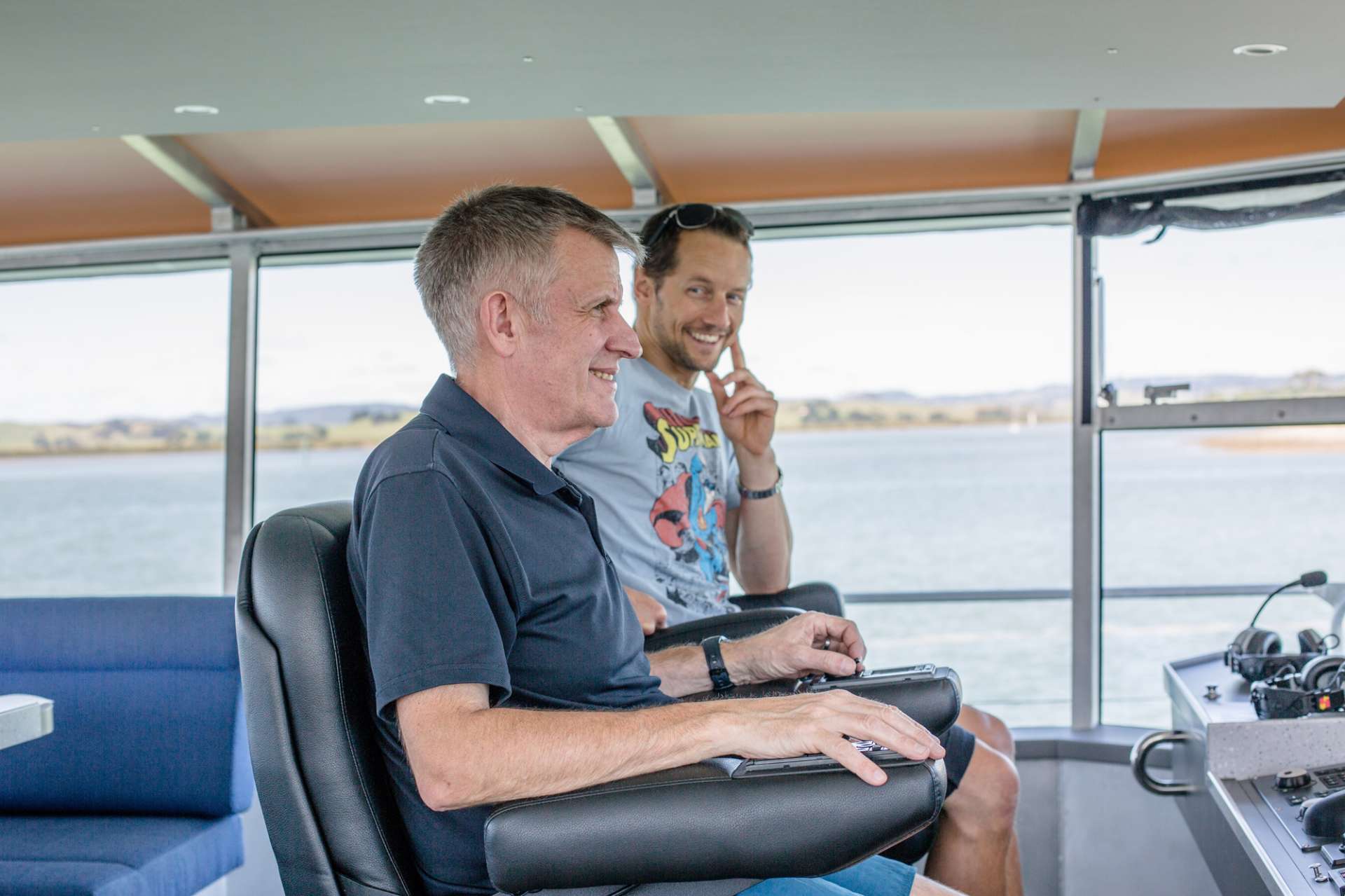 Ice Pilot and 2nd Captain/Mate
Peter Watson
Leisure
Dinghy
2 x AB Marine Ali Bottom (10 pax and 5 pax)
Dive Info
Grey Wolf has a dive compressor on board, but does not supervise dives. Certified divers must bring or rent gear. Rendezvous diving is not available in polar regions.
Other Toys
TENDERS + TOYS:

TENDER 1
AB Marine 16
4.9 m | 16 ft
70 Hp | 35 knots
Alloy Hull | Inflatable
10 POBs
AIS | GPS | Chart Plotter | Depth Sounder | VHF
Anchor | Chain | Rope

TENDER 2
AB Marine 9.5
2.9 m | 9.6 ft
15 Hp | 15 knots
Alloy Hull | Inflatable
Retractable landing wheels
Anchor | Chain | Rope
5 POBs

TOYS
Dive Compressor | 4x Alloy Tanks
2x Kayaks with Seats
Paddle/Surf Boards
Snorkeling | Spearfishing Gear
Fishing Gear
Photography Gear
Underwater Dive Scooter SUE 71079 XJ VR

Grey Wolf's interior layout sleeps up to 6 guests in 3 staterooms, including a primary suite and two double cabins. Each room has its own ensuite bathroom. For larger groups, the primary king bed can be split into two twins and the port guest has an optional pipe berth.
Primary king size bed or two twins:
1 x 1.8m x 2.03m OR
2 x 0.9m x 2.03m
Guest Port and Guest Starboard Cabins:
Double bed size 1 x 1.43m x 2.03m
Salon headroom: 2.05m
Cabin headroom: 2.03m
Day 1
Any style Eggs with your choice of mushrooms, bacon or salmon.
Chicken Caesar Salad with homemade dressing, croutons and free range organic eggs
Homemade tomato & basil soup with crusty fresh bread
Pistachio coated fillet of Salmon with a balsamic reduction and buttered leeks and carrots
Crème Brulee with vanilla snap biscuits
Day 2
Local Fruit Platter, Homemade Museli, Fresh Yoghurt
Herby Fishcakes with Lemon Sauce with a freshly prepared crisp green salad
Pan-fried scallops with pea puree & crispy Parma ham
Roasted Duck with spiced plum sauce served with baby roasted potatoes and fresh vegetables
Baileys Cheesecake with raspberry coulis
Day 3
American Style Pancakes with Maple Syrup and sauteed bananas
Tarte Alsacienne with rocket salad and house dressing
Tapas – created using local ingredients
Pan fried fresh local fish with ratatouille and homemade crispy croutons
Meringue Volcanos!! and white chocolate parfait.
Day 4
Eggs Benedict on English Muffins, crispy bacon or avocado, lightly poached egg, and hollandaise sauce.
Fahitas with floury corn tortillas, homemade salsa, guacamole, and sour cream
Tomato and Feta Bruschetta with rosemary infused olive oil dressing
Chicken wrapped in Palma Ham  with a shallot and orange sauce, parmesan polenta and seasonal vegetables
Tiramisu
Day 5
French Crepes with a selection of fruits, spreads and crème Fraiche
Seafood Risotto and homemade garlic bread
Gravlax served with vodka crème Fraiche and cucumber salad
Filet Mignon with a whiskey cream sauce, sautéed potatoes, and peas a la Francaise
Traditional English apple & rhubarb crumble with crème Anglais.
Day 6
Your choice Captains French Toast, Sweet or Savory
Local Fish curry with tomatoes, pineapple, and sauteed onion
Tomato and pesto pies with a garden salad.
Honey Soy and ginger Pork on sauteed leek with basmati rice
Birthday cake
Day 7
Potato and Onion Rosti with Poached egg and whipped cream sauce
Freshly baked bread sandwiches with your choice of fillings.
Paired meat and cheese platter
New Zealand style Lamb Roast, with roast vegetables and homemade gravy
Ed Hamilton & Co. endeavors to provide the most up-to-date yacht information, availability and rate details, however, all information published on this site is subject to change without notice. Please contact us for the most current yacht information, availability and rate details.