Guests

10

Cabins

5

Model

Cat

Year Built

2009
Additional Rate Information
Additional Rate Information
Additional Rate Information
July/August : 14900 EUR per week
June/September: 13900 EUR per week
Low Season: 10900 EUR per week
Plus : VAT 12% and expenses
VAT rate is determined by applicable tax legislation and may be subject to change without prior notice or responsibility on the Broker, the Stakeholder or the Owner. Should any changes in applicable tax legislation take place after the issuance of a charter agreement resulting in changes in total amount(s) due then the difference will be credited or debited accordingly to the Charterer
Charters for less than a week are only available upon request and the weekly rate is divided by 6.
Location Details
Summer Area: Greece, Turkey
Winter Area: Greece, Turkey
Location Details: Summer in Greece
Captain Ilias Stamatelos
Ilias is a relatively low profile but efficient and decisive person, capable of keeping his composure in difficult situations. He has good communication skills, able to get on with a wide range of personalities, but also able to be quietly assertive when the situation demands. His acquaintance with the sea started when he was young and he acquired his first sailing certificate at the age of 24; but once introduced, he was quickly hooked. Since then he has been looking for opportunities to get more skill and experience as a professional skipper. He has been skippering sailing boats, including monohull and catamaran, around the Aegean and the Ionian Sea during the last 5 years and has also participated in sailing races. Ηe has mostly worked with motor yachts of various types and sizes. He is currently holding an RYA/MCA Yachtmaster Offshore, sail and motor, both commercially. Ilias is a well organized and easy going person with a meticulous eye for safety. Languages: English, Greek Previous Yachts: "Freedom", "Mamilo", "Pathos", "Jenny Z", "Escape", "Enjoy" Interests: Travelling, water sports, apiculture
Cook/Steward Vasilis Marinopoulos
Vasilis is a qualified chef and a culinary expert with a passion for creative dishes. She has graduated from the cooking & hospitality institute of Chicago 2003 and his objects of study were Art cooking technique with specialization in cutting and preparation of meat and fish. He is also a cooking professor at Iek Akmi in Athens and holding certificates of Gastronomy essentials and Healthy cuisine. He has worked in various restaurants and joined yachting in 2014 on crewed sailing catamarans and motor yachts. Vasilis valuable experience in serving and his polite personality along with his positive attitude will make all his guests feel like home! He speaks Greek and English.
| | | | | |
| --- | --- | --- | --- | --- |
| Captain | Ilias Stamatelos | Greek | 0 | Greek, English |
| Crew | Katerina Miroshnichenko | Greek | | |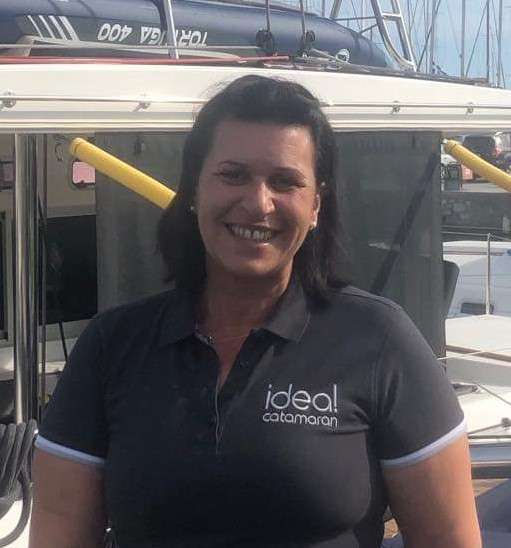 Cook/Hostess
Asimina Margelou
Other Toys
Tenders & Toys: 12.47 ft. RIB with 40HP outboard motor, Tubes, Waterski, Kayak, Fishing equipment, Snorkelling gear, sup

Up to 10 guests
1st day
BREAKFAST
Coffee, fresh orange juice.
Omelette with smoked local ham and cheese.
Dessert with yogurt.
LUNCH
Salad with groats, fresh onion and peppers from Florina.
Meat reddish with pumpkins.
APPETIZERS
Eggplants in the oven, stuffed with cheese and ham or bacon.
Sticks of carrots, cucumber, olives.
DINNER
Pasta with tuna fish, olives and peppers.
2nd day
BREAKFAST
Coffee, fresh orange juice.
Colored peppers stuffed with egg, ham and cheese.
Milk pie.
LUNCH
Stuffed sguid with onions and garlic.
Salad with spinach, beetroot , grilled manouri and balsamic.
APPETIZERS
Salmon tartar.
DINNER
Pasturma pie with pine nuts and sesame seeds.
Mixed salad with carrot, lettuce, cabbage, locust bean, nut and vinegar and honey sauce.
3rd day
BREAKFAST
Coffee, fresh orange juice.
Yogurt with honey, fruit and nuts.
Toast.
Semolina halva.
LUNCH
Pastitsio with meat ossobuco and lasagna.
Greek salad.
APPETIZERS
Ribbed mushrooms with balsamic.
DINNER
Chicken fillets with sour cream, curry and rice.
Greek salad with peppers.
4rd day
BREAKFAST
Coffee, fresh orange juice.
Croc madam, (round bread brioche, toasted with tomato, eye egg and fresh onion).
Trunk with cookies and chocolate.
LUNCH
Tomatoes, zucchini, eggplants, peppers stuffed with rice.
Salad with arugula, prosciutto and mozzarella.
APPETIZERS
Feta cheese wrapped in crust sheet with honey and sesame.
DINNER
Penne with tuna fish and vegetables (olives, tomatoes, onions, capers, parsley, peppers).
5th day
BREAKFAST
Coffee, fresh orange juice.
Eggs with bacon.
Greens pie.
Apple pie.
LUNCH
Spaghetti with minced meat.
Salad with lentils beluga, avocado, thyme, mint, oregano, garlic, spinach, tomato.
APPETIZERS
Marinated anchovy.
DINNER
Scalloped potatoes and green salad with beetroot, cream cheese and nuts.
6th day
BREAKFAST
Coffee, fresh orange juice.
Baked round sliced potatoes with eye eggs.
Cheese cake with forest fruits.
LUNCH
Octopus with fava beans and caramelized onions.
Greek salad.
APPETIZERS
Toasted breads with caper cheese Philadelphia, dill, cucumber, spring onions and smoked salmon.
DINNER
Chicken ala cream in the oven with rice or grilled vegetables.
7th day
BREAKFAST
Coffee, fresh orange juice.
Bougatsa (local pie with cream and cinnamon).
Mammy sweet with cream, jelly and toast.
LUNCH
Moussaka.
Salad with carrot, cabbage and sauce of lemon, garlic and vinegar.
APPETIZERS
Florin peppers with trout smoked, yogurt, dill and fresh onions.
DINNER
Pasta penne with salmon and sour cream and lime lemon.
8th day
BREAKFAST
Coffee, fresh orange juice.
Cake
Eggs stuffed with baked bacon, spinach and mayonnaise.
LUNCH
Traditional kid baked in the oven, folded in paper with cheeses (a local from Metsovo and gruyere) and peppers, served with baby potatoes.
DINNER
Briam (pumpkins, eggplants, carrots, potatoes, onions, bake in the oven with tomato).
Greek salad with feta cheese or feta cheese with tomato, bake in the oven.
Ed Hamilton & Co. endeavors to provide the most up-to-date yacht information, availability and rate details, however, all information published on this site is subject to change without notice. Please contact us for the most current yacht information, availability and rate details.