Guests

8

Cabins

4

Model

Cat

Year Built

2014
Additional Rate Information
Additional Rate Information
Additional Rate Information
GREEK FLAG CATAMARAN
2021 Weekly Rates – Greece, East Mediterranean – Rates are in Euros
11,000€ April – May 2021
15,000€ June 2021
16,500€ July – Aug 2021
15,000€ Sept 2021
11,000€ October – Nov 28/2021
Currently, VAT for Greece is 12%.
Food, bar, diesel consumption, and port fees are not included in the price.
APA is 20%
Charters start at 5pm and finish at 9am (Greek Terms), unless otherwise agreed
All rates are for 7 nights, 8 days. To prorate these rates:
For 6 nights divide weekly rate by 7 and multiply by 6
For 5 nights or less divide weekly rate by 6 then multiply by number of nights.
A crew gratuity, at client's discretion, typically 10% to 20% of the rate, is not included in the rates for Med
Location Details
Summer Area: Greece
Winter Area: Greece
Location Details: Kepi is available for charter in the Aegean Sea, and the Ionian Sea (Greece), from June to October 2021
Visit famous Aegean destinations like Mykonos and Santorini, secret coves in Iraklia or Koufonissia, swim at world-know bays at Zakynthos, Cefalonia, Ithaca or Paxi in the Ionian.
Kepi's home port is Olympic Marine Lavrion, a privately-owner modern marina, situated at the gateway of the Cyclades, and Lefkas Marina, when sailing the Ionian.
However other pick-up locations are also possible.
Lavrion is located 30 min East of Athens Airport. Kepi is only 16 nm away from the first island of Cyclades (Kea). Picturesque Cape Sounio, with the Temple of Poseidon overlooking the bay, is only 45 min away from the Marina, and a perfect resting point.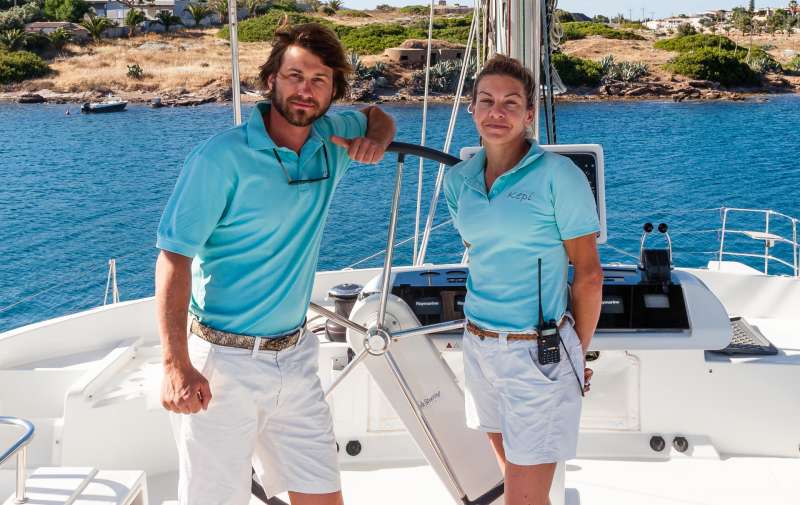 CAPTAIN VASILIS DIAMANTIS
Vasilis Diamantis was born and raised in Aigio, a small coastal town by the Corinthian golf. He has been sailing since his early years as a triangle racer. His love for action and nature also lead him to become a snowboard and rafting instructor and guide. He is a charismatic skipper with a great knowledge of the secrets that Greek seas hold, like detecting secluded beaches all around Greece. If you are lucky to have him as your captain you will immediately realize that he can become a trustful and beloved friend, satisfying your all your requests. Vasilis holds the Yachtmaster Offshore and STCW certificates and combined with his experience, you know you are in safe hands. Vasilis is also a volunteer for the Hellenic Red Cross and Civil Protection Authority due to his training and abilities.
COOK/STEWARDESS ELENA MALTEZOU
YEAR OF BIRTH: 1989
NATIONALITY: Greek
NON SMOKER
Elena is a certified mechanical engineer and worked for two years at the National Water Company.
At the same time, she was working in the beginning as a waitress at cafés and cocktail bars and later as assistant cook at restaurants.
Her work experience includes also child supervision at playgrounds which was a personal choice due to her love for children.
For the last three years she has been working as hotel and inventory manager at Multihull Yachting Greece in parallel to her cooking duties at Sazerac Bar Restaurant.
She was born in 1989, speaks English and has been dancing classic and modern ballet since the age of 3. She loves travelling and cooking so she will surprise guests with amazing Greek and National dishes. She adjusts her cooking to clients' nutritional needs and preferences.
| | | | | |
| --- | --- | --- | --- | --- |
| Captain | Vasilis Diamantis | Greek | 1981 | English, Greek |
| Crew | Elena Maltezou | Greek | | |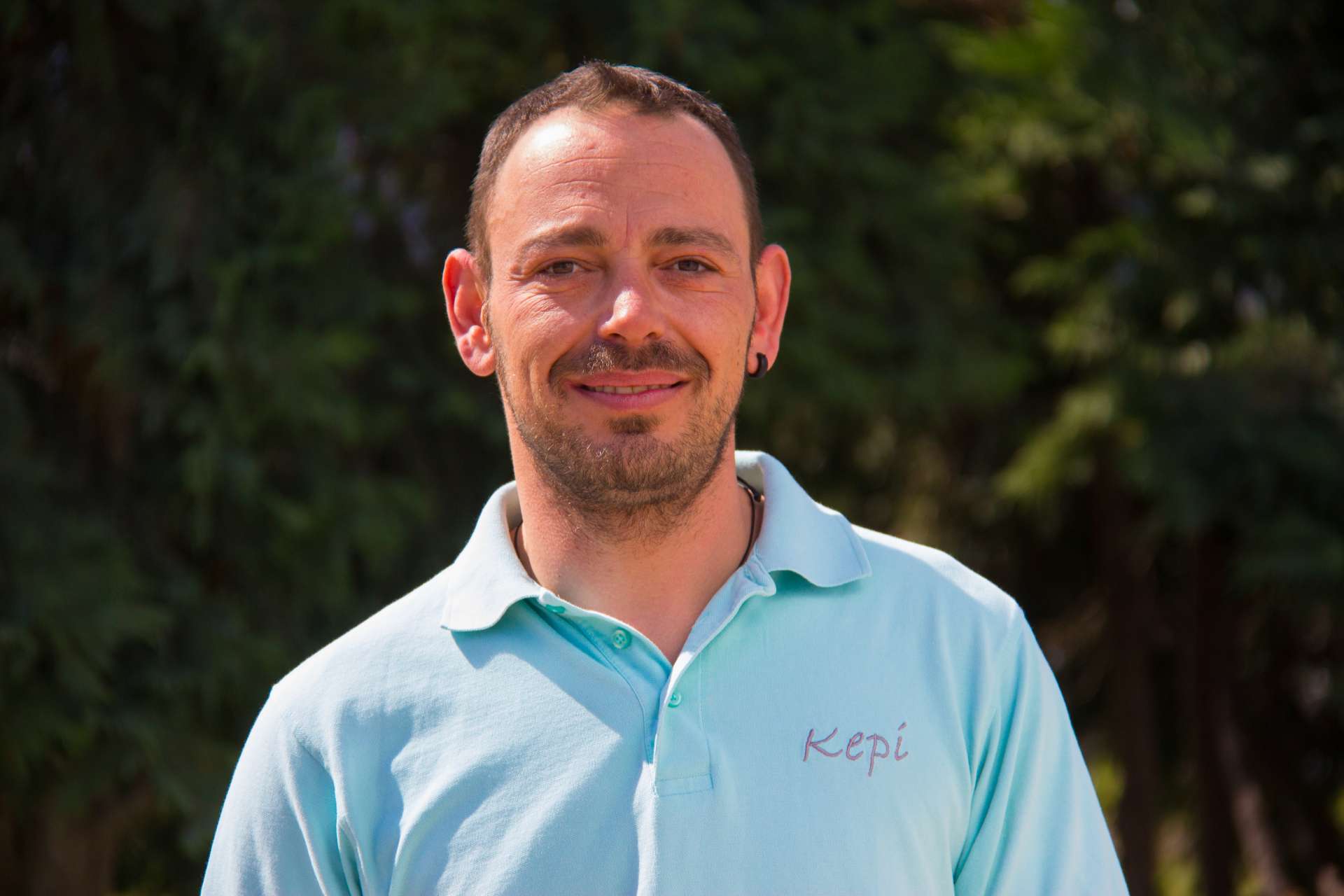 Captain
Vasilis Diamantis
Cook/Stewardess
Elena Maltezou
Other Toys
Go Pro Underwater video
2 Deck showers Hot/cold
4 Hairdryers
Top quality inflatable kayaks for 2 pax
Waterski
iPhone, iPad, and Android sound-docking stations in all cabins
Gangway upgraded to carbon
Measurements:
Headroom: 2.05m
Salon – 7ft – max. 2.15 m
Cabins – 6ft.8in – 2,05 m
Beds:
3 Cabins length & width – 6ft.8in x 5ft.3in
(Starboard fwd, Portside fwd, and Portside aft)
1 Cabin length & width – 6ft.8in x 5ft
(Starboard aft)
NOTE – All cabins with double beds & ensuite facilities. Yacht available for 8 pax charters. Additional bow single cabin without facilities suitable for a petite individual or child (9th person).
Crew sleeps in central bunk-bed cabin with separate facilities.
Cleo's Mediterranean Menu 2014
Breakfast 
–        Coffee, tea, fresh fruit juice
–        Greek yoghurt with cereals and honey
–        Fresh fruit platter
–        Croissant, pain chocolate, cakes
–        Baguette, French toast, wholegrain bread
–        Assortment of cheese
–        Eggs prepared to your likings
–        Home-made frittata
Tapas & Starters
–        Avocado crayfish cocktail
–        Broccoli shot
–        Carpaccio of figs with feta cheese, pine nuts and basil
–        Cretan rusk with juicy tomatoes, feta, onion rings and olive oil
–        Dip of tomato & goat cheese
–        Duo of guacamole and tomato dip with crispy pita bread
–        Eggplant grilled, filled with feta and chili peppers
–        Fresh tuna tartar
–        Garlic bread with tomato salsa
–        Grilled Haloumi drizzled with lemon juice
–        Grilled shrimp with tarragon & lime dip
–        Grilled zucchini sticks wrapped in prosciutto
–        Hummus dip
–        Melted Camembert dip with oregano bread
–        Mini melon-Serrano bites
–        Mini tortilla-pizza
–        Mushrooms in the oven filled with prosciutto-cheese mix
–        Original yellow split pea puree (fava) with red onion and lemon
–        Red peppers filled with feta in the oven
–        Saganaki (grilled cheese)
–        Salmon mousse
–        Small toast with salmon and goat cheese
–        Shots of gazpacho soup on ice
–        Spanakopita (spinach pie)
–        Taramosalata home made
–        Zucchini keftedes with traditional soft    cheese and mint sauce
–        Bouillabaisse with rouille and ciabatta
–        Caesar salad with chicken, crispy bacon, parmesan and garlic bread
–        Calamari salad on a bed of lettuce
–        Chicken gyros with cucumber salsa and tzatziki
–        Club Sandwiches and wraps "terre et mer" with green salad
–        Fajita's with ground beef, tomato pepper salad, guacamole & sour cream
–        Fish burgers with salsa Verde and a summer salad
–        Greek salad with caper leaves and pita bread
–        Lamb souvlaki wraps with lettuce and tzatziki
–        Linguine "frutti di mare"
–        Meatballs Indian style with "Garam Masala", ginger, mint & yoghurt sauce
–        Pasta alla Puttanesca with anchovy, olives, capers in tomato garlic sauce
–        Salad Niçoise with fresh tuna on the grill
–        Salad with grilled goat cheese, bacon, beetroot and honey balsamic dressing
–        Shrimps in spicy green curry with jasmine rice
–        Spaghetti Carbonara with Parmesan
–        Tagliatelle with smoked salmon, white wine sauce topped with fresh dill
–        Thai beef salad with mint, cilantro, lime & brown sugar dressing
–     Beetroot tartare with smoked cod and apple
Dinner
–        Chicken stuffed with spinach and feta, served with tarragon sauce and small potatoes
–        Cleo's favorite Lasagna with 5 vegetables
–        Codfish with mustard-soy sauce and grilled tomatoes
–        Codfish with white wine sauce, fresh spinach, baked potatoes
–        Daurade in the oven with fresh ratatouille and basmati rice
–        Escalope Milanese with pasta
–        Fresh catch of the day on the grill with rocket, tomato and green asparagus
–        Grilled local fish with fresh horta
–        Lamb chops on BBQ with tomato salad and grilled vegetables
–        Mixed grill with salad of lentils, feta, olive oil and fresh herbs
–        Steak on BBQ with potato-chorizo cupcakes and grilled vegetables
–        Ossobuco with linguine and gremolata
–        Penne al Forno "Soprano style" with meatballs, tomato sauce and mozzarella
–        Pork tenderloin marinated in teriyaki with grilled vegetables and crispy potatoes
–        Red mullet with mashed pesto-potatoes and zucchini spaghetti
–        Rooster in the oven with tomatoes, olives, lemon and soy sauce
Dessert
–        Apple cinnamon pie with grilled almonds
–        Apple crumble with Metaxa and speculoos
–        Baklava muffins
–        Café Glacé
–        Carpaccio of pineapple with Cointreau and fresh mint
–        Champagne mousse with fresh strawberries
–        Cheese platter with fig chutney, dried fruits and assortment of bread
–        Crème Brûlée
–        Dark chocolate mousse topped with white chocolate flakes
–        Flan caramel
–        Mascarpone with strawberries marinated in balsamic & vanilla
–        Millefeuil
Ed Hamilton & Co. endeavors to provide the most up-to-date yacht information, availability and rate details, however, all information published on this site is subject to change without notice. Please contact us for the most current yacht information, availability and rate details.