Guests

12

Cabins

5

Model

Motors

Year Built

2004
Additional Rate Information
Additional Rate Information
Additional Rate Information
13% vat has to be added on the charter fee
Location Details
Summer Area: Greece
Winter Area: Greece
Location Details: Greece – all year
An exceptionally friendly crew that is very popular among the charterers.
They succeed in running the yacht in a safe and professional manner with excellent communication skills, discreet manners, willingness, and exceptional service.
The crew of " Liana H" will make endless efforts to satisfy their guests and provide them with a carefree vacation of the highest standard.
Cpt. Kokolakis Minoas – Captain – age 44
Cpt. Minoas is an experienced captain with a warm personality who always succeeds in providing his guests with comfort and pleasure. His thorough knowledge of the Greek waters ensures that your travel adventure becomes a memorable experience. Minoas will safely take his guests to the most beautiful and peaceful bays or lively Greek island ports, depending upon their desire.
Together with his crew, Captain Minoas always executes the charters in a very efficient manner and can guarantee unforgettable trips.
Cpt. Minoas is fluent in English and Greek and has been working with the boat for the last 2 years.
Policarbio Deep – Engineer / General duties – age 45 – married – three children.
"Paul" is the engineer of "Liana H" and a graduate of Merchant Marine School in the Philippines. As an experienced engineer and a sailor who started his career in cruising yachts in 1992, Paul always makes endless efforts for the perfect operation of the boat and contributes to the overall success of the team. Paul speaks English, Filipino, and Greek and has been working aboard for the last 2 years.
Manuela Tzotzi – Chef – age 54 – married with two children.
Manuela is an experienced chef who has been working with the boat, for 6 years now. Before joining 'Liana H', Manuela was Chef and owner of a Greek luxury restaurant. She is eager to please all guests with creations of exquisite taste, quality and always succeeds to customize the menu to guests' desires and preferences. Manuela Tzotzi speaks English and Greek.
Ilia– Stewardess – age 24 – single.
Ilia is a professional and experienced stewardess who has been working together with our team for the last 2 years. Before joining us, Ilia was a stewardess in a Greek luxury yacht for 1 year and headwaiter and chief staff of several Greek and English luxury restaurants for a period of 4 years. She has a pleasant personality, impeccable reviews from our guests, and puts endless efforts to serve the charterers with care and a smile. Ilia is fluent in English, Italian, and Greek and understands Russian and Polish.
Joel Nivera – Sailor / General duties – age 40 – married with 3 children.
Joel is the Sailor of "Liana H" and together with Nicolas and Paul, he organizes our charters in a very professional manner. As a professional Sailor with the prestigious "Yacht-master" RYA. Joel has been a sailor in cruising yachts since 2008 and has a thorough knowledge of the Greek waters.
He has been with the owning company for the last two years, has a very pleasant and kind personality, and is always more than happy to assist the guests with the water toys' activities. Apart from his native Filipino language, Joel speaks English and understands Greek.
| | | | | |
| --- | --- | --- | --- | --- |
| Captain | Minoas Kokolakis | Greek | 0 | English, Greek, Italian, |
Engineer
Policabrio Deep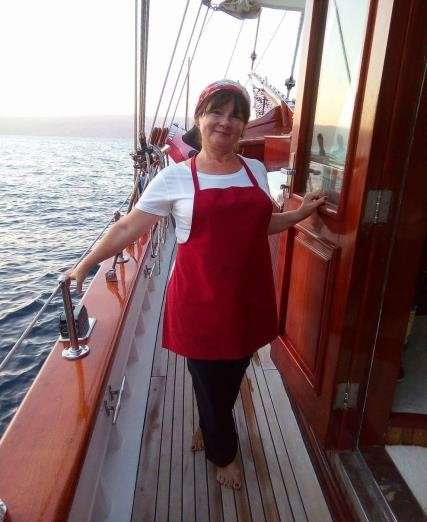 Chef
Manuela Tzotzi
Stewardess
Ilia Giouvri
Sailor
Joel Nivera
Leisure
Dive Info
compressor on board, wet suits to be rented.
Other Toys
One tender 17.39 ft. with 115hp outboard, one tender 10.5 ft. with 5hp outboard, jet ski, water skis, canoe, windsurf. Full snorkeling as well as underwater fishing equipment for min. 3 persons. Fishing equipment. Diving equipment for min. 3 persons. Digital camera suitable also for underwater use.
Master cabin with king size bed, office and sofa. One cabin with double bed. One cabin with one double bed and one single bed. Two cabins with one double bed and one upper single bed each.
All cabins have en suite facilities, and idividual CD/cassette/Radio stereo. TV, DVD, VCR and MP3 in master cabin.
BREAKFAST
(American)
Fresh orange juice
Coffee Tea Milk
Toasted bread
Butter honey marmalade
Corn flakes cereals
Pancakes
Cookies
Eggs of all types
Bacon & ham
Assorted cheese
Fresh fruit
MENU 1
Prawns cooked with tomato sauce & Feta cheese
Fried shredded zucchini balls
Chefs salad nr. 1
Greek salad Horiatiki
Chicken fillets schnitzel served with vegetable risotto and fried cheese balls
Ravani cake with ice cream
Fresh fruit
Coffee
MENU 2
Cheese souffl
Octopus salad
Green salad
Greek salad Horiatiki
Giouvetsi, an oven baked pasta dish with beef or lamb in a tomato based sauce
Baklava
Fresh fruit
Coffee
MENU 3
Spaghetti with shrimps or lobster
Chefs salad nr.2
Grilled fish served with fresh steamed mixed vegetables
Galaktoboureko
Yogurt with fruit in syrup
Coffee
MENU 4
Smoked salmon in puss pastry with sauce vinaigrette
Green salad
Pork or veal kebbap served with traditional Greek pitta bread, onions & tzatziki
Crepes with honey & nuts
Fresh fruit
Coffee
Ed Hamilton & Co. endeavors to provide the most up-to-date yacht information, availability and rate details, however, all information published on this site is subject to change without notice. Please contact us for the most current yacht information, availability and rate details.