Guests

6

Cabins

3

Model

Cat

Year Built

2015
Additional Rate Information
Additional Rate Information
Charter Rates Per Week
| Rate Period | Terms | 2 Guests | 3 Guests | 4 Guests | 5 Guests | 6 Guests |
| --- | --- | --- | --- | --- | --- | --- |
| Winter 2022 to 2023 | Inclusive | $15,000 | $15,000 | $15,000 | $15,800 | $15,800 |
Additional Rate Information
Caribbean All Inclusive EXCEPT ALCOHOLIC BEVERAGES
Clients are welcomed to bring their own.
Rates are + 14% Bahamas Tax
PLEASE NOTE: The Owner & Captain prefer charters embarking on Saturday 5pm and disembarking on Saturday 9am. The Captain feels 100% capable and comfortable with sailing during the night, therefore (weather permitting) they aim to depart upon embarkation to the Exumas. Please inquire for alternative dates/times.
For Christmas and New Years Week: $18,170 + 14% Bahamas Tax + alcoholic beverages
KITESURFING CLASSES (equipment included)
Beginner (Private) – $100/h
Beginner (Group) $70/h p.p.
Advanced(Private) – $120/h
Advanced (Group) $80/h p.p.
EQUIPMENT RENTAL (personal use)
Set of kiting gear – 1 Week – $475
(hydrofoil not incl. in weekly rental)
Hydrofoil – 3 Hours – $85
Waveboard – 3 Hours -$60
Special Offers:
2 weeks: $28,800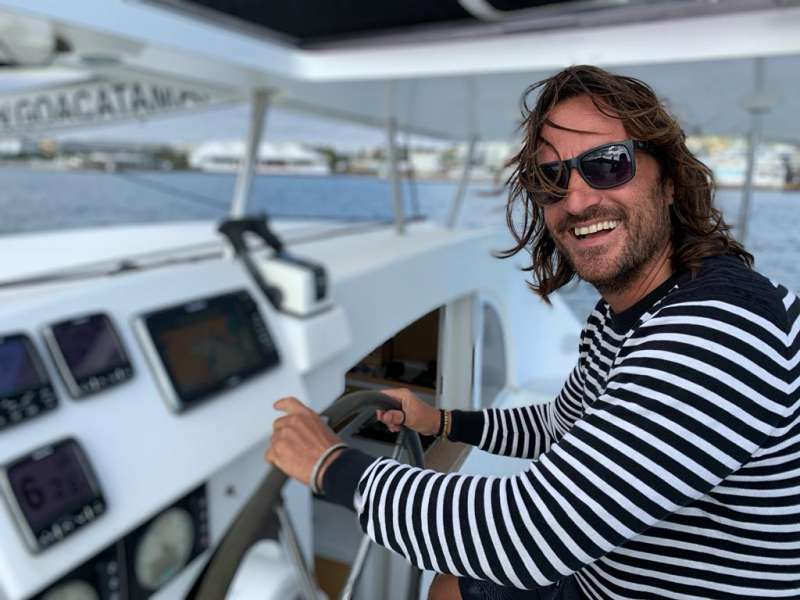 Come Join us in the Bahamas
Bahamas is much more than Paradise Island. Our charters visit exclusive and deserted islands away from tourists, explore the grotto that James Bond was filmed in, visit a bay to swim with turtles, and beach comb on some of the longest sand bars. We fish in the deep waters and serve fresh tuna in our Poke bowls for lunch and Mahi Mahi for dinner. Explore the hidden beaches and go snorkeling, swim with the pigs, dive and search for sunken airplanes and try your hand at kitesurfing. With Madrigal, you are in for an adventure of a lifetime!
Captain, Sergio (Dec 10th to Feb 4th)
Sergio has always been drawn to sports and healthy living. He studied and worked as a nutritionist and then worked as a massage therapist in Basque Country, Spain. But at 25 years old, he accidentally discovered life at sea. He joined a crew of a fishing boat and has been bonded to it ever since.
An experienced sailor is an understatement. Sergio has completed ten Atlantic crossings and over 30,000 nautical miles, nine years working in the yacht chartering business in the Balearic Islands, Spain and in the Caribbean. Aritz -former Captain of Madrigal V now on Wind Chaser- and Sergio have completed 5 Atlantic crossings on our boat Madrigal V.
As a nomad soul he enjoys to live in the moment, alternating sail boats while traveling and exploring Europe in his camper van in the off season. Sergio is also learning how to kite surfer and is a surfer and can't wait to share exotic islands with you.
Captain, Edgar (Feb 4th onwards)
Edgar is a pure islander. Born and raised on the island of Menorca, he has spent practically his entire life connected to and surrounded by the sea.
Edgar holds a psychology degree, but he heard the call of the sea. He then pursued all of the ocean licenses and certificates to be able to make his passion his job. Edgar has over 4 years of charter experience in Spain, BVI and Bahamas and has completed 2 ocean crossings. Edgar completed his first Atlantic crossing as a crew member with Aritz -former Captain of Madrigal V now on Wind Chaser- as captain. He also worked as crew for Kite Boat Cruises for a couple of months in 2019- right before the COVID crisis.
He loves freediving and is always willing to share his knowledge about it. Since he first set foot in the Bahamas in 2019, he has known that he wanted to call it home. The baby blue ocean, wild life, and endless sailing adventures was exactly what he wanted in a home. There he awaits you with a smile to take you to the best beaches and kite spots in the world.
Chef/Stewardess Anastasiya Dmytruk
Anastasiya Dmytruk is an experienced sailor, chef and globe trotter. She was a contestant on the famed tv show, MasterChef this year going to top 7 female chefs in Greece. Anastasiya loves Mediterranean cuisine, creative and healthy meals are her style!
She is always learning new techniques as she travels the world, cooking with local and fresh ingredients. She also holds a degree in Sociology from the University of Athens.
Anastasiya has been working in the charter industry since 2013 in Greece and the Mediterranean, in both motor and sailing yachts. She has her Skipper diploma and food and beverage management certificate. She is always commended for her professional leadership and her positive and outgoing personality.
When she is not at sea, she is a devoted animal lover and volunteers for shelters in Athens. Photography is another one of her passions and she hopes to travel to Australia and southeast Asia this year and capture beautiful shots.
Deckhand/Kite Instructor Alessandro Piersigilli
Alessandro is a sea and wind lover. He's our kitesurf instructor, photographer and videomaker.
During the last four seasons he was traveling around Cyclades, the land of Meltemi, as kite instructor. He started to kite several years ago, and thanks to it he had the opportunity to discover many beautiful places all over around the world.
During his trips, he also improved his skills of photography and videomaking, and he will catch all the best moments during our cruises and activities. As Italian tradition wants, he loves cooking many typical Italian dishes too.
| | | | | |
| --- | --- | --- | --- | --- |
| Captain | Sergio | Spanish | 0 | |
| Crew | Anastasiya Dmytruk | Greek | | |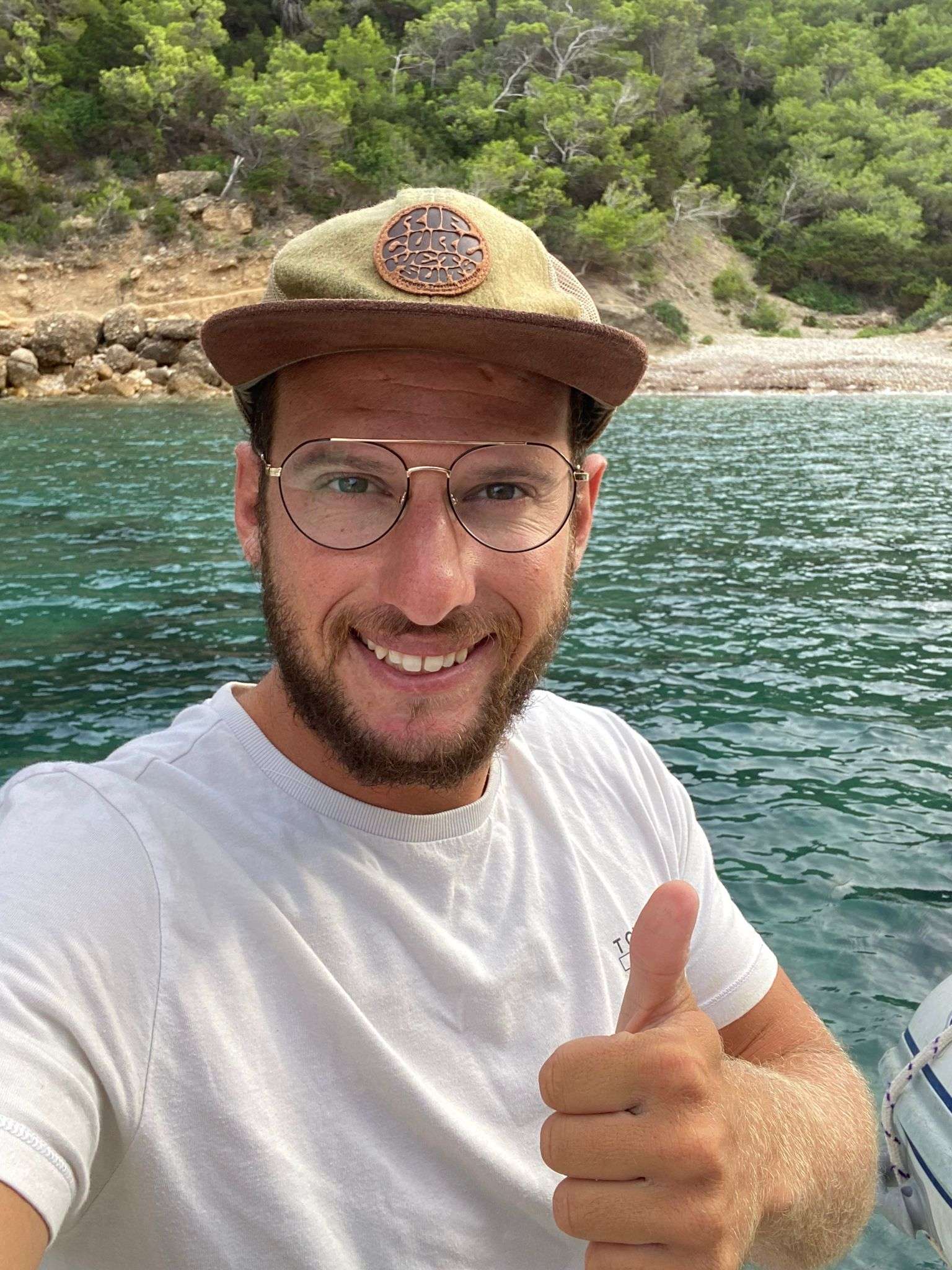 Captain
Edgar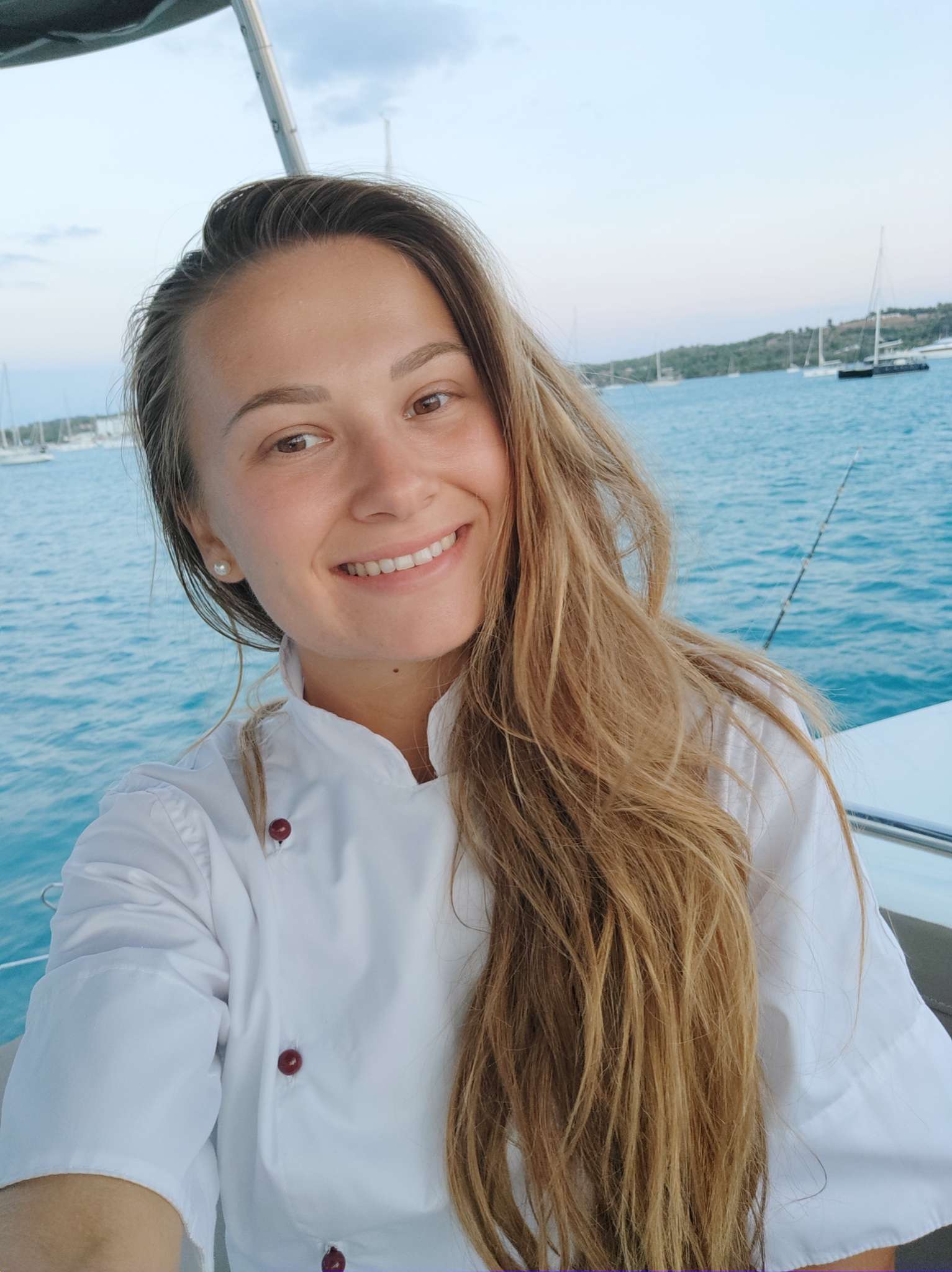 Chef
Anastasiya Dmytruk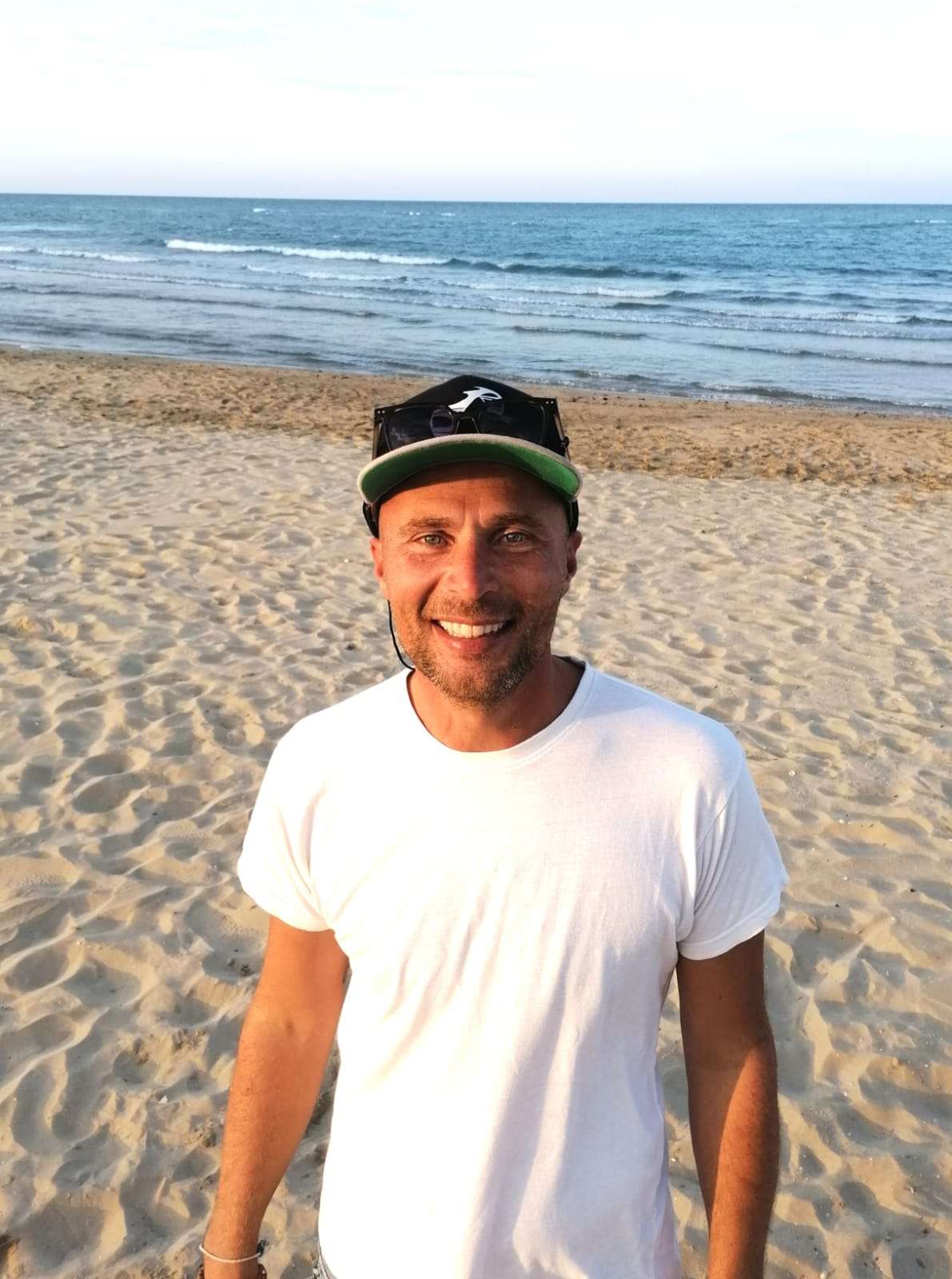 Deckhand/Kite Instructor
Alessandro Piersigilli
Other Specs
Pref Pickup
Nassau, Bahamas
Voltages
Euro - 220/24hz (also 12 Volt)
Kite Boarding Details
KITESURFING CLASSES (equipment included)Beginner (Private) - $100/hBeginner (Group) $70/h p.p.Advanced(Private) - $120/hAdvanced (Group) $80/h p.p.EQUIPMENT RENTAL (personal use)Set of kiting gear - 1 Week - $475(hydrofoil not incl. in weekly rental)Hydrofoil - 3 Hours - $85Waveboard - 3 Hours -$60
Scuba Onboard
Yacht offers Rendezvous Diving only
Lagoon 450 Madrigal V accommodates up to 6 guests in 3 queen size bed ensuite cabins.
In each cabin: A/C with individual control and plugs.
In each bathroom: bath towels and hand towels.
BREAKFAST
Homemade cinnamon rolls with a seasonal
fruit platter, followed by creamy, farmers style
scrambled eggs, sausage and potatoes,
mushrooms, caramelized onions and bell peppers.
Berry, almond and yogurt muffins with a fresh fruit salad
followed by eggs in Shashuka, with feta, grilled peppers and served with fresh greens.
Banana, walnut, and blueberry muffins served with an
assortment of fruits and followed by
classic Eggs Benedict with perfectly
poached eggs and a side of avocado.
Blueberry baked oatmeal served
with fresh fruits, followed by smoked salmon
And poached egg bagels,
tomato and chive cream cheese.
Overnight Maple-Banana Oats, 
served with figs and pears,
followed by Quinoa, egg, and haloumi bowls.
Chia Seed Pudding Parfaits topped with
with mango and granola followed by
black bean omelettes filled with queso fresco,
avocado and cherry tomatoes and
topped with cilantro.
Coconut Banana Smoothie served with
Chia and Banana Pancakes,
topped with fresh strawberries and blueberries
and drizzled with Maple syrup.
LUNCH
Blackended Fish over Yuca Fries, tarter dipping sauce,
Served with an arugula, pear, parmesan salad
with a pomegranate dressing.
Toasted baguettes filled with slices of steak,
mushroom, onion, green peppers and melted
Swiss cheese topped with aioli, served
with garlic potatoes and a green salad.
Hand tossed flatbread pizzas topped
with pepperoni, olives, feta, marinated bell
peppers, garlic, chili and melted fresh mozzarella
served with a kale caesar salad.
Salmon and Shishito Pepper Salad, 
Israeli Couscous with Pistachios, Kalamata Olives,
And Goat Cheese, 
served with fresh Gazpacho soup, 
Fish Tacos with local caught fish,
Topped with guacamole, lime black beans, and
pickled vegetables, and a dollop of
chili sour cream served with red cabbage coleslaw.
Thai Beef Salad with rice noodle tossed with
seared beef slices, sweet peas, cucumber,
carrot and fresh herbs topped with bean sprouts
and peanut and finished with a lime,
ginger and sesame dressing.
Pulled Pork Sandwiches with grilled pineapple,
purple slaw and pickled jalapeño with sour cream
and served with a Tzatziki potato salad and sea salt watermelon.
APPETIZERS
Peruvian ceviche with sweet potato and orange, red
pepper, onion and cilantro served with corn chips.
Homemade hummus served with assorted fresh
vegetables, kalamata olives and feta pita breads.
Brie en croute, a whole brie round wrapped
in puff pastry and baked with rosemary
apples and drizzled with truffle honey.
Chef's cheese board with assorted cold meats,
specialty cheeses, fresh fruits, whole nuts and
unique spreads, served with fresh breads and crackers.
Tuscany Inspired Tarts with 
Fresh Heirloom Tomatoes, 
Creamy Ricotta and homemade Pesto.
Assortment of Baked Fritters; 
Zucchini and Quinoa,
Lentil and Feta
Corn and Red Onion
Cucumber pinwheels stuffed with salmon, 
Topped with fresh dill, capers, and feta
Spicy sausage wrapped in
puff pastry and a honey mustard dipping sauce.
Roasted Cauliflower Steaks 
over Garlicky Tomato Sauce 
with Toasted Almonds
Lettuce wraps filled with marinated Thai chicken and
slaw with a ginger & sesame dressing.
Coconut shrimp with a mango & chili dipping sauce.
Vegetable and Chicken Zucchini Meatball Skewers
Mushroom and Chèvre Toasts.
DINNER
Seared Tilapia  accompanied by tossed 
couscous with blackened corn and bell peppers, drizzled
with a roasted green onion oil and served with a
baby leaf salad with cherry tomatoes, mozzarella
fresca, farro, basil, balsamic reduction.
Surf and Turf with the chef's choice cut, grilled to
perfection and accompanied with coconut prawns and
a creamy mushroom sauce and roasted
baby potatoes, finished with delicate stalks of asparagus.
Coconut & lemongrass seafood curry with a vibrant
creamy broth, fresh local fish of the day, bell peppers,
snap peas and mushrooms over a jasmine rice
with grilled naan bread and a shaved cauliflower salad.
Crispy chicken roast served with a couscous pilaf, lemon
preserves and olives, with Mediterranean lentil samosas
and a marinated carrot salad with raisin, almond and orange.
Prime Rib with au jus, Baked Potatoes with
a horseradish aioli, served with grilled broccolini with
parmesan, a cubed salad with cucumber, tomato
and red onion tossed in a creamy vinaigrette
and accompanied with Hawaiian rolls.
A Crab and shrimp Feast with corn on the cob,
Southern broccoli & orange slaw and finished
with fresh polenta bread and a honey butter.
Pork tenderloin stuffed with caramelized apples
& onions and served with crispy balsamic
brussel sprouts, lentils and an arugula
salad with craisins, candied pecans and blue cheese
crumbles drenched in a vinaigrette.
DESSERT
Coconut Key Lime tarts served with a scoop of vanilla
ice cream and topped with candied lime rounds and
toasted coconut shavings.
Salted Caramel Pot De Creme with Chantilly
Cream and shortbread sandies.
Orange blossom rice pudding with dried citrus pieces,
rosewater jellies and grated, pistachio.
Ice Cream Cake with layers of dark chocolate cake,
cherry and pistachio with macerated fruits and nuts,
ice creams and a meringue frosting.
Dark chocolate profiteroles served with homestyle
vanilla ice cream, black cherry and espresso.
Banana Fudge Sundaes with vanilla ice cream,
hot ganache, buttered rum bananas, shortbread crumble.
Matcha Green Tea Panna Cotta with
sugared ginger and sesame seed crunch.
***
PLEASE NOTE THAT ALCOHOLIC BEVERAGES ARE NOT INCLUDED.
Clients are welcome to bring their own. 
Ed Hamilton & Co. endeavors to provide the most up-to-date yacht information, availability and rate details, however, all information published on this site is subject to change without notice. Please contact us for the most current yacht information, availability and rate details.