Guests

6

Cabins

3

Model

Cat

Year Built

2017
Additional Rate Information
Additional Rate Information
Charter Rates Per Week
| Rate Period | Terms | 2 Guests | 3 Guests | 4 Guests | 5 Guests | 6 Guests |
| --- | --- | --- | --- | --- | --- | --- |
| Summer 2021 | All Inclusive | $17,000 | $17,500 | $17,500 | $18,000 | $18,500 |
| Winter 2021 to 2022 | All Inclusive | $17,000 | $17,500 | $17,500 | $18,000 | $18,500 |
| Summer 2022 | All Inclusive | $17,000 | $17,500 | $17,500 | $18,000 | $18,500 |
| Winter 2022 to 2023 | All Inclusive | $17,000 | $17,500 | $17,500 | $18,000 | $18,500 |
Additional Rate Information
● ADDITIONAL FEES: Cruising Permits, customs fees, and Taxes to be paid by the Charterer upon entry to Cruising Grounds or Ports for all charter locations.
● MINIMUM NIGHTS: 5
● LESS THAN 7 NIGHT CHARTER RATES: For 6 night charters, divide weekly rate by 7 nights X 6 nights. For 5 nights or less, divide weekly rate by 6 nights X number of nights.
● SLEEP ABOARD:1/2 the daily rate. Dinner ashore at client's expense. Includes; boarding after 4pm, welcome cocktail and breakfast the next morning and early start.
● HALF-BOARD OPTION: $100 discount per person
Includes; 7 breakfasts, 4 lunches & 3 dinners, all other meals to be eaten ashore at client's expense.
● LOCAL FARE OPTION: $75 discount per person
Includes; 7 breakfasts, 5 lunches & 6 dinners, all other meals to be eaten ashore at client's expense.
● 2021/2022 HOLIDAY RATES:
CHRISTMAS: Standard charter rates. Must end no later than Dec 26th
NEW YEARS: 1-6 guests $21,000 Must begin no sooner than Dec 27th
Location Details
Summer Area: Caribbean Virgin Islands, Caribbean Leewards, Caribbean Windwards
Winter Area: Caribbean Virgin Islands
Location Details:
*Available for charters located in the Virgin Islands and Saint Martin from November 1st, 2021
**Available for Leeward and Windward islands charters from August to the end of October 2021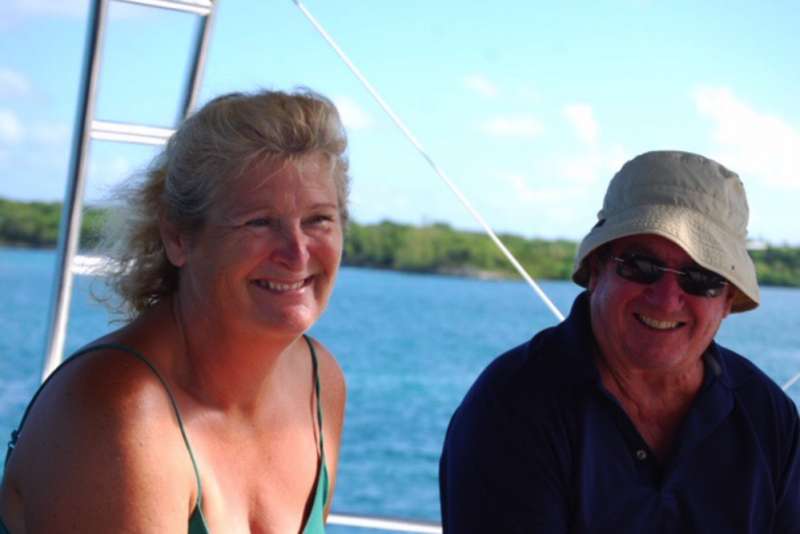 Meet the crew: Captain Adrian and Chef Samantha
Adrian Wood – Yachtmaster offshore, STCW
Adrian first started sailing on the Thames River close to his home in Cookham, England at the age of 8. This introduction to life on the water led him to become a Navigating Officer in the Royal Navy. Adrian continued cruising and racing for pleasure after the Navy but always wanted to return to a career at sea, which has now led him to chartering in the warm waters of the Caribbean. The highlight of now working as a captain in the Caribbean is that he gets to meet so many new faces from all over the world, immerse himself in the local culture, and doing it with his first-mate by his side!
Samantha Wood – yachtmaster offshore, STCW, Padi DiveMaster, food hygiene and safety certification
Hailing from the beautiful Channel Islands off the coast of France, Sam had never stepped foot on a sailboat in spite of being raised on a small island in the Atlantic. Sam grew up in the country life of the Channel Islands riding horses and raising farm animals. She met Adrian nearly 12 years ago and when they were married they had decided to take a year off to sail around the Atlantic – that year turned into permanent life in the Caribbean. Sam loves cooking, sailing, diving, horseback riding, and most of all meeting new people!
Adrian and Sam's story of sailing life started around a campfire in England after they wed with a simple question from Sam: "What would you like to do now?" Adrian's response was straight to the point: "Sail the Atlantic." Their favorite memory of sailing the Atlantic is when they landed in the Caribbean islands on their 32 foot sailing, and a local tugboat captain took them under their wing. His first response was, "Did you really cross the Atlantic in that!" They all laughed and were enamored that they had accomplished what they set out to do! Together they have been working in the chartering industry for 10 years and they look forward to hosting you aboard Mariann!
This team is a dyanmic duo with such interesting stories to share as well as sharing their passion for the sea, sailing, and making their guests feel relaxed and at home.
| | | | | |
| --- | --- | --- | --- | --- |
| Captain | Adrian Wood | | 0 | English |
| Crew | Samantha Wood | | | |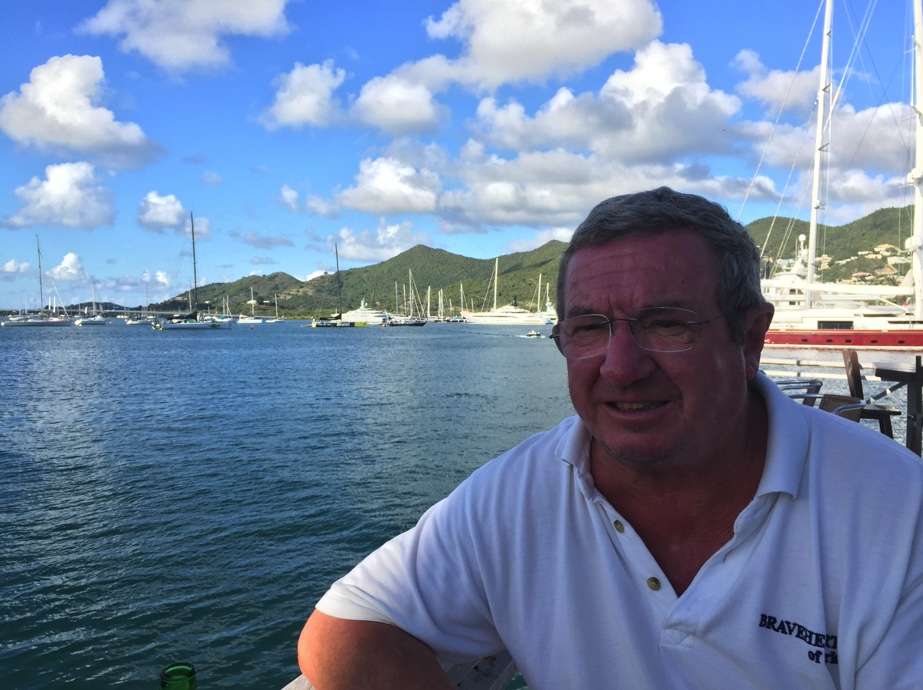 Captain
Adrian Wood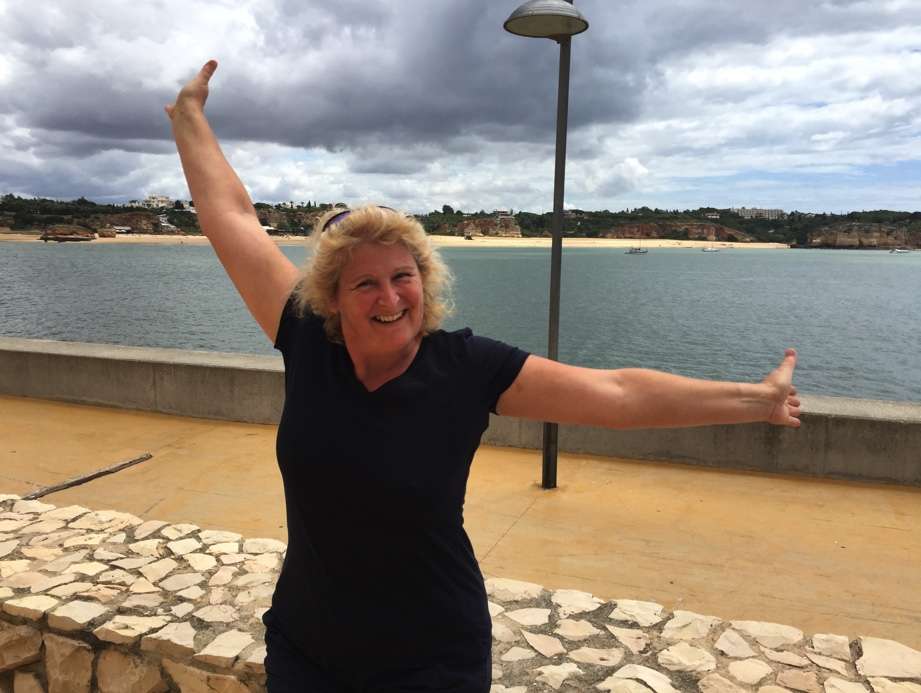 Chef/First Mate
Samantha Wood
General
Guest Smoke
Aft sugar scoops
Leisure
Dive Info
Yacht offers rendezvous diving
Dive Costs
Rendezvous Dive Rates: Blue Water Diving
Per person

1 Tank Dive - $100
2 tank Dive - $130
Night Dive - $105
Discover Scuba - $140
Other Toys
Giant Lily Pad Floating Mat

2 Stand Up Paddleboards
Port Aft Cabin is Master Suite with Queen Bed
All Cabins are Ensuite with Shower and Head
A/C in all Cabins
Welcome snacks
Smooth Hummus, Crudités & sliced Baguette or Crackers
Breakfast 
Tropical Fruit platter , Cheese platter , Cereal, Toast, Bagels, Jam, Yoghurt
Eggs Florentine, Bacon, English Muffins, Toast, Jam, Fruit Platter
Muffins , Fruit Platter , Cheese Platter , Cereal, Toast
Baked Omelet with Warm Salsa , Bacon, Toast, Jam, Fruit Platter
Banana Bread, Fruit Platter , Cheese Platter , Cereal, Toast, Bagels, Jam, Yoghurt
Sausages, Ham and Cheese Egg Cups Cheese Platter, Fruit Platter
Fruit Salad , Cheese Platter , Cereal, Toast, Bagels, Jam, Yoghurt
Lunch 
Coronation Chicken Salad with Fresh Baguettes
Spicy Chicken Salad & Hot Crusty Bread
Seared Tuna Nicosia Salad with Crusty Bread
Spicy Beef Mince with Curry Rice, Banana Salsa
Melon & Prosciutto Salad with Crusty Bread
Snacks 
Tzatziki and Toasted Tortilla Triangles
Cheese, Olives, Sausages
Pepper Dips and Pita Triangles or Crackers
Hot Salsa & Tortilla Chips
Tapenade and Chips
Cream cheese and sweet Chilli Dip with vegetable crudities
Appetizers
Fresh Tomato and Basil Soup
Caramelised Onion & Brie Tart
Dinner 
Steamed Salmon Fillets in Dill Sauce, Garlic Mash & Leaf Salad
Sweet & Spicy Mahi Mahi & Basmati Rice, Green Leaf salad
Shrimp Tagliatelle with leaf Salad
Steak In Red Wine Sauce, Sautéed Potatoes, Roasted Vegetables
Mango Chicken, Roasted Garlic Potatoes, Honey Sautéed Vegetables
Pork Tenderloin with BBQ Sauce, Baked Sweet Potato & Apple, Feta Salad
Coffee/Liquors served after dinner
Dessert
Standard Ships Bar
Soft drinks, sodas, water, beers and well drinks, cocktails are available  for your enjoyment.
Spirits
Vodka brands: Tito's, Stoli, Smirnoff
Whiskey brands: Johnny Walker, Dewars, Jack Daniels
Tequila brands: Souza, Milagro
Rum brand: Cruzan
Gin brands: Gordans, Tanqueray  
Assortment of liqueurs.
Please let your broker know your preferred brand.
If you require premium wines or spirits of your choice, please notify your broker and we will be happy to source it for you and have them onboard when you arrive.
These would be at an additional cost to you.
Ed Hamilton & Co. endeavors to provide the most up-to-date yacht information, availability and rate details, however, all information published on this site is subject to change without notice. Please contact us for the most current yacht information, availability and rate details.