Guests

8

Cabins

4

Model

Cat

Year Built

2017
Additional Rate Information
Additional Rate Information
Additional Rate Information
2021 Mediterranean rates:
JULY/AUGUST – EURO 29500 + VAT 13% + APA 25%
JUNE & SEPT – EUR 27500 + VAT 13% + APA 25%
OCTOBER – MAY EURO 24000 + VAT 13% + APA 25%
Location Details
Summer Area: Croatia
Winter Area: Croatia
Location Details: JULY/AUGUST – EURO 29500 + VAT 13% + APA 25%
JUNE & SEPT – EUR 27500 + VAT 13% + APA 25%
OCTOBER – MAY EURO 24000 + VAT 13% + APA 25%
Captain: Alen Milet
Alen began his professional yachting career in 2013 as a skipper of both sailing and motor yachts. Over the last 7 years, he has sailed the south of France, Italy, Montenegro, Croatia, Greece, Gibraltar, the Canary Islands, and crossed the Atlantic to sail in the Caribbean. Energetic, athletic, and passionate about sailing, Alen leads a healthy life full of sport. His love of traveling and sailing is a perfect combination along with being a jet ski instructor, kiteboarder, and swimmer. When he is not on the water, his passions are the restoration of old cars, beekeeping, and tennis- in which, he was a semi-professional player for 11 years. Alen is excited to show guests on board Melarnie the beauty of the Dalmatian coast and the gorgeous islands of Croatia.
Languages: Croatian (fluent), English (fluent)
Chef: Martino Zanelli Kovacic
Chef Martino is passionate about food and learning. He is an innovator in the kitchen and loves to take simple dishes to the next level. Along with his studies at Opatija Hospitality School for Chefs, he loves to travel and explore new ways of cooking and creating fusion dishes from all over the world. As a professional chef, not only does he have extensive experience in restaurants, luxury private catering, and onboard yachts, but he has worked on Master Chef in consulting and education.
In his time away from the kitchen, he enjoys reading professional and classical literature, swimming, hiking, capoeira, and snowboarding. A man of many talents, he also writes songs and poems and enjoys carpentry. He brings his excitement for travel and food to Melarnie and offers exceptional service to his guests while cruising in Croatia.
Languages: Croatian and English (fluent); Italian and Slovenian (excellent conversation); German (basic conversation); French and Spanish (learning)
Stewardess: Antonella Baljkas
Antonella was born in 1998 and is from Šibenik, Croatia. She joined the yachting world in 2013 maintaining and cleaning yachts and then became a stewardess. With a friendly and welcoming personality, she offers exceptional service to guests to create an incredible charter experience. She is excited to join Melarnie and introduce her guests to the stunning islands and Croatian coastline.
Languages: Croatian and English (fluent)
| | | | | |
| --- | --- | --- | --- | --- |
| Captain | Alen Milet | Croatian | 1989 | English, Croatian, Spanish, Slovenian, Italian, German |
| Crew | Maurice Curtin | Irish | | |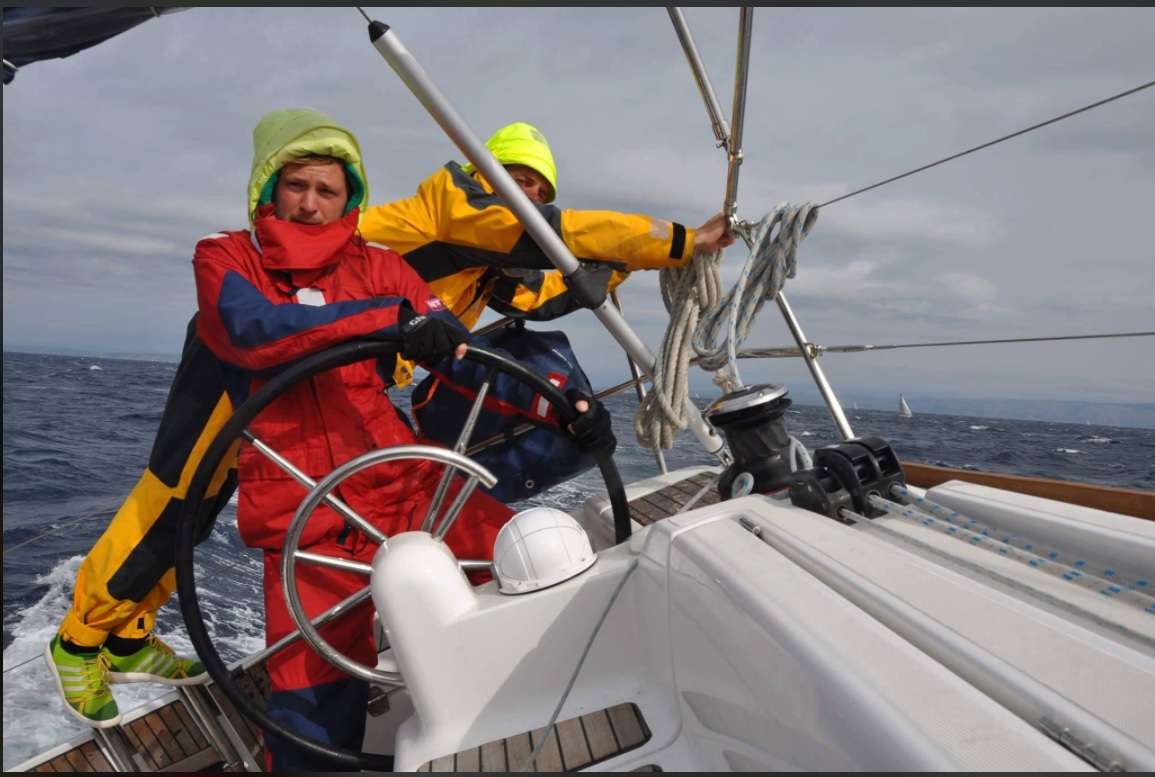 Captain
Alen Milet
Ammenities
Generator
Genset Onan 19 Kva 1500 RPM 22
Leisure
Dinghy
T/T Ocean 15.09 ft.
MELARNIE has 4 comfortable and well-appointed guest cabins, each with an ensuite bathroom.
Day 1
                                Lunch
Thai red curry mussels, palm sugar, coriander and lime
Honey + Soy Duck breast, Celeriac Puree, Pickled Shimejis, Seeded Dukkah, Pressed Cucumber
Coconut and lemongrass panacotta, papaya and pineapple compote, kiwi and mango gels, brandy snap
                                Snacks
Grilled Foccacia, Hot Tarragon Butter
Beef + Onion Empanada, Cheese Sauce
                                Dinner
Sous-vide Rabbit loin wrapped in Serrano ham, carrot puree, tarragon oil
Seared Red Snapper, grilled white + green asparagus, poached egg, truffle hollandaise
Nutty apple and blackberry crumble, ginger rhubarb sorbet, calvados anglaise
Day 2
                                Lunch
Chilled Seafood Buffet – Lobster, Crab, Prawns, Mussels, Clams, Oysters, Caviar Station
– Tomato and Onion Salad, Crushed Herb Potatoes, Saffron Aliolli, Lemon Dill Mayo
Glazed Lemon Tart, Raspberry gel, Honey + Coconut Ice-Cream
                                Snacks
Spiced Parmesan Straws, Baba Ganoush
Tomato, Basil and Burrato Crostinis
                                Dinner
Veal carpaccio, wild horseradish, black garlic and caper puree, rocket tuile
Seared Kobe beef, cauliflower puree, beef cheek tortellini, shaved asparagus salad, marinated cherry tomatoes
Macerated Berry Zabaglione, Shortbread Biscuits
Day 3
                                Lunch
Blackened Mackerel, Courgette + Cucumber Salad, Spiced Mango Yoghurt
Braised Octopus, Korean BBQ Glaze, Asian Slaw
Dark chocolate croquant, chocolate and cocoa brittle, cherry sorbet
                                Snacks
Goats Cheese Croquette, Tomato Chutney
Calamari Frito, Lemon Mayo
                                Dinner
Tuna tataki, shallot ponzu, crisp garlic
12 hour short-ribs, roast baby leeks, parsley puree, onion ash
Raspberry +Pistachio Mille-feuille
Day 4
                                Lunch
BBQ
– Salted Prawn Skewers, Rosemary and Roast Garlic Fillet steak, Gremolata swordfish, Churrasco Chicken Thighs, Oregano Halloumi
– Greek Salad, Tabbouleh
Whole Roast Pineapple, Black Pepper, Rum Cream
                                Snacks
Edamame + Wasabi Falafels, Mint Yoghurt
Tempura Prawns, Sriracha Mayo
                                Dinner
Cauliflower agnalotti, spinach puree, parmesan foam
Sesame roast quail, leg lollipop, sticky rice noodles, fried quails egg, peanut and coriander pesto
Apple Tart Tatin, Vanilla Ice cream, Fresh Berries
Day 5
                                Lunch
Tempura Soft Shell Crab, Sweet Chilli Jam
Crispy Sea bass, Oriental Broth, King Prawn Dumpling, Pak choi, Cauliflower and Sesame Puree
Pecan Pie, Caramelized White Chocolate Ice-cream
                                Snacks
Chorizo in White Wine
Salmon, Avocado Tartare
                                Dinner
Devilled Lamb liver, pommes puree, cider reduction
Grilled lobster tail and claw, beets + greens
Raspberry Souffle, Chocolate Sorbet
Day 6
                                Lunch
Spiced confit duck bonbons, curried cashew nut puree, fresh peach and ginger relish
Za´ataar spiced Lamb rack, Braised leg, pea + mint puree, labneh, pomegranate
Saffron + Rose water Ice-cream, Wild Honey + Pistachio Crackers
                                Snacks
Tuna Poke
Chicken Satay Skewers
                                Dinner
Spring Crab salad, brown crab mayo, radish, avocado, nut dressing
Gochujang glazed pork belly ramen, duck egg, peanuts + coriander
Dark Chocolate + Brandy Mousse, Praline, Strawberries
Day 7
                                Lunch
Asian Buffet – Sushi + Sashimi Platter, Chicken Yakitori, Prawn Yakitori
Bao Buns – Pulled pork, Sticky Beef, Tempura Prawns
Matcha crème brulee, praline tuile, lychee gel, raspberry powder
                                Snacks
Grilled stuffed Aubergine with Herb Cream Cheese
Sweet Pepper Hummus, Grilled Bread
                                Dinner
Seared foie gras, crisp smoked pancetta, mulled wine syrup, cherry
Pan fried Red Mullet, saffron aliolli, roast new potatoes, broccolini
Burnt Portuguese Custard Tart with Figs
Ed Hamilton & Co. endeavors to provide the most up-to-date yacht information, availability and rate details, however, all information published on this site is subject to change without notice. Please contact us for the most current yacht information, availability and rate details.