Guests

6

Cabins

3

Model

Cat

Year Built

2004
Additional Rate Information
Additional Rate Information
Additional Rate Information
Rates for Pegasus.
Includes 3 crew. Professional captain, gourmet chef, experienced stewardess that have been aboard for 6 years
Daily Rate Bahamas (8 Hours) : Up to 9 people, $6600 + fuel, provisions and bar (APA).
+4% Bahamas Tax
The APA is subject to change due to fluctuating cost of food and fuel.
$100 Per supplementary person up to 12 max
8 hours onboard. $250 per hour thereafter. Max 10 hours.
Weekly Rate : for up to 6 people : Hi rate :$40,000.00 / Low Rate : $35,000.00 + 4% Bahamas Tax ($1,320.00) +
Fuel and provisions (APA) costs subject to change estimated at 30% of charter rate.
Minimum 5 days charter.
Location Details
Summer Area: Bahamas
Winter Area: Bahamas
Location Details: Lyford Cay Marina, Providence Island. Nassau, Bahamas.
Can pick up anywhere in the Bahamas – additional fuel to deliver the boat will be added to APA. No other additional charges for delivery.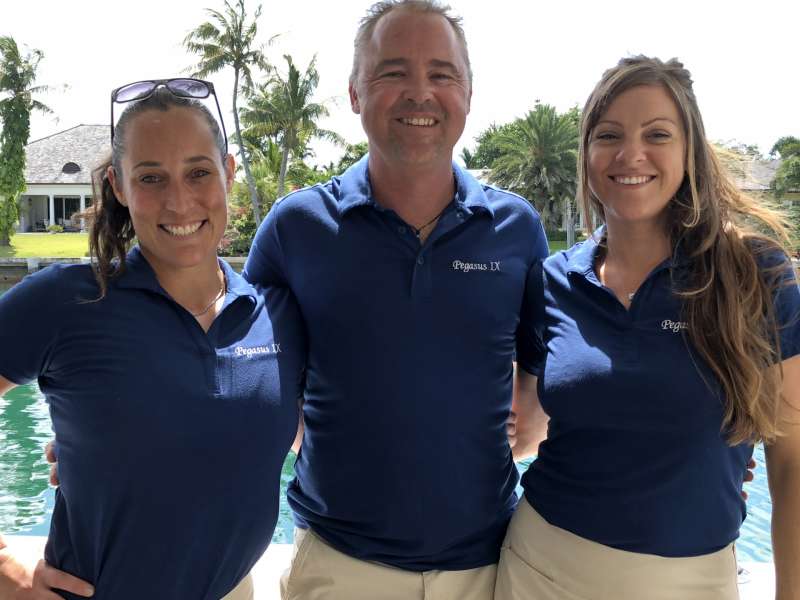 The Crew
A Gastronomic Extravaganza
Our efforts to deliver you a 1st class vacation don't stop with the boat.
Our culinary trained chef Elizabeth Lee will tantalize your taste buds at every meal.
Trained in British Columbia, she has progressed from fine dining resturaunt's in Whistler to yachting in 2003 and has traveled the world aboard private and charter yachts, honing her skills and developing her repetoir of classical local dishes and fusing them to create beautifully presented, outstandingly delicious works of art.
For Elizabeth, Cooking and serving her guests is her life and the ongoing creation of her book " Made With Love" is a testament to that
CAPTAIN – WARREN EAST
MCA MASTER 3000 YACHT CAPTAIN. Although Warren's foundations in yachting were planted at an early age, his entry into the commercial sector began in 1994 when he joined the UK Sailing Academy to achieve the licenses required to operate larger yachts that were available for charter. His progress throughout the years has continued and the experience he has gained along the way has positioned him as an expert in all elements of yachting and chartering. His dedication to providing an exceptional vacation and service has been proven time and time again with the great references his past guests have given.
This experience and qualifications include:
Maritime Coastguard Agency and Marshal islands Master 3000 captain's license, Padi Divemaster, acclaimed photographer and drone pilot. He has completed more than 450 successful charters in destinations worldwide since 1995. including extensive cruising in the Bahamas. He and his Wife, Elizabeth lee, also own their own 85ft yacht which they have successfully established as a charter yacht in Turkey and the Greek Islands since 2011. As of Jan 2018, he has logged 550,000 nautical miles at sea.
His experience in the industry, combined with his dedication to exceptional service and the delivery of a 1st class charter, makes him a great choice as captain for Pegasus IX.
CHEF – ELIZABETH LEE
Chef Elizabeth graduated from Kelowna University of Culinary Arts in 2001. She worked as sous Chef at a five star, fine dining, Italian Restaurant in Whistler, British Columbia's premier ski resort. Following this she made the move into the yachting sector and quickly progressed to become a renowned chef in the industry. As a yacht chef Elizabeth won various competitions throughout the Caribbean and Mediteranian, including Concours de Chef and Chef of the Year in the prestigious St. Martin, Antigua and more recently the Marmaris charter yacht show in Turkey.
In 2006, Elizabeth teamed up with Warren and together they successfully operated both a 73ft catamaran and a 98ft catamaran for seven years. This experience, which introduced her to many cultural elements around the world, inspired her to raise the bar and augment her repertoire by studying multinational styles of cuisine and "haute" and "nouvelle" cuisine including sous vide and molecular gastronomy. She enthusiastically demonstrates her talents wherever and on whatever she sails.
In 2008, Elizabeth followed in her mother's footsteps and began writing her own cookbook titled " Made With Love". The recipe book is comprised of dozens of wonderful dishes, illustrated through an array of stunning photographs taken by Warren.
As Chef aboard Pegasus 9 , Elizabeth serves her guests a tantalizing selection of her gourmet creations, made with only the finest and freshest ingredients purchased in fresh markets and prepared according to guests' appetites and preferences.
Warren and Elizabeth promise to provide you and your friends or family with an outstanding vacation on board Pegasus IX. They are highly skilled, very knowledgeable, and genuine proponents of service with big smiles. Warren has been taking advantage of the boats 4ft draft for 2 years now and has surveyed the Bahamas thoroughly. They promise to take you on a voyage of discovery that you will never forget and leave you loving the Bahamas and wanting to come back for more.
VITORIA OCEANOS.
Vitorias first teamed up with Warren and Elizabeth back in 2006 when they worked together aboard a custom sailing catamaran which sailed back and forth across the Atlantic on a busy charter schedule. Since then, She has worked on several large super yachts, both power and sail and has honed her skills as a service professional. With a light and bubbly personality, she is sure to keep you entertained and busy throughout your time aboard Pegasus.
​
| | | | | |
| --- | --- | --- | --- | --- |
| Captain | Warren East | British | 1973 | English, French, Spanish, Portuguese, Italian |
| Crew | Elizabeth Lee | Canadian | | |
General
Cruise Speed
10 - 13 knot
Other Toys
6ft x 9ft floating platform
6ft x 20ft Lilly Pad.
Drone
2 large Beach umbrellas,
beach setup for 6
3 x 1 man kayaks
2 x Paddle Boards
Fighting chair for deep sea fishing and 6 trolling and casting rods


1 x Master. King walk around Bed with TV at foot.
double basin En- suite bathroom with shower and electric toilet.
1 x Guest stateroom. Queen bed with TV.
En-suite bathroom and shower
1 x Guest Stateroom with King size bed.
En- Suite bathroom and shower.
Sample Menu Chef Elizabeth Lee
All meals are served with freshly baked bread
At the end of every lunch all meals are served with the option of home made ice cream,
frozen yogurt or sorbet.
Day 1:
Lunch
Filo encrusted cod served on a bed of bulgur pilaf with cherry tomatoes, cucumber, and
shaved celery with summer salsa finished with a pampadom crisp
Dinner
1st course
truffle burratta and grilled peach with micro greens, balsamic caviar, and a truffle
Borolo reduction
2nd course
Sous vide rib eye on a bed of spaghetti squash served with seared green beans roasted
cherry tomatoes with horseradish cream, with a Hahn pinot noir reduction.
3rd course
Inverted white chocolate demi spheres: white chocolate shell, meringue, strawberry
confit, strawberry gelee, crushed meringue, spicy candied pecans, strawberry fluid gel,
meringue kisses, and mint
Day 2:
Lunch
Lyonnaisse salad Duck confit with frisee lettuce, Dijon vinaigrette, with smoked bacon,
tomatoes, green beans, and sous vide poached egg topped with a coral tuile.
Dinner
1st course
Tuna tataki served with a cucumber flower, pepper concasse and sesame vinaigrette
2nd course
Black miso cod served on a bed of sticky rice with Asian vegetable sautŽ, pickled
cucumber and fennel, in a Kombu broth with coriander oil finished with micro greens,
and coriander flower.
3rd course
Mango and basil panna cotta served in a glass with dragon fruit skewers and mint
Day 3:
Lunch
Deconstructed Lobster Russian salad, with new potatoes, peas, carrots, and crispy
chorizo on a bed of arugula served with a dijonnaise and parm crisp.
Dinner
1st course
Sous vide Pork Belly served on micro greens with a pinot noir reduction and braised
cipollini onions
2nd course
Pork tenderloin served with seared gnocchi on a bed of cauliflower emulsion served
with burnt cauliflower, roasted Campari tomato, micro arugula, pancetta crisp, and a
porcini reduction.
3rd course
Cherry smoked cognac infused chocolate mousse with almond tuile raspberry and
strawberry confit.
Day 4:
Lunch
Sous Vide NY Strip finished on the grill with porcini cous cous, oven dried cherry
tomatoes, grilled vegetables, fresh herbs, and balsamic reduction.
Dinner
1st course
smoked sous vide brick of salmon on a bed of pickled red onion and arugula with
herbed crme cheese and lemon wedge
2nd course
Halibut wrapped in potato string on a bed of soft polenta with vodka braised tomato
sauce, asparagus, shaved courgette and micro greens.
3rd course
Chocolate Torte with pink peppercorn sphere and Frozen chocolate finger with
vanilla cookie crust, black pepper ice cream, and peanut brittle. Finished with
raspberries and pistachio
Day 5:
Lunch (fish)
Seared shrimp salad dusted with smoked paprika tossed with quinoa, cherry tomato
salsa, arugula, and avocado feta crumble.
Dinner
1st course
Citrus infused lobster salad finished with a Lobster bisque and micro herbs
2nd course
Leg of lamb roasted for 7 hours finished with sweet potato chips, oven roasted
heirloom root vegetables, caramelized onions, mashed potatoes and a lamb demi-
glace.
3rd course
sous vide crme brulee served with sous vide peach, dehydrated star fruit, crme
anglaise and strawberry caviar
Day 6:
Lunch
Chicken and kalamata olive home made ravioli on a bed of lemon asparagus emulsion
with charred asparagus, and micro greens.
Dinner
1st course
tuna served three ways tuna nigiri, tuna with a sriracha aioli in a cucumber shell, and
seared tuna with a shitake crust
2nd course
Curry scented poached Caribbean lobster tail atop a potato croquette finished with
asparagus, coconut poached cabbage, micro coriander and coral tuile.
3rd course
Tahitian vanilla cake with an almond crust finished with dehydrated candied crab
apple, star fruit and berry parfait.
Day 7:
Lunch
Nicosia salad: smoked black sesame encrusted sashimi grade yellow fin tuna paired
with a caper infused potato salad, caramelized onion, roasted red pepper green leaf
salad, cherry tomatoes, celery wedge, shaved cucumber, boiled egg, olives, nicoise
olives, and reduced balsamic glaze.
Dinner
1st course
sous vide foie gras marinated with cognac and a 7 spice rub paired with GSM
reduction, caramelized onion, toast points and pear
2nd course
Wagyu Filet mignon thinly sliced on a bed of truffle pomme puree (smoked) with
chanterelle mushrooms and fresh truffle. On the side have freshly baked rolls, roasted
carrots, and steamed broccoli. Served with French onion jus and demi glace.
3rd course
new mold dark chocolate mousse stuffed with a Ferrero rocher finished with a dark
chocolate mirror glaze and raspberry lyo with dark chocolate curls and coriander
flower
Day 8:
Sous Vide mango and Brie stuffed organic chicken breast paired with a fresh Greek
salad, baby arugula seared Halim, and a light oregano vinaigrette
Ed Hamilton & Co. endeavors to provide the most up-to-date yacht information, availability and rate details, however, all information published on this site is subject to change without notice. Please contact us for the most current yacht information, availability and rate details.