Guests

6

Cabins

3

Model

Cat

Year Built

2014
Additional Rate Information
Additional Rate Information
Charter Rates Per Week
| Rate Period | Terms | 2 Guests | 3 Guests | 4 Guests | 5 Guests | 6 Guests |
| --- | --- | --- | --- | --- | --- | --- |
| Winter 2019 to 2020 | Plus Expenses | $17,000 | $17,500 | $18,000 | $18,500 | $19,000 |
Additional Rate Information
10% additional for Christmas and New Years Charters. Christmas charter 2018 is 12/27-12/29. New Years Charter is 12/30-01/06
Location Details
Summer Area: Bahamas
Winter Area: Bahamas
CAPTAIN – CRAIG DORING, USA
Captain Craig Doring charters voyages aboard various catamaran yachts in the LAGOON fleet. Craig has been sailing for over 25 years and brings his love of the ocean, knowledge of the seascape, and passion for cuisine and cooking into his charters, working with clients to create a memorable experience aboard.
Captain Craig Doring has been sailing since the age of 14. He is a graduate of the University of Washington and sailed for several years racing sloops in the Puget Sound and joining his uncle on cruises in the San Juan Islands.
After many years fishing the Nor and Bering seas, Captain Craig Doring returned to his passion of sailing personal yachts with Moorings and delivering private yachts throughout the Caribbean. As proprietor of Excalibur Adventures, a small charter company founded in 2000, Captain Craig catered to serving youth in their sailing adventures. Eventually Captain Craig moved from mono-hulls to catamarans and now commands a wealth of knowledge sailing and maintaining LAGOON catamaran yachts.
United State Coast Guard 1790Captain's License #:2525140
(Master, 100 Ton License)
CHEF – PRAMILA DURAILI
Pramila started her adventures from Nepal far from the sea. Her uncle was the chef to the British High Commissioner and when his assignment in Nepal was completed Prami and her uncle were asked to accompany the high commissioner to Manchester. Prami grew up helping her uncle as the sous-chef for embassy functions. When the High Commissioner was assigned to the Bahamas, Prami again was asked to join them.
Nepal is situated between India and China. The cuisine is a fusion of the Orient and Asia. Prami's amazing journey gives her a diverse set of influences and culinary skills. She can personalize your menu to suit your preference while adding an exotic touch. The Bahamas is abundant with fresh seafood. Local grouper, lobster, stone crab and mahi mahi are our favorites.
After 19 years of living in the Bahamas Prami has just completed her second year on the Samoru ll and has fallen in love with the sea.
| | | | | |
| --- | --- | --- | --- | --- |
| Captain | Craig Doring | USA | 1967 | English |
| Crew | Pramila Duraili | Bahamian | | |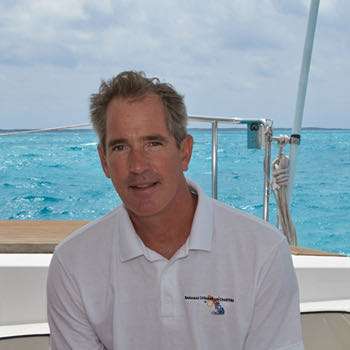 Captain
Craig Doring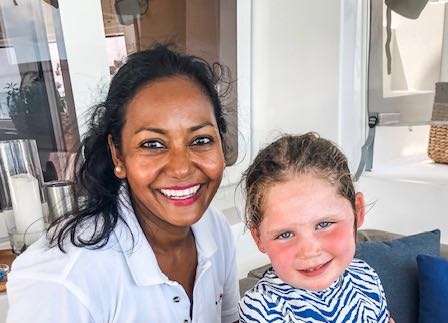 Chef
Pramila Duraili
Ammenities
Water Maker
63.36 gallons/H
General
Guest Smoke
Aft deck only
Leisure
Dive Info
Diving on the first day departing from Nassau can be arranged through Bahamas divers. Snorkeling is a big part of our charters. The Exuma Cays have a 172 square mile marine park teaming with marine life.

We can also offer rendezvous diving from Harbour Island and Cape Eleuthera.
SAMPLE MENU
BREAKFAST
(Served with your choice of coffee, tea, mimosas, bloody marys, and a selection of juices)
Grand Marnier French Toast
(topped with custard and raspberry reduction)
Eggs Benedict
(Toasted muffin with Canadian bacon, poached eggs, and hollandaise sauce)
Bagel and Lox Plate
(Toasted bagel, smoked salmon, dill cream cheese, capers, red onion)
Blueberry Pancake
(Served with Cannadian maple syrup) 
Bacon and Eggs
(Served with Crisp Rosti Potatoes)
Biscuits and Gravy
(Southern buttermilk biscuits topped with sage sausage gravy)
Each breakfast is served with a choice of:
Fresh Fruit 
Yogurt
Assorted Cereal
LUNCH
Blackened Grouper Spinach Salad
(Blackened grouper served on a bed of spinach with roasted vegetables, quinoa, avocado, almonds, dried cranberries, and tossed with balsamic Dijon dressing)
New American Grilled Panini with Gazpacho Soup
(Pesto, caramelized onion, avocado, roasted red peppers, gruyere, roasted chicken on ciabatta bread)
Spicy Citrus Fish Tacos of the Day with a Mexican Bean Salad
(Freshly caught fish from Captain Craig, grilled and served on warm, soft flour tortillas with homemade guacamole and salsa, shredded cheese, siracha sour cream, black beans, with a citrus slaw)
Curry Chicken Wrap
(Pulled chicken with mayonnaise, celery and dried cranberries. Seasoned with Jamaican curry)
Mediterranean Roasted Cauliflower salad
(Roasted cauliflower with sliced almonds served over a bed of mixed greens)
Thai Chicken and Noodle Salad
(Marinated chicken breast, egg noodles, water chestnuts, snow peas, carrot, fresh herbs, peanuts,
tossed in a tangy Thai dressing)
HOR D'OURVES 
Fresh Fruit Platter
(Pineapple, Mango and select fresh tropical fruit)
Assorted Hummus with Warm Pita Bread and Veggie Sticks
(Original, sundried tomato basil, spinach and artichoke)
Mini Caprese
(Basil from our garden, tomato and mozzarella with reduced balsamic vinegar)
Nepalese steamed dumplings (Momo)
Served with toasted ground sesame and roasted tomato sauce
Classic Italian Bruschetta Crostini
(Marinated tomato, garlic, basil, red onion, and mozzarella served on fresh toasted French baguette slices)
Stuffed Shrimp
(Jalapeno-jack stuffed shrimp wrapped in apple wood bacon)
APPETIZERS
Fresh Tuna Tataki
(Fresh seaed tuna marinated in garlic, ginger, Toasted sesame oil, )
Goat Pepper Laced Bahamian Cracked Conch Ceviche
(Locally caught and served in of lime juice and sour orange!)
Seared Scallops on Roasted Garlic Mashed potatoes 
(topped with thinly cut homemade fried onion rings)
Shrimp Spring Rolls with a Spicy Hot and Sour Dipping Sauce
(Rolled with cucumber, carrot, cilantro, basil, bell pepper, avocado, vermicelli)
Stone Crab Claws
(Joe's Stone Crab sauce)
Captain Craig's Conch Chowder
Quesadilla Bites
(Served with pico de gallo, sour cream, cilantro garnish)
DINNER
The Ultimate Love Boat Platter
(The Freshest sushi and sashimi platter filled with local wahoo, tuna, mahi, lobster, salmon tartare, hog fish, and more. Accompanied with fire cracker shrimp and seaweed salad)
Grilled Bahamian Hogfish with Fried Plantains and Bahamian Peas & Rice
(Topped with avocado mango salsa)
Shrimp Alfredo over Angel Hair Pasta
(Home made Alfredo Sauce and jumbo shrimp on a bead of angle hair pasta
served with a mixed green salad and garlic bread)
Surf and Turf Dinner with a Rosemary beurre-blanc and Hollandaise 
(Filet mignon grilled to your liking, with roasted new potatoes, asparagus, served on a with freshly caught lobster tail drizzled with citrus Buerre-Blanc sauce)
Lasagna and Marinara
(Ricotta and mozzarella layers with Italian sausage and pasta toped with marinara)
Macadamia, Panko Mahi-Mahi
(Macadamia crusted mahi-mahi baked and served with green beans,  jasmine rice.
drizzled with a mango rum sauce)
DESSERT
Homemade Key Lime Pie
(Topped with whipped cream and key lime zest)
Fudge Brownies
(served with vanilla ice cream)
Chocolate Mousse Parfait
(Topped with Fresh Mint and Raspberries)
Captain Craig's Bananas Foster
(Served on vanilla ice cream)
Pineapple Upside-Down Cake
Extra Options:
Charcuterie Platter
(Manchego, gruyere, and smoked gouda cheese served with dried herb sausage, pancetta, and salami cuts with roasted nuts, grapes, roasted tomato pesto, and assorted crackers
Nepalese Curry
(Spicy curry with your choice of lamb or chicken, fresh garlic, coriander, ginger, gram masala, and cardamon.
Seved with dal and basmati rice.)
Slow Cooked BBQ Baby Back Ribs
(Served with jalapeno-cheddar cornbread muffins, corn on the cob, green beans and home made mac & cheese)
Ed Hamilton & Co. endeavors to provide the most up-to-date yacht information, availability and rate details, however, all information published on this site is subject to change without notice. Please contact us for the most current yacht information, availability and rate details.