Guests

4

Cabins

2

Model

Cat

Year Built

2016
Additional Rate Information
Additional Rate Information
Additional Rate Information
Christmass and new years additional charge of 10%
Preferred pick up in Staniel Cay Yacht Club. One way to Nassau an additional $1,500 charge.
APA 20%
Location Details
Summer Area: Bahamas
Winter Area: Bahamas
Location Details: Sailing area from Staniel Cay Yacht club to Nassau, Bahamas.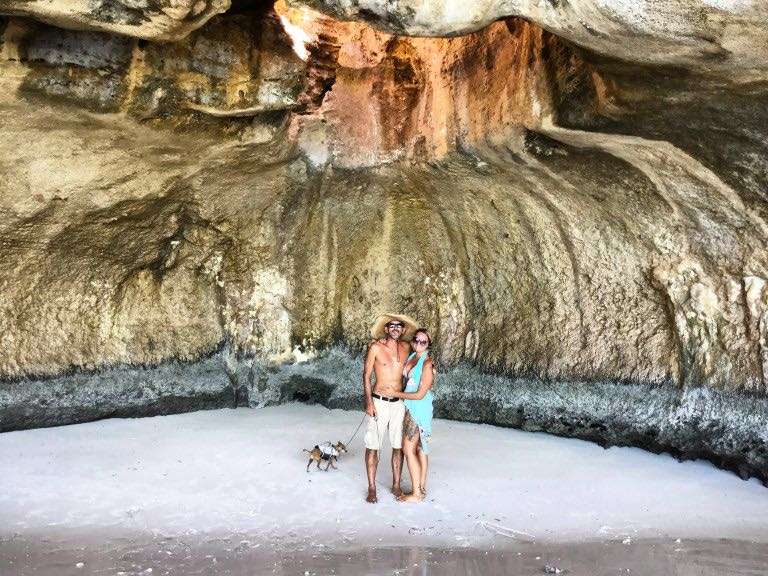 ABOUT US
Captain Matthew James Manninen Jr. & Chef Jennica Ojander
Matthew is from Birmingham, Michigan, a midwestern town rich in history and steeped in family values, 20 miles outside of Detroit. His family enjoyed boating on Lake Loraine and he was already learning the ropes at the age of five. As a child he was involved in lots of sports; skiing, fishing, hunting, canoeing, rock climbing, American football, soccer, baseball, and basketball. He even held the State record for hurdles in the 8th grade. Having the energy to master all sorts of challenges is something Matthew naturally excels at.
As an adult, Matthew added to his already impressive list of talents with a variety of jobs, each of which required specialized skills. He was a whitewater raft guide for 6 years in Colorado, a waiter at The Grub Steak restaurant in Estes Park, Colorado, a professional bartender at multiple bars in Austin, Texas, a professional musician for 15 years in Colorado and Austin, owned a record label and recording studio called Stardust Drive in Austin, Texas and was involved in real estate development. All successful accomplishments, which he left behind to follow his dream and sail to the Caribbean.
Guests aboard SAMORU are in excellent hands. Captain Matthew has been chartering in the Exuma Cays for eight years and knows all the best spots. He is certified as an MCA Master of Yachts 200t/500t OOW, Bahamian Class A License, STCW 95, Security Awareness with Designated Duties, ENG1, PADI Open Water and VHF Radio Operator. He says his favorite place on earth to sail is the Bahamas, especially the Exumas, "because it has the clearest water in the world and every shade of Blue. I fell in love with the Bahamas eight years ago and it's my home. To this day I'm still mesmerised by its beauty, charmed by the friendliness of the locals and in awe of all the Exuma blue. Charter with Matthew and discover living by his motto: Another Best Day Ever!
Jennica grew up in the little town of Salem, south of Stockholm, Sweden. She was the youngest of three girls, highly intelligent and always a bit restless. She wanted to see the world, and she had a plan. She says, "I worked almost day and night at my job with Autistic children to save up enough money to go backpacking. I started in India by myself at the age of 20. I was only going for six months, but ended up staying for two years in the Himalayas, Rajasthan and Goa. Then I moved to Australia. I started working as a cowgirl on a ranch, since I had experience with horses, but ended up working in restaurants."
In fact, Jennica had more than experience with horses. Back in Salem she had spent most of her time at the stables and was an accomplished show jumper. However, she discovered even more than she loved horses, she loved cooking for people. She started taking cooking classes all over the world and even had a job as a chef in India. Guests aboard Samoru will have a rare culinary opportunity to sample a truly international menu. Among her most popular dishes, "smorgastarta", Jennica explains, "is a lunch that introduces guests to Swedish culture. It's a big sandwich cake, decorated with beautiful colors and delicious meats and cheeses. People always want seconds."
Jennica and Captain Matthew get enthusiastic reviews from their guests. They plan wonderful activities; fishing, snorkeling, sailing, shore excursions and fabulous food. The last night of the charter they host a bonfire on the beach, with ribs on the fire and smores for deserts. Jennica says, "This is something that our guests always rave about, since they didn't expect it. It allows families to really connect with each other. We eat good food, play some live music, and talk about the highlights of the trip." Just "Another Best Day Ever"!
Join the Captain and Chef for the experience of a lifetime!
Matthew and Jennica at one of the many caves to be explored in Exuma.
| | | | | |
| --- | --- | --- | --- | --- |
| Captain | Captain Matthew James Manninen Jring | USA | 49 | English and Swedish |
| Crew | Jennica Ojander | Swedish | | |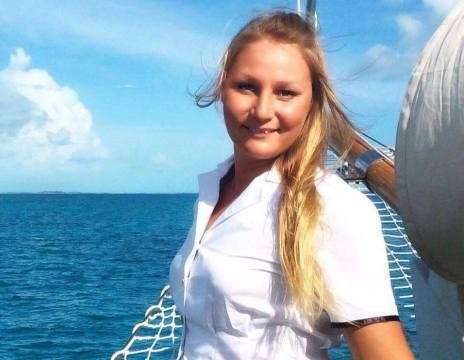 Chef
Jennica
General
Guest Smoke
outside aft deck only
Other Toys
2 Stand Up Paddle Boards
2 Hawaiian Slings for spear fishing

Owners version with Stbd haul as one cabin with large shower and head. Second guest cabin port aft
MENU
We strive to bring you the freshest and most delicious fare. Our produce and recipes are hand picked with Love. As you give us your attention, we cater to your tastebuds. A small sample of what we have coming out of the galley. It's very important to fill out the Preference Sheet completely! So that we can give you the best culinary experience.
Breakfast:
Comes with the Captain's Espresso, Smoothies, Fresh Juice Shots and a Fruit Plate
– Good Old-fashion Bacon & Eggs any style with Toast and Homemade Jam
– Bacon & Broccoli Quiche
– Belgian Waffles topped with fresh fruits and nuts
– Lobster Benedict with Homemade Hollandaise
– Magical Eggs in a hole
– Breakfast Burrito comes with Salsa
– Fresh Bahamian Coconut bread French toast with fresh fruits and the best selection of local Jams.
Lunch:
– Home-made Pizzas topped with Fresh Herbs.
–Lobster Quesadilla with peppers, cheese and creamy sauce.
– Smörgåstårta, or like you would call it in English "sandwich cake" it's a traditional Swedish dish with all kinds of delicious yummies on it.
– Fresh caught Sashimi & Sushi rolls.
– Texas Hill Country On-the-Grill-all-the-way Stuffed Hamburgers  with Coleslaw salad
– Fish Tacos, Salsa and Guacamole… Yucatan Style…
-Italian "Meat Lover's" Lasagna
Appetizers:
– Conch, Fish, Seafood or Coconut ceviche.
– Andalusia Gazpacho.
– Mediterranean Plate.
– Roasted Tomato Soup topped with Fresh Basil and Feta Creme.
– Homemade Guacamole and Tex-Mex Salsa with chips.
– Cheese Plate
Entrees:
– Chicken Teriyaki served with coconut rice, peanut Sauce & Stir-fried Vegetables.
– Seared Ginger and Honey Mahi Mahi with Mango salsa, Creole sauce, Greek salad Roasted Potatoes garnished with Dill.
-Stuffed chicken breast wrapped in braided bacon comes with baked sweet potato and salad
– Sesame Encrusted Seared Tuna topped with Cusabi sauce, served with Quinoa Salad, Pickled Ginger & Wasabi
– Bacon wrapped Filet Mignon with Swedish Mashed Potatoes, Red Wine sauce and Cheese stuffed Beetroots.
-Slow-Cooked Jamaican Ribs with Corn Basted in Sea-Salt Basil Butter and Summery Potato Salad cooked over a Bonfire.
– Texas seasoned Bone-in Ribeye with Fresh Basil and Parmesan Cheese salad.
–Cracked Lobster with Homemade Garlic Herb Butter served with Sweet Potato Puree, Beet and Feta Cheese Salad and Marinated Garlic Salad.
Desserts:
– Chocolate and Dark Rum Semifreddo w/ Amarone Cherries
– Cream brûlée garnished with marinated berries
– Salted Caramel Budino w/ Amaretta Cookie Crumble
– Key Lime and Chocolate Trifle
– Lemon Ricotta Cheesecake w/Fresh Fruit and Mango Coulis
– Coconut and Mango Panna Cotta
– Bahamian Style Tropical Fruit Bread Pudding w/ Caramel Rum Sauce
Not to mention…
We also do a beach bonfire night with dinner cooked over the fire and s'mores for dessert.
Ed Hamilton & Co. endeavors to provide the most up-to-date yacht information, availability and rate details, however, all information published on this site is subject to change without notice. Please contact us for the most current yacht information, availability and rate details.