Guests

10

Cabins

5

Model

Cat

Year Built

2020
Additional Rate Information
Additional Rate Information
Additional Rate Information
2022 Rates
High Season (15 June – 15 September) EURO 31500/week + all exp
Mid Season (1 May – 14 June & 16 September – 31 October) EURO 27500/week + all exp
Low Season (October – May) EURO 20000 + all exp
+ APA 20% + VAT 13%
Charters for less than a week are only available upon request and the weekly rate is divided by 6
Location Details
Summer Area: Greece
Winter Area: Greece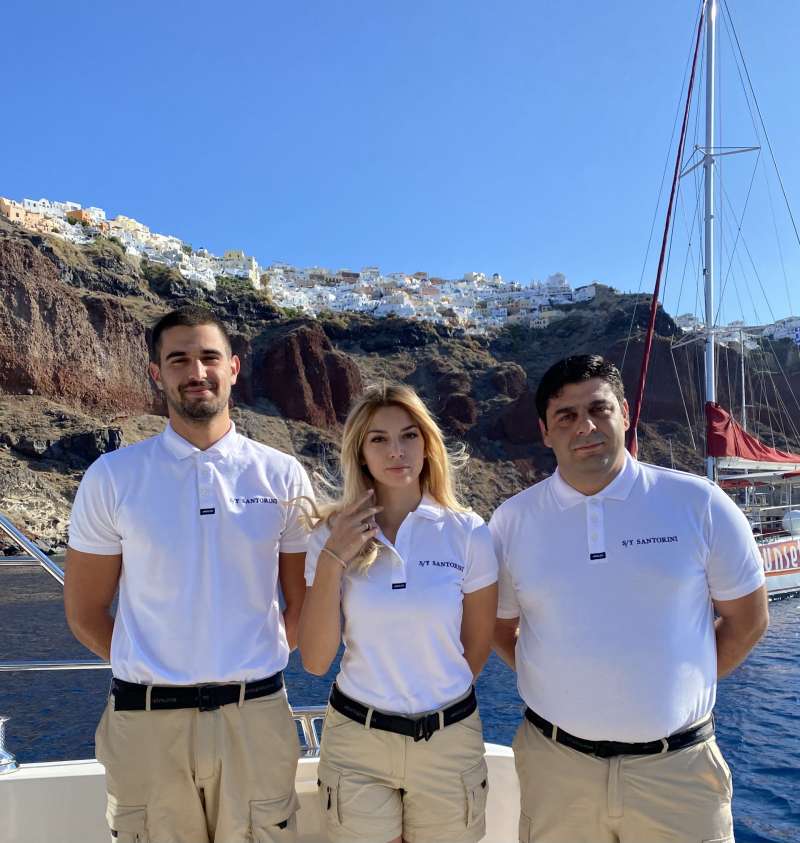 CAPTAIN: CHRISTOS LOUKATOS
Captain Christos was born in 1984 and is married. Most of his life he has spent on the sea. He participates in sailing races in his spare time and he is also a FIV sailing instructor in Italy. He also holds a motor yacht license, and life guard certificate. He is an eager Captain who will look after his guests with professionalism and courteousness to make sure they will have anything you need. His calm and alongside cheerful character will make anyone feel comfortable around him. In his free time he enjoys to hike, listening to music and cooking. Captain Christos is fluent in Greek, English and Italian (B2).
CHEF:Tina Shelegia
Tina, originally from Tbilisi, Georgia, has spent the last 5 years in the yachting world. An accomplished actress, she studied and received her degree in the Bachelor of Arts: Theater Arts Shota Rustaveli Theatre And Film University in Tbilisi, Georgia. From Georgia to China, she spent 7 years on stage in art productions. Her passion for sailing and the sea brought her to Greece. With the same energy she has for the arts, she pursued a career in yachting. She holds many certificates such as a Sailing License, Basic Safety Course, Personal Survival Techniques, Fire Prevention And Fire Fighting, Elementary First Aid, and Radiocommunications.
From a young age, she cooked alongside her grandmother and mother learning in the traditional way. In yachting, cooking became her profession. She creates delightful dishes to her guests preferences and loves fresh Mediterranean dishes with Greek products- Shrimp Saganaki is a favourite! In her free time, she loves travelling, sports, cooking, sailing, and reading.
Languages: Georgian, Russian, English (fluent), Greek (excellent), Chinese (conversational)
DECKHAND/ STEWARD – ARVANITIS IOANNIS
Ioannis, also known as "Tzoni", is 21 years old from Greece, with a passion for the sea as he is a windsurf athlete. He has been working as a deckhand in Santorini doing daily cruises, working with many different nationalities and has worked in the hospitality industry as well. His main goal is to become a skipper himself. In his free time, he is very active as he plays basketball, volleyball, tennis, and water polo and has participated as well in Brazilian Jiu-Jitsu games. He has an English proficiency certificate and a German diploma. Last but not least, he holds both sailing and motor yacht license and first aid certification.
| | | | | |
| --- | --- | --- | --- | --- |
| Captain | Christos Loukatos | Greek | 1984 | Georgian, Russian, English, Greek, Chinese |
| Crew | Ioannis Arvanitis | Greek | | |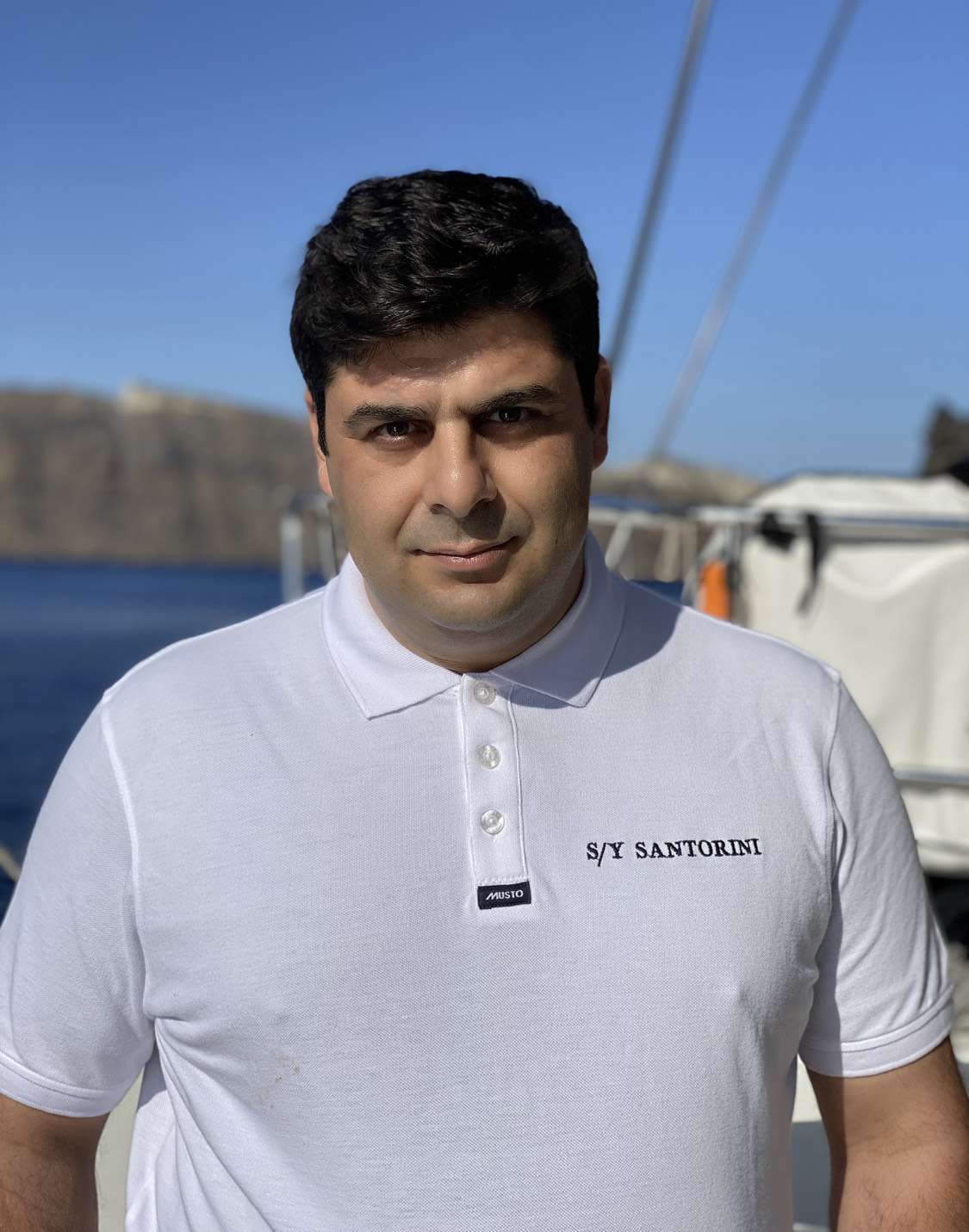 Captain
Christos Loukatos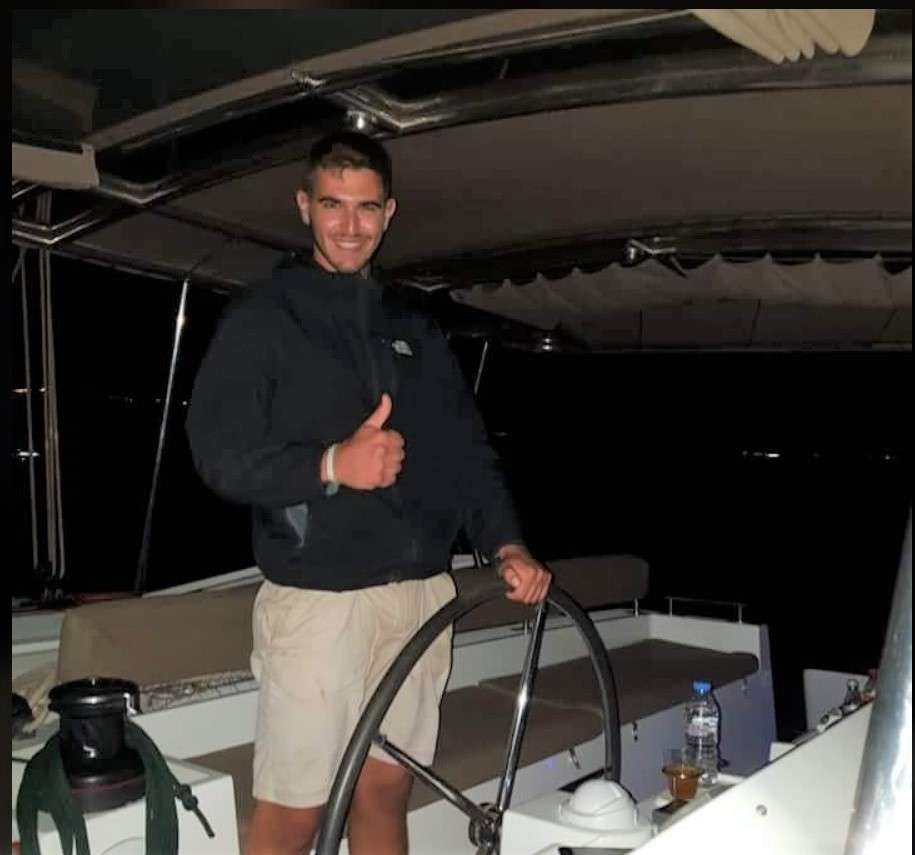 Deckhand/ Stew
Giannis Arvanitis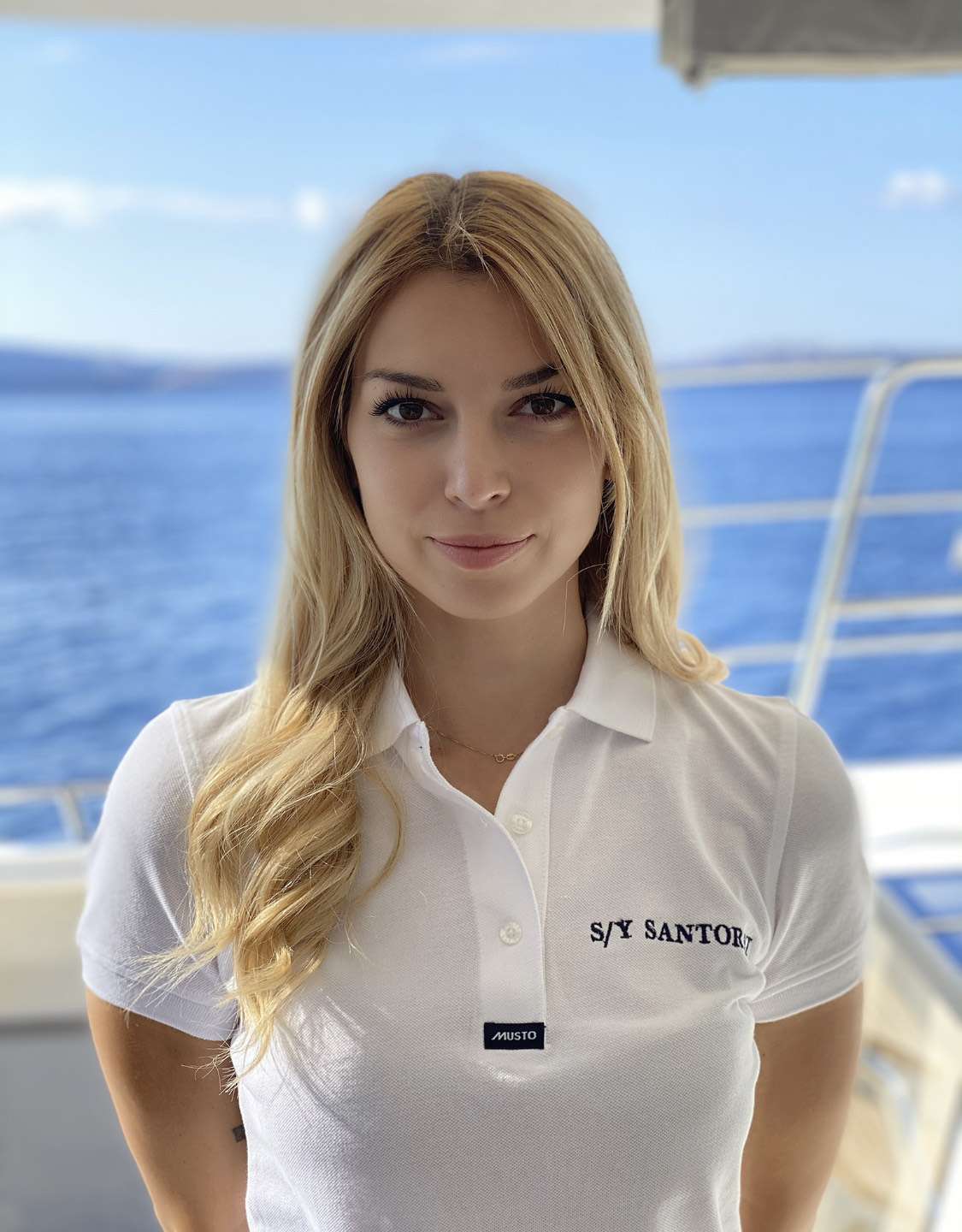 Chef
Tina Shelegia
5 double cabins with queen size beds all with private bathrooms
BREAKFAST
Milk – Variety of teas – Coffees
Fresh orange juice – Fresh fruit juice
Fresh fruits
Greek yogurt
Cereals
Bread – Butter Croissant – Chocolate Croissant – Biscuits – Traditional crackers
Fried eggs – Scrambled or Poached – Omelet
Variety of sausages – Bacon – Ham and Turkey – Greek cheeses
Homemade marmalades – thyme, pine, fir honey
LUNCH
-option 1-
Appetizer:  Greek marinated octopus in red vinegar with dried oregano and bay leaf
Salad: Black eyed beans with tomato, fresh onions, dried red onions, parsley, red wine vinegar with mustard dressing
Main: Stewed octopus in tomato sauce and makaronaki kofto (Greek pasta)
Dessert: Greek yogurt with homemade traditional spoon sweets
-option 2-
Appetizer: Stuffed portobello mushrooms with cream cheese, herbs and garlic dressing
Salad: Green salad with cherry tomatoes, cucumber, caramelized pearl and blue cheese
Main: Flounder fish with fennel and Moschofilero (Greek white wine)
 wine sauce
Dessert: Orange pie with vanilla or chocolate ice cream
-option 3-
Appetizer: Stuffed green peppers (kerato) with feta cheese rolled with bacon
Salad: Greek salad with paximadi Charoupiou (rusks from Crete)
Main: Kritharoto (orzo) in tomato sauce with sautéed shrimps in ouzo
Dessert: Lemon mousse with basil leaf
DINNER
-option 1-
Appetizer: Fresh mussels sautéed with Assyrtiko (Greek white wine) in garlic sauce
Salad: Broccoli, avocado and sautéed in truffle oil zucchini with lemon dressing
Main: Salmon fillet with honey garlic crust and chili flakes accompanied with baby potatoes
Dessert: Cheesecake with oatmeal cookies, cinnamon and ginger topped with strawberries and mint leaves
-option 2-
Appetizer: Zucchini fritters with mint and line yogurt dressing
Salad: Caprese salad buffalo mozzarella, tomatoes and basil oil
Main: Sofrito (Greek traditional dish from the island Corfu) veal with parsley, beetroot and lemon dressing
Dessert: Panna cotta with vanilla bits and chocolate or cherry sauce
-option 3-
Appetizer: Grilled Talagani (Greek cheese) with tomato sauce
Salad: Rocket salad with watermelon, black sesame and Chèvre cheese
Main: Midopilafo (lemon rice with mussels) and dill
Dessert: Molten lava cakes with kaimaki (Greek ice cream with mastic flavor)
FORMAL DINING
Appetizer: Ceviche with sea bass
Salad: Green salad with prosciutto, melon, walnuts, balsamic vinegar and honey dressing
Main: Lobster with linguine pasta
Dessert: Ekmek Kadayifi (Greek dessert with custard and whipped cream pastry with syrup)
VEGETARIAN
Appetizer: Velvet zucchini soup with estragon and soya cream
Salad: Greek salad
Main: Imam bayildi (stuffed eggplants with vegetables in tomato sauce)
Dessert: Baked apple stuffed with halva
Kid's Menu
Appetizer: Grilled cheese
Salad: Kid friendly Caesars salad
Main: Chicken nuggets or Beef patty with slice of cheese topped with tomato sauce
Dessert: Variety of ice creams syrups and topping
Ed Hamilton & Co. endeavors to provide the most up-to-date yacht information, availability and rate details, however, all information published on this site is subject to change without notice. Please contact us for the most current yacht information, availability and rate details.