Guests

6

Cabins

3

Model

Cat

Year Built

2009
Additional Rate Information
Additional Rate Information
Charter Rates Per Week
| Rate Period | Terms | 2 Guests | 3 Guests | 4 Guests | 5 Guests | 6 Guests |
| --- | --- | --- | --- | --- | --- | --- |
| Summer 2020 | All Inclusive | $14,000 | $14,500 | $15,000 | $15,500 | $16,000 |
| Summer 2021 | All Inclusive | $15,500 | $16,000 | $16,500 | $17,000 | $17,500 |
| Winter 2021 to 2022 | All Inclusive | $15,500 | $16,000 | $16,500 | $17,000 | $17,500 |
| Summer 2022 | All Inclusive | $15,500 | $16,000 | $16,500 | $17,000 | $17,500 |
Additional Rate Information
WINTER & SUMMER :
Weekly rate for 2 guests : $ 15 500
Weekly rate for 4 guests : $ 16 500
Weekly rate for 6 guests : $ 17 500
XMAS & NEW YEAR period : 2-6 guests $ 21 000
10% APA required for the extra fees: transfers, all taxes, local port agent, alcohols except standard table wine, special requests, marina if any, communication onboard (WIFI router rental) & crew gratuity
For the Grenadines, standard table wines are in extra too
Extra 400 USD for USVI'S pick up/drop off
Diving equipment (tanks, masks, fins, bcds, regulators, wetsuits S to XL, wheights…). 2 air compressors onboard.
Dive center from beginners to advanced with compressors on board
Certified divers:
2 dives (with equipment) /diver included in the charter fee.
Additional dive (equipment included) priced US$ 50 / diver / dive
Additional dive with Dive Master or Monitor (equipment included) priced US$ 70 / diver / dive or US$ 130 for 2 divers
PADI Discovery scuba diving (beginners) :
US$130.00 / course including 2 dives on two of our beautiful dive sites
US$180.00 / course including 3 dives on three different dive sites(This is NOT a CERTIFICATION COURSE. This intro to scuba includes instruction, and all dive equipment.)
Any other certifications on request. Quote for a diving package or PADI certification.
Location Details
Summer Area: Caribbean Virgin Islands, Caribbean Leewards, Caribbean Windwards
Winter Area: Caribbean Virgin Islands, Caribbean Leewards, Caribbean Windwards
Location Details: WINTER 2020-2021: SASHA is based in ST MARTIN-ST BARTH area
Other locations on request.
SUMMER's cruising area : St Vincent & Grenadines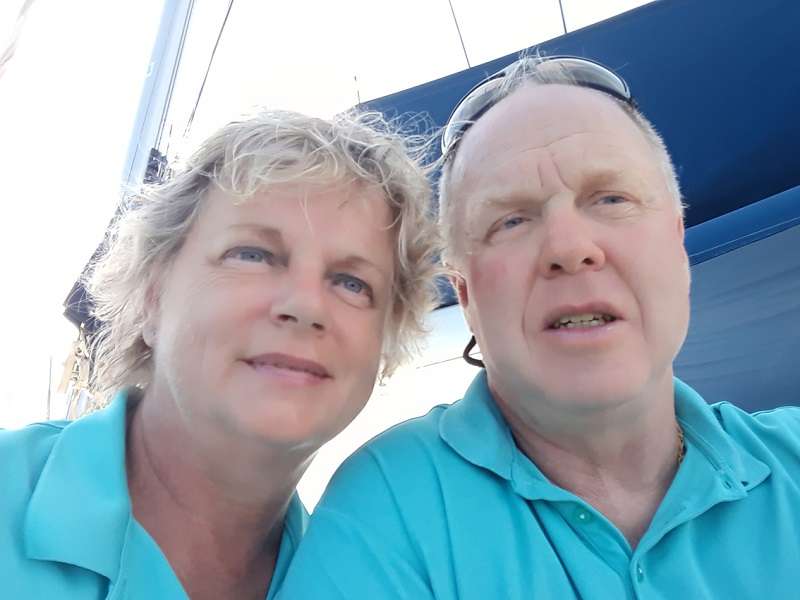 Captain: Jean Yves MEUNIER – Jim
Chef-Hostess: Sylvia MEUNIER
STCW95 – Sailing 200 tons
Visa B1/B2 – C/D1
Captain License (Sailing Yacht Master)
French, English speaking
Jim and Sylvia are French born. They met five years ago and as both are lovers of watersports, soon made plans to live their dream and work together in this environment. They started their business in the Red Sea – Egypt and their enthusiasm for great countries, nice people and gorgeous dive sites brought them to the beautiful Caribbean where they have now been living for a few years.
Jim is a mechanical engineer and worked for a long time in medical robotics. He has travelled a lot and even lived in the U.S. for two years.
He started to take an interest in sailing when he was twelve. At the age of eighteen, he had a sailing Federal Monitor degree.
Since then, he has been sailing recreationally and has always had a passion for the sea and diving.
Jim has his STCW95 Sailing 200 tons Captain's Licence (Sailing Yacht Master). He also has his PADI Dive Master with more than two hundreds dives. His two kids are divers and sailing lovers too.
Jim knows the beauties of the Caribbean sea, especially in the BVI, St. Martin, St Vincent, Grenadines, Martinique and Guadeloupe areas.
Sylvia was originally a qualified nurse and has also worked as a pharmacist for more than twenty five years. She is a first aid instructor.
Sylvia is a sea and nature lover ; she has been diving for the last twenty years in oceans and seas all over the world. She has seen almost every underwater creature and will be happy to share her knowledge of fauna and flora with you.
In order to teach her three children how to dive, she decided to pass her FFESSM Federal Monitor degree in 2000. She upgraded it to PADI Open Water Scuba Instructor in 2009. She has done over two thousand dives.
Above all, both of them are conscientious and will give you great sailing and diving experiences in a safe and secure way. In addition, their boat -Sasha – is equipped with oxygen-therapy equipment, heart start defibrillator and all necessary medicines. Sylvia and Jim have first aid & rescue training as well as basic medical knowledge. You will leave the shore in the best and safest conditions.
Being born in France gives them a few advantages in the world of cuisine.
Sylvia and Jim will be happy to help you discover the secrets of French cooking and also international flavors collected from around the world. Gourmet surprises and great wines will amaze your senses.
Guests will be welcomed on board and will soon will feel at home. Sylvia and Jim will be your guides and show you the best of the islands, above and under water. They will be delighted to provide you with the most beautiful vacation of a lifetime.
| | | | | |
| --- | --- | --- | --- | --- |
| Captain | Jean Yves MEUNIER | French | 0 | French, English |
| Crew | Sylvia MEUNIER | French | | |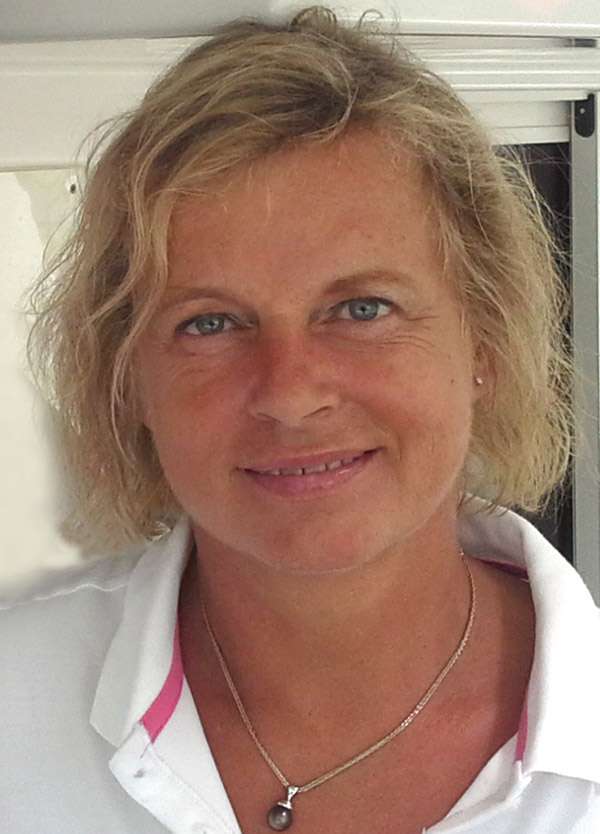 Chef Hostess
Sylviane MEUNIER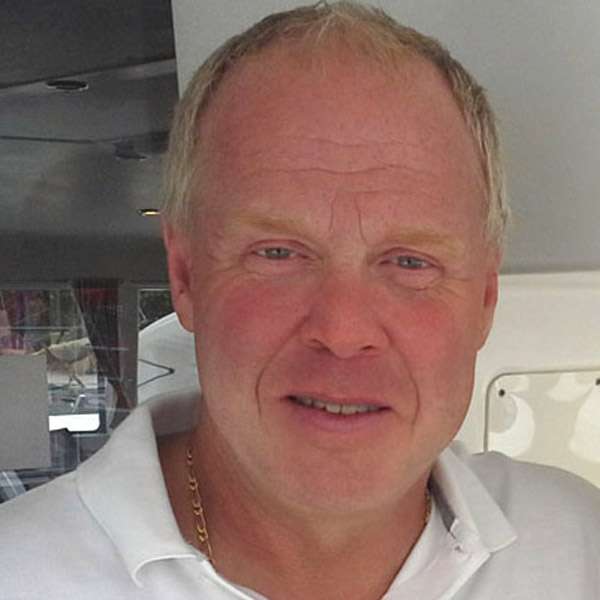 Captain
Jean Yves MEUNIER - JIM
Ammenities
Generator
Onan Cummins 10kW
Leisure
Dive Info
Jim is PADI DIVE MASTER LEADER

FOR CERTIFIED DIVERS ONLY:
2 dives (with equipment)/diver included in the charter fee. Additional dive (with equipment) priced USD 50/diver/dive.
Other Toys
11.48 ft. brand new dinghy 30 HP
One stand-up paddle
One 2-men kayak
Towed buoy
Swimming Noodles (19.69 ft. /> Beach games
Facial masks & fins for snorkeling
Fishing equipment (3 sets)

Diving equipment (tanks, masks, fins, bcds, regulators, wetsuits S to XL, wheights...). 2 air compressors onboard.
CERTIFIED DIVERS ONLY
2 dives (with equipement) /diver included in the charter fee.
Additional dive (equipment included) priced US$ 50 / diver / dive
6 guests in 3 double cabins equipped with 3 Queen size beds and private heads & shower.
Each cabin is equipped with a hair dryer.
Also few 12 V DC plugs.
Private crew quarter
SAMPLE MENU
by Sylviane MEUNIER
 
 BREAKFAST
Each day a continental breakfast is set out with a selection of hot drinks tea, coffee chocolate,
 fresh fruit juices, fresh fruits, cereals, yogurt, toast, bagel, jam, butter, nut butter, cream cheese.
In addition each guest may choose the following cooked to order items: pancakes, crepes, French toast,
eggs (fried, scrambled, poached, boiled, omelet) bacon, sausage, ham, turkey, smoked salmon
potatoes, tomatoes, mushrooms, cheeses.
STARTER
Eggplant caviar toasts, Salmon rillettes
Shrimps verrines, avocado and whipped cheese sauce  
Salmon blinis, chives sauce
Seared Scallops in a Garlic and Parsley Dressing
 various dips (Houmous, Guacamole) and raw vegetables
Green, black olive tapenades
Beef Samosa  with mint cottage and cheese cream
 
LUNCH
Chicken Caesar salad / Mango cream 
Quiche Lorraine with nuts oil / Red fruit dessert 
Spaghetti Carbonara / Poached pears with white wine
Fish pie with salad / Pineapple crumble
Italian Lasagnes / Red fruit Tiramisu
Sweet chicken, potato salad with lemon, coco & coriander / Chocolate cake
Chef salad / Fruit tart
 
DINNER
Mediterranean zucchini pie / Filet mignon with peaches, nuts and wild rice / Caramel cream
Onion tart / Mahi-mahi with tagliatelles / Banana dessert
Avocado, salmon Gaspacho / Fish Couscous / Fruit salad

Sherry Clafoutis / Beef filets with red wine sauce & smashed celery / Black chocolate mousse
Provencal sea food / Chicken with pineapple and Basmati rice / Water melone Gaspacho 
Nachos party, guacamole, various dips / Tuna Papillote with vegetables / Tarte Tatin with vanilla ice cream 
Beef grill skewers / Ice cream dessert
Ed Hamilton & Co. endeavors to provide the most up-to-date yacht information, availability and rate details, however, all information published on this site is subject to change without notice. Please contact us for the most current yacht information, availability and rate details.