Guests

8

Cabins

4

Model

Cat

Year Built

2016
Additional Rate Information
Additional Rate Information
Charter Rates Per Week
| Rate Period | Terms | 2 Guests | 3 Guests | 4 Guests | 5 Guests | 6 Guests | 7 Guests | 8 Guests |
| --- | --- | --- | --- | --- | --- | --- | --- | --- |
| Summer 2020 | Plus Expenses | $20,000 | $21,000 | $22,000 | $23,000 | $24,000 | $25,000 | $26,000 |
| Winter 2020 to 2021 | Plus Expenses | $23,000 | $24,000 | $25,000 | $26,000 | $27,000 | $28,000 | $29,000 |
| Summer 2021 | Plus Expenses | $20,000 | $21,000 | $22,000 | $23,000 | $24,000 | $25,000 | $26,000 |
Additional Rate Information
High season (Winter Rate) apply to Christmas & New Year.
Christmas Week : Dec 20 – Dec 27
New Year Week : Dec 28 – Jan 4
Available for less than a week. (3 Night Minimum)
For less than a week, PLEASE DIVIDE THE WEEKLY RATE BY 6.
For 6 Night charters, please get in touch with the CA.
72 hours turnaround between charters
Plus 4% Bahamas Cruising Tax
Plus 30% APA
Delivery Fees (one way, for round trip delivery fee x 2)
Normans Cay $800
Staniel Cay $1,200
George Town $2,400
Please note that Hurricane Season is 1 June – 30 November, and contracts during this time will require a Hurricane Addendum addressed by all parties.
– – – – – – – – – – – – – – – – – – – – – – – – – – – – – – – – – – – – – – – – – – – – – – – – – – – – – – – – – – – – – – – – – – – – – – – – – – – – – – – – – – – – – – – – – – – – – – – – – – – – –
DAY CHARTER Information
$4,800 plus 4% Bahamas Cruising Tax, plus 15%-20% pre-paid gratuity
5 Hour Charter ($400 for each additional hour)
9h00am to 2h00pm OR 2h30pm to 7h30pm
Menu
Fruit & Veggie Platters, Chips and Salsa.
Lunch
Oven grilled lemon garlic mahi-mahi fish accompanied by a summary Mediterranean pearl couscous salad full of fresh vegetables, olives, nuts and dried fruits topped with a lemon olive garlic dressing.
Dessert
Home-baked chocolate fudge with ice cream and red fruits
Standard Bar & Beverages included
*No premium liquor included in the charter rate.
Location Details
Summer Area: Bahamas
Winter Area: Bahamas
Location Details: WHISPERS II is based in Nassau Yacht Haven.
CAPTAIN
Pieter "Pete" Willem de Wit
Joined Spring 2021
Since 2012 Piet has been actively partaking in the evolution of the Cape Town Big Wave Association. With experience in surf lifesaving with Life Saving South Africa, Piet is a Captain that takes water safety and risk assessment very seriously.
Since being a captain, Piet has sailed a wide variety of sailing vessels, including Sailing Vessel KIRRA, for an extensive sailing learning experience. Learning about old sailing methods like steering with a manual sheet to a tiller pulley system and only ever using the wind and currents as propulsion with minimum electronics and combustion drive on board was a great technical experience for Piet. Preparing him for any unforeseen circumstances while out on the water.
Piet sailed from Ireland to the Azores, Portugal, as engineer onboard a Bruce Roberts adventure boat en route to further travels a collision with a humpback whale caused severe damage. Piet had his work cut out for him, but he successfully repaired the damage and spent three months doing mechanical and general repairs.
Born and raised in South Africa, Piet was fortunate to be exposed to numerous industries. He worked four full seasons in the bustling film industry of Cape Town as a props coordinator working with international and local teams and directors and preparing him for the numerous operations and logistical demands as a boat captain.
Piet's Big Wave Surf career is his true passion and became a reality in 2018 as he got his first global nomination and made the shortlist of top 10 biggest waves paddled into for 2018/2019.
Piet's hobbies include surfing, diving, kite surfing, and playing a little guitar around the campfire.
COOK/STEWARDESS
Alessandra "Ally" Colonnello
Joined Thanksgiving 2020
Alessandra "Ally" admits that her dual citizenship status of Chilean and Italian has contributed to her passion for food and love for the ocean.
With a true passion for cooking, Ally can prepare delicious meals that include seafood, different meats, vegan options, Gluten-Free and everything in between; while travelling around the world, she has systematically collected recipes and experimented with different flavours, so sharing these discoveries with guests and using fresh local produce gives her the most pleasure!
Gastronomy is a far cry from her trained profession as a Marine Biologist. However, she feels that sailing life ties the two devotions together beautifully! A true lover of everything related to the ocean, including surfing and diving, Ally is a wonderful one half to the fabulous duo onboard WHISPERS II.
Ally's sailing career has seen her cruising, exotic destinations, including French Polynesia, Australia, Fiji, Kiribati, the Marshall Islands, and many Central America, South America, and European countries.
Ally is flexible with any specific dietary needs and restrictions, her main goal is happy guests!
Languages Spoken: Spanish & English
Languages Understood but not spoken: Italian & Portuguese
| | | | | |
| --- | --- | --- | --- | --- |
| Captain | Pieter Willem de Wit | South African | 1993 | English, Spanish |
| Crew | Alessandra | Italian | Chilean | | |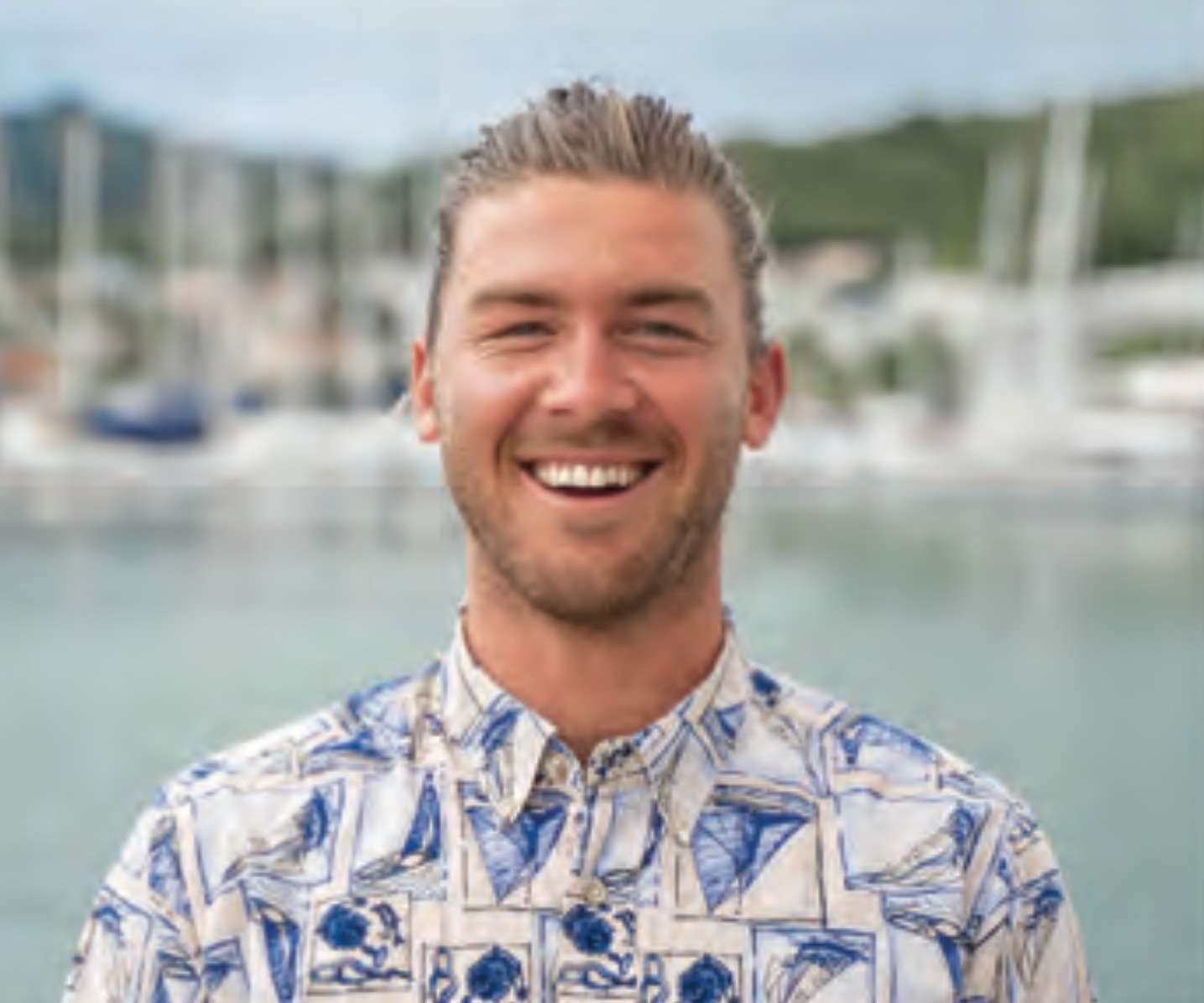 Captain
Pieter de Wit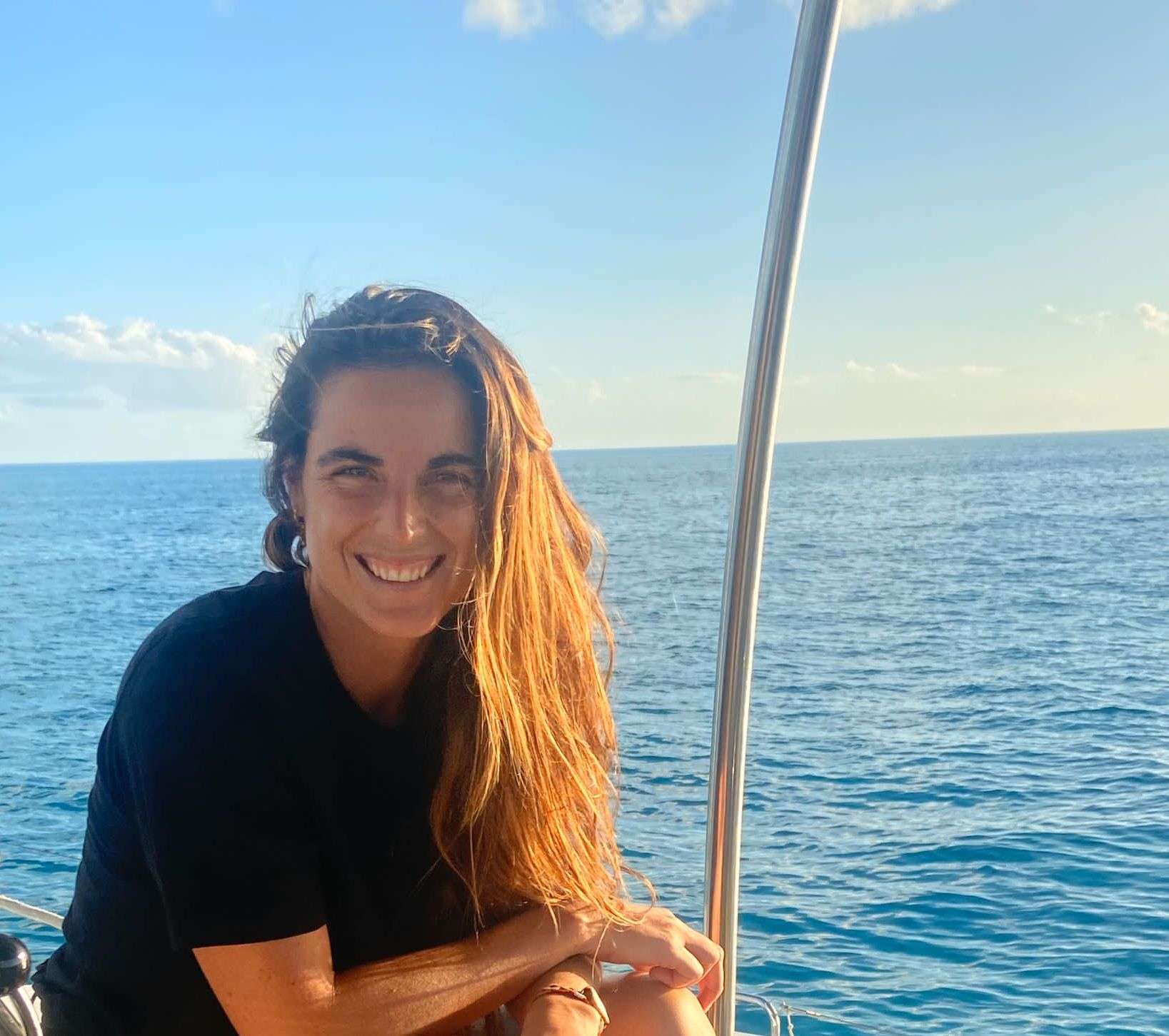 Cook / Stewardess
Alessandra "Ally" Colonnello
Leisure
Dinghy
1 x Caribe 13.78 ft.
Other Toys
1 x Caribe 13.78 ft. 50 HP Dinghy 2 x Paddleboards
2 x Kayaks
1 x Wakeboard
2 x Surf Boards
Snorkelling gear
Waterski's
Inflatable Tube
Giant Inflatable Unicorn
Gas BBQ
Beach Bats & Balls

MASTER CABIN (Starboard)
Queen bed, ensuite with single sink, shower. Separate toilet. Direct access to the cockpit.
VIP CABIN (Portside)
Queen bed, ensuite with single sink, shower, toilet. Direct access to the cockpit
2 x GUEST CABIN
Queen bed, ensuite with single sink, shower, toilet.
Sample Menu by Cook/Stewardess Ally
Breakfast

Cook to order

Coffee, Tea, Juice, milk, a variety of bread and pastries.  Fruit platter, cereals, granola, yoghurt, cheese, avocado,  bacon and sausage. 

Day 1

Lunch: 

Appetizer: Tuna tartare.

Main: Quinoa power salad (Fresh spinach, Cucumber, Cherry Tomato, Avocado, Carrots, Strawberries, Purple Onion).

Dinner: 

Appetizer: Cheeseboard. 

Main: Parchment Teriyaki Salmon Broccoli floret, Carrot thinly slice, mini potatoes and red pearl onions. Dessert: Nutella Crepes and Strawberries. 

Day 2

 Lunch:

Appetizer: Bruschetta.

Main: Mahi Mahi Fish Tacos, purple onion, Cherry Tomatoes, Avocado, Corn and Green Leaves. 

Dinner: 

Appetizer: Hummus with Carrot, Cucumbers Sticks, Pretzels and Pita Bread.

Main: Fresh Fettuccine with Salmon on a White Sauce. Dessert: • Ice Cream.

Day 3

Lunch:

Appetizer: Nachos with Guacamole.

Main: Hamburger, Mozzarella, Green Leaves, Avocado and tomato. • Salad and Potatoes Chips. 

Dinner: 

Appetizer: Cheese Board.

Main: Gourmet Steak on blue cheese sauce server with asparagus and mashed potatoes.

Dessert: Brownie 

Day 4

Lunch:

Appetizer: Caprese Sticks

Main: Chicken with coconut and peanut sauce served with jasmine rice.

Dinner: Appetizer: Shrimp Ceviche.

Main: Pizza (Prosciutto, Mozzarella and Arugula; Garlic Shrimp and Mushrooms).

Dessert: Pineapple coconut pie.

Day 5

Lunch:

Appetizer: Tropical grilled shrimp (Coconut and Pineapple Sauce).

Main: Salmon with Capitan Salad.

Dinner: 

Appetizer: Bread butterfly Shrimp with aioli on rocket bed.

Main: Raviolis fill with spinach and ricotta cheese with walnuts sauce.

Dessert: Chocolate cake. 

Day 6

Lunch:

Appetizer: Shrimp Quesadillas.

Main: Spaghetti squash with cherry tomatoes, feta cheese and pesto sauce.

Dinner: 

Appetizer: Wild Salmon Carpaccio 3 peppers.

Main: Mahi Mahi on Pumpkin Risotto

Dessert: Ice cream topping with caramel and almond. 

Day 7

Lunch:

Appetizer: • Shrimp Quesadillas.

Main: • Spaghetti squash with cherry tomatoes, feta cheese and pesto sauce. 

Dinner: 

Appetizer: • Wild Salmon Carpaccio 3 peppers.

Main: • Lobster served with a marinated mix of vegetables and grill potatoes.

Dessert: Sticky Date.
Ed Hamilton & Co. endeavors to provide the most up-to-date yacht information, availability and rate details, however, all information published on this site is subject to change without notice. Please contact us for the most current yacht information, availability and rate details.