Guests

10

Cabins

5

Model

Cat

Year Built

2019
Additional Rate Information
Additional Rate Information
Additional Rate Information
July/August : 20800 EUR per week plus Applicable VAT at the time of charter, currently 12%, and expenses
June/September: 18500 EUR per week plus Applicable VAT at the time of charter, currently 12%, and expenses
Low Season: 16000 EUR per week plus Applicable VAT at the time of charter, currently 12%, and expenses
She operates on a Saturday to Saturday basis. Embarkation at 17:00pm, disembarkation at 09:00 am
VAT rate is determined by applicable tax legislation and may be subject to change without prior notice or responsibility on the Broker, the Stakeholder or the Owner. Should any changes in applicable tax legislation take place after the issuance of a charter agreement resulting in changes in total amount(s) due then the difference will be credited or debited accordingly to the Charterer
Location Details
Summer Area: Greece
Winter Area: Greece
Captain Can Ozturk
Can was born in 1988 and his passion for sea is coming from his childhood years spent in Dardanelles. At the age of 14 years old started his career in yachting and over the years he gained vast experience at sea also due to his work life in coastal construction companies and shipyards. During his career as a naval architect, he never fell apart from sailing which became a lifestyle for him. He holds a STCW Yacht Master Certificate and skipper license from Greek authorities. He is always ready to welcome his guests on board to ensure an unforgettable experience and show the most beautiful hotspots of Greek islands! He is married with one child and speaks English, Turkish, Greek, Russian and German.
Chef George Dimopoulos
George is born in Athens in 1992, he is a highly skilled chef who is passionate about exploring and enjoying delicious food. He always looking for top quality raw materials from the Greek traditional cuisine philosophy mixed with modern techniques. His has also worked in various restaurants in Greece and Austria. He speaks Greek & English. George believe that food is a key part of a good charter and loves working to create a bespoke menu for charter guests to enjoy!
Hostess Susana Sanchez
Susana Sanchez is a Spanish native passionate for outdoor activities, concerned and respectful with the environment, especially with the sea. Since she was young she start sailing and swimming as a hobby and after became skipper, lifeguard and diver. She was involved during several years as crew member and hostess and with her at your trip you will feel pleasant, safe and comfortable!
| | | | | |
| --- | --- | --- | --- | --- |
| Captain | Can Ozturk | Turkish | 1988 | Greek, English, Spanish, German, Turkish, Russian |
| Crew | Susana Sanchez | Spanish | | |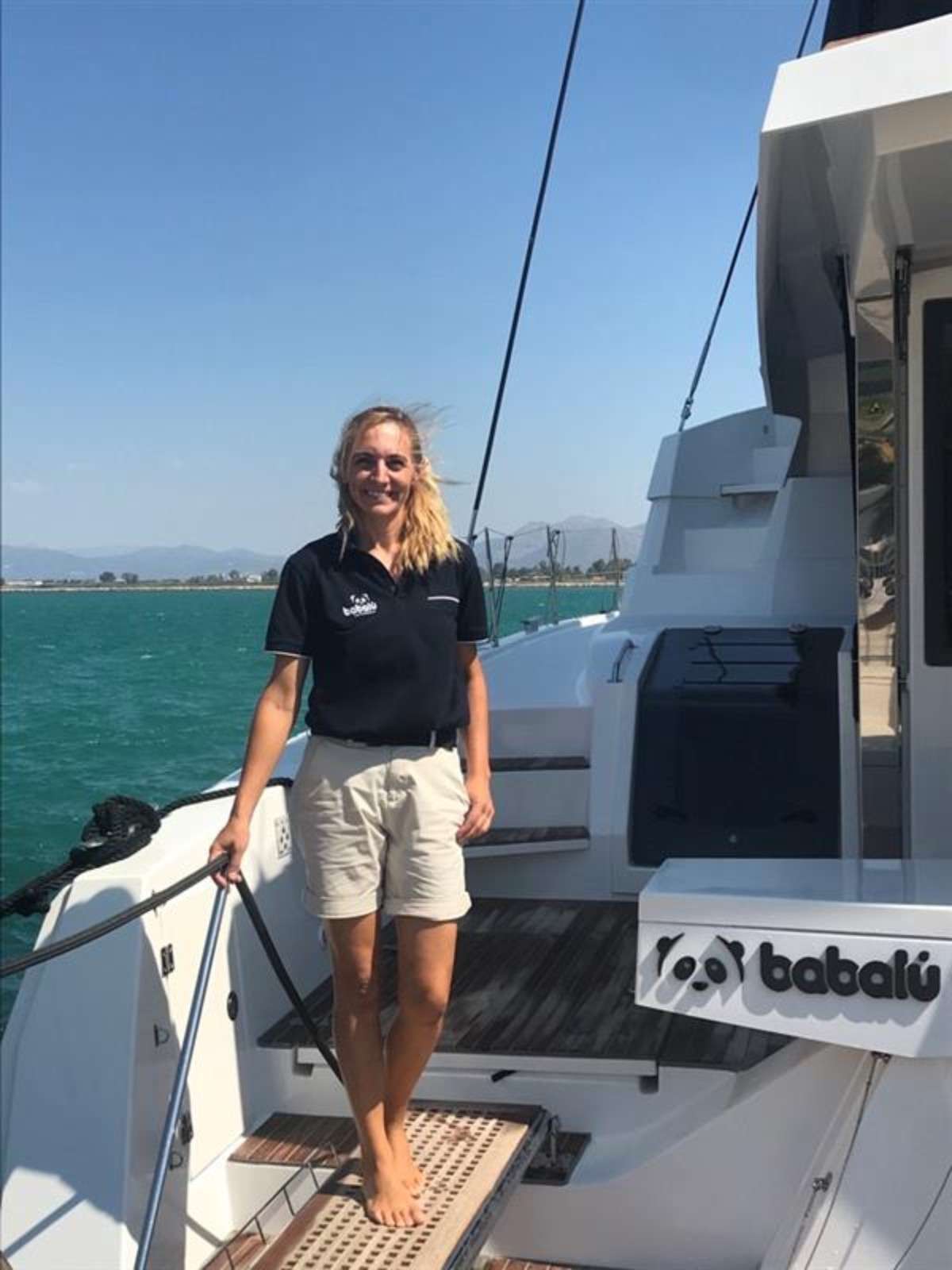 Hostess
Susana Sanchez
10 Guests in 5 Double all air-conditioned with en-suite facilities
SIZE OF BEDS:
All 2 x 1.5 m
HEIGHT OF CABINS: 2.00m
BREAKFAST
 Bakery basket (variety of fresh-baked
bread )
 Chocolate Brownies
 Homemade marmalades
 Local Honey-Butters
 Eggs (boiled, scrabble eggs, omelet, fried
eggs)
 Local bread eggshells with feta cheese,
honey, and cinnamon
 Crepe with Nutella
 French toast
 Selection of cheeses and cold cuts
 Local yogurt with fresh fruits
 Tea, coffee, milk, fresh orange juice
SALADS
 Greek salad with tomatoes, feta,
cucumber, olives, onion and oregano
 Fresh leaves of spinach, arugula, green
apple, goat cheese, raisins blod, walnuts,
and citrus dressing
 Green salad with dried figs, fried
halloumi, sesame, and balsamic
dressing
 Lettuce mix, radicchio, cherry tomato,
pistachio, small shrimps and dressing
with basil flavor
APPETIZERS
 Watermelon with feta cheese
 Salmon Carpaccio with fresh salad leaves
and lemon gel with tarragon aroma.
 Beetroot mousse and fresh sea fruits with
rocket leaves
 Homemade salty tart with smoked
salmon on a cheese mousse with orange
flavor
 Octopus wine on a yellow fava with
capers, dried tomatoes, and Parsley oil
 Chios master cheese with handmade
vanilla red jam
MAIN COURSES
 Chicken fillet stuffed with goat cheese,
prosciutto, spinach leaves, capers,
thyme, and orange sauce. Is
accompanied by fresh rochet leaves and
goji berries
 Roast Beef fillet of your choice over
fresh mashed potatoes and pepper
sauce
 Sea Bream fillet on celery puree and
tarragon sauce
 Traditional Greek Shrimp Pasta with
Ouzo
 Seafood Risotto with saffron Kozani
Yolk, raw onion, and pink pepper
DESSERTS
 Banoffee
 Cheesecake with homemade marmalade
 Chocolate Dream serve with vanilla ice
cream
Ed Hamilton & Co. endeavors to provide the most up-to-date yacht information, availability and rate details, however, all information published on this site is subject to change without notice. Please contact us for the most current yacht information, availability and rate details.