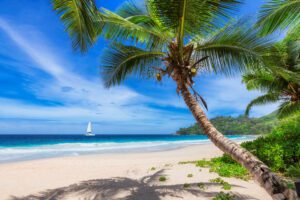 Here we are in late February, with spring a mere 3 weeks away, and as the days grow longer thoughts inevitably start turning to warm weather plans, it reminds me of a common misconception about Caribbean sailing seasons: the best time to sail is the winter.
The truth is that it's not that the Caribbean sailing weather is particularly perfect in winter, it's just that winter happens to be a great time to evacuate the upper half of North America whenever and however possible! The Caribbean is truly a year-round sailing destination. There are certainly better and worse times to go, but since the summers of 2004 and 2005, with their very active hurricane seasons, the perception that one should not go to the Caribbean in the summer has become more entrenched.
Yes, that's right, the "H" word – I said it. You don't often encounter the word hurricane in charter operators' marketing material. Unfortunately, the risk associated with tropical storm systems has been greatly hyped by the media outlets who are given incentive to do so by way of ratings; and major networks have far, far more penetration into consumers' attention span than do charter companies, and therefore the bareboat charter companies, and those who operate crewed yacht charters, safest strategy is to hope to avoid the subject altogether.
Hurricane season technically runs June 1 – November 30. So this means don't book a Caribbean yacht charter then, right? I don't think so. In fact, if I could pick any time to sail, (notwithstanding any desire I have to escape snow and ice), it would be April – June. While the Hurricane Season is technically on, a quick look at statistics shows you that early season storms typically form in the Caribbean Sea or Gulf of Mexico. Tropical storm systems almost always move east to west, (with the exception of Lenny the contrary, who moved west to east in the late '90s); thus early season storms stand a very, very slim chance of impacting the majority of the Caribbean cruising grounds. It's not until mid to late August that sea surface temperatures in the Atlantic rise high enough to be conducive to tropical storm formation.
So why would I choose April to June as my preferred of the Caribbean sailing seasons? Well, in the winter months it's firstly much windier. Sure, 25 knots is a blast for an afternoon's sail, but for for a whole week of bouncing around? That starts to become work, and isn't why I go on vacation. Also, by April the North Atlantic storm activity is greatly reduced, and with it the likelihood of the ground swell it produces which makes north-facing anchorages uncomfortable at best and untenable at worst. The other big benefit? Spring and summer can often be notably less expensive than winter.
So by spring, you have more sunny days than Winter, 12-15 knots instead of 18-25, calmer seas and more anchorages to explore. I often like to charter from late April to the first week in June, as you get all of the aforementioned benefits, plus you're between seasons so you'll also find the cruising areas to be far less crowded.
By pointing these features of summer Caribbean sailing out, do I worry that less people might ultimately sail in the winter? Nope. A check of the weather tells me it's 16 degrees out, and up to a foot of snow predicted for the weekend. The reasons vary, but sailing the Caribbean sounds good to me pretty much any time.

Ready to start planning your charter vacation? Browse Bareboats or Crewed Yachts to get started.