One of our Customers' had this to say about their recent luxury crewed yacht charter vacation in the British Virgin Islands aboard the Oyster 885 – Ayni:
"Awesome trip aboard a brand new Oyster 885 was chartered through Ed Hamilton Yacht Brokerage that exceeded way beyond our greatest expectations. It was a family trip including two teenagers, Jane and Kate, to celebrate my 80th birthday. Ayni was everything and more including a crew who were from South Africa, Greece and New Zealand, and who became really good friends. Captain Adonis was special and provided many opportunities to sail the yacht and decide where to go. Nadia prepared many terrific meals from locally sourced ingredients, that we still talk about. In spite of Irma that effectively destroyed many parts of the BVI's, it didn't do anything to the beautiful blue water, sun, sand and wind. Most importantly the assistance of Steve McCrea was extremely important as we navigated through several contracts before he found this final boat 4 weeks before our embarkation as the one under contract had mechanical issues before coming from Europe for the winter season in the Caribbean. His ability and attention in working with us was outstanding. In the end, Jane said that she never thought sailing with parents and grandparents could be so much fun!" – Fritz Rehkopf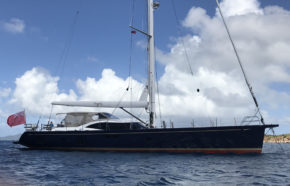 Book a Yacht Charter Vacation Now!
Call us at 800 621 7855, email us at info@ed-hamilton.com or ask us to suggest some specific boats that fit your requirements!