Guests

8

Cabins

4

Model

Cat

Year Built

2016
Additional Rate Information
Additional Rate Information
Charter Rates Per Week
| Rate Period | Terms | 2 Guests | 3 Guests | 4 Guests | 5 Guests | 6 Guests | 7 Guests | 8 Guests |
| --- | --- | --- | --- | --- | --- | --- | --- | --- |
| Winter 2023 to 2024 | Inclusive | $29,500 | $30,000 | $30,500 | $31,000 | $31,500 | $32,500 | $34,500 |
| Summer 2024 | Inclusive | $29,500 | $30,000 | $30,500 | $31,000 | $31,500 | $32,500 | $34,500 |
Additional Rate Information
CREW GRATUITY: The prices do not include a tip for your crew.
It's customary to tip your crew at the end of the charter, the standard for good service is 15%-20% of the charter fee.
MINIMUM NIGHTS: 5
For 6 night charters, divide weekly rate by 7 nights X 6 nights. For 5 nights or less, divide weekly rate by 6 nights X number of nights.
HALF-BOARD: Includes: 7 breakfasts, 4 lunches & 3 dinners. Requires 3 lunches & 4 dinners ashore at client expense.
2/$29,200 3/$29,550 4/$29,900 5/$30,250 6/$30,600 7/$31,450 8/$33,300
LOCAL FARE MEAL PLAN: Includes: 7 breakfasts, 5 lunches & 6 dinners. Requires 2 lunches and 1 dinner ashore at client expense.
2/$29,350 3/$29,775 4/$30,200 5/$30,625 6/$31,050 7/$31,975 8/$33,900
SLEEP ABOARD: Sleep aboard the night before charter dates. Available for $600 per cabin, with a 3 cabin minimum. Includes snacks, welcome cocktails & continental breakfast. Dinner is to be taken ashore at client expense.
CHRISTMAS/NEW YEARS: 7 night minimum
CHRISTMAS: 1-8 guests @ $40,000, charter must end on 12/26 or earlier
NEW YEARS: 1-8 guests @ $42,000, charter may not start prior to 12/27
Location Details
Summer Area: Caribbean Virgin Islands (BVI)
Winter Area: Caribbean Virgin Islands (BVI)
Location Details: Inquire for relocation fees.
Capt. Colleen Korona
Colleen was born and raised in Florida, where she grew up playing on the water. She bought her first sailboat when she was 24 years old, decided to live on it and then sailed it to the Bahamas.
Colleen stepped out of the boating world for a while and managed a mental health office with 10 doctors for several years before moving on to working at a nuclear brain-imaging facility. Then the recession came, and she was unemployed. It didn't take much prodding to head back out on the ocean and do some more sailing. She literally sold almost everything, packed the rest up and spent the next year sailing the East coast and exploring the cruising grounds from Florida to Rhode Island. There happened to be a group of boats heading to the Caribbean in Virginia and she thought, "What the heck! Let's check it out and head to the Caribbean!" 14 days later they arrived in Tortola, BVI.
She spent another year playing, exploring and sailing down to Trinidad, and then the money ran out. Colleen started to pick up jobs on charter boats here and there to have some money in her pocket. Over the next few years, Colleen worked as a first mate on a tall ship and sailing day-charter boats, as well as a stewardess and deckhand on a trimaran and crew on mega yachts in New England. But nothing beats working in the Caribbean! Colleen then got her captain's license, and now feels very fortunate to have a great office at sea where she can share the beautiful place with guests.
Chef Matt Proto
Matt has been in the customer-service industry for the past 25 years. His career as a professional chef has lead him to the Caribbean where he now uses his culinary skills to create the perfect onboard dining experience for guests. He draws from a wide range of experience to deliver a broad spectrum of flavors and genres, keeping each new day full of fresh ideas. Matt grew up in Florida and has spent most of his life either in or on the water, and he's been an avid scuba diver since 2006. In 2012, he got rid of everything except for one suitcase full of clothes and started doing seasonal work as a traveling chef. After living in Hawaii, Alaska and Cozumel, he found himself in St. Thomas working in a food truck on the beach when a friend approached him with a job offer as a chef on a charter boat. This is where he met Colleen and discovered the perfect gig. Since then, Matt has combined his love of food with his love of the ocean to create the perfect charter for more than just a vacation experience—but a passion for life and nature, and the desire to share those things with like-minded individuals. Matt is a PADI Dive Instructor and will be happy to show you the beautiful underwater world of the Virgin Islands.
Onboard A3, we try to create a fun and safe environment for families to enjoy. We offer a wide variety of activities geared towards keeping a younger audience entertained, even when the weather is not ideal. In the galley, kids have an opportunity to get some hands on culinary training, making cookies, fresh pasta, ice cream, or anything else that might spark their interest. In the salon, we have have an extensive collection of games for all ages, and are always up for challenge. We have thousands of movies to choose from that can be viewed on the outdoor theater, and of course can be enjoyed with the flavor popcorn of your choosing. In the water, we have plenty of toys, including tubes and skis that can be pulled behind the dinghy, as well as scuba and snorkel gear for all ages. If celebrations are your thing, come on down! We love doing birthday parties, holidays, anniversaries, or any other reason you can think of to throw a party! So if you're thinking of bringing the family on vacation, let A3 help make it a memorable one!
****CREW HAS BEEN FULLY VACCINATED FOR COVID-19****
| | | | | |
| --- | --- | --- | --- | --- |
| Captain | Colleen Korona | USA | 1973 | English |
| Crew | Matt Proto | USA | | |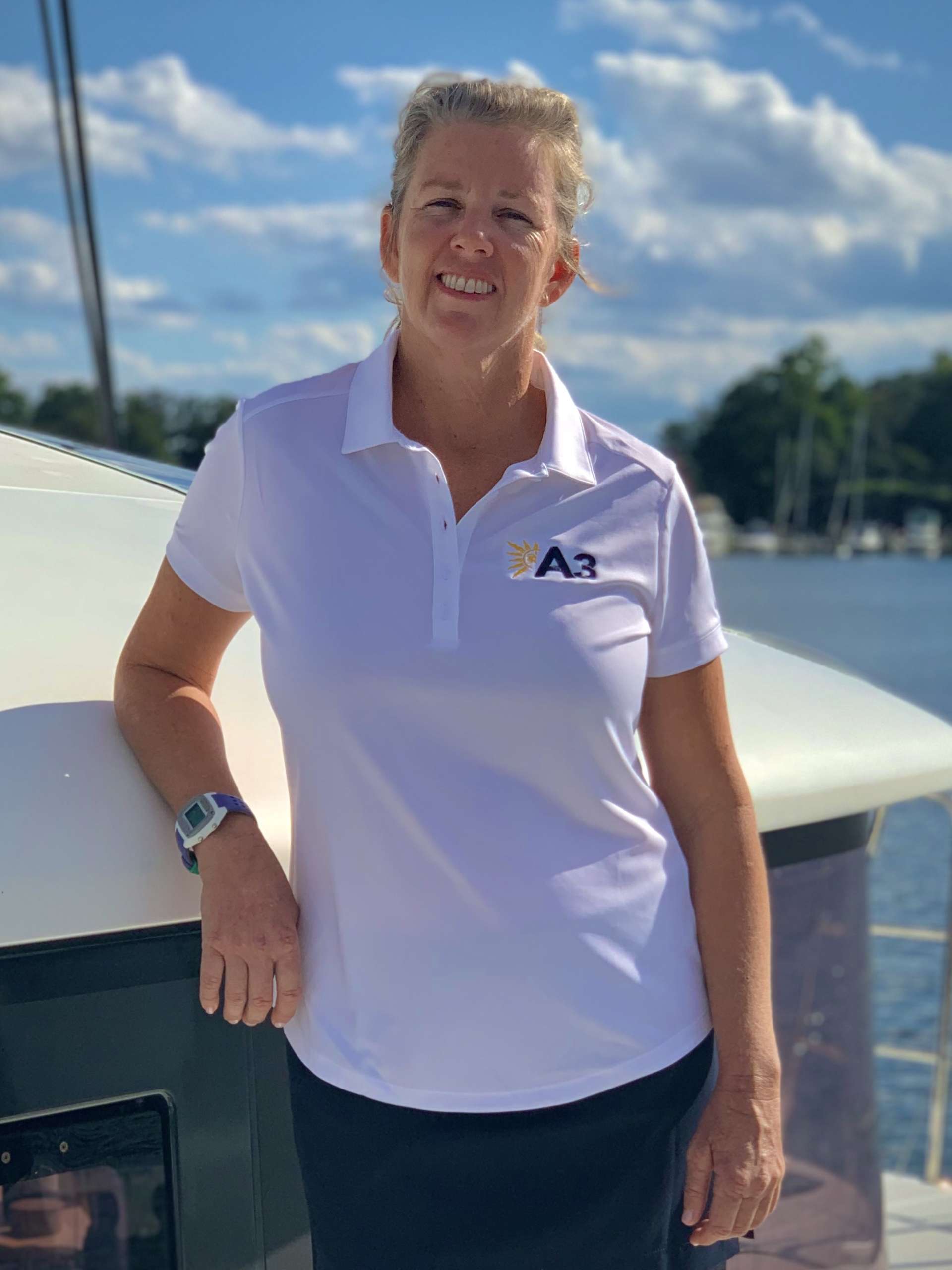 Captain
Colleen Korona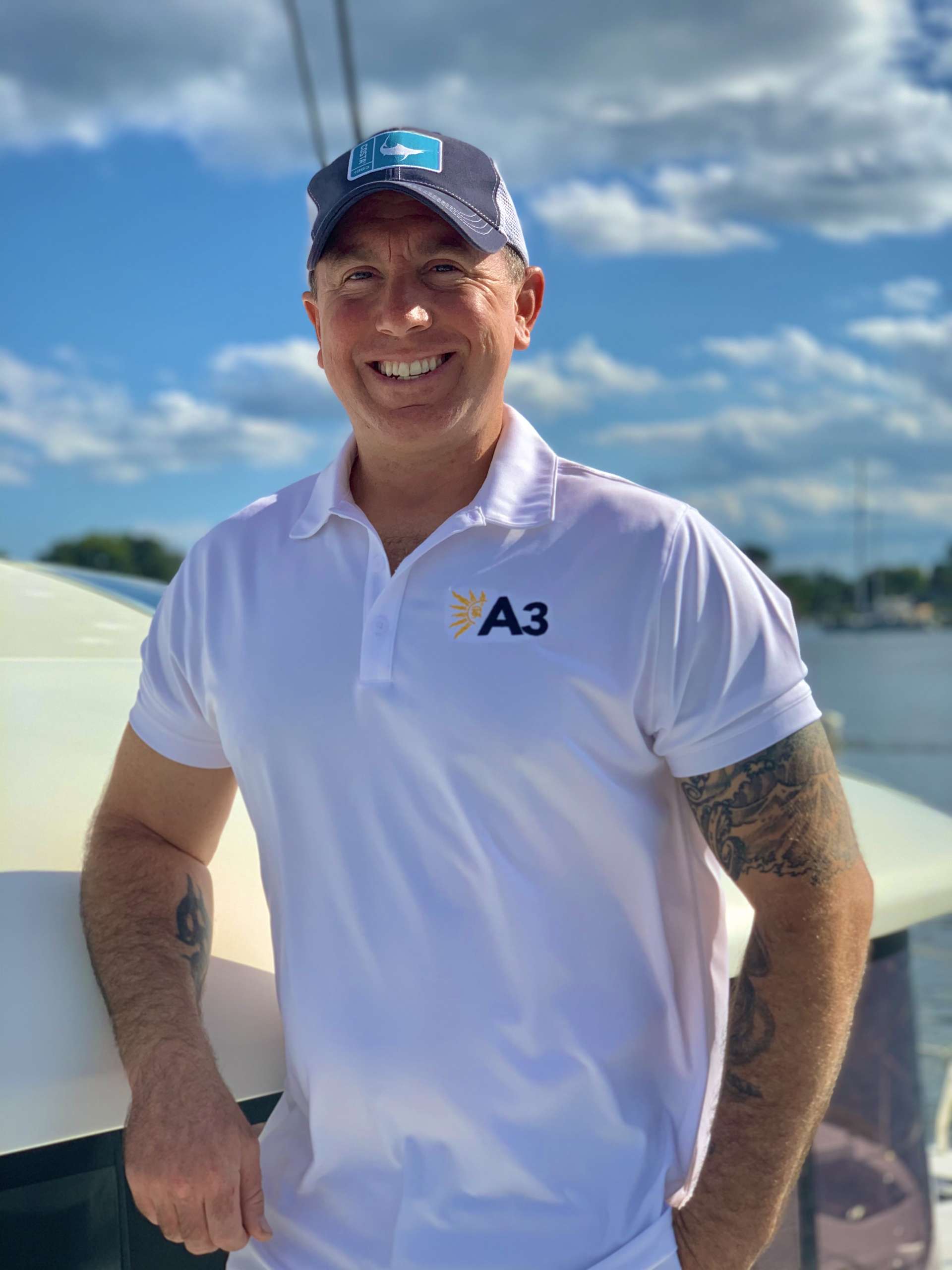 Chef/First Mate
Matt Proto
General
Guest Smoke
On stern steps
Leisure
Dive Info
A3 offers diving.
Each dive for certified divers is $50 per person per dive paid directly to the crew. Maximum 6 divers at a time and 4 dives per week. (depending on number of divers)

Rate includes use of boats dive gear.
Dive Costs
Captain is a qualified PADI Instructor.
If guests wish to dive, cost is $50 per dive per diver.
Resort course available at $150 per person (maximum number of resort courses offered per week is 4).

Other Specs
Pref Pickup
Village Cay, BVI
Engines
2 x 110 HP engines.21KW generator.
Fish Permit
BVI - Non Fishing vessel at this time
Swim Platform
STERN SCOOPS
Resort Course
$150 per diver
Full Course
Rendezvous Only
Other Entertain
A3 does have a safe onboard for guest use.
Communicate
WIFI available aboard the yacht.
Other Toys
Defibrillators
1 Master cabin with queen bed and 2 spacious guest cabins with queen-sized beds. In addition, there is one cabin with single-sized bunk beds (38″x75″L). All cabins come with en-suite heads and showers, fans, and private A/C controls. Memory foam mattress toppers on all berths for guests comfort.
Bunk dimensions:
Top Bunk
78"Lx34"W and the foot tapers to 21 1/2"
Bottom Bunk
80"Lx34"W
DAY BREAK
Beetroot Salmon Shingle
Dill Avocado, Soft Boiled Eggs, Shallots, Broccoli Sprouts, Galley Fresh Artisan Wheat, Fresh Fruit
Tamagoyaki Japanese Omelet
Shaved Daikon, Miso Glazed Japanese Sweet Potato, Seven Spice, Fresh Fruit
Acai Breakfast Bowl
Fage, Hemp Hearts, Granola, Chia Seeds, Toasted Cashews, Galley Fresh Muffins, Fresh Fruit
Banana Kahuna Cakes
Smokey Sea Salt Bacon, Toasted Almonds, Dark Rum & Brown Butter Cane Syrup, Fresh Fruit
Tapas Breakfast Board
Seafood Croquets, Gruyere Souffles, Salchichas, Piquillo Shard Salad, Galley Fresh Muffins, Fresh Fruit
Chicken n' Waffle Wake-Up
Hillside Farms F.R.O.G. Jam, Zucchini Hash Rounds, Fresh Fruit
Florentine Benedict
Wilted Spinach, Sweet Potato Chorizo Hash, Green Peppercorn Sabayon, Fresh Fruit
MIDDAY
Papadum Chaat Salad
Cucumber, Mango, Pomegranate, Radish, Chick Peas, Mint Yogurt Chutney Cracked Black Pepper Papadum
Cuttlefish Ink & Crab Mezzelunes
Fennel Leek & Pecorino Ragout
Summertime Chopped Salad
Shrimp, Sweet Corn, Snap Peas, Pancetta, Strawberries, Gorgonzola, Sunflower Seeds, Red Oak Romaine Cider Vinaigrette, Grilled Garlic Toast Points
Chicken Katsu Bento Box
Edamame Salad, Ribbon Vegetables, Tonkatsu Sauce, Steamed Rice
Pomegranate & Tarragon Lobster Salad
Shaved Fennel, Baby Frisee, Poppy Seed Water Crackers
Grilled Everglade Chicken Sandwich
Pepper Jack, Bermuda Onion Confit, Sweet Potato Fries, Orange Blossom Aioli, Galley Fresh Sour Dough
A3 Bison Burger
Port Salut, LTO, Yuca Fries, Sweet n' Spicy Tomato Chutney, Galley Fresh Brioche Bun
Blue Corn Shrimp n' Grits
Tomato Bacon Relish
HORS D'OEUVRES
Takoyaki
Octopus, Okonomiyaki Sauce, Bonito Flakes
Citrus Segment Shrimp Cocktail
Sweet Scotch Bonnet Basil Vinaigrette
Salmon Lomi Lomi
Wasabi Rice Crackers
Herb Encrusted Steak Carpaccio
Ricotta Salata, Arugula, Peppadews, Mignonette, Galley Fresh Focaccia
Cauliflower, Crab & Cave Aged Cheddar Dip
Blue Corn Tortillas
Trinidad Doubles
Mango Chutney, Kucheela, Curry Chick Peas, Bara Bread
Peruvian Ceviche
Fresh Catch of The Day, Leche De Tigre, Garlic Crostinis
MAIN
Bronzed Mesquite Diver Scallops
Mango Strawberry Sherry Salad, Roasted Garlic Potato Pave, Blood Orange Ginger Gastrique
Wine Pairing
Château Lamothe White Bordeaux – Bordeaux, France
Charred Black Powder New York Strip
2" Thick C.A.B., Horseradish Potato En Croute, Micro Herb Salad, Truffle Crème Fraiche
Wine Pairing
Big Smooth Cabernet Sauvignon – Lodi, California
Citrus Seared Sea Bass
Peruvian Potato Puree, Red Onion Curtido, Chimichurri, Pao de Queijo
Wine Pairing
Basa Verdejo – Rueda, Spain
Canard Au Poivre
Muniere Parsnip Puree, Sunflower Salad, Cherry Hazelnut Compote
Wine Pairing
Louis Jadot Beaujolais – Burgundy, France
Lobster Flight
Cold Culantro Lobster Wonton, Ginger Carrot Curry Lobster Tempura, Togarashi Lobster Medallion
Wine Pairing
Santa Margherita Pinot Grigio – Controllata, Italy
Moroccan Lamb Tangine
Toasted Almond Cous Cous, Medjool Date &Tangerine Sumac Salad
Wine Pairing
Bodegas Muga Reserva – Rioja, Spain
Harissa Roasted Airline Chicken
Artichoke & Pea Tendril Salad, Lemon Brie Cream
Wine Pairing
Peter Yealands Sauvignon Blanc – Marlborough, New Zealand
DESSERT
Galley Fresh Brittle Brownie Ice Cream
Hazelnut Ganache
Galley Fresh Banana, Baileys & Coconut Ice Cream
Monkey Dust
Lilikoi Lemon Bars
Fresh Passion Fruit
Mexican Chocolate Tres Leches
Bandito Dust
Key Lime Tart
Citrus Meringue
Strawberry Rhubarb Galette
Galley Fresh Vanilla Ice Cream
Apfelstrudel
Fresh Cream
SHIP'S BAR
Marg-A3-ta
Patron Silver, Blue Curaçao, Fresh Mandarin, Orangina, Lime, Smoked Sea Salt Rim
Planteurs Punch
Arundel Rum, Spiced Cane Syrup, Guava, Pineapple
Tuscan Sun
Aperol, Prosecco, San Pellegrino, Peychard Bitters, Blood Orange
Mermaid Kiss
Butterfly Pea Infused Vodka, Passion Fruit Nectar, Sparkling Pink Grapefruit, Kelp Sea Salt Rim
Orange Hemingway
Blue Chair White Rum, Fresh Orange, Fresh Lime, Maraschino Liqueur
Poquito Picante
Hendricks Gin, Cointreau, Cucumber, Cilantro, Lemon, Jalapeño Infused Simple Syrup
Yuzu Lychee Fizz
Prosecco, Yuzu Juice, Lychee Nectar, Lemon Grass
Ed Hamilton & Co. endeavors to provide the most up-to-date yacht information, availability and rate details, however, all information published on this site is subject to change without notice. Please contact us for the most current yacht information, availability and rate details.