Guests

8

Cabins

4

Model

Cat

Year Built

2019
Additional Rate Information
Additional Rate Information
Charter Rates Per Week
| | | |
| --- | --- | --- |
| June 15 - September 15 | Plus Expenses | €70,000/week |
| May 1 - June 14 & September 16 - October 31 | Plus Expenses | €65,000/week |
| November 1 - April 30 | Plus Expenses | €50,000/week |
Additional Rate Information
High Season (15 June – 15 September) EURO 70000/week + all exp
Mid Season (1 May – 14 June & 16 September – 31 October) EURO 65000/week + all exp
Low Season (1 November – 30 April) EURO 50000 + all exp
+ APA 25% + VAT 13%
Location Details
Summer Area: Greece
Location Details: If the yacht is chartered from a location other than the home port, the charter is subject to a relocation fee.
Relocation Fees: Catamarans 80 ft, Motor yachts and power catamarans according to fuel consumption
* Please note due to logistics, charters with embarkation/disembarkation in Santorini will be charged one extra day.
Captain: Evangelos Chatzigiannakoudis
As an islander in origins and a competitive swimmer since his early childhood, he has a great passion for the sea from his very early years. His passion evolved as he studied the sea in the UK as an oceanographer and a marine mechanical engineer.
He then switched to working in the sea in 1998 by receiving his sailing diploma. Since then, he has worked as a sailor and skipper for many different charter and private yachts.
He is the holder of an approved MCA master 200GT license for sailing and motor yachts. He is an energetic individual, very responsible, adaptable, hard-working, and knows how to provide his guests an unforgettable sailing holiday! He loves anything that has to do with the
sea such as spear diving, surfing, and swimming.
He has a surf instructor and lifeguard license and speaks English and Greek fluently.
CHEF: Savvas Lichanidis
Chef Savvas was born in 1989 and he is one of Greece's most promising chefs. He received his culinary training at the professional school OAED. He also has a degree in Fast Pace cooking and has attended seminars in Japanese and molecular cuisine. Chef Savvas began his internships at the prestigious King George Palace Hotel in 2005 and worked his way up through the ranks. In 2018, he finished fourth in the Master Chef competition in Greece. He was the Chef for many Michelin-star restaurants, like Divani Caravel Juju Bar Restaurant, where he held the FNL Star award. He has collaborated with some of the top chefs. His love for the sea led him to start his cooperation with yachts. His goal is to bring Michelin guide from the restaurants to the yachts. Savvas enjoys creating Fusion cuisine using Greek local elements to create delectable dishes.
* Savvas won 1st place in the Platinum category at MEDYS 2022
CHIEF STEWARDESS
Maria was born in the Greek capital of Athens, but she currently makes her home on the island of Aegina during the colder months. Maria earned her degree in Psychology and holds a certificate. Since 2013, she has been employed in the hospitality business, beginning her career in the hotel industry before moving on to train for the role of stewardess on board a Deutsche Bahn interstate luxury train. She earned her Silver Service Certification for Yacht Steward in 2021 and is currently working in the industry. She has an excellent command of the Greek, German, and English languages. Maria provides the best level of service possible on Above and Beyond, and she pays careful attention to the tiniest of details. It brings her great joy to put together thematic dinners for the passengers on board.
DECK HAND: Vasileios Papoutsoglou
Vassilis was born in Athens in 1993 and currently resides in Piraeus.
In 2000, at the age of seven, he began sailing in the Optimist class, where he achieved many national and international victories. From 2006 to 2008, he competed in the 420 class, and in 2008-2009 he moved up to the 470 Olympic class. He has also been a member of the Greek National Team since 2005 and the Pre-Olympic team for the 2020 Olympic Games in Tokyo. Current National Champion in Class 470 Olympic.
He started working as a deckhand on yachts in 2018 and was aboard Sea Energy V (Fountaine Pajot Saba 50) and Lusea (motorboat – Princess 78). Vassilis is ideal to support the crew in running the yacht based on her prior accomplishments and experience. Additionally, he strives to provide guests with a memorable experience and is always willing to serve them.
He speaks French and English.
DECK HAND: Damien Garnier
Damien is from France. He is multilingual and enthusiastic about sailing and he places a strong emphasis on the guests' experience. Since 2003, he has been employed in the yachting sector, and he has expertise in sailing in both the Mediterranean and the Caribbean Sea. In addition to this, he holds an RYA/MCA Yachtmaster Diploma, and he has also worked as a Boat Maintenance Technician, which clearly shows his proficiency in the boat's systems and equipment along with his technical and electrical knowledge.
Languages: French, English, Spanish, Italian
| | | | | |
| --- | --- | --- | --- | --- |
| Captain | Evangelos Chatzigiannakoudis | Greek | 1976 | English, Greek, French, Spanish and German |
| Crew | Savvas Lichanidis | Greek | | |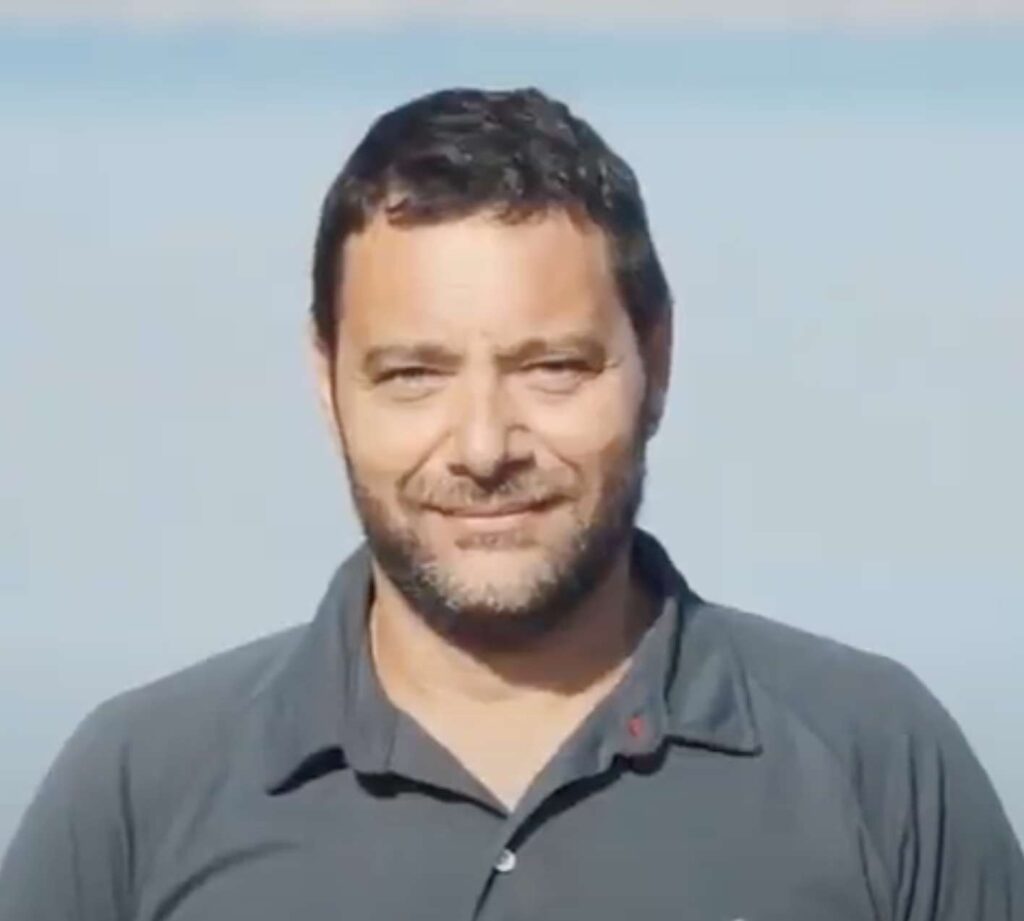 Captain
Evangelos Chatzigiannakoudis
Chef
Savvas Lichanidis
Deckhand
Vasilis Papoutsoglou
Stew
Maria Syrigou
Leisure
Dinghy
T/T Williams Jet Tender
Other Specs
Pref Pickup
Athens, Greece
Other Pickup
Upon request
Boarding Ladder
Stern Hydraulic
Scuba Onboard
Yacht offers Rendezvous Diving only
Other Toys
Williams Jet Tender 200HP
Sea bob (2)
Wakeboard (1)
Water ski adults (1)
Inflatable towable couch
Inflatable donut  (2)
Kayak (1)
Stand-Up Paddleboard (3)
Snorkeling gear
Water carpet
Fishing gear
Hydraulic bathing platform
One master cabin and three queen guest cabins all with TV and private bathrooms
Breakfast
Teas-Blends of Herbs – Top quality Coffees
Smoothies
Jams: Apricot, Pear, Apple, Tomato, Fig, Greek Traditional Honey
Homemade Cakes: Chocolate-Vanilla, Carrot, Apple, Lemon
Croissants: Butter, Chocolate
Handmade piroski with: potato or minced meat
Puff pastry-Traditional Greek Pies: Bougatsa, Spinach Pie, Cheese Pie
Breads: White, Black, Brioche, Gluten Free
Pancakes- Crepes with: Merenda, Tahini, Peanut Butter, Greek Traditional Honey, Maple syrup
Smoked Salmon
Cheeses: Graviera, Gouda, Emmental, Feta, Goat
Cold Cuts: Turkey, Ham, Prosciutto, Air Salami, Mortadella
Fresh Fruit: pineapple, cherries, melon, watermelon, apricots, peaches
Bacon, boiled sausages
Dried fruits: apricots, plums, cranberries
Nuts: almonds, walnuts, hazelnuts
Cereals: oats, chocolate, honey, cornflakes
Fresh Juices: Orange, Grapefruit
Dairy: Milk, Rice Pudding, Strained Yogurt, Goat Yogurt
Eggs: Omelet, fried, poached, scramble, boiled, Kayanas
Day 1
Lunch
Salad
Textures of tomato, olive, pickle, onion, cucumber sorbet
Starter
Ceviche seabass, Passion fruit, tobiko, dill oil, fennel pickle
Main course
Orzo shrimp, goat cheese, confetti cherry tomatoes
Desert
Lemon cream, almond cookie, meringue, honey cells
Dinner
Salad
Rocket, feta, watermelon, pine nuts, radish
Starter
Steamed mussels with fennel, dill, garlic, mustard sauce – ouzo
Main course
Grouper with saffron sauce, greens, cauliflower puree
Desert
Yogurt mousse, Chios mastic, liqueur, fresh fruit, strawberry sauce
Day 2
Lunch
Salad
Spinach pie salad, feta, dill, spring onion
Starter
Crab tartare, soy sauce and truffle
Main Course
Iberico pork, hoisin sauce, sweet potato puree
Desert
Millefeuille orange, raspberry sauce
Dinner
Salad
Smoked salmon, avocado, cucumber, cottage cheese
Starter
Shrimp tempura, Panko, sriracha mayonnaise
Main Course
Risotto village salad
Desert
Chocolate mousse, caramel sauce, peanuts
Day 3
Lunch
Salad
Greek salad with feta cheese, fresh oregano, onion pickles, capers
Starter
Shrimp carpaccio, tarama (fish roe) mousse, cream cheese
Main Course
Lamb ribs with percussion, baby potatoes, rosemary
Desert
Milk pudding with ice cream
 Dinner
Salad
Rice noodles, shrimp, black sesame
Starter
Octopus, fava cream, pickles, onion, capers
Main Course
Lobster spaghetti, tomato sauce, fresh basil, parmesan
Desert
Cream Brulee with fresh vanilla and ice cream
Day 4
Lunch
Salad
Rice rolls with crab, avocado, cucumber, wasabi cream
Starter
Shrimp dumplings, cucumber pickle, soy sauce, coconut milk
Main Course
Salmon Tataki, sauteed spinach with ginger, chives, poncho sauce, wheat mushrooms
Desert
White chocolate and strawberry chocolate, fresh blueberries
Dinner
Salad
Cherry tomatoes, goat cheese, basil pesto, mozzarella buffala
Starter
Moussaka croquette, béchamel cream, tomato jam
Main Course
Mushroom risotto, fresh truffle
Desert
Tiramisu cream, caramel ice cream
Day 5
Lunch
Salad
Beetroot, yogurt with orange and asparagus
Starter
Couscous with mushrooms and chicken, saffron, prosciutto powder, fresh truffle
Main Course
Cod, potato and garlic cream, black caviar
Desert
Mango cheesecake, raspberry ice cream
Dinner
Salad
Caspatsio with fresh oregano, feta and watermelon
Starter
Oysters with lemon pearls and tarama
Main Course
Beef fillet, mushrooms, king oysters, pea puree
Desert
Chocolate fudge, with fresh vanilla and ice cream
Day 5
Lunch
Salad
Okroshka Russian cold soup with dill yogurt and fresh vegetables
Starter
Scallops, Bern Blanc sauce, peas and greens
Main Course
Saute sea bream, bean cream, croutons, cuttlefish ink
Desert
Poached pear, tangerine cream, yogurt ice cream
Dinner
Salad
Smoked eggplant, cheese mousse, cherry tomatoes, basil and garlic
Starter
Beef Tartar, fresh truffle, potato chips
Main Course
Spinach ravioli, goat cheese, sauteed chicken, yellow curry
Desert
Churros, savory caramel sauce, strawberries and hazelnuts
Day 7
Lunch
Salad
Sea urchin eggs with croutons, olive oil, salt flower in arugula and parmesan salad
Starter
Tuna carpaccio with lid, truffle, tomato seeds
Main Course
Cabbage stuffing with grouper and eggnog biscuit sauce
Desert
Baklava with Aegina peanuts, ice cream
Dinner
Salad
Fresh various shells with lemon dressing
Starter
Kakavia with stone fish
Main Course
Risotto with fresh tomato sauce and red mullet
Desert
Eclairs, vanilla cream and strawberry sauce
Ed Hamilton & Co. endeavors to provide the most up-to-date yacht information, availability and rate details, however, all information published on this site is subject to change without notice. Please contact us for the most current yacht information, availability and rate details.