Guests

8

Cabins

4

Model

Cat

Year Built

2019
Additional Rate Information
Additional Rate Information
Additional Rate Information
Winter 2020/2021:
1-5 pax: $70 000
6-8 pax: $72 000
Christmas/New Year:
1-5 pax: $83 000
6-8 pax: $85 000
Weekly rates are all inclusive except special requests (fine wines, champagne, specific alcoholic drinks, excessive alcohol consumption), local cruising taxes and permits, air fares, transfer airport/yacht/airport, dockage fees if any, use of communications means available on board and crew gratuity. Fuel included for 4 hours on engine daily.
For the Caribbean all-inclusive charters a small APA of 5% is recommended to cover the local cruising permits and any other additional expenses.
USVI pickup/drop off – $500 each
Summer 2020:
June and September: €68 000 + APA 30% + VAT
July and August: €72 000 + APA 30% + VAT
October: €63 000 + APA 30% + VAT
Location Details
Summer Area: W. Med -Naples/Sicily, W. Med -Riviera/Cors/Sard.
Winter Area: Caribbean Virgin Islands, Caribbean Leewards, Caribbean Windwards
Location Details: Winter 2020/2021: Caribbean
Summer 2021: France, Italy
Captain: Rocco Sisto
Nationality : Italian
Languages : Italian, English.
Rocco is a highly skilled and competent yacht captain with an extensive maritime career that spans over 25 years. He holds a prestigious MCA Ocean Master 200t certificate and his vast experience includes sailing throughout the Mediterranean and the Caribbean as well as 12 successful Atlantic crossings. Very versatile in his nature, Rocco is adept at handling a variety of situations, from the simple to the most challenging ones. He is also very eager and committed to a high standard of excellence, putting in every effort to ensure that each moment spent on board is flawless and meets his guests' greatest expectations. Passionate about the sport of sailing, Rocco has participated in a number of regattas and takes great delight in sharing thrilling stories of his journeys at sea. Moreover, he is an avid lover of water sports and has been trained as a certified Advanced PADI Diver and Rescue Diver, sailing, kitesurfing and windsurfing instructor. Proud to be at the helm of ABOVE, Captain Rocco looks forward to welcoming guests for an unforgettable sailing experience.
First Mate: Giacomo Casamento
TBC
Chef:Aushi Walalam
Nationality : Italian-Venezuelan
Languages : Spanish, Italian, English.
Aushi is a talented professional Chef with a broad culinary repertoire and more than 20 years of work experience in restaurants and on luxury charter yachts. He never stops pursuing perfection and has successfully completed dozens of professional courses in Italian cuisine, wok style cooking, fish and seafood cookery and vegetarian cuisine. His other achievements include degree in pedagogy and visual arts.
Having learnt secrets of authentic Italian cuisine from great Italian chefs, Aushi loves treating guests to classic Italian appetizers, entrées and desserts. His Italian pasta, pizza, lasagna, focaccia, frittata, ciabatta, panna cotta, tiramisu and many other culinary creations are absolutely delicious. But holiday weight gain should not be of much concern, thanks to a wide range of water sports activities and water toys available on board ABOVE guests can fully enjoy their vacations.
Aushi prides himself on being a great team player and loves to create happy and truly memorable vacations.
Deckhand: Afonso Gonçalves
Nationality : Portuguese
Languages : Spanish, Portuguese, English.
Afonso is a dedicated deckhand focused on providing the best service to the guests. He started his maritime career 3 years ago and already proved himself as a reliable crew member.
Passionate about sports, especially sailing and surfing, Afonso is always happy to assist with any water sports activities. His outgoing personality and professional approach will make guests feel comfortable and cared for each day of their stay on board ABOVE.
Stewardess: Bettina Rieger
Nationality : Spanish
Languages : Spanish, English
| | | | | |
| --- | --- | --- | --- | --- |
| Captain | Rocco Sisto | Italian | 0 | English, Italian, Spanish |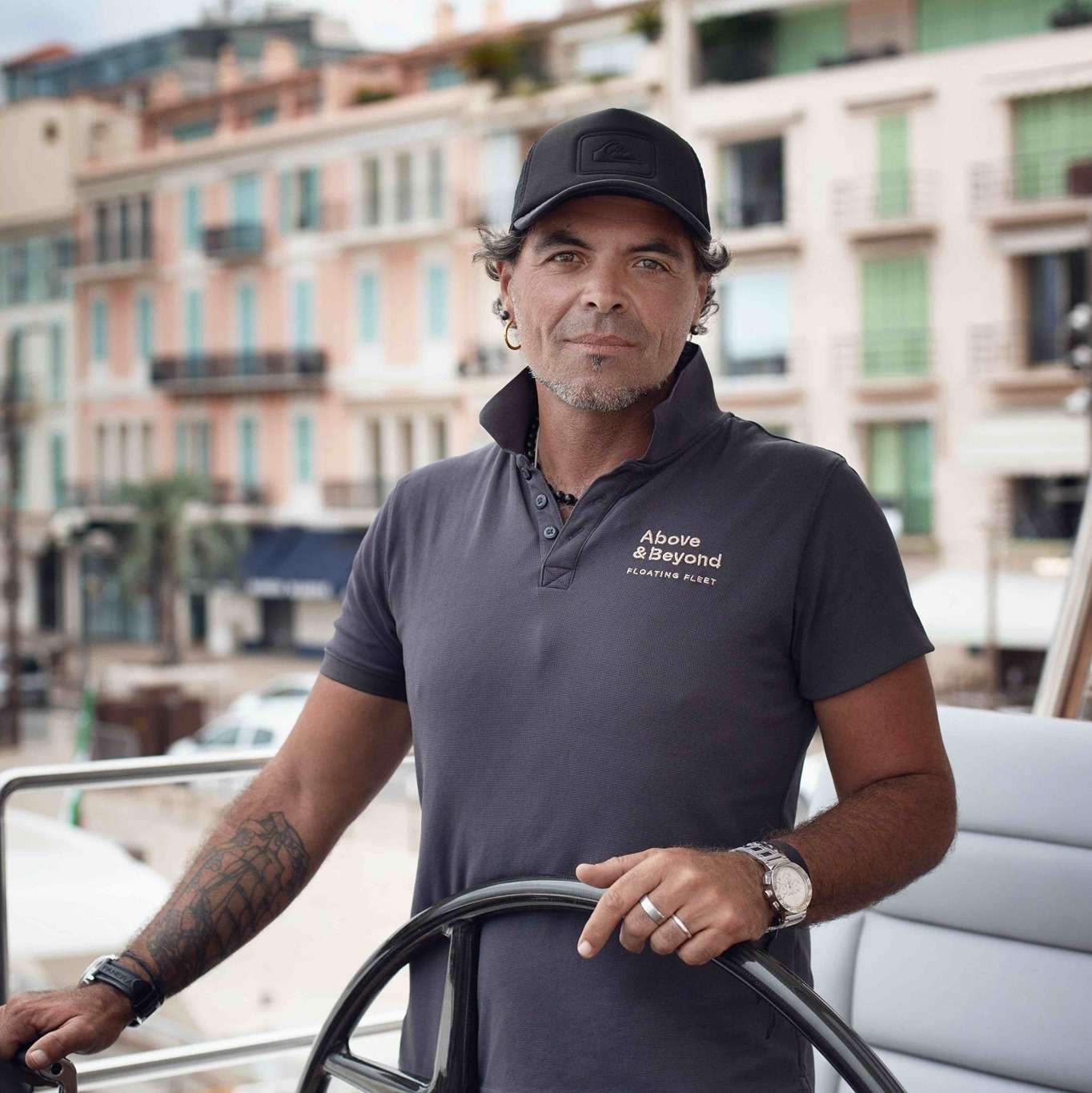 Captain
Rocco Sisto
Other Toys
• Tender Williams Sport jet
• 5 x Paddle board
• Wakeboard
• Surf board
• Towable water toys
• 2 x Seabobs
• Snorkeling gear
• Kayak
• Monoski
• Waterski

Number of Cabins: 4
Total Guests (Sleeping): 8
Cabin Configuration: 4 Double(s)
Bed configuration: 4 Queen(s)
Breakfast
Fresh juices, coffee and tea will be served every morning accompanied by granola, cereals and a local fruit platter with fresh baked breads and muffins.
Pineapple Pancakes
Enjoy the blend of tropical flavors with these fluffy pineapple pancakes and homemade coconut syrup.
Vegetable Frittata
Eggs mixed with a variety of colorful vegetables and cheese. Baked to perfection and topped with fresh herbs.
Create Your Own Omelet
A French Omelet made with your choice of vegetables, cheeses, spinach and sautéed onions.
Eggs Benedict With Jumbo Lump Crab
Toasted English muffin layered with a slice of Canadian bacon, poached egg and jumbo lump crab meat. Topped with a rich and creamy hollandaise sauce and vibrant fresh herbs.
Perfectly Golden French Toast
Fluffy Brioche bread dipped in a vanilla and cinnamon mixture. Topped with powdered sugar, fresh berries and homemade syrup.
Cast Iron Shakshuka
Poached Eggs in a spicy tomato sauce with fresh herbs and avocado.
Classic American Breakfast
Eggs cooked to order with a side of bacon or sausage and classic crispy breakfast potatoes. Accompanied with a fruit and yogurt parfait.
Lunch
Crab Cakes
Maryland style crab cakes with jumbo lump crab meat served over a bed of vegetables with a delicious horseradish sriracha remoulade.
Spicy Shrimp Sushi Tower
Four layers starting with sushi rice. Then cucumbers and avocado, fresh mango salsa and spicy shrimp. Topped with black sesame seeds.
Seafood Bouillabaisse
Lobster, mussels, clams and scallops in a flavorful broth thickened with healthy vegetables and served with toasted French bread.
Seared Scallops
Scallops seared to perfection in an orange rum sauce overtop a sweet potato purée.
Summer Peach Spinach Salad
Grilled peaches over a bed of spinach. Packed with creamy goat cheese, avocado and crunchy toasted almonds and then drizzled with a homemade balsamic vinaigrette.
Shrimp Tacos
Spicy grilled jerk shrimp tacos with pineapple salsa. Topped with a creamy pina colada sauce.
Baked Lemon Pepper Chicken
Baked chicken in a peppery creamy lemon sauce served over almond rice with fresh vegetables.
Appetizers
Served with refreshing Cocktails, Wine or Champagne.
Charcuterie Board
Sushi Assortment
Mahi Mahi Ceviche
Creamy Cucumber Gazpacho
Melon, Prosciutto and Mozzarella Skewers topped with a Balsamic glaze
Bacon Wrapped Grilled Peaches
Teriyaki Salmon Bites
Grilled Caprese toast with burrata cheese and grilled avocados
Tuna Sashimi and avocado wonton cups
Homemade Pumpkin and Ricotta Ravioli
Dinner
Steak Oscar
Filet Mignon topped with Crab meat and a homemade Bearnaise sauce. Served with garlic mashed potatoes and grilled asparagus
Parmesan Pesto Tilapia
Tilapia broiled to a cheesy golden perfection and topped with pesto and fresh chopped tomatoes. Served with a truffle risotto and vegetables.
Lamb Kleftiko
Tender Lamb Shanks baked to perfection served over a potato puree with green beans and a red wine jelly sauce.
Baked Wild Striped Sea Bass
Sea Bass with Braised Daikon Radish and Piquillo Peppers in a Butter Sauce
Honey Garlic Salmon
Seared Salmon in a honey garlic sauce served with potato wedges and roasted red peppers
Cabernet Braised Short Ribs
Short Ribs baked in a cabernet wine sauce. Served with mashed potatoes and roasted vegetables.
Apricot Dijon Glazed White Fish
Local fresh caught fish baked in an apricot Dijon glaze with ginger and lime. Served over couscous rice and fresh greens.
Desserts
Classic French dessert of poached pears dipped in chocolate sauce with a side of vanilla bean ice cream and toasted almonds.
Chocolate Hazelnut Mousse
Light and fluffy hazelnut mousse topped with a homemade whipped cream and dusted with cocoa powder.
Lemon Semifreddo
Refreshing lemon semifreddo served on top of a Italian sponge cake with whipped cream and lemon zest.
Panna Cotta
Delicious Coconut Panna Cotta with Blackberry, Thyme and Sloe Gin Compote.
Almond Joy Pie
Enjoy pure coconut heaven with this almond joy pie. Coconut filling inside an Oreo crust with whipped cream and chocolate sauce drizzle and flakes of coconut topping.
Tiramisu
Authentic Italian Tiramisu. Elegant, rich layering of bold espresso and coco, creamy mascarpone cheese and ladyfinger cookies.
Mango Mousse Cake
This tropical whipped mango mouse is layered with coconut sorbet and then topped with fresh diced mangoes and coconut flakes.
Ed Hamilton & Co. endeavors to provide the most up-to-date yacht information, availability and rate details, however, all information published on this site is subject to change without notice. Please contact us for the most current yacht information, availability and rate details.