Guests

10

Cabins

5

Model

Cat

Year Built

2020
Additional Rate Information
Additional Rate Information
Charter Rates Per Week
| Rate Period | Terms | 2 Guests | 3 Guests | 4 Guests | 5 Guests | 6 Guests | 7 Guests | 8 Guests | 9 Guests | 10 Guests |
| --- | --- | --- | --- | --- | --- | --- | --- | --- | --- | --- |
| Summer 2023 | Inclusive | $25,000 | $25,500 | $26,000 | $26,500 | $27,000 | $27,500 | $28,000 | $29,000 | $30,000 |
| Winter 2023 to 2024 | Inclusive | $27,000 | $27,500 | $28,000 | $28,500 | $29,000 | $29,500 | $30,000 | $31,000 | $32,000 |
| Summer 2024 | Inclusive | $28,000 | $28,500 | $29,000 | $29,500 | $30,000 | $30,500 | $31,000 | $32,000 | $33,000 |
Additional Rate Information
CREW GRATUITY: The prices do not include a tip for your crew.
It's customary to tip your crew at the end of the charter, the norm for good service is 15%-20% of the charter fee.

MINIMUM NIGHTS: 5
For 6 night charters, divide weekly rate by 7 nights X 6 nights. For 5 nights or less, divide weekly rate by 6 nights X number of nights.

$800 SURCHARGE FOR CREW TO MOVE CABINS.
SLEEP ABOARD: Sleep aboard the night before charter dates. Available for $300 per cabin, with a 3 cabin minimum. Includes boarding after 4pm, welcome cocktail and canapes plus a light breakfast the next morning. Dinner is to be taken ashore at client expense.
HALF-BOARD: $150 off per person per week. Includes: 7 breakfasts, 4 lunches & 3 dinners. Requires 3 lunches & 4 dinners ashore at client expense.
LOCAL FARE: $75 off per person per week. Includes: 7 breakfasts, 5 lunches & 6 dinners. Requires 2 lunches and 1 dinner ashore at client expense.
CHRISTMAS/NEW YEARS:
7 night minimum. Scrub Island ports required.
CHRISTMAS 2023: 1-10 guests @ $38,400 – charter must end by 12/26
NEW YEARS 23/24: 1-10 guests @ $41,600 – charter may not start prior to 12/28
Location Details
Summer Area: Caribbean Windwards, Caribbean Virgin Islands (BVI)
Winter Area: Caribbean Virgin Islands (BVI)
Location Details: Yacht is based out of Scrub Island BVI
Yacht will be accepting charters in the Grenadines in October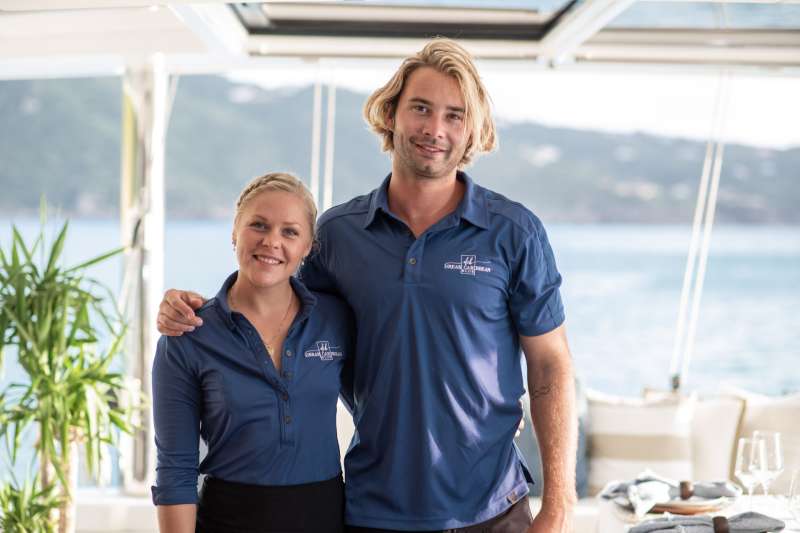 Thomas Bik
Born and raised in the Netherlands Thomas always had a passion for the ocean. With both of his parents being fanatic sailors, it was only natural that he spent all of his free time on the water partaking in every water sport imaginable.
From a young age it became very clear that his drive would point him toward a career on the water. He applied for a bachelor's in Water Management with a minor in Smart Water, followed by a Masters in Hydrology specializing in hurricane storm surge control in the Caribbean and Florida.
During COVID, he decided to apply to a nautical college and upon graduation, worked as a first officer on sailing yachts up to 500GT. He quickly realized that the size of these yachts directly impact the amount of guest interaction. He therefore decided to obtain his Yacht Masters and become a captain on smaller sailing vessels.
His adventures started working in Flotillas in the Mediterranean, where he met Mollie on the dock in Croatia. After a lot of evenings sharing dreams, they decided to put these dreams into practice. They moved to the south Caribbean to work day charters on a 75ft catamaran and returned to the Mediterranean together. They quickly realized that this is the life they want to live.
Mollie Olsson
Mollie grew up in a small city called Jönköping, in Sweden and with her loving mother she learned how to cook from a young age and would always create great feasts for her big family and friends.
At the age of 18 she moved away from home to follow her passion for performing arts and worked as a dancer, flying trapeze instructor and acrobat in Mexico. Here she found her love for the Mexican cuisine, which speaks to her eclectic range of cooking with combinations of ingredients like lime, chili and garlic. Her guacamole is to die for.
Mollie then found herself following her other interests, sport and exercise science which took her to Australia to study for a year. She fell in love with this beautiful country and ended up staying for almost 4 years. With her knowledge she tried her hand in entrepreneurial ship, opening her own performance center for strength sports on the Sunshine Coast in a partnership. After the separation of the partnership (the business however has been a success and is still in operation), she started working as a front of house manager in a vegan and gluten-free herbal bar. Here she was able to tap into her creative side and create new exciting cocktails, write menus and run a team of incredible people.
After this Mollie decided to move back to Scandinavia to enter the oil industry where she worked in the catering department. But she got tired of the cold weather and decided to take on a new path and move to warmer climate. She then found a home in the yachting industry, an occupation where she can both travel and work at the same time, whilst meeting new exciting people all over the world.
She took on multiple roles as deckhand, stewardess and chef on both motor yachts and sailing boats. This is where she really found a passion for the art of cooking. Mollie has been very fortunate to travel all over the world and has visited over 50 different countries. In those different countries she loved to take an active approach to learn and study the cuisine. Fresh produce and good ingredients are key when creating a nutritious and flavorful dish and don't forget that sprinkle of love.
When Mollie is not cooking, she enjoys adventuring activities such as hiking, dancing, skiing, sailing and all kinds of training and when she wants to relax, she likes taking a deep breath on her yoga mat or creating long lasting memories through her camera lens.
Mollie and Thomas met on the dock on her very first sailing trip and they never looked back! From two separate parts of the world, they found each other in a whirlwind of adventure.
| | | | | |
| --- | --- | --- | --- | --- |
| Captain | Thomas Bik | Amsterdam | 1995 | English, Dutch, Swedish |
| Crew | Mollie Olsson | Sweden | | |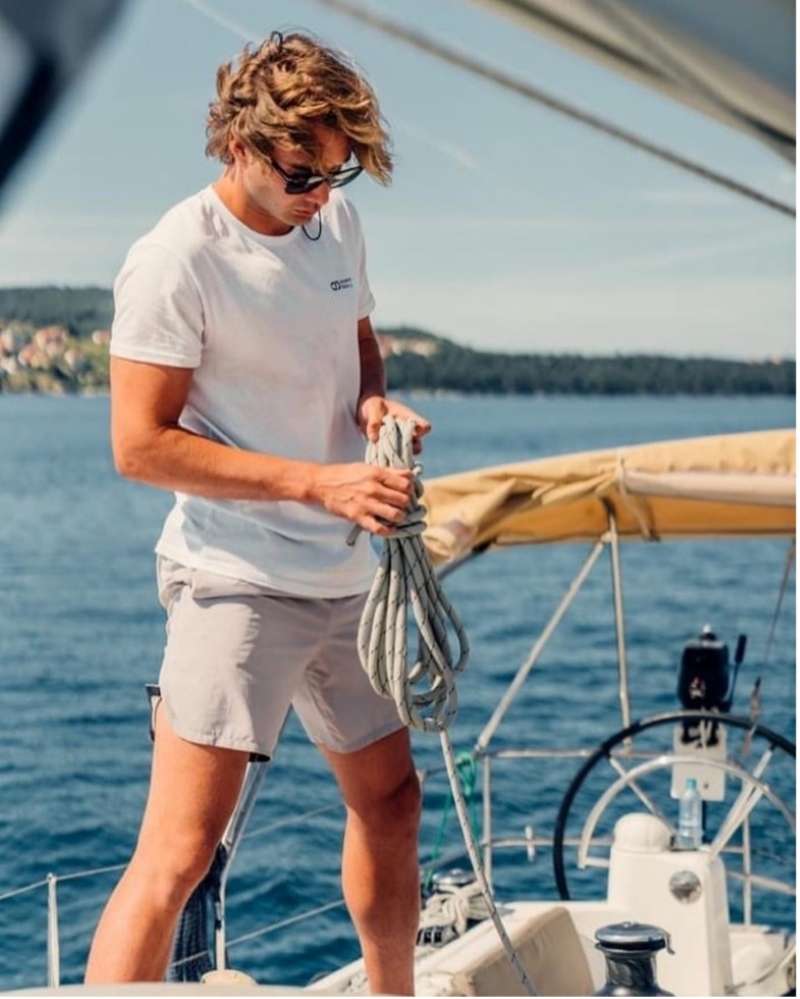 Captain Thomas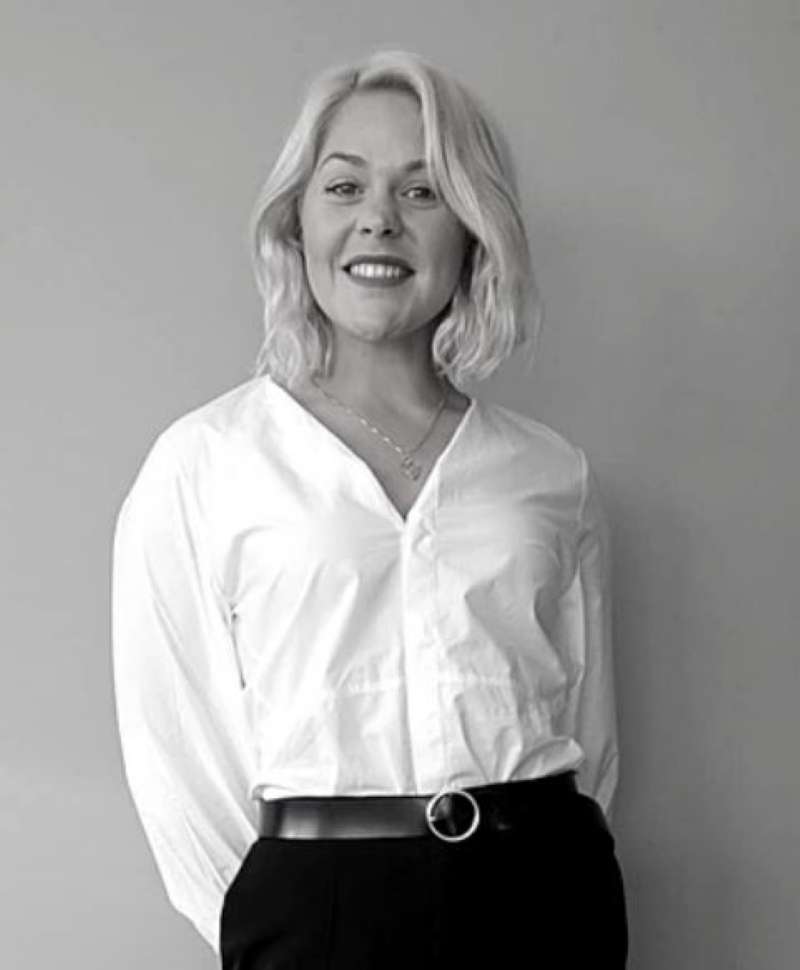 Chef Mollie
General
Guest Smoke
On sugar scoops only
Leisure
Dinghy
14 ft. Highfield Center console with Turbo Swing for watersports and ladder assembly
Other Specs
Water Capacity
1200L - 315 GAL
Boarding Ladder
Yes/Stern
Scuba Onboard
Yacht offers Rendezvous Diving only
Ad Astra is best suited for 10 guests. Aft cabins and two forepeaks have wet heads.
Crew will move cabins for an $800 fee.
B R E A K F A S T
A fresh fruit platter, juice or fruit smoothie, coffee
and tea are served with breakfast every day
S P E L T P A N C A K E S
Cinnamon | Maple | Mascarpone
S H A K S H U K A
Avocado | Feta | Mint | Toasted bread
C A R A M E L I Z E D  F R E N C H  T O A S T
Fresh berries | Butter
H O M E M A D E  S C O N E S
Jam | Butter| Nutella | Whipped cream
C R O I S S A N T  B E N E D I C T
Smoked salmon | Hollandaise | Avocado | Poached egg
I T A L I A N  S T Y L E  E G G S C A P R E S E
Fried egg | Ciabatta | Pesto| Crispy prosciutto | Mozzarella | Tomato
C R E P E S
Lemon curd | Caster sugar | Raspberries
L U N C H
M A D E  T O  O R D E R  I T A L I A N  P I Z Z A
Mascarpone | Crème fraiche | Mozzarella | Mixed protein | Mixed vegetables
B A N G  B A N G  V I E T N A M E S E  N O O D L E  S A L A D
Prawns | Shallots | Roasted peanuts | Bean sprouts | Mint | Ginger | Lime | Chili
P O K E  B O W L
Fresh tuna | Cabbage | Sushi rice | Mango salsa | Pickled Ginger | Chili mayo
T H E  M O L L I E  S A L A D
Couscous | Parsley | Cashews | Pomegranate | Red cabbage | Feta | Sweet potato
C R E A M Y  L O B S T E R  P A S T A
Lobster | White wine | Parmesan | Cream | Lemon | Chives | Garlic bread
M E X I C A N  C A R N I T A S  T A C O
Pulled pork | Guacamole | Pico de Gallo | Coriander | Pickled red onion
F A N C Y  C H I C K E N  B U R G E R
Brioche | Parsley | Basil | Lemon zest | Sweet potato fries | Harissa-honey
dressing
D I N N E R
S T A R T E R S
C R E A M Y  C A U L I F L O W E R  S O U P
Garlic  | Cashew nut | Pumpkin seed | Garlic bread
R O A S T E D  R O O T  V E G E T A B L E  S A L A D
Sweet potato | Carrot | Honey | Garlic | Ricotta | Rosemary | Thyme
T H A I  G R E E N  M A N G O  S A L A D
Mango | Peanuts | Chili | Ginger | Coconut flakes | Basil
S I Z Z L I N G  P R A W N S
Chili | Parsley | Aioli | Toasted bread
S E A  B R E A M  C E V I C H E
Charred sweetcorn | Spring onion | Coriander | Lime
J A P A N E S E  C A B B A G E  P A N C A K E S
White cabbage | Soy sauce | Siracha mayo
G R I L L E D  L O B S T E R  T A I L S
Lemon | Parsley | Butter | Dijon mustard | Garlic
D I N N E R
M A I N S
R I B E Y E  S T E A K
Parmesan potatoes | Chimichurri
S E A R E D  S E S A M E  C R U S T E D  T U N A  S T E A K
Asian slaw | Asparagus | Soy sauce
C R E A M Y  C H E R R Y  T O M A T O  R I S O T T O
Rosemary | Cherry tomatoes | Basil | Champignon
S E A  B R E A M
Potato pure | Lemon | Crispy green salad | Confit tomatoes
C R E A M Y  L O B S T E R  P A S T A
White wine | Parmesan| Lemon | Chives | Garlic bread
M I D D L E  E A S T E R N  M E Z E
Lamb kofta | Falafel | Tabouli | Tzatziki | Hummus | Zaalouk | Muhammara | Pita Bread
S C A L L O P S  W I T H  P O P C O R N  S A U C E
Sweet corn | Lemon | Crispy prosciutto | Popcorn
D I N N E R
D E S S E R T
S W E D I S H  S T I C K Y  C H O C O L A T E  C A K E
Whipped cream | Raspberries | Caster sugar
D E C O N T R U C T E D  C A R R O T  C A K E
Roasted pecans | Pickled carrots
T H R E E  L A Y E R D  C H E E S E C A K E
Cream cheese | Strawberries | White chocolate
S T I C K Y  C I N N A M O N  B U N S
Caramel sauce | Pistachio
B A K L A V A
Walnuts | Hazelnuts | Dark chocolate | Cinnamon
M I N I  P A V L O V A S
Passionfruit curd | Mixed berries | Whipped cream
H I B I S C U S  P A N N A  C O T T A
Vanilla | Hibiscus sauce
Ed Hamilton & Co. endeavors to provide the most up-to-date yacht information, availability and rate details, however, all information published on this site is subject to change without notice. Please contact us for the most current yacht information, availability and rate details.