Guests

11

Cabins

5

Model

Power

Year Built

1990
Additional Rate Information
Additional Rate Information
Location Details
Summer Area: Bahamas
Winter Area: Bahamas
Location Details: DAY CHARTERS: 8 hour day
$16,500 plus 4% Tax for 12 guests and $300 for each additional guest.
*Rate includes:
– 8 hour cruise
-Continental Breakfast, Surf and Turf Lunch, Snacks, Open Bar and Beverages for up to 12 guests. (house wines, beer and standard liquor – no premium brands)
– Dockage at Yacht Haven Marina is also included but transportation Yacht Haven Marina is charterer's expense.
– 18′ Beavertail Flat Bottom Skiff
– Slide is not included in day charter rate, but can be added for an additional $500
– Gratuity is not included in the rate and is usually 15% – 20%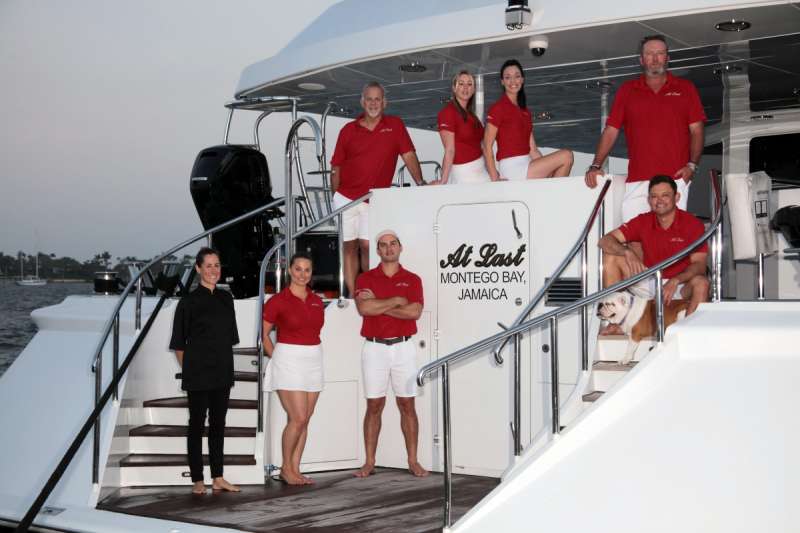 Cameron Neill – Captain
Education/Certifications: MCA Master 3000GT, MCA Master 500GT, MCA Master 200GT Unlimited Area (Power & Sail), MCA OOW 3000GT, MCA Chief Mate 3000GT, MCA AEC Approved Engine Course, MCA ISPS Security Officer, MCA ISM International Safety Management Auditor, GMDSS, ISPS, MCA ENG; Advanced Diploma Applied Science and Nautical Science (Shipmaster), Australian Maritime College; Bachelor of Laws, Bond University
Languages Spoken: English
Captain Cameron "Cam" Neill grew up in Sydney, Australia and has been yachting for most of his life. His family is very active in yacht racing, and he has had thousands of miles of ocean racing under his belt, winning nine world championships in various classes of sailboat and along with his father and brother, sailing in the Olympics.
Before beginning a career in yachting, Cam studied law and practiced maritime law for several years. From there, he held a large shipping captain's license before joining the pro-sailing circuit that progressed into yachting. For the past 15 years, he's been a yacht captain, working in the Mediterranean, Dubai, Southeast Asia, the South Pacific, Australia, the Bahamas, and the United States, covering more than 360,000 sea miles.
Captain Cam looks forward to welcoming you aboard AT LAST for your next charter.
Elise Lamarre – Chef
Education/Certifications: 2 years of Culinary Training, Sushi Trained, Certified Ship's Cook
Languages Spoken: English, French, Spanish
Elise Lamarre was born and raised in Montreal, Quebec as part of a family that loves food and wine, and one of her two sisters is a sommelier. Lured by her love of the ocean, travel, and adventure, she embarked on a career in yachting nine years ago. In that time, she has freelanced on both private and charter yachts, furthering her skills as a chef and in the future, she hopes to have her own business in food and wine. In addition to her love of all things related to food, Elise enjoys wild mushroom foraging, yoga and Thai boxing. No matter where her travels take her, she will always return home to the people she loves in her favorite place, Montreal.
Kobus Kraftt – First Officer
Education/Certifications: Associates Degree in Business Management; 200T International, 100 USCG
Languages Spoken: English, Afrikaans, and Zulu
Kobus Kraftt grew up on a sugar farm in Heatonville, located in the South African province of KwaZulu-Natal. He started his career in the yachting industry in 2012 when he became a deckhand, and fell in love with marine life and being so close to the ocean. He has worked on charters on both the east and west coasts of Florida, and cruising in the Bahamas. He joins M/Y AT LAST as First Officer and is working toward his Captain's License. When not working at sea, Kobus enjoys water sports, especially in Staniel Cay, or heading to Cape Town, South Africa for golf and quality time with family and friends.
Clare Gable – Chief Stew
Education/Certifications: Beauty Therapy Level 2 and 3, City & Guilds
Languages Spoken: English
Clare Gable was born just outside London, England and grew up in the countryside. She began her yachting career in 2004 when she was hired to run a spa on a large yacht in Monaco. She has continued to build her yachting skills and experience over the past 15 years, and has worked on charter yachts in the Mediterranean, the Caribbean, and both the east and west coasts of the United States before joining M/Y AT LAST as Chief Stew. Of all the destinations she's visited to date, Laguna Beach, California has enchanted her the most.
In her leisure time, Clare is an avid skier, and also enjoys running and hiking. She practices yoga and plans to complete yoga teacher training in the near future. Clare also wishes to obtain her scuba certification and master surfing, skills that she will be able to share with charter guests.
Kerry-Lea Coetser – Second Stew
Education/Certifications: Diplomas in Public Relations and Project Management; Qualified Makeup Artist
Languages Spoken: English
Kerry-Lea Coetser grew up on a farm in South Africa where she enjoyed fishing and spending time at sea. In 2019, she was looking for a change and craving adventure, so she embarked on a career in the yachting industry. Never scared of moving outside of her comfort zone, Kerry wants to learn as much as she can about yachting while advancing in the industry and growing as an individual. She joins M/Y AT LAST as Second Stew. Travel is her first passion, but she also enjoys snorkeling and is keen to learn how to dive. She's excited to explore the world but her heart will always be at home in South Africa.
Simona Dobreva – Third Stew
Education/Certifications: Business Degree in Hospitality Management
Languages Spoken: English and Bulgarian
Simona Dobreva was born in Sofia, Bulgaria and raised in British Columbia on the west coast of Canada, with both the ocean and mountains at her doorstep. She discovered the world of yachting in 2015 when she sailed a catamaran through the Cyclade Islands in Greece, and was immediately captivated by the industry and lifestyle. She transferred her skills as an event planner to a career in yachting and spent her first season working on Westports in Vancouver. Sim is currently Third Stew on M/Y AT LAST, and has ambitious plans for her future in the industry.
Robert Pyrah Jr – Chief Engineer
Education/Certifications: USCG DDE 4000 License
Languages Spoken: English, Spanish
Robert Pyrah Jr was born and raised in Southern California where his love of ocean-going boats began. He started ocean fishing with his father at 11 and purchased his first boat at 21. His interest in sportfishing continued to grow until he was competing in tournaments in California, Mexico, and Central America on his own 48-foot yacht. At age 40, he was invited to join the most exclusive sportfishing club in the world, "The Tuna Club of Avalon." In addition to sportfishing, Rob enjoys woodworking, sailing, and racing (especially NASCAR).
After being around boats for close to 50 years, he spent the past decade turning his passion into a vocation. He moved to Fort Lauderdale, obtained his USCG DDE 4000 license, and embarked on an exciting new career in yachting. He joined the crew of M/Y AT LAST in 2019 and looks forward to meeting you on your next charter vacation.
Joseph-Henry Reynolds – Bosun
Education/Certifications: Honors Degree in Marketing Management; Offshore Skippers, MOY 200T, AEC
Languages Spoken: English, Afrikaans, and Zulu
Joseph-Henry Reynolds hails from South Africa where he grew up on a farm, enchanted by the peaceful sounds of wildlife at night. He's always loved sports, especially rugby, fishing, and other watersports. At age 12, his family moved to the seaside and he got his first boat which sparked a life-long passion. He has 15 years of boating, jet skiing, wakeboarding and sportfishing experience, and two years in the yacht charter industry. Joseph joins the crew of M/Y AT LAST as Bosun while continuing to advance his yachting career by acquiring new licenses. In his leisure time, you'll find him enjoying an array of watersports, snowboarding, skiing, running and playing tennis, or watching one of his favorite teams play rugby or football.
| | | | | |
| --- | --- | --- | --- | --- |
| Captain | Cameron Neill | American | 0 | English, French, Spanish, Bulgarian, Afrikaans, and Zulu |
Other Toys
39' SeaVee Tender 3 x 300 hp
18' Beavertail Flat Bottom Skiff
4 x 2015 Yamaha GP 1800R waverunners
36' Waterslide from sun deck to water level
2 x Single Ocean Kayak
2 x Donuts
2 x SeaBobs
Hydrofoil
Slalom ski
Wakeboard
4 x Paddle boards
Snorkeling equipment
Assorted fishing gear
Beach set up
Ed Hamilton & Co. endeavors to provide the most up-to-date yacht information, availability and rate details, however, all information published on this site is subject to change without notice. Please contact us for the most current yacht information, availability and rate details.