Guests

12

Cabins

3

Model

Sail

Year Built

1978
Additional Rate Information
Additional Rate Information
Charter Rates Per Week
| Rate Period | Terms | 2 Guests | 3 Guests | 4 Guests | 5 Guests | 6 Guests | 7 Guests | 8 Guests | 9 Guests | 10 Guests | 11 Guests | 12 Guests |
| --- | --- | --- | --- | --- | --- | --- | --- | --- | --- | --- | --- | --- |
| Summer 2022 | Inclusive | $26,000 | $26,750 | $27,500 | $28,250 | $29,000 | $29,750 | $30,500 | $31,000 | $31,500 | $32,000 | $32,500 |
| Winter 2022 to 2023 | Inclusive | $28,000 | $28,750 | $29,500 | $30,250 | $31,000 | $31,750 | $32,500 | $33,000 | $33,500 | $34,000 | $34,500 |
| Summer 2023 | Inclusive | $28,000 | $28,750 | $29,500 | $30,250 | $31,000 | $31,750 | $32,500 | $33,000 | $33,500 | $34,000 | $34,500 |
Additional Rate Information
MINIMUM NIGHTS: 5
For 6 night charters, divide weekly rate by 7 nights X 6 nights. For 5 nights or less, divide weekly rate by 6 nights X number of nights.

For 9-12 guest charters, there are two couches in main salon, space for air mattress if desired, and room for three in the pilot house. Contact crew to discuss available sleeping arrangements for groups larger than 8. For those sleeping in the main saloon or pilot house, there is a separate access to one of the guests bathrooms to not disturb others..
HALF-BOARD OPTION: Includes 7 breakfasts, 4 lunches and 3 dinners, other meals ashore at client expense.
SUMMER 2022: 2@$25,700 3@$26,300 4@$26,900 5@$27,500 6@$28,100 7@$28,700 8@$29,300 9@$29,650 10@$30,000 11@$30,350 12@$30,700
WINTER 2022/2023: 2@$27,700 3@$28,300 4@$28,900 5@$29,500 6@$30,100 7@$30,700 8@$31,300 9@$31,650 10@$32,000 11@$32,350 12@$32,700
HOLIDAY WEEKS 2022/2023 and 2023/2024:
INCLUSIVE. Virgin Islands. 7 night minimum.
CHRISTMAS: 1-8 pax @ $36,000 Must end no later than Dec 26th
NEW YEARS: 1-8 pax @ $38,000 Must begin no sooner than Dec 27th Inquire for other dates or large group.
USCG CAPTAINS COURSE OFFERED ​USCG APPROVED CAPTAINS LICENSE COURSE
$600 per student
Captain's license (Operator of Uninspected Passenger Vessels)
This requires a minimum 7 night charter, charter may be either inclusive, half-board, local fare or captain only.
August Maverick is a Coast Guard approved testing facility! Students complete an online module prior to their charter, and test with Captain Shawn once onboard! This USCG approved course serves in place of testing at the Coast Guard Regional Exam Center. Upon successful completion, mariners qualify for near coastal or inland commercial captain's licenses up to 100 or 200 gross registered tons. Topics include navigation, chart plotting, deck seamanship, deck safety, vessel administration, and rules of the road. The level of license is commensurate with sea time and experience. There are 5 tests to complete during your charter – Captain Shawn will work with you to make sure you complete them all and fit them in around your "busy" vacationing schedule.
Captain Only Rates:
SUMMER 2022 & WINTER 2022/2023:  1-6 guests $22,000 plus all expenses.
Includes captain and first mate as crew of two is required for this size yacht. Guests provision and prepare meals (crew is happy to help with the large galley).
NOTE: Captain Only is not an available option for holiday weeks (Christmas and New Years). Captain Only is available in the summer season in New England and winter season in the Virgin Islands.
Location Details
Summer Area: USA – New England, Caribbean Virgin Islands (US)
Winter Area: Caribbean Virgin Islands (US)
Location Details: Winters in Virgin Islands.
Summers in New England.
Captain Shawn Deweese:
You're in good hands with Shawn – not only the Captain, but an owner he knows August Maverick in and out. He holds a Bachelor's Degree in Naval Architecture & Marine Engineering from the U.S. Coast Guard Academy and a Master's Degree in Social Organizational Psychology from Columbia University. He served nine years at sea in the U.S. Coast Guard aboard cutters ALEX HALEY (Kodiak, AK), KUKUI (Honolulu, HI), CAMPBELL (Kittery, ME), and was the Commanding Officer of Cutters ADAK (Manama, Bahrain) and KISKA (Hilo, HI). He graduated from the Naval Diving Salvage Training Center (Navy Dive School) in Panama City Florida where he later retuned as an instructor for four years. He is a licensed Merchant Mariner with a 1600-ton Oceans Master, and Second Mate Unlimited License. He is also a PADI Dive Master.
​ Now that we've gotten all of the really serious things out of the way, we figured you'd like to know a little more about this one. He's pretty cool. Shawn grew up on the water and all of his memories involve being in, on or under the water; fishing off Cape Cod, snorkeling and diving on family vacations in the Caymans, and waterskiing or tubing during family reunions on the lake in Minnesota. He is great with kids and enjoys teaching them how to fish, taking them tubing behind the tender, and showing some of the little tricks he's learned during his time on the water.
First Mate Victoria Balcheva
Victoria grew up in Varna – the sea capital of Bulgaria. She was always drawn to the water, and family vacations were always near a lake or the sea. She enjoyed fishing with her father as a child, and was a synchronized swimmer throughout high-school. Victoria attended college for International Business Management while working in restaurants, was a fitness instructor, a health coach and even did some modeling. She always loved the idea of being on the water and running a boat, so when the time was right, she did just that. She moved to Greece and quickly earned her Skipper diploma for yachts up to 72ft. She spent a year running day trips and multi-day cruises around Thassos Island: still one of her favorite places. Victoria immersed herself in the sail culture and participated in local regattas, and was a skipper for a two week trip around Greece, transiting the Corinth Canal twice and gaining more than 3500NM as a skipper. Victoria decided to expand her knowledge and went back to the USA where she gained STCW, Powerboat 2, and RYA Marine Radio Short Range Certifications. During her time on August Maverick, Victoria has completed her 100-ton USCG Captains License course and is working towards her dive certifications! Victoria superbly manages guest relations while on charter; making your time onboard as care-free and fun as possible. In addition to running August Maverick with Shawn, Victoria manages August Maverick's social media, website and tries to keep Shawn out of trouble…some jobs are simply harder than others!
Chef: Freelance
***CREW ARE FULLY VACCINATED FOR COVID-19****
| | | | | |
| --- | --- | --- | --- | --- |
| Captain | Shawn Deweese | USA | 1979 | English |
| Crew | Victoria Balcheva | USA | | |
Captain
Shawn Deweese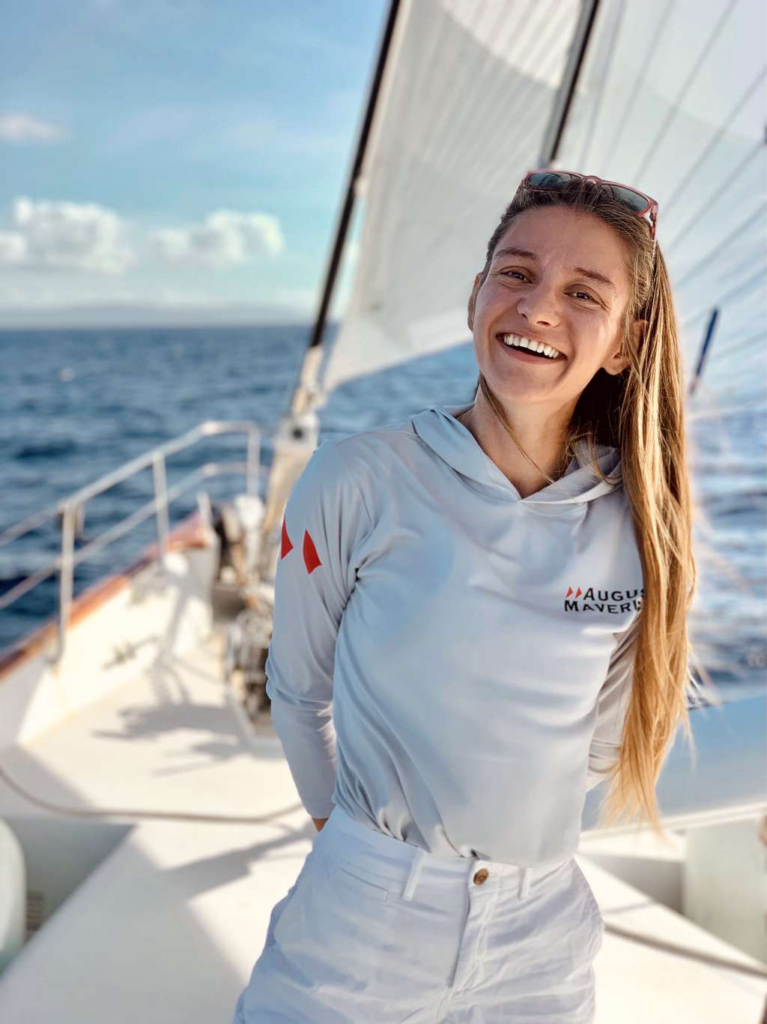 First Mate
Victoria Balcheva
Ammenities
Generator
Two, 30Kw & 20Kw
General
Guest Smoke
Yes, aft deck only
Leisure
Dive Info
Up to 3 dives for 4 divers included in rate. Gear is supplied. At this time Resort course and full course are rendezvous only. Captain Shawn is the Dive Master.
Dive Costs
Up to 3 dives for 4 divers included. Inquire for additional dives.
Other Specs
Pref Pickup
Yacht Heaven, St Thomas
Other Pickup
South Dartmouth, MA
Swim Platform
Yes, water level
Boarding Ladder
2 rigid metal ladders (one on
Fish Gear Type
1 trolling, 1 casting & kids
Green Other
Efficient dishwasher ,water maker, wind turbines, reusable straw.
Resort Course
Rendezvous only
Full Course
Rendezvous only
Other Entertain
3 ice makers, wine cooler, mini fridge, Tv and DVD in main salon and master guest room: Bluetooth stereo in all guest rooms common areas and on deck; variety of water toys, board games, cards, library, internet router in guest rooms and main salon and much more.
Other Toys
4 Su Paddle boards, 2 kayaks 1 Pax, Tube for kids, Water skis for adults, floating dock, water noodles, snorkeling gear, 6 inflatable chairs & 1 inflatable couch.
– SLEEPING BERTHS –
MASTER CABIN: Large master suite aft with king walk around berth, plus his and hers separate baths, each with an electric toilet, vanity and sink, and one shared shower. Crew allows flexible arrangements, depending on families and number of guests.
MID-SHIP TWIN CABINS (2): Each of the two cabins has 2 built in twin beds and one pullman berth (slightly smaller than twin size), plus each has a private en-suite head with electric toilet, vanity/sink. One head has a tub and the other has a standing shower.
MAIN SALOON: Saloon has two built in sofas that can sleep one each. Must share a guest head.
– OTHER AREAS OF THE BOAT –
MAIN SALON: The Salon is spacious, fully air-conditioned and well appointed with dining on the starboard side and lounge area on the port side. There is a lovely bar in the salon as well.
PILOT HOUSE: Up the companionway there is a large air-conditioned pilot house with seating and a bar all offering a 360 degree view. The pilot house has opening windows and aft wall removes if clients prefer open air.
AFT DECK: The aft deck offers table and chairs under the large sun awning and obviously guests can sunbath on the huge decks.
***BABY FRIENDLY BOAT, ANY AGE IS FINE***
A baby crib and secure table mounted chair are available onboard
DAYBREAK 
CREPES 
Vanilla crepes stuffed with fresh fruit, topped with lime crème frâiche 
EGGS FLORENTINE 
Toasted english muffin topped with perfectly poached eggs, spinach, apple wood smoked bacon, finished with a tangy hollandaise 
MONTE CRISTO 
A classic breakfast treat made with fresh vanilla battered brioche, choice cuts of ham,Turkey, Swiss cheese, topped with berry jam and confectioners sugar 
BANANAS FOSTER STUFFED TOAST 
Grilled vanilla brioche, rum caramelized bananas, whipped butter, candied bacon 
QUICHE 
Miniature quiche with seasonal ingredients 
OMELETS 
Made to order with selected ingredients. Served with hash browns or golden potato cakes 
SCONES 
A classic lemon scone served with clotted creme and berry compote 
CHILLED OATMEAL CUPS 
Steel cut oats prepared with almond milk, layered with fresh blueberries, bananas and toasted cocoanut flakes
MIDDAY
GRILLED PANINI
Fresh basil, Roma tomatoes, provolone, topped with a perfect mozzarella 
WEDGE SALAD
A chilled wedge of iceberg lettuce with double cream blue cheese, shaved red onion, applewood smoked bacon, heirloom tomatoes, and hard boiled eggs 
CHICKEN NAPOLEON
Colorful roasted vegetables, on a bed of couscous with red pepper coulis 
CAESAR SALAD
Romaine hearts, shaved parmagiano reggiano, garlic crostini, lemon, served with grilled chicken or shrimp 
CARIBBEAN FISH TACOS
Blackened grouper served in a flour tortilla with jicama, mango, and cilantro salsa 
FRENCH DIP
Classic hot roast beef sandwich served on a toasted baguette layered with Swiss and Provolone cheese with Au Jus 
GRILLED SALMON
prepared with dill lime aioli atop a chilled cucumber salad 
KEBABS 
Mediterranean dish served with a variety of marinated vegetables skewered and grilled to perfection 
EVENING 
SUNSET BEACH BBQ 
Pineapple glazed pork tenderloin, curried cocoanut prawns, garlic stuffed Caribbean lobster, cornmeal cakes, potato salad, and jicama slaw 
CHARBROILED BEEF FILET 
Roasted red and blue potato, haricot vert bundle, with a red wine jus 
CHICKEN SATAY 
Chicken skewers with a curried cocoanut peanut sauce served with a Thai spring roll, Mae Ploy and cocoanut jasmine rice 
ROASTED CORNISH HEN 
Tequila, lime, and carambola marinade with a tomatillo coulis and avocado crema 
SALMON 
Grilled atop crispy golden polenta cakes, sun-dried tomatoes, spinach,  artichoke hearts,  grilled parmesan lace 
MOFONGO 
Mashed green plantain, yuca, and yautia with traditional Criollo seasoning, piled high with juicy Chimichurri Churrasco 
CARIBBEAN GROUPER 
Panko encrusted pan fried  grouper with fresh mango and red pepper salsa 
ROASTED DIJON PORK TENDERLOIN 
Slow roasted to perfection, served with herbed orzo

Ed Hamilton & Co. endeavors to provide the most up-to-date yacht information, availability and rate details, however, all information published on this site is subject to change without notice. Please contact us for the most current yacht information, availability and rate details.