Guests

10

Cabins

5

Model

Cat

Year Built

2015
Additional Rate Information
Additional Rate Information
Charter Rates Per Week
| Rate Period | Terms | 2 Guests | 3 Guests | 4 Guests | 5 Guests | 6 Guests | 7 Guests | 8 Guests | 9 Guests | 10 Guests |
| --- | --- | --- | --- | --- | --- | --- | --- | --- | --- | --- |
| Winter 2023 to 2024 | Inclusive | $18,000 | $20,000 | $22,000 | $25,000 | $25,500 | $26,500 | $27,500 | $28,500 | $29,500 |
| Summer 2024 | Inclusive | $18,000 | $20,000 | $22,000 | $25,000 | $25,500 | $26,500 | $27,500 | $28,500 | $29,500 |
| Winter 2024 to 2025 | Inclusive | $18,000 | $20,000 | $22,000 | $25,000 | $25,500 | $26,500 | $27,500 | $28,500 | $29,500 |
Additional Rate Information
CREW GRATUITY: The prices do not include a tip for your crew.
It's customary to tip your crew at the end of the charter, the standard for good service is 15%-20% of the charter fee.
MINIMUM NIGHTS: 6
HALF-BOARD: Includes: 7 breakfasts, 4 lunches & 3 dinners. Requires 3 lunches & 4 dinners ashore at client expense.
2/$17,700 3/$19,550 4/$21,400 5/$24,250 6/$24,850 7/$25,450 8/$26,450 9/$27,150 10/$28,000

LOCAL FARE MEAL PLAN: Includes: 7 breakfasts, 5 lunches & 6 dinners. Requires 2 lunches and 1 dinner ashore at client expense.
2/$17,850 3/$19,775 4/$21,700 5/$24,625 6/$25,050 7/$25,975 8/$26,900 9/$27,825 10/$28,750
SLEEP ABOARD: Sleep aboard the night before charter dates. Available for $300 per cabin per night, with a 3 cabin minimum.
Includes welcome cocktails & continental breakfast. Dinner is to be taken ashore at client expense.
EXCLUDES: Christmas and New Years
Location Details
Summer Area: Caribbean Leewards, Caribbean Windwards, Caribbean Virgin Islands (BVI)
Winter Area: Caribbean Virgin Islands (BVI)
Location Details: Available in the BVI, USVI and Spanish Virgin Islands (maximum 6 guests) dependent on calendar availability.
Captain WAYNE KEESE, or Captain Ray Devine and Chef/Steward SYLVIE REESE combine their love for sailing, and commitment to exceptional hospitality to guarantee guests wonderful memories aboard Devine Sailing. They are passionate about the experience they deliver, cultivating a feeling of adventure and joy, that is sure to last far beyond your time in their care.
CHEF REIS (Sylvie) is high energy, adventurous, creative with a positive attitude towards life. She is a true artist with
an immense passion for cooking and living on the ocean. During her last college years as an illustrator, she was also
training to be a military cook. In her twenties she worked on ships, in bush camps and officer dinners for up to 350
people for the Canadian Naval Reserves during 7 years. At 27 she starts a family and lives in the forest, in an off the
grid log house in the Lower Laurentians in Canada. At 32 she starts her Art School Studio at home and at 40 she
opens a public Village Art School Studio Gallery Café & Hostel.
At 48, Sylvie starts her first sailing adventures in the Caribbean as a crew/cook/first mate on sailboats for passages
and deliveries. A year later she sells everything, closes her studio and buys a sailboat. Her and her partner sail from
Canada down south, all over the Caribbean for 7 years. While sailing she also develops a passion for fishing,
snorkeling and living on the ocean, she is definitely a mermaid.
Presently living in the Virgin Island, for the last 2 years she worked as a freelance chef for day and term charters, for
retreats and Airbnb guest. She loved her experiences so much that this year, she decided to chef fulltime for term
charters. She is super excited to work on Devine Sailing as a chef first mate. Being a charter chef satisfies her
immensely. She is ready to prepare her creative, delicious healthy meals for everyone to enjoy during their
unforgettable vacations on the ocean.
Let the memorable adventures begin in the beautiful Caribbean islands!
Captain Wayne Keese,
T.V. electrical service by training, enjoyed a successful career in construction sales management. He started his sailing career at the early age of 45 in an crossing the Atlantic from Cape Town, SA. Growing up, much of his time was spent sailing in the Caribbean and extensively bareboat chartering throughout the Caribbean. Captain Wayne, in preparation for what he thought was a "retirement dream plan" continued to hone his sailing skills over the years.
He holds a 100 TON MASTERS WITH SAILING ENDORSEMENT, an FCC Marine Radio Operators Certification and a Dive Master Certification and PADI Dive instructor. Captain Wayne has an excellent reputation as "the troubleshooting ninja", and uses his knowledge of mechanical systems to anticipate all the "what ifs."
Safety is Captain Wayne's priority for his guests, but FUN is his second! An adventure seeker and water lover, he moved to the beautiful island of Puerto Rico 10 years ago and loves sailing the beautiful aquamarine waters and island hopping.
Captain Wayne welcomes all guests with his famous Captain's Cocktails nightly!
Captain Ray Devine
Captain Ray is a retired Firefighter/Paramedic, and during my career, was promoted to EMS Supervisor with the St. Louis West County fire protection district.
I have been sailing boats since the age of 4 in my bathtub as a child, racing around the bubbles, and other toys in the tub. Then captaining and crewing boats for the last 30 years, chartering boats from the Moorings, Voyage, TMM, Dream Yacht, and Seabattical.
I have done boat deliveries, from as far away as Cape Town, SA, to Bermuda, to St. Martin, to and from St. Thomas, Grenada, Florida, Louisiana and sailing school in Australia. I was also 1st Mate and Engineer on several large 85′ to 125′ Motor Yachts with Captain Winston Hovey, and Captain Cynthia Hovey in Florida, Tortola, St. Thomas, St. Martin, and St. Bart's, working with Owners and guests on their boats. They even wrote a book " There's a Yacht more to life" in which I have the privilege of being in it.
Captain Ray is a PADI certified Dive Master. I hold a USCG Merchant Marine 100 Ton license, with the STCW certificate, along with a RYA Captains license from the Flying Fish School in Australia.
I am also proud to have served in the U.S. Army for 6 years as a Medical Corpsman with a Honorable Discharge. I love to do term charters. making friends along the way, in the U.S. and British Virgin Islands, enjoying the beauty of the islands, beaches, the sunsets, and having fun in the Islands, and most important, the unique experience with my guests.
| | | | | |
| --- | --- | --- | --- | --- |
| Captain | Wayne Keese | USA | 1957 | English |
| Crew | Sylvie Reis | USA | | |
Captain, Dive Instructor
Wayne Keese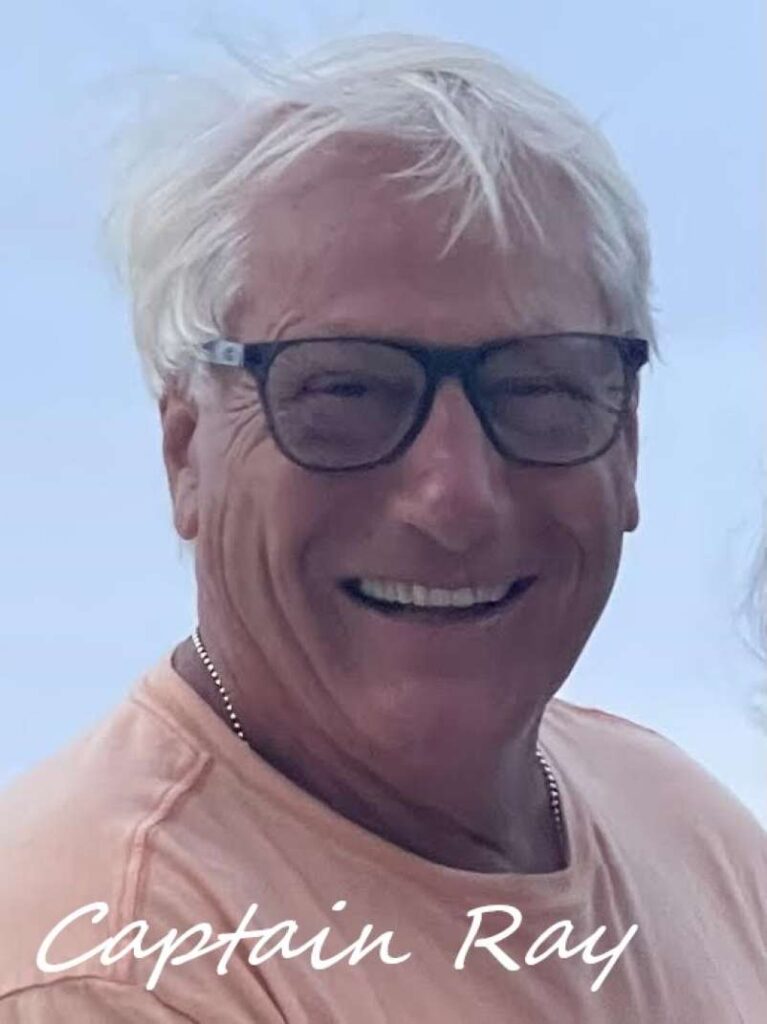 Captain, Dive Master
Ray Devine
Amenities
Generator
Northern lights
General
Guest Smoke
Yes, aft sugar scoop steps onl
Min Child Age
5 years, must navigate stairs
Leisure
Dinghy
13' center console 2020
Dive Info
All divers must be certified and show a certification card.
Discover Scuba course is offered for $160/person.
Crew prefer that guests bring their own BCD and Regulator.
Yacht has 6 BC's - 1 small, 6.56 ft 0.53 gallons 1 xlarge.
Dive Costs
Discover Scuba course is offered for $160/person.
Dives are $50/per person per dive. Payable onboard directly to crew.
Max 4 dives per week.
Other Specs
Pref Pickup
Village Cay, BVI
Turn Around
24hr Inquire / 48 preferred
Engines
Twin 75HP Yanmar diesels6Kw Northern lights generator3000W inverter
Fish Permit
BVI# Exp 24 Oct 24
Swim Platform
Scoop steps
Boarding Ladder
S/S ladder of scoop steps
Fish Gear Type
3 trolling and 1 casting
Other Toys
Aquapax
Sky Lounge
Underwater lights
2 person Tube
2 GoPro's and a drone
Subwing
Bean bag chairs
Karaoke

Five cabins with queen berths, each cabin has en-suite head with shower, electric toilet and vanity. Dry shower stalls in starboard cabins and port forward cabin. The midship port and aft port cabin are wet heads.
Crew use midship port and have their own head.
Keep in mind these dishes can be altered according to preferences and availability. This list is representative of our typical menu, however other options are available according to your preferences and special requests!
A variety of snacks and yummy appetizers are served daily and often!
Breakfast:
Fresh fruit and Yogurt (upon request) served with each breakfast
Various Quiches with Breakfast Muffins
Cheesy Hashbrown Casserole with Chorizo
Southern Style Shrimp and Grits
Orange French Toast with Candied Pecans and Bacon
Captain Dick's Famous Pina Colada Pancakes with Thick Cut Bacon
All American Breakfast with all the Fixin's
Eggs Benedict with Crab Cakes and Avocado or Traditional Style
Breakfast Burritos
Stuffed French Toast with Brie, Bacon and Strawberries
Smoked Salmon and Bagels with all the Fixin's
Cinnamon Roll Casserole with Smoked Ham
Lunch:
Roasted Chicken Enchiladas with Rice and Beans
Shrimp Salad with Remoulade Sauce
Creamy Havarti, Artichoke, Pesto Grilled Cheese Sandwiches with Homemade Soup/Gazpacho
Smoked Pulled Pork Sandwiches with Apple Slaw
Seared Tuna on a Bed of Mixed Greens with Wasabi Drizzle
Grilled Chorizo Burgers
Taco Bar with Various Selections and Toppings
Crab Cakes with Roasted Red Pepper Sauce and Caesar Salad
Caprese Pasta with Thai Basil
Dinner:
All dinners served with various salads with homemade dressings, and/or green veggies.
Grilled Mahi Mahi with Papaya Glaze and Coconut Wild Rice
Stir Fry Orange Beef and Broccoli with Asian Noodles
Grilled Beef Tenderloins with Loaded Baked Potatoes
Shrimp Scampi and Snap Peas with Angel Hair Pasta
Grilled Pork Tenderloin with Guava/Balsamic Reduction over Wasabi Mashed Potatoes
Baked Zita with Sausage
Down Island Chicken Curry
Sesame Crusted Seared Tuna over Polenta Cake with Miso Glaze
Chicken Marsala with Linguine Pasta
Desserts:
Key Lime Pie with Candied Pecan Crust
Bourbon Banana Pudding
Chocolate Mousse
Tiramisu
Pina Colada Cake with Fresh Cream
Various Homemade Ice Creams
Grilled Apple Crisp
Old Fashioned Bread Pudding with Bourbon Sauce
Salted Caramel Pretzel Fudge
Various Cheesecakes
Oreo Balls
Ed Hamilton & Co. endeavors to provide the most up-to-date yacht information, availability and rate details, however, all information published on this site is subject to change without notice. Please contact us for the most current yacht information, availability and rate details.