Guests

6

Cabins

3

Model

Cat

Year Built

2019
Additional Rate Information
Additional Rate Information
Charter Rates Per Week
| Rate Period | Terms | 2 Guests | 3 Guests | 4 Guests | 5 Guests | 6 Guests |
| --- | --- | --- | --- | --- | --- | --- |
| Summer 2023 | Inclusive | $28,000 | $28,500 | $29,000 | $29,500 | $30,000 |
| Winter 2023 to 2024 | Inclusive | $28,000 | $28,500 | $29,000 | $29,500 | $30,000 |
| Summer 2024 | Inclusive | $31,000 | $31,500 | $32,000 | $32,500 | $33,000 |
Additional Rate Information
CREW GRATUITY:  It's customary to tip your crew at the end of the charter, crew gratuity is not included the rates. The custom for good service is 15%-20% of the charter fee.
MINIMUM NIGHTS: 5, Inquire for less
For 6 night charters, divide weekly rate by 7 nights X 6 nights. For 5 nights or less, divide weekly rate by 6 nights X number of nights.

SLEEP ABOARD: Sleep aboard the night before charter dates. Available for $300 per cabin, with a 3 cabin minimum.
Includes boarding after 4pm, welcome cocktail and canapes plus a light breakfast the next morning. Dinner is to be taken ashore at client expense.
HALF-BOARD: $150 off per person per week. Includes: 7 breakfasts, 4 lunches & 3 dinners. Requires 3 lunches & 4 dinners ashore at client expense.
LOCAL FARE: $75 off per person per week. Includes: 7 breakfasts, 5 lunches & 6 dinners. Requires 2 lunches and 1 dinner ashore at client expense.
CHRISTMAS/NEW YEARS:
7 night minimum. Scrub Island ports required.
CHRISTMAS 2023: 1-6 guests @ $42,000 – charter must end by 12/26
NEW YEARS 23/24: 1-6 guests @ $45,500 – charter may not start prior to 12/27
CHRISTMAS 2024: 1-6 guests @ $43,200 – charter must end by 12/28
NEW YEARS 24/25: 1-6 guests @ $46,800 – charter may not start prior to 12/29
Location Details
Summer Area: Caribbean Windwards, Caribbean Virgin Islands (BVI)
Winter Area: Caribbean Virgin Islands (BVI)
Location Details: Yacht is based out of Scrub Island BVI
Yacht will be accepting charters in the Grenadines September-October 2023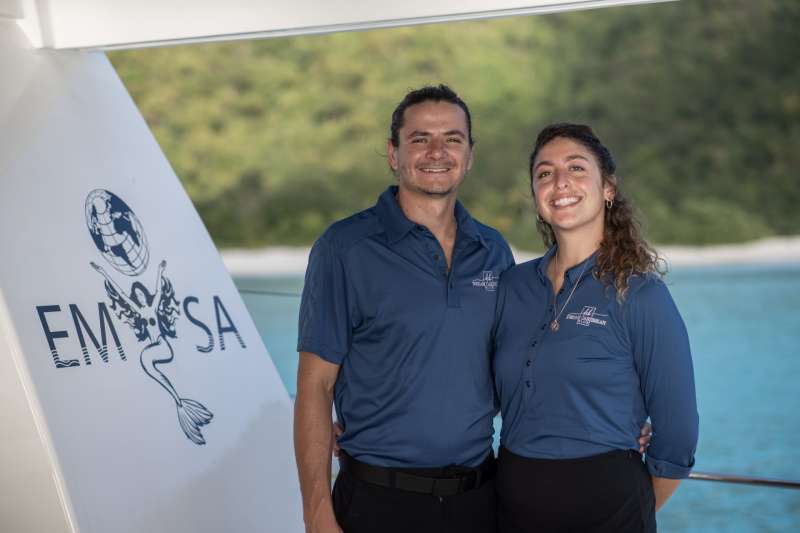 Bastian Tromp
Growing up in South Africa, Bastian was always surrounded by nature. He would find creative ways to indulge in it: climbing trees, hiking mountains, surfing or scuba diving – anything that would bring him closer to the elements. After years of going back to the sea, it was only natural for him to continue on this path and become a skipper.
Qualifying for his license on the South African waters, his training in a challenging ocean prepared him for whatever may come. On his first voyage, he crossed the Atlantic Ocean. This was preceded by more voyages, in which he quickly advanced positions and was then working as a Captain.
Chartering yachts for potential buyers in Cape Town, Bastian found a way to bring his two loves together: sailing the ocean, and bringing people closer to nature. Even on land, people turn to him to take them out exploring and camping. Chartering proved to be a beautiful extension to that.
Bastian is truly passionate about the sea, nature and the connection we have to it; and he always seems to know the perfect equation for a divine sunset. For him, providing a good and memorable experience on the sea is a duty just as much as it is a pleasure.
Sarai Ben Ari
Sarai was raised in Italy, Germany and Israel – always on the coast. Being a daughter to a skipper, her family had a close relationship with yachts. They regularly went sailing in the Mediterranean, exploring all of the different coastlines the Med has to offer, and that was where she fell in love with the sea. Discovering this at a young age she took on competitive windsurfing and started scuba diving, along with photography as a way to indulge in the present and the beauty of nature.
Living in the Middle East and Italy gave her an appreciation for the Mediterranean and Italian cuisines. At home, the dining table has always been a place where everyone gathers and time seems to stop. Seeing food as an art that has the power to connect people, she ventured into hospitality during and after high school, working in different catering companies.
At the age of 19 she enrolled in the IDF and served for 4 years as a Commanding Officer. During her service, she found profound meaning in human companionship and the relationships we build with each other. This understanding grew stronger through her travels in Africa, getting to know a variety of cultures and being inspired by her experiences there.
Sarai is passionate about the beauty in the simplicity of life. She believes food has the potential to elevate any experience to new heights. By combining fresh ingredients, and accentuating natural flavors, her cooking is designed to bring those at the table closer together.
| | | | | |
| --- | --- | --- | --- | --- |
| Captain | Bastian Tromp | South African | 1996 | English, Hebrew, German, Afrikaans, some Italian |
| Crew | Sarai Ben Ari | Israeli | | |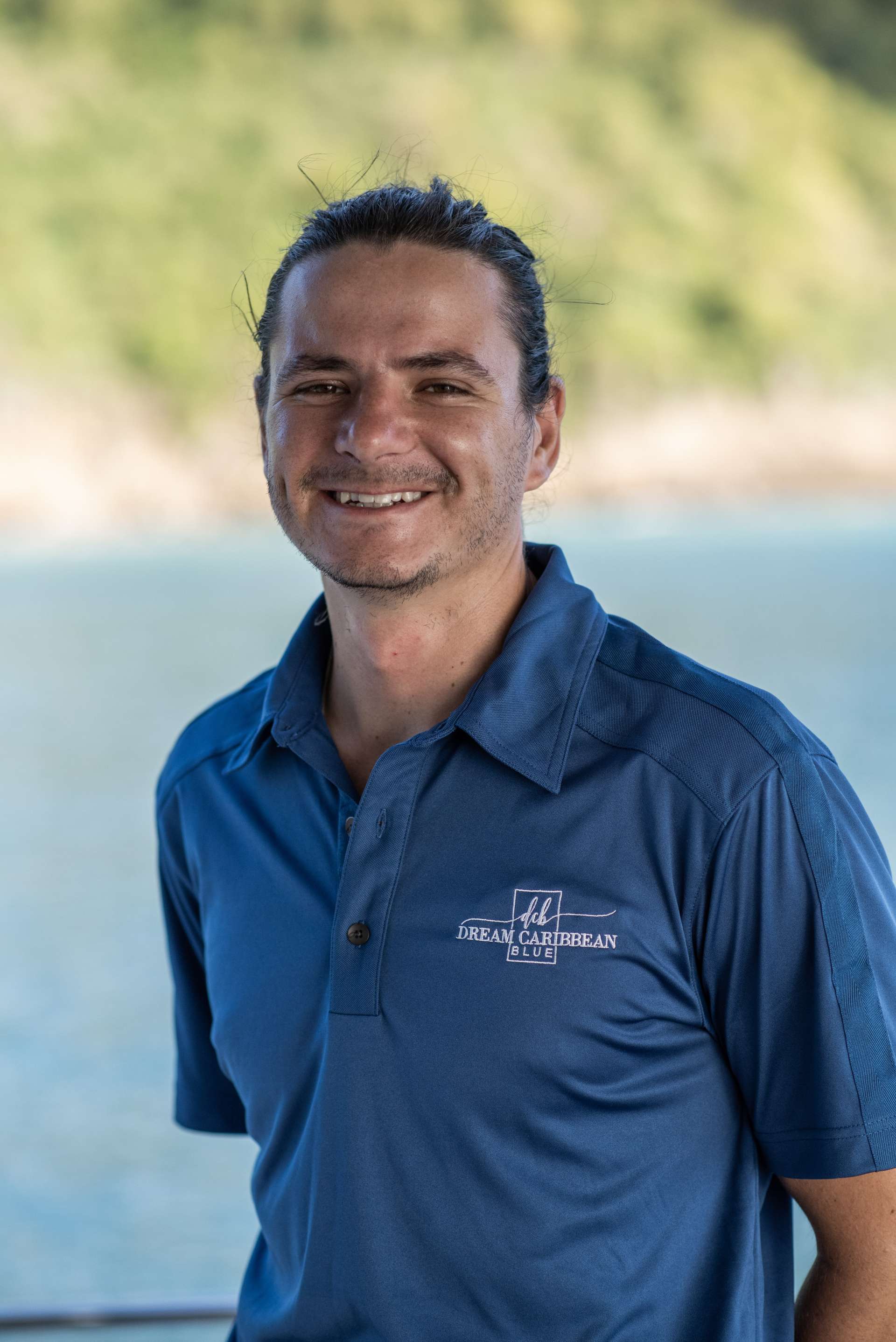 Captain
Bastian Tromp
Chef
Sarai Ben Ari
General
Min Child Age
No babysitting
Other Specs
Fish Gear Type
Rod and reel
Scuba Onboard
Yacht offers Rendezvous Diving only
Other Toys
Kayaks have clear bottom for underwater views
Breakfast
Shasuka, served with fresh bread and a dressed salad
Bagel platter – bagels with a variety of spreads, toppings and vegetables
Decorated smoothie bowls and granola, with a fruit platter
Pancake buffet with sweet and savory options
Meditteranean Eggs Benedicts on toasted break, served with tahini hollandaise
Appetizers
Caprese Salad
Butternut Soup served with cream and cashews
Charcuterie board – a vvariety of cheese, cured meats, dips, bread and crackers
Grilled antipasta vegetables, served with a babaganoush dip
Portobello steaks with avocado chimichurri
Tomato/Shrimp bruschetta
Mains
Kebabs/Faladel served with hummus, tahini and tzasiki, warm pitas and finely chopped salad
Seafood risotto
Fish fillet served with fresh herb couscous salad
Linguini in pistacchio pesto and prawns
Poke bowl
Desserts
Banana Roti
Cheesecake brownies
Knafeh – a Middle Eastern cheesy dessert
Warm pinneapple sundaes with rum sauce
Ed Hamilton & Co. endeavors to provide the most up-to-date yacht information, availability and rate details, however, all information published on this site is subject to change without notice. Please contact us for the most current yacht information, availability and rate details.