Guests

6

Cabins

3

Model

Cat

Year Built

2000
Additional Rate Information
Additional Rate Information
Charter Rates Per Week
| Rate Period | Terms | 2 Guests | 3 Guests | 4 Guests | 5 Guests | 6 Guests |
| --- | --- | --- | --- | --- | --- | --- |
| Winter 2022 to 2023 | Inclusive | $14,900 | $15,400 | $15,900 | $16,400 | $16,900 |
Additional Rate Information
*****INCLUSIVE RATES ARE HALF BOARD NOT FULL BOARD***** Includes: 7 breakfasts, 4 lunches & 3 dinners. Requires 3 lunches & 4 dinners ashore at client expense.
N.B: An all inclusive charter option with all dinners and lunches included is available for a maximum of 2 guests at US$15,900
MINIMUM NIGHTS: 5 (Inquire for less) – for 6 night charters, divide weekly rate by 7 nights X 6 nights. For 5 nights or less, divide weekly rate by 6 nights and multiply by the number of nights.
CHILD SPECIALS : Where one child is under 5 years, this child is not counted in the price. E.g. 4 adults and one child under 5 years can be charged at the 4 pax rate.
ADDITIONAL CHARGES:
Mustique Mooring $85US, Canouan Marina $100US, Tobago Cays Fees $40 – $60US.
Location Details
Summer Area: Caribbean Leewards, Caribbean Windwards
Winter Area: Caribbean Leewards, Caribbean Windwards
Location Details: The Summer and Winter base port is in the Grenadines. The yacht will accept charters between Antigua and Grenada. For charters outside of the Grenadines, relocation fees may apply.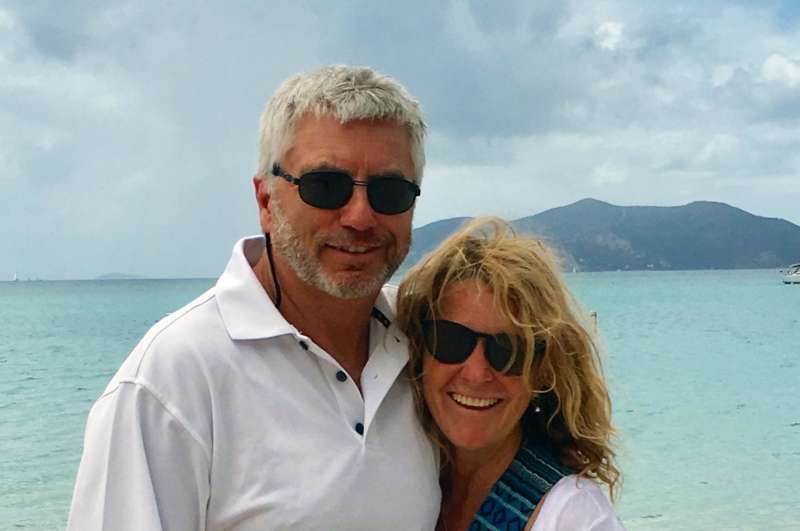 Captain Ken
Fully Vaccinated for COVID 19
Ken's passion for sailing began at a young age, at any opportunity, he would be on a sailboat. He obtained the credentials necessary to become a captain including the RYA Yacht Master 200T license. Ken has done numerous boat deliveries including Cape Town, South Africa to the British Virgin Islands. He has sailed around the Virgin Islands for over 23 years and more recently has explored the rest of the Caribbean gaining a knowledge and love for the beauty and variety of the islands. Ken's calm demeanour was crucial during his 33 years as a professional firefighter where panic had no place and safety first was of utmost importance. This, along with his sense of humor, has been invaluable to Ken as a yacht captain. Retired from the fire department he is now able to fulfill his dream of spending time on the sea. Ken's love for sailing is most apparent when conveying to guests his enthusiasm for the intricacies and thrill of sailing, making the charter an experience guests won't forget. Ken also runs a tree company and has been a climbing arborist for over 37 years. Ken loves to play hockey, ski, golf, is a certified diver along with being a skilled angler and he is always up for a game of pool. Ken or "Fish" loves to cook up a fire station breakfast and is known for his amazing buttermilk pancakes fondly know as "fishcakes."
Chef Jane
Fully Vaccinated for COVID 19
Jane was born in Gibraltar and moved to Canada at a young age where she grew up sailing in southern Ontario. She spend many years at the summer cottage sailing and operating various water craft along with enjoying waterskiing and wake boarding. There was a constant stream of guests that she loved to feed and entertain. As a geography and physics teacher she was able to impart her love of learning, sports and her interest in different countries and their cultures onto her students. When her three children were young she stayed home and dedicated herself to them, keeping a very active household running smoothly. A former gymnast and ski racer, Jane loves to ski fast, cycle, hike, play tennis, golf and work in her beautiful gardens. Jane's extensive cook-book collection attests to her passion for cooking. She loves putting on dinners for family and friends where everyone is welcome, the more the merrier! She focuses on healthy, hearty dishes using fresh, local produce. Jane spent several years working in the restaurant business which gave her an appreciation for menu planning and guest satisfaction. She has travelled extensively, in 2018 she spent six weeks in India where she successfully completed the 200 hour yoga teacher training course. She has sailed around the Virgin Islands for over 14 years and more recently the rest of the Caribbean falling in love with the Grenadines. Jane's bubbly, friendly and welcoming personality ensures a relaxed and enjoyable experience for guests.
Ken and Jane met in the BVI in 2013 and together love to share the amazing experience of sailing, snorkeling, beach combing, hiking, exploring, relaxing and delicious food with their guests. It always thrills them to see guests experience a sailing charter for the first time. Ken and Jane love to serve family style meals and barbecue on board and also encourage guests to eat local from beach barbecues to fine dinning it's all part of the experience and they love to support local businesses. Both have their STCW, Marine Radio, Marine First Aid and the Ontario Safe Boating Certifications.
| | | | | |
| --- | --- | --- | --- | --- |
| Captain | Ken Fisher | Canadian | 1959 | English |
| Crew | Jane Troop | Canadian | | |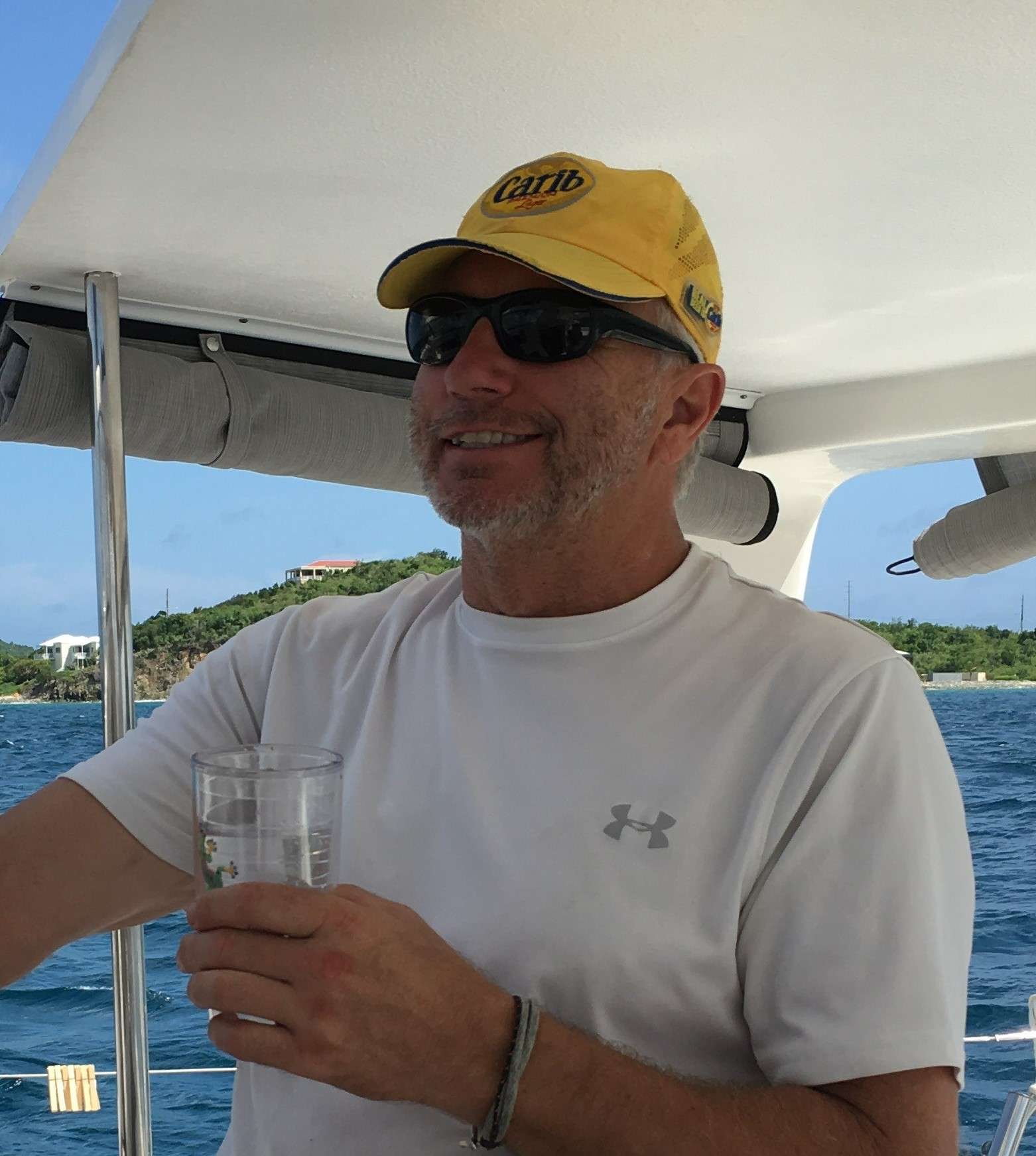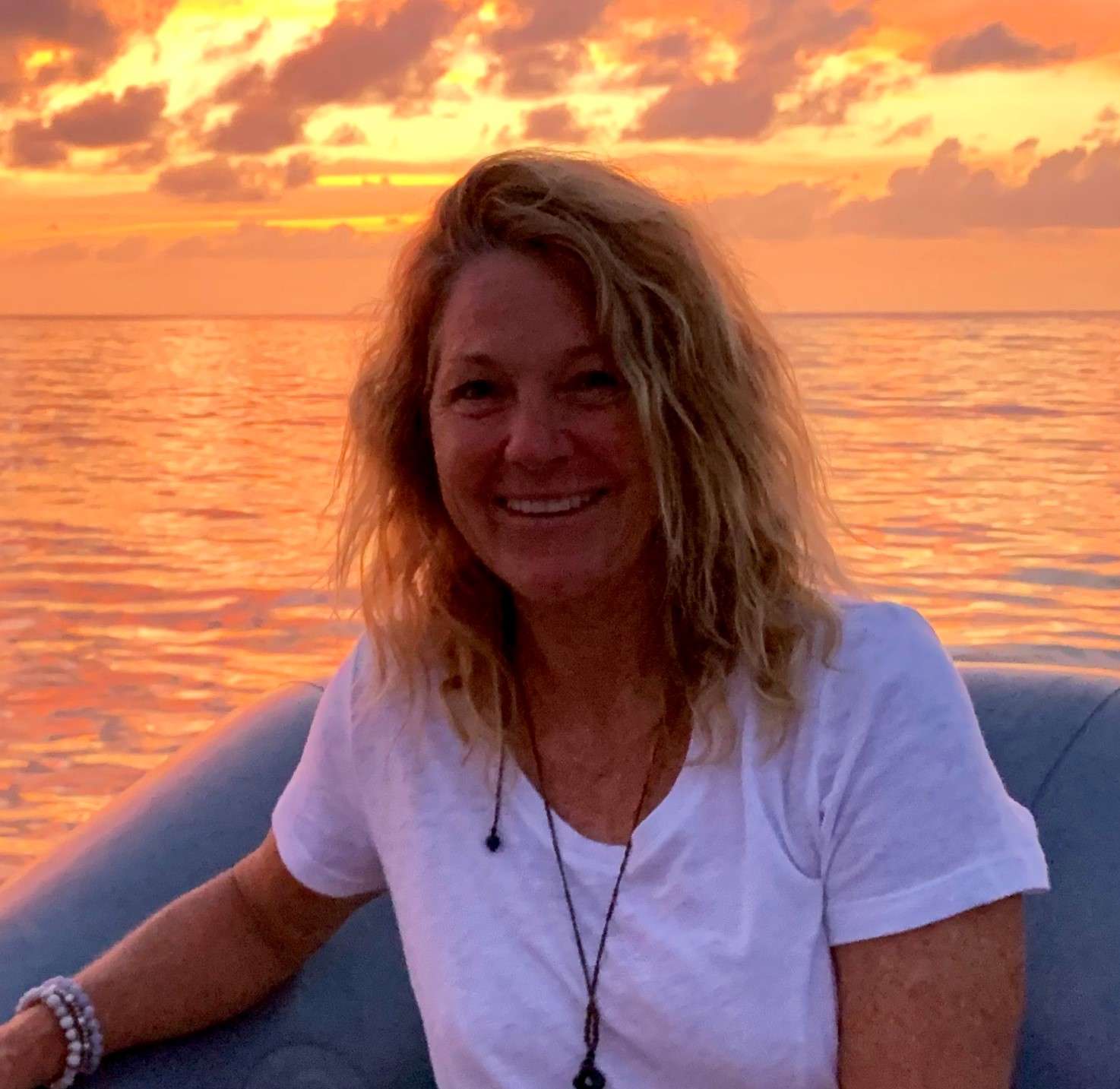 General
Guest Smoke
Aft scoop steps only
Min Child Age
Children must be able to swim
Other Specs
Engines
Yanmar Diesels 9kW Northern Lights Generator 9kW
Boarding Ladder
Aft off scoop steps
Green Other
No spray sunblock onboard Encourage reef safe and biogradable products
Scuba Onboard
Yacht offers Rendezvous Diving only
Other Entertain
Gym Exercise : Bands and Yoga Mat
Other Toys
1 SUP
Saddle Floats
Noodles
Inflatable Flamingo
Bean Bag Chairs

Board Games
Coloring Books
Bean Bag Chairs

Gym Exercise : Bands and Yoga Mat

Three guest cabins, each with electric heads and showers.
Berth Measurments : 81" x 59"
Breakfast 
Served with fresh fruit, yogurt, muesli, granola, coffee and a variety of tea. 
Cinnamon bread stuffed with orange cream cheese baked in creamy eggs, served with maple syrup. 
Mini frittatas with ham and cheese or feta and spinach. 
Traditional English breakfast, eggs, sausage, bacon, fried mushrooms, tomato, baked beans and toast 
Captains Ken's fluffy buttermilk banana pancakes with fresh fruit, sausage and maple syrup. 
Avocado toast topped with a fried egg, tomato, drizzled with chilli oil and sprinkled of homemade dukka. 
Hearty breakfast burrito stuffed with scrambled egg, Spanish rice, avocado, bacon and salsa. 
Baked eggs Benedict topped with a creamy hollandaise sauce 
Omelette of your choice, salmon and goat cheese, cheddar, mushroom and bacon. 
Variety of fresh local French croissants. 
Breakfast sandwich, eggs, Canadian bacon, cheese  
Lunch 
Curried chicken wrap with mango chutney with carrot and pineapple slaw. 
Muffuletta sandwich with tomato, cucumber and feta salad. 
Warm ham and cheese sliders with plantain chips 
Chicken caesar salad with parmesan crisps 
Grilled cheesy, truffle salted, smashed burgers on a garlic bun with kettle chips and greens. 
Quinoa bowl topped with garlic shrimp, beans, corn, avocado with a cilantro lime dressing. 
Chicken, cheese and pepper quesadillas served with fresh guacamole, salsa and sour cream. 
Pumpkin and ginger soup with greens and fresh baked soda bread. 
Mexican salad with charred avocado and popcorn beans with a side of cheese nachos. 
Grazing Board of cold meat, cheese, olives, pickles, veg, dips and fresh baguette. 
Lunch finishes with a variety of treats including homemade cookies and local chocolate. 
Appetizers 
Smoked salmon platter with cream cheese, cappers, red onion and crackers. 
Shrimp ceviche with avocado,  and toasted cumin served with baguette. 
Warm artichoke dip served with nachos chips. 
Brie baked with tomatoes, olive oil and garlic, drizzled with balsamic reduction and topped with fresh basil, served with a variety of crackers. 
Mexican cheese and bean dip with nacho chips. 
Curried lentil dip with pita points. 
Layered crab spread with crackers, 
Charcuterie board with a selection of delectable cheeses, sausage, dried and fresh fruit, nuts and  pickles. 
Pineapple and prosciutto tarts with a hint of chilli. 
Labneh drizzled with olive oil and topped with olive tapenade served with crackers.  
Dinner 
Creamy Shrimp pasta with a green salad and garlic bread. 
Grilled steak with crispy, rosemary potatoes and green beans roasted with lemon and capers topped with crispy prosciutto. 
Grilled teriyaki pork loin with grilled pineapple, rice and snap peas. 
Pork back ribs with stout barbecue sauce, cinnamon sweet potato mash and broccoli salad. 
Jerk chicken with orzo wilted spinach and feta in a pesto dressing. 
Sesame crusted tuna with a ginger lime sauce on a bed of wasabi mashed potatoes and picked cucumbers. 
Blackened mahi mahi topped with a mango salsa  accompanied with coconut lime rice and a green salad. 
Marinated chicken kebabs with a coriander chutney on a bed of spiced Pilau. 
Feta baked with garlic, tomatoes, olive oil, tossed in pasta served on a bed of arugula and fresh baguette. 
Dessert 
Homemade ginger cake topped with Grand Marnier whipped cream. 
Chocolate brownie with ice cream and Grenada chocolate liquor drizzle. 
Butter tart square with ice cream. 
Key lime pie. 
Lemon olive oil cake with fresh fruit and cream. 
Panna Cotta with fresh passion fruit sauce and ginger nuts. 
Lemon cheesecake pots. 
Rum cake with a lime glaze. 
Rich chocolate pudding pots. 
Mango and coconut trifles. 
Cocktails and Sundowners 
Spicy Tequila,  jalapeño and cilantro infused tequila, lime and pineapple juice. 
Gin and Tonic with a twist, G & T a grapefruit slice and mint. 
Captain Ken's Rum Punch. A variety of rum and tropical fruit juice. 
Dark and Stormy. Dark rum, ginger beer, lime wedges. 
Blush. A lemony rosé cocktail with vodka and triple sec. 
Painkiller. Rum, pineapple juice, orange juice and fresh nutmeg. 
Charred Chilli and orange Aperol spritz. Aperol, Prosecco, soda garnished with a charred chilli and orange slice. 
Passionfruit and Lime Cooler. Vodka, soda, passionfruit, lime, brown sugar. 
Ed Hamilton & Co. endeavors to provide the most up-to-date yacht information, availability and rate details, however, all information published on this site is subject to change without notice. Please contact us for the most current yacht information, availability and rate details.