Guests

10

Cabins

5

Model

Cat

Year Built

2019
Additional Rate Information
Additional Rate Information
Additional Rate Information
Summer 2021:
High season (July and August): €37 000 + APA 25% + VAT
Medium season (June and September): €35 000 + APA 25% + VAT
Low season (May and October): €33 000 + APA 25% + VAT
Winter 2021/2022:
up to 4 pax: $36 000
6 pax: $38 000
8 pax: $40 000
10 pax: $42 000
Christmas / New Year's Rate: 15% surcharge is applied.
Weekly rates are all inclusive except special requests (fine wines, champagne, specific alcoholic drinks, excessive alcohol consumption), local cruising taxes and permits, air fares, transfer airport/yacht/airport, dockage fees if any, use of communications means available on board and crew gratuity. Fuel included for 4 hours on engine daily.
For the Caribbean all-inclusive charters a small APA of 5% is recommended to cover the local cruising permits and any other additional expenses.
Location Details
Summer Area: Greece, Croatia
Location Details: Winter 2020/2021: Unavailable
Summer 2021: Greece (until 7th June), Croatia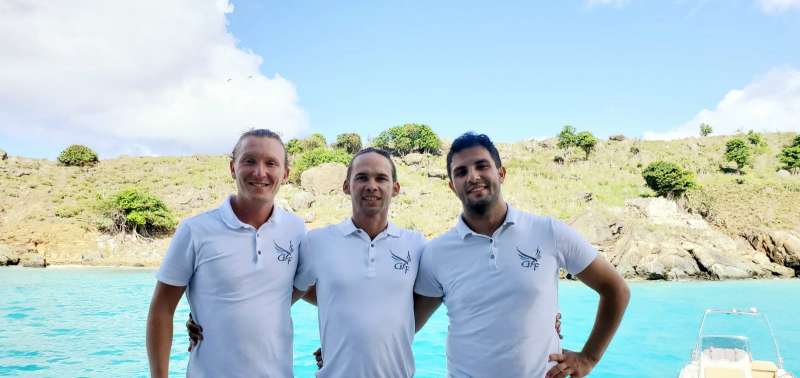 Captain: Luca Pignatelli
Nationality: Italian
Languages: Italian, English, Spanish
Captain Luca is an experienced sailor with advanced boat maintenance and engineering skills acquired through various positions on board superyachts and luxury catamarans, including Sunreef Yachts. He grew up in the South of Italy enjoying the sea with his father and uncle fishing. Over the past 5 years, he has extensively sailed the Mediterranean and the Caribbean and crossed the Atlantic Ocean twice. Luca prides himself in providing guests with a memorable sailing experience. His professional approach combined with a welcoming personality makes him a reliable and trustworthy Captain who pays special attention to safety and comfort of the guests.
Marin Bulić
Chef
Croatian
Marin is a creative and talented chef with a broad culinary repertoire and a calm personality. He offers a well-developed genuine passion for food and the highest level of service. He is also a proven, capable leader (on land and sea) providing a positive, immaculate galley with a good understanding of chain of command, a can-do attitude and outstanding work ethic. Marin specializes in French, Italian and Mediterranean cuisine, but can also create fusion seafood, vegan and gluten free menus. Client's satisfaction is Marin's priority, assuring a memorable experience for the guests of Sunreef 60 GYRFALCON. 
Kasia Wasilewska
Stewardess
Polish
Languages: fluent English, basic Spanish, French and Russian
Kasia is a highly motivated young professional. She started her career in hospitality as a teenager. Later, she gained her first experience in the yachting industry on board a 74ft sailing catamaran. She is passionate about travelling and discovering new cultures, therefore being a yacht professional is a dream job for her. Kasia enjoys challenges and is not afraid of hard work. She is filled with positive energy and keen on providing friendly atmosphere onboard S/Y GYRFALCON.
| | | | | |
| --- | --- | --- | --- | --- |
| Captain | Luca Pignatelli | Italian | 0 | |
| Crew | Marin Bulić | Croatian | | |
Ammenities
Generator
Onan 19 KVA, 50Hz, 230V
Other Toys
• Tender ZAR 490 90HP
• Seabob F5S 2019 special edition with underwater camera and turbo charger
• H2 AQUAJET DIVE:
Maximum speed: 6 mph (18 ft. /> Battery life: 50-328 ft. /> Charging time: 4-6 hours
Weight: 14 kg (8 gallons /> Maximum power: 800W
Voltage: DC 23-29.4V
Max diving depth: 66 ft. (65.6 ft)
• 2 x SUP:
• Aqua Marina Magma
• Aqua Marina Vapor
• Wakeboard
• Tow donut with soft deck
• HO Sports tow ring
• HO Sports Kids Offroad towable car for 2 children
• TUSA 10 sets of snorkeling equipment
• TUSA special snorkeling vests
• 3 sets of diving equipment
1 x Master Cabin
4 x Guests Cabins
SAMPLE MENU
by
NIKOLAY DALAKOV
DAY 1
LUNCH
Grapefuit, fennel and avocado salad
Risotto with Croatian truflles
Scallops with saffron sause
Lemon cream brulee with lavander
DINNER
Spinach salad with strawberries
Sea bass with salt crust, lemon garlic butter sause and black risotto with squids
Rosemary pear sorbet with prosecco

DAY 2
 LUNCH
Mixed toamatoes salad, olives, capers and basil
Summer salad with watermelon, melon and prosciutto
Spaghetti vongole
Matcha tiramisu
DINNER
Caesar salad
Rosemary rack of beef with mashed patatoes and roasted green beans
Limonchello sorbet

DAY 3
LUNCH
Caprese salad with burrata, tomatoes and wild rocket
Mixed greens and herb salad with figs and walnuts
Sea bass fillet with cherry tomatoes and capers
Cheesecake with strawberries
DINNER
Tabbouleh salad with goat cheese
Lamb rack with herb crust and rosemary roasted patatoes
Blackberry frozen yogurt

DAY 4
LUNCH
Shrimp salad with watermelon, feta cheese, mint and nuts
Mixed green salad with checkpeas, avocado and pomegranate
Sea bream with fennel bulbs
Summer berry Pavlova
DINNER
Grilled calamari with watermelon, mango and mint leaves
Duck magret with blueberry sause and carrots puree with mascarpone
Champagne sorbet

DAY 5
LUNCH
Spinach avocado, pomegranate salad with warm vinaigrette
Aubergine terrine
Chilli garlic shrimps
Rosewater Floating Island
DINNER
Grilled asparagus with prosciutto
Fried pimentos with garlic
BBQ
Strawberry sorbet

DAY 6
LUNCH
Endive and radicio salad with gorgonsola, pear and walnuts
Grilled sardines with chermoula
Stuffed zucchini with rice
Fig tart with vanilla mascarpone
DINNER
Mediterranean tuna carpaccio
Paella de Marisco
Blueberry basil icecream

DAY 7
LUNCH
Rocket salad with pomegranate and walnuts
Bouillabaisse de Chef
Artichokes in garlic and olive oil
Chocolate orange suffle
DINNER
Cream of fresh asparagus soup
John Dore fish, mussels with garlic and chives
Raspberry sorbet with mint and chocolate
BREAKFAST MENU
Muscles corner
Full English Breakfast – Eggs, Bacon, Sausages, Tomato, Sautee Potato, Mushrooms
Eggs Benedict – Toasted English Muffins, Ham, Poached Egg and Hollandaise Sauce
Eggs Florentine – Toasted English Muffins, Poached Eggs, Spinach and Hollandaise
Sauce Eggs Royal – Toasted English Muffins, Smoked Salmon, Poached Eggs
Fisherman corner
Smoked Fish – Peppered Trout, Mackerel, Smoked Salmon, Smoked Herring, Saltfish
Milky way corner
Yogurts – Any brand specific, Low Fat, Greek, Plain Bulgarian, Petit suisse,
Yogurts Fruits Selection , Prune, etc
Farm milk, Soja Milk, Almonds Milk, Coconut Milk
Pancakes – Chocolate, Banana, Bluberry, Maple Syrup
Gardener's corner
Fresh vegetables of the Croatian Gardens
Squirrel corner
Almonds from Sicily
Nuts from Périgord
Hazelnuts from Piedmont
Brazil nut
Le Boulanger corner 
Bread with nuts and seeds
Sourdough bread
Rye bread with molasses
Nordic bread
Croissants
Varios selection of local breads
Vitamine corner
Whatever Natures Bounty will provide at optimum ripeness
Watermelon, Mango, Kiwi, Papaya, Oranges, Pineapples, Peaches, Grapes etc…
Sweet Heart corner
Various Honey of the high Balkan mountains
Wild forest berries jam
The real dough good hazelnuts
Great chocolate home made by Mom
"Fondant" corner
Butter from the Farm,Irish butter, Almond butter, Peanut butter
Muesli corner
Can be prepared the night before so you have lovely soaked fresh Muesli for the
morning
Juice corner
Freshly Squeezed Juices local juices Orange, Grapefruit, Carrots, Apple
Aromatic River Corner
Coffee selection from Columbia, Honduras, Peru, Guatemala and more
Thea selection English Breakfast, Green tea, Ceilon tea etc
Ed Hamilton & Co. endeavors to provide the most up-to-date yacht information, availability and rate details, however, all information published on this site is subject to change without notice. Please contact us for the most current yacht information, availability and rate details.