Guests

8

Cabins

4

Model

Cat

Year Built

2016
Additional Rate Information
Additional Rate Information
Charter Rates Per Week
| Rate Period | Terms | 2 Guests | 3 Guests | 4 Guests | 5 Guests | 6 Guests | 7 Guests | 8 Guests |
| --- | --- | --- | --- | --- | --- | --- | --- | --- |
| Winter 2021 to 2022 | Inclusive | $34,500 | $35,000 | $35,500 | $36,000 | $36,500 | $37,000 | $37,500 |
| Summer 2022 | Inclusive | $34,500 | $35,000 | $35,500 | $36,000 | $36,500 | $37,000 | $37,500 |
| Winter 2022 to 2023 | Inclusive | $34,500 | $35,000 | $35,500 | $36,000 | $36,500 | $37,000 | $37,500 |
Additional Rate Information
GENERAL NOTES:
MINIMUM NIGHTS: 6, Inquire for less
For 6 night charters, divide weekly rate by 7 nights X 6 nights. For 5 nights or less, divide weekly rate by 6 nights X number of nights.
If cruising area includes BVI, rates are PLUS permits, licenses and fees which are to be paid by client.
BVI PORTS: Add $400 for any port other than West End and JVD.
HALF-BOARD: Includes: 7 breakfasts, 4 lunches & 3 dinners. Requires 3 lunches & 4 dinners ashore at client expense.
2/$34,200 3/$34,550 4/$34,900 5/$35,250 6/$35,600 7/$35,950 8/$36,300
LOCAL FARE MEAL PLAN: Includes: 7 breakfasts, 5 lunches & 6 dinners. Requires 2 lunches and 1 dinner ashore at client expense.
2/$34,350 3/$34,775 4/$35,200 5/$35,625 6/$36,050 7/$36,475 8/$36,900
SLEEP ABOARD: Sleep aboard the night before charter dates. Available for $800 per cabin per night, with a 3 cabin minimum. Includes snacks, welcome cocktails & continental breakfast. Dinner is to be taken ashore at client expense.
2021/2022 CHRISTMAS/NEW YEARS: 7 night minimum
CHRISTMAS: 1-8 guests @ $40,000, charter must end on 12/26 or earlier
NEW YEARS: 1-8 guests @ $42,000, charter may not start prior to 12/27
Location Details
Summer Area: Caribbean Virgin Islands
Winter Area: Caribbean Virgin Islands
Captain Dan Szymczak has been enamored of the sea since his grandfather, a fisherman and clammer, first showed him a chart of Long Island Sound. Dan spent his youth in southern Connecticut on both fresh and saltwater kayaking, sailing, and fishing. His love of water sports, craft cocktails, and trivia will help make your vacation unparalleled.
While teaching English literature and public speaking at several colleges in New York City, Dan couldn't help but feel the desire to be on the water, and this led to his career in yachting, working on a schooner in Manhattan. He then transitioned into eco-tourism, where he wowed guests by driving them to see cracking glaciers and breeching whales in Southeast Alaska and mega pods with thousands of dolphins in the Baja peninsula. He's also an accomplished expedition leader, leading hikes to spot local wildlife, and he has extensive knowledge of both birds and sea life alike.
Dan first met Chutney on a delivery from South Florida to Newport, and since then, they've been inseparable. And together their passion for travel has taken them from South Florida to Maine, the Dead Sea, and Turkey. Their passion for travel includes meeting new people and making friends wherever they go. They look forward to meeting you too!
Chef Chutney was born and raised on a sailboat in the Caribbean, where her parents first instilled in her a love of travel and the water. Her mother, who was also a charter chef, first taught her the ins and outs of cooking in a galley. Having grown up in the Caribbean, Chutney's passion and knowledge of the Virgin Islands is second to none. Additionally, she loves hiking, paddle boarding, snorkeling, local wildlife, and she has a passion for providing delicious and healthy meals to her friends and guests.
She has traveled extensively to such places as Thailand, Central and South America, the Middle East. She's also spent much time in Europe, as a member of the Virgin Islands winter Olympic team. In all her travels, she has immersed herself in the international culinary community, and these experiences have informed and molded her cuisine.
She holds a USCG captain's license, and although she worked as a captain for many years, her true love has always been food, and five years ago, she switched from the wheelhouse to the galley by becoming a yacht chef.
Having refined her culinary skills working as a chef on both private and charter yachts up and down the Eastern Seaboard, she is thrilled to be back at home on a sailboat in the Caribbean.
With over 15 years in the yachting industry, Chutney is well prepared to serve you, your family, and friends unforgettably tasty meals.
| | | | | |
| --- | --- | --- | --- | --- |
| Captain | Dan Szymczak | | 0 | English |
| Crew | Chutney Mohler | USA | | |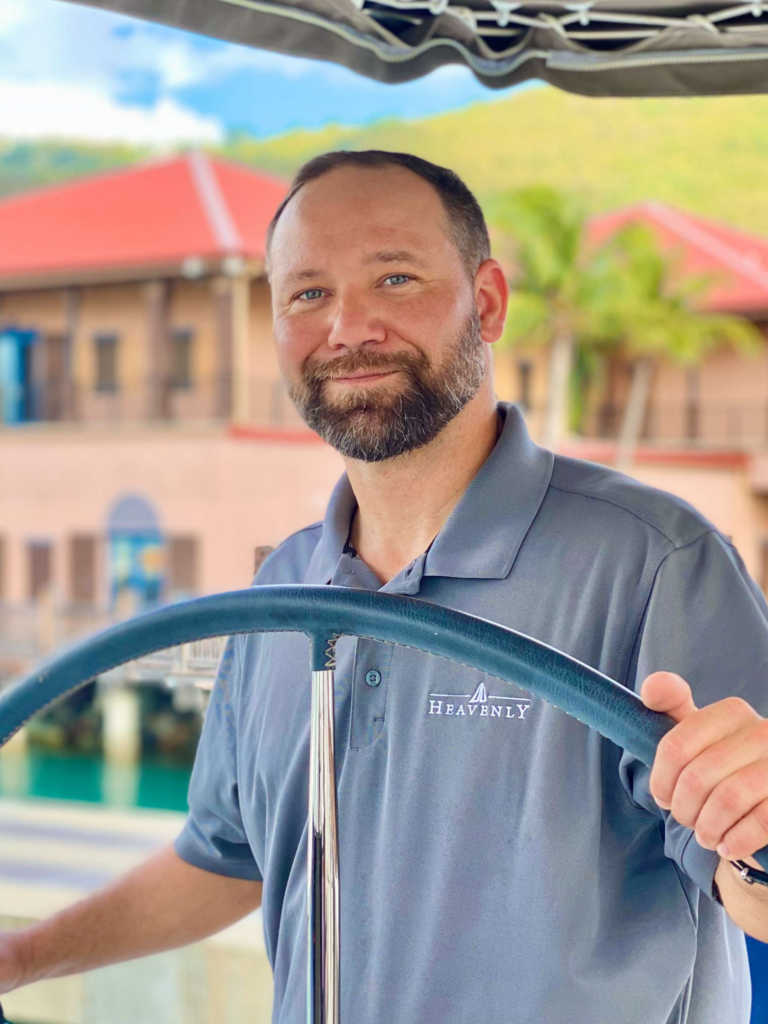 Captain
Dan Szymczak
Chef/First Mate
Chutney Mohler
Other Specs
Engines
Yacht has two generators
Scuba Onboard
Yacht offers Rendezvous Diving only
DAYBREAK
Continental: fruit, cereal, breakfast breads/muffins, juices
Eggs Benedict: English muffin, Canadian bacon or spinach, poached egg, hollandaise, side of fruit
Croque madame: ham, béchamel, grilled Swiss toast, egg sunny side up
Omelet: made to order
Quiche: chefs choice served with dressed greens
Smoked salmon platter: bagels, cream cheese, tomatoes, capers, red onion
MIDDAY
Fish tacos: grilled fish, fresh slaw, fruit salsa
Cheese burger in paradise: w/ lettuce & tomato, Heinz 57, and (sweet) fried potatoes, big kosher pickle
Cruzin' Rum Ribs: Cruzan rum BBQ , slow roasted pork ribs w/ Caribbean slaw
Mezzo platter: falafel, dolmas, feta, tatziki, olives, hummus, assorted veggies, pita bread
Prosciutto panini: arugula, mozzarella, roasted red pepper & pesto
Grilled Caesar salad & Shrimp Gazpacho: grilled romain, light citrus dresssing/chilled vegetable soup w/ poached shrimp
MAIN
Bronzed snapper: tropical fruit salsa, wild rice, asparagus
Wahoo: orange tarragon beurre blanc, local pumpkin purée, grilled zucchini
Chimichurri steak: grilled and sliced marinated steak, confit cauliflower, roasted veg
Lobster tagliatelle: fennel broth, fresh basil, cherry tomatoes
Caribbean Pork Medallions: Marinated tenderloin, warm chutney, fungi(caribbean dish made of corn meal and okra), steamed broccoli
Tuna: sesame crusted, seared, lemongrass ginger ponzu, coconut rice, baby bok choy
HORS D'OEUVRES
Tuna tartare
Burrata: balsamic roasted cherry tomatoes, pesto drizzle
Wahoo crudo
Smoked salmon canape
Bacon wrapped dates
Charcuterie
DESSERTS
Pana cotta w/ Berry compote, Key lime pie, Creme brûlée, Banana foster, Mango sticky rice, Chia pudding, Flourless chocolate torte, Blueberry crisp
Ed Hamilton & Co. endeavors to provide the most up-to-date yacht information, availability and rate details, however, all information published on this site is subject to change without notice. Please contact us for the most current yacht information, availability and rate details.