Guests

10

Cabins

5

Model

Cat

Year Built

2008
Additional Rate Information
Additional Rate Information
Additional Rate Information
Summer 2021 Rates:
Low Season: €34 000 + APA 25% + VAT
High Season: €38 000 + APA 25% + VAT
Location Details
Summer Area: W. Med – Spain/Balearics
Winter Area: W. Med – Spain/Balearics
Location Details: Winter 2020/2021: Unavaialble
Summer 2021: Balearics
Mark Saunders
Captain
New Zealander
Mark has 20 years of experience of sailing in different cruising areas worldwide, including Caribbean, Mediterranean and South Pacific Islands, with both sail and power yachts. His great mechanical knowledge and project management skills, together with a hands-on approach enables him to offer the ultimate experience to the guests. Mark was the captain of both private and charter vessels, but has also been heavily involved in the local racing scene in Auckland. His practical experience and calm personality inspiring confidence will help to keep the high level of service on board Kings Ransom.
Ewa Lubienski
Chef
British
Ewa is fully qualified chef with extensive experience in international cuisine, possessing a wide range of culinary skills from provisioning to presentation. She can adapt to any situation, enjoys new challenges and thrives on the constant changes that yachting industry provides. Ewa started her culinary career on land, but quickly switched to yachting and worked on various vessels, both private and charter. She will impress the guests with various cuisines and techniques, including Thai, Vietnamese and Japanese, as well as molecular gastronomy. Ewa is able make people feel at home, with a sense of humor at all times.
Grant Surtees
Deckhand
British/South African
Grant is an eager and motivated deckhand, being in the luxury charter industry since 2017. He is consistently aiming to provide the highest service standards and ensuring guests leave with fond memories and a vacation of a lifetime. In addition, he carries out his duties in a warm, friendly and professional manner while adhering to all the safety requirements. In his free time Grant also enjoys kite surfing, wakeboarding and fishing, among others.
River Davies
Stewardess
Australian/British
River has grown up by the sea and has always possessed a strong drive to succeed in the yachting industry. She has 11 years of experience in the Mediterranean and Caribbean on numerous yachts. River is a reliable and honest professional with a vibrant personality and can-do attitude. Her hobbies include yoga, meditation, sea kayaking as well as dancing and fire twirling.
| | | | | |
| --- | --- | --- | --- | --- |
| Captain | Mark Saunders | New Zealander | 0 | |
| Crew | Ewa Lubienski | British | | |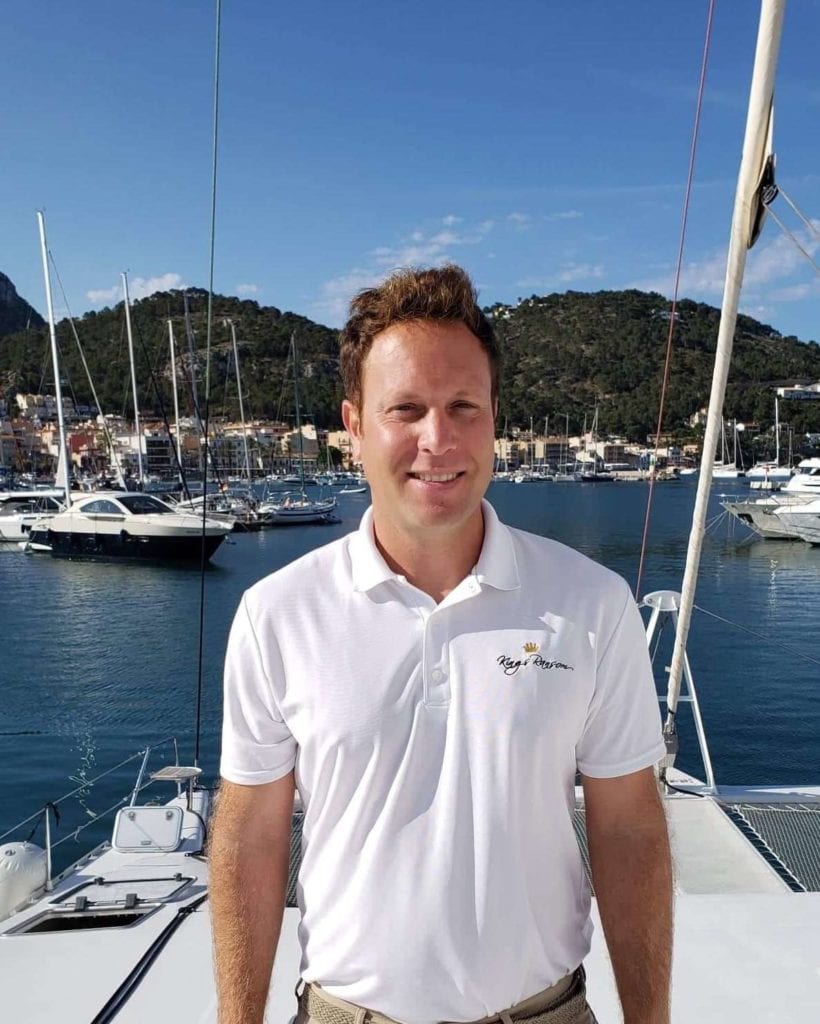 Captain
Niv Schechter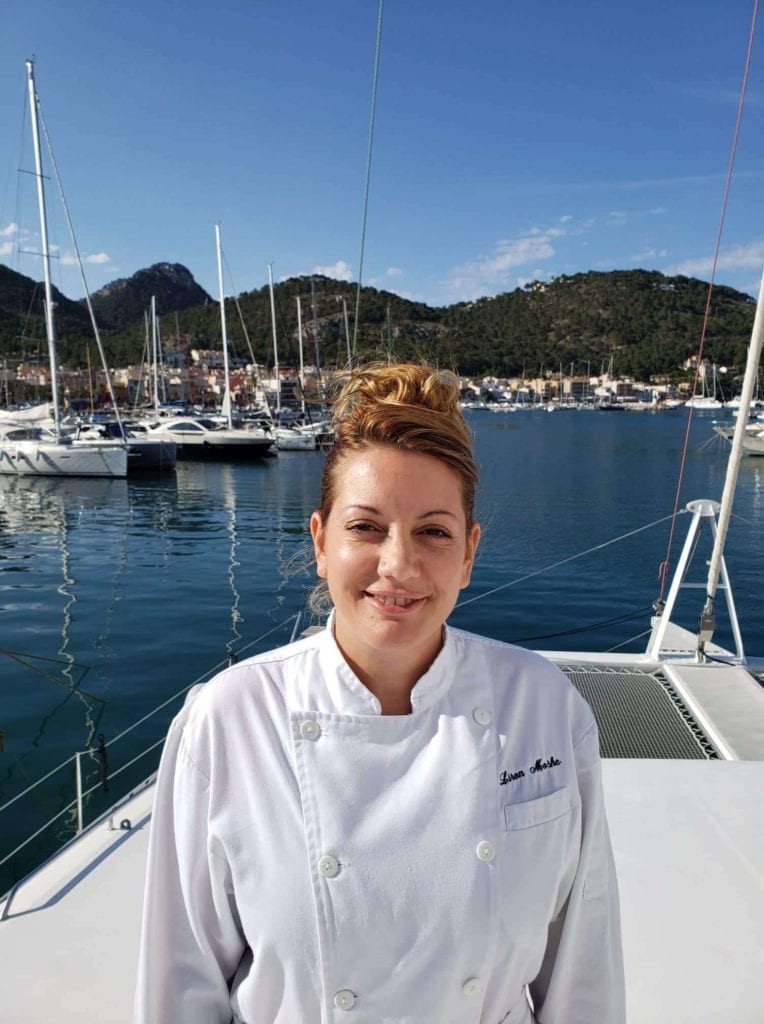 Chef
Liron Schechter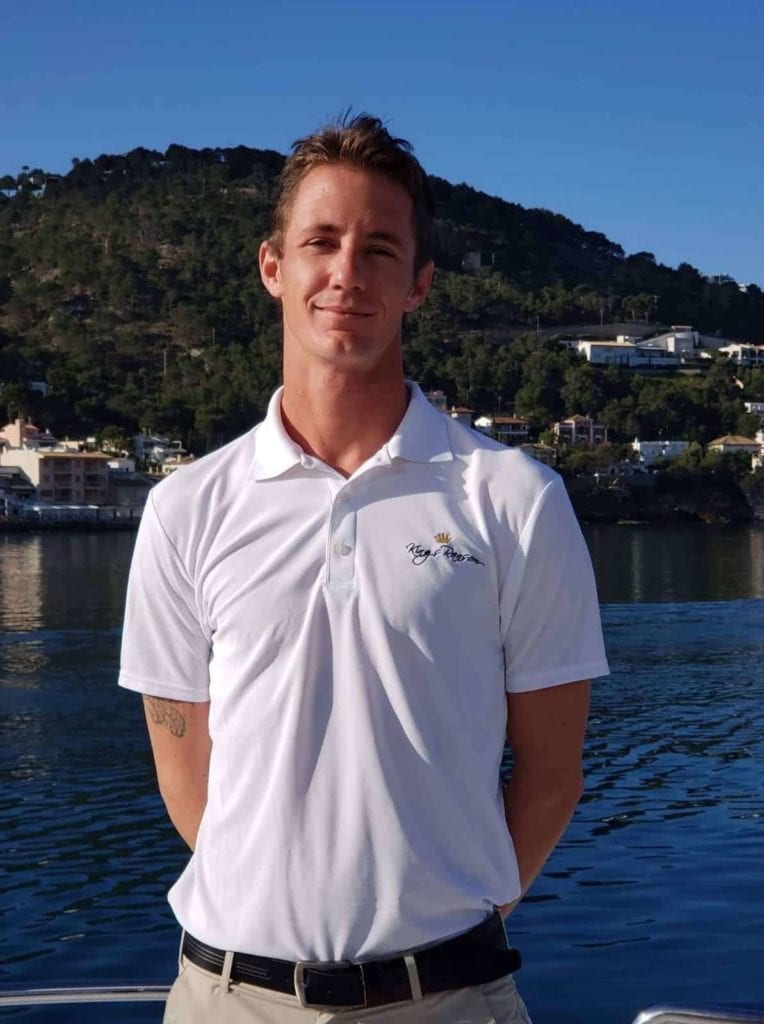 First Mate
Daniel Shaw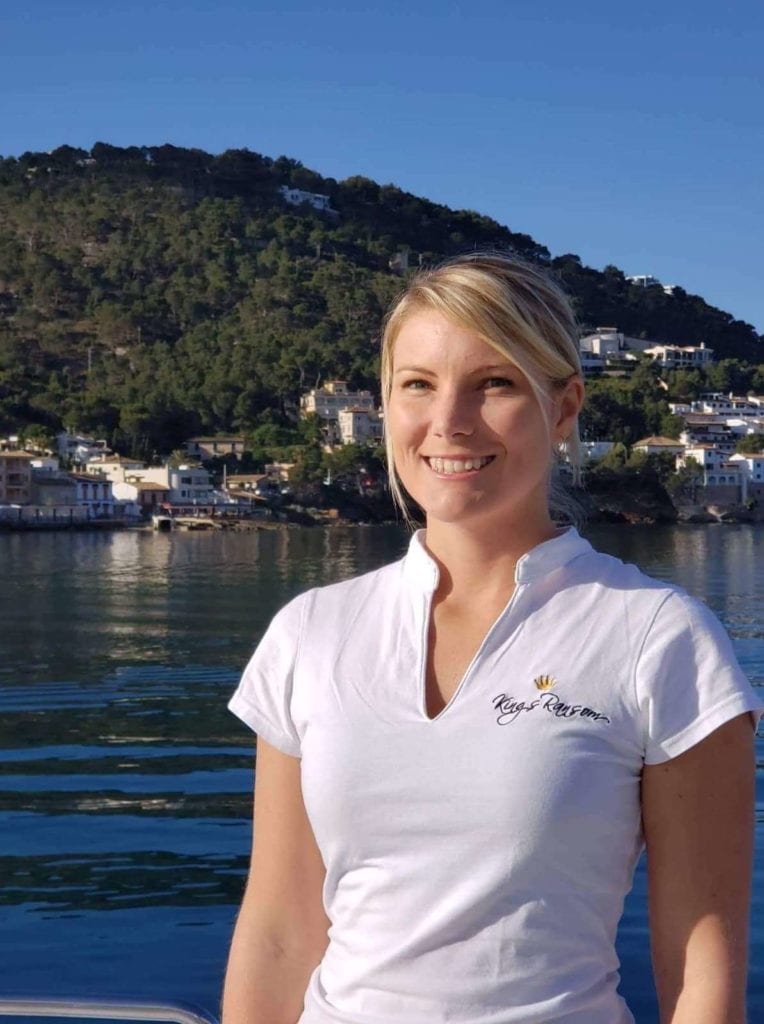 Stewardess
Jenna - Lee Lochor
Ammenities
Generator
Northern lights 20 kW
Leisure
Dive Info
Diving equipment with compressor (for certified divers only)
Other Toys
• 19' Tender (90 hp) from 2017
• Hobbie cat sailing dinghy (up to 4 persons)
• Hobbie Double kayak (2 persons)
• 2 x Epic V5 single surfski kayak
• 3 x Wakebaords various sizes
• 2 x Water Skis (Adults)
• Water skis (kids, trainers)
• Mono ski
• Kneeboard
• Wakeskate
• Hotdog towable (5 persons)
• Double trouble tube towable (2 persons)
• Single tube towable (1 person)
• 2 x Stand up paddle boards
• Windsurf/SUP paddle board
• Deep sea fishing gear and tackle
• Various sizes of mask, snorkel and fins
• Ski vests
• Floating sun mats
• Beach toys
• Beach picnic set (chairs, umbrella)
• Noodles
• Diving equipment with compressor (for certified divers only)
• 2 x Electric underwater scooters (sublue shark)
Number of Cabins: 5
Total Guests (Sleeping): 10
Total Guests (Cruising): 10
1 King Size Master Cabin
3 Queen beds
1 Queen convertible to 2 Twin beds
Breakfast
Choose from our range of Nespresso Coffees, fine Tea Forte teas or Champagne Mimosa/Bloody Mimosa, Fruit platter, Captains Granola, Yogurt & Pastries
Eggs Benedict & Chive Hash served 3 ways-Smoked Salmon and Avocado, Crispy Bacon or Spinach & Asparagus
Lemon Ricotta Pancakes with Maple Glazed Apples
Sautéed Mushrooms in Balsamic Cream, Grilled Sausage, Herb Toast
Parfaits, layered with Chia pudding, Seasonal Fruit & Cinnamon Toasted seeds

Lunch
Balsamic Roasted Tenderloin & Vine Cherry Tomatoes on Bruscetta with Cilantro Aioli & Mesclun.
Seared Salmon, Sweet Beets & Preserved Lemon Cous Cous with Tangy Tartare
BBQ Pulled Pork with Vietnamese Slaw, toasted Brioche Bun & Parmesan Fries
Sesame Seared Yellow Fin Tuna, Warm Green Bean,Olive & Tomato salad with Peppered Basil Crème Fraiche
Grilled Chicken, Avocado & Crispy Bacon Caesar with Garlic Herb Croutons & Parmesan Crisp

Sunset Cocktails & Canapes
Crowning Glory-3 Rums, Passion Fruit, Pineapple & Lime Juice, Galliano, Flybridge Fizz- Chambourd & Champagne
Seventy Sixer- Gin, Lemon Juice, Agave, Soda, Bitter.
Mezze Plate-Roast Garlic hummus, Warm Goats cheese & Red Pepper Dip, Baba Ganoush
Brioche Bruschetta's- Feta, tomato & Onion, Beef Carpaccio with truffled Mayonnaise, Caprese Style
Mini Kebabs- Chicken Satay, Lamb & Mint, Griddled Halloumi& Cherry Tomato

Appetiser
Honey Roasted Butternut Squash & Lime Soup, Pesto & Toasted Pinenuts
Gazpacho with Pastis seared Lobster Medallions
Caprice with Balsamic Reduction & Bruscetta
Watermelon, Arugula & Goats Cheese Salad with Citrus Vinaigrette
Vietnamese Rice Rolls with Tuna, Raw Julienne Crudites & Plum Satay

Dinner
Thai Coconut Shrimp, Almond & Sesame seared Broccoli, Cilantro Jasmine Rice
Fillet Mignon, Red Wine Jus, Truffle Portobello, Tomato, Basil & Parmesan Risotto
Miso Glazed Chilean Sea bass with Sautéed Ginger & Soy Mange Tout Chow Mien
Rack of Lamb with Coriander & Honey, Cumin Cauliflower Fritters, Eggplant & Cilantro Aioli
Roast Chicken with Saffron, Hazelnuts & Honey, Kosheri Rice & spiked Tomato Sauce
Almond Crusted Mahi-Mahi with a Mango Jalapeno Aioli, Lemon and Parsley Orzo and Sautéed Zucchini and Summer Squash

Dessert
Berry Meringue Pavlova with Sweet Cream
Seared Pineapple, Mango & Banana, Cinnamon Rum Caramel Sauce & Vanilla Ice Cream
Zillionnaire Chocolate Layer Pots
Tarte au Citron and Soft Toasted Meringue
Passionfruit Cheesecake & Ginger Syrup
Selection of Cheese, Crackers & Chutneys
All desserts accompanied with after dinner liqueurs and fresh coffee
Ed Hamilton & Co. endeavors to provide the most up-to-date yacht information, availability and rate details, however, all information published on this site is subject to change without notice. Please contact us for the most current yacht information, availability and rate details.