Guests

8

Cabins

4

Model

Cat

Year Built

2019
Additional Rate Information
Additional Rate Information
Additional Rate Information
A minimum of 10 nights is required for bookings over Christmas or NYE. A minimum of 14 nights is required for bookings that include both Christmas and NYE.
High season rates apply to Christmas, New Years, Easter, July 4th, and Thanksgiving, unless otherwise noted.
Rate Details Summer 2021:
May & October – €49,000 + ALL
June & September – €59,000 + ALL
July & August – €69,000 + ALL
Greek VAT – 12%
Rate Details Winter 2020/2021
December & April $49,000 + ALL
January, February & March $59,000 + ALL
Christmas and New Years $69,000 + ALL (minimum 10 day booking)
For less than a week please divide the weekly rate by 6
30-35% APA is standard
Yacht has 500GB, anything over will be $2.50/GB
A security deposit may be requested for corporate charters
Location Details
Summer Area: W. Med -Naples/Sicily, W. Med -Riviera/Cors/Sard.
Winter Area: Caribbean Virgin Islands, Caribbean Leewards, Caribbean Windwards
Location Details: Available to charter in the Caribbean for the winter season of 2020/2021.
Available to charter in Sardinia/Corsica this summer 2022.
Captain Alan Collinge:
Alan was introduced to life on the water at a very early age. His father, being a Royal Navy Mariner, and his Grandfather, a highly regarded businessman in the European yachting world, it wasn't long before He found his calling on the salty side. Growing up in South Africa, originally starting his journey as a surf lifeguard and scuba diving instructor in various locations around the world, Alan naturally progressed into captaincy of ocean going vessels in places like The Caribbean, Western Mediterranean, Hong Kong, Cyprus and South Africa. Now with almost a decade of experience in commanding roles, you can be sure to feel at ease whilst aboard La Gatta. Alan is, and always has been, an avid Watersports man, participating in many different sports such at Kitesurfing, surfing, scuba diving, spear fishing and many more. Above the water he is a long time golfer and all round ball-sports enthusiast.
"La Gatta is a very special and important vessel to me, and I look forward to welcoming all guests aboard to be apart of one of the most exciting and unique experiences of your life!"
Chef Isabella Matterson:
Isabella is from Cape Town, South Africa. She grew up surfing on the coasts of Cape Town and has always had a love for the ocean and outdoors.
It was only natural that she joined the yachting industry with such a lust to travel and see the world. Once she joined the industry, Isabella found a love for sailing. She has sailed the East Coast of the USA, the Caribbean, the Mediterranean and the South Pacific.
After gaining her sea time, Isabella undertook her captain's license and now holds a RYA Yacht-Master Offshore 200 ton. She also holds her PADI Dive-Master and AIDA Free Diver Certification. Isabella's passion for cooking started whilst living at home cooking for her family and friends. She became inspired to take on a culinary career while working with some highly qualified yacht chefs aboard a variety of sailing vessels. She later completed a professional cooking course at the renowned Ashburton Chefs Academy in the UK. Isabella always uses fresh local ingredients of the highest quality available. She will create a unique and exciting menu plan according to your preferences. Her main goal is creating nutritious meals, while getting the opportunity to share her passion for food with others.
Chief Stewardess Jacoline Venter:
Jacoline was born in South Africa and grew up in the westcoast of New Zealand – Taranaki. Her background is a combination of all things hospitality.
Studying event management and hotel management before deciding to expand her knowledge and pursued a career in the yachting industry.
Growing up with the joys of coastal living Jacoline loves the ocean and has a passion for all water sports. Fortunately, through yachting, her passion for travel and adventure has become an amazing journey. Having gained ample experience working as stewardess aboard multiple Superyachts for 3 years in the Mediterranean, she has a newly found interest in sailing which has brought her to join the crew of S/Y La Gatta. Prior to La Gatta, Jacoline worked in a large team as a butler to the Royal Family in Saudi Arabia, visiting vast locations and private estates. Organizing day to day special guest requests and overseeing formal and informal dinner parties, meetings and events. Due to her vast experiences she can bring highly personalized service and care to your stay on board La Gatta and ensure that your highest expectations are always met with a smile and full of enjoyment.
First Mate Brandon Hapelt:
Growing up in The heart of South Africa, surrounded by farm land and bush Brandon naturally took to an outdoor life. Spending weekends at rivers and lakes to get away from the heat of the South African sun he found his love for being on the water. Watersports became a passion and this is what drove his desire to make a career out of the very thing he loved doing most. Having trained and completed multiple seasons as a Watersports instructor and Assistant Engineer, Brandon is La Gatta's "Go-To" guy for anything Watersports related! With safety being the absolute top priority, and enjoyment being a very close second, Brandon will ensure all ages and experience levels will come away with a sense of achievement, progression and a huge smile on their faces.
| | | | | |
| --- | --- | --- | --- | --- |
| Captain | Alan Collinge | South Africa | 0 | |
| Crew | Isabella Matterson | South Africa | | |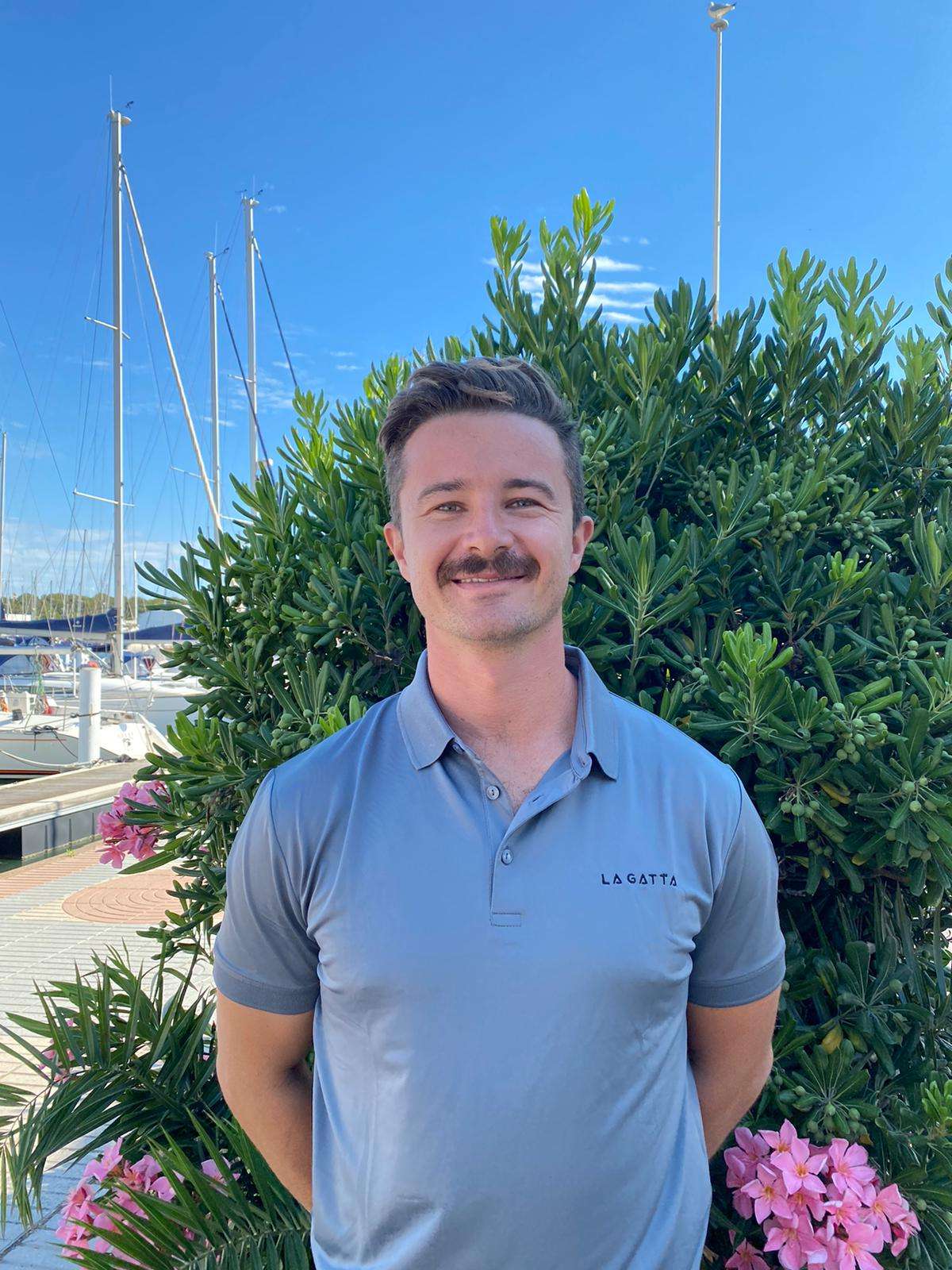 Captain
Alan Collinge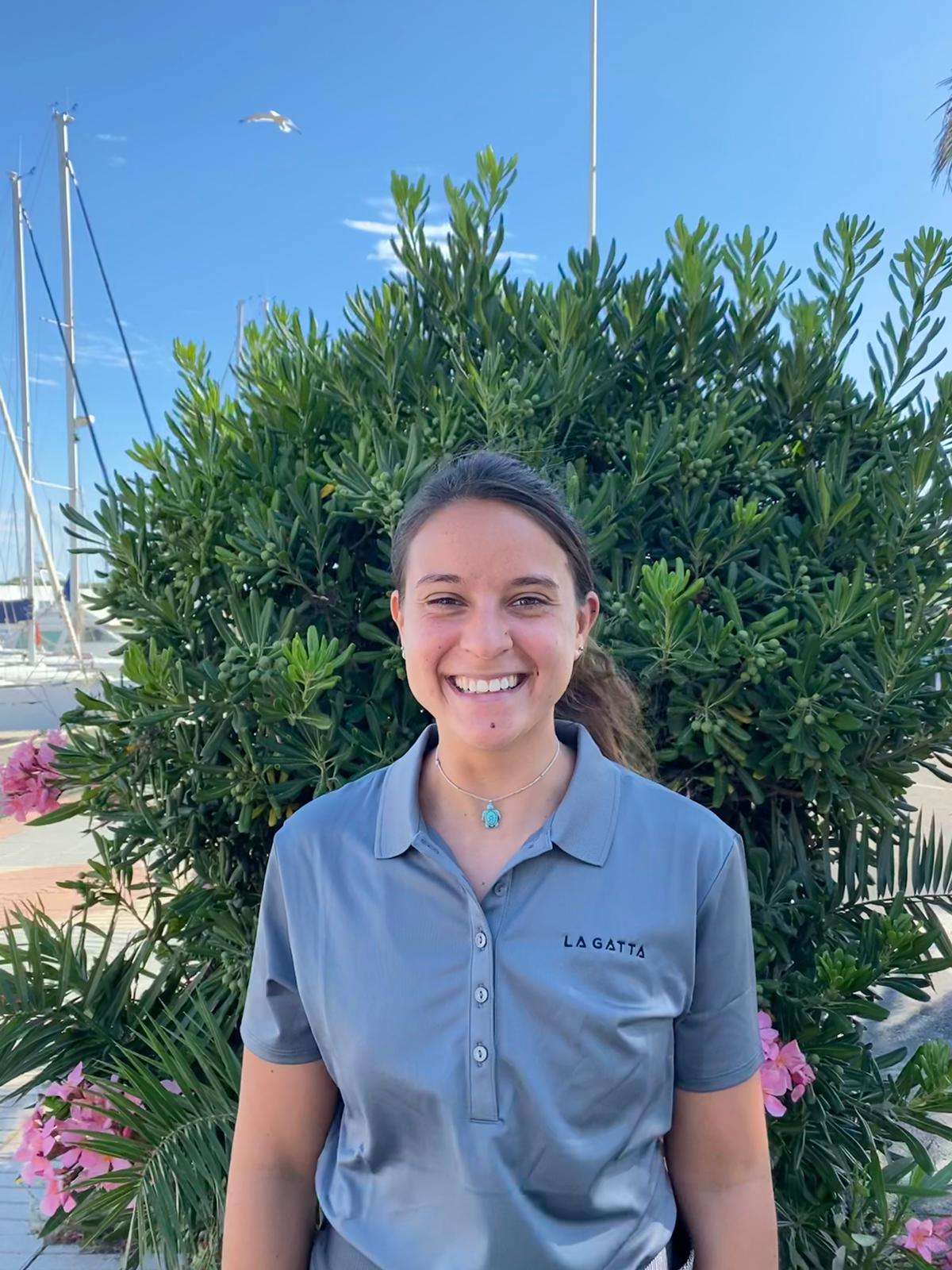 Chef
Isabella Matterson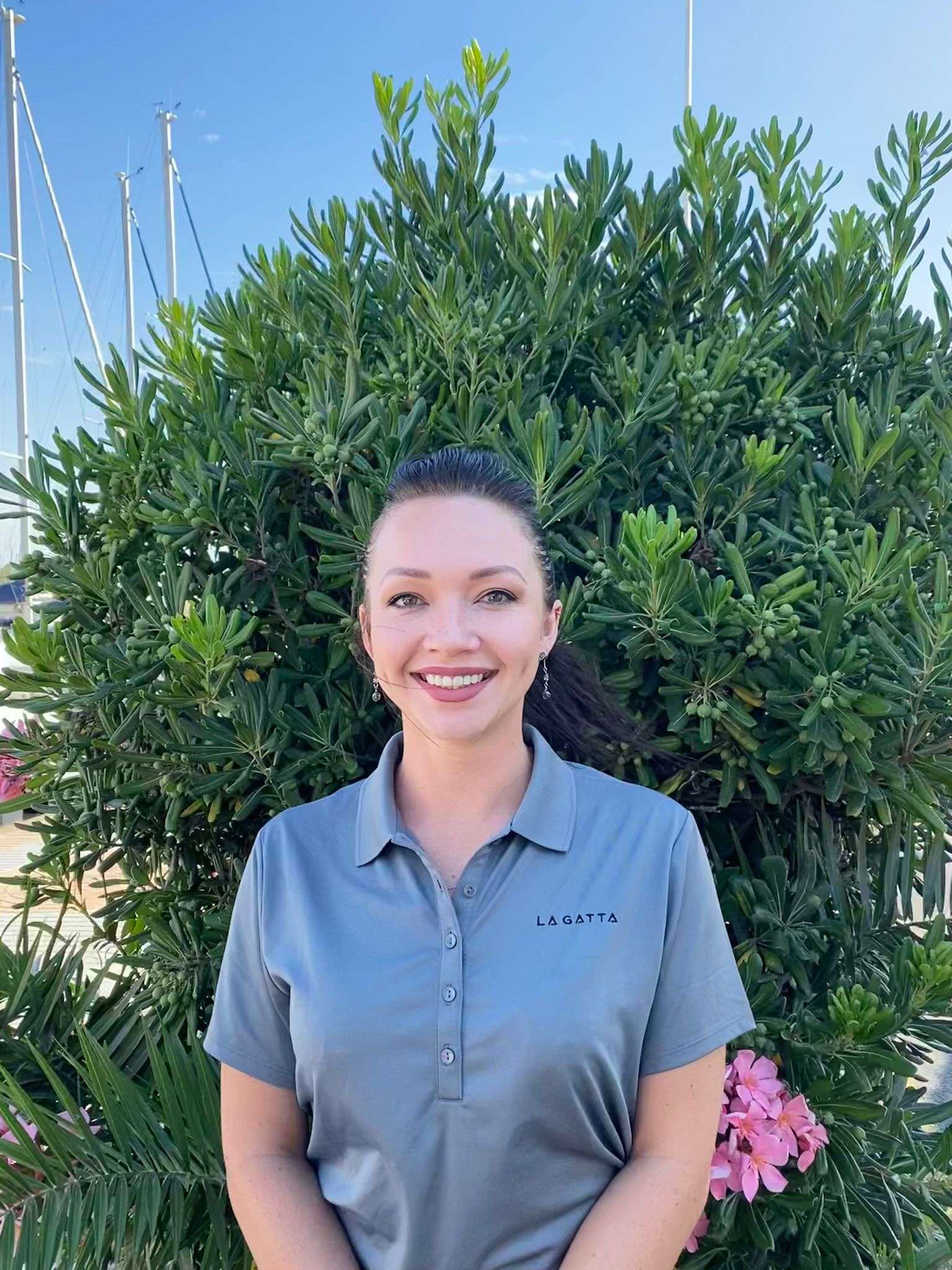 Stewardess
Jacoline Venter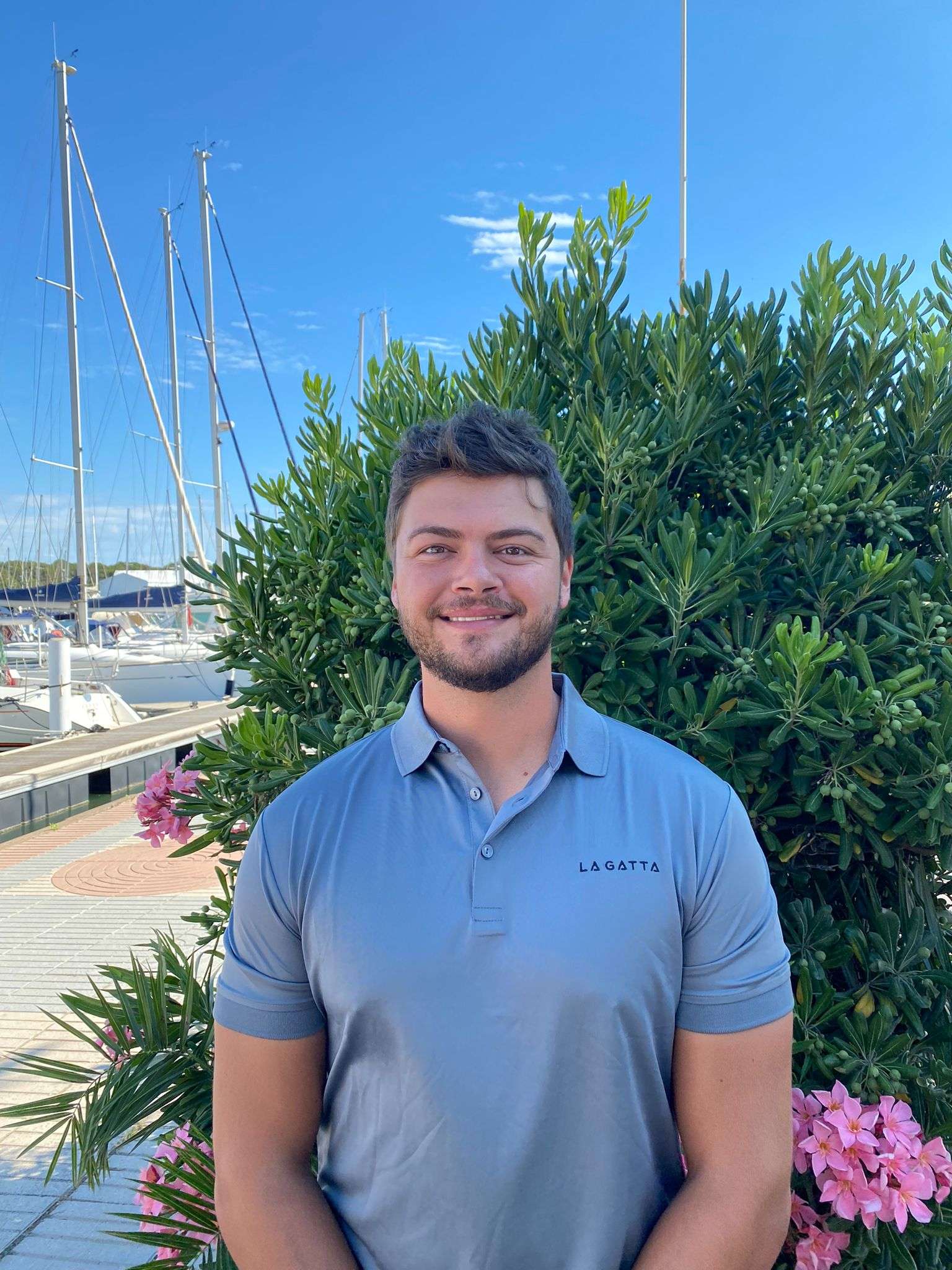 Deckhand
Brandon Hapelt
Leisure
Dinghy
Williams Jet Tender
Other Toys
Williams Jet Tender
Carbon e-Foil
3 x SUP Fanatic Fly Air Premium 10'8", plus 3 inflatable windsurf sails
Jobe 128 Junior wakeboard
Jobe wakeboard Pro Set
Wakeboard
Wakeskate
Towing biscuit
Snorkeling Gear
Fishing gear
2 X Sublue/SeaBow units
4 X Electric GoCycles
3 X Electric Scooters
1 Master Suite a with a "private beach" opening in the hull/outdoor deck, 2 Queen Cabins, 1 Twin Cabin, all with en-suite bathrooms
Sample Menu
by Chef Isabella
BREAKFAST
Coconut French Toast
Blueberry Pancakes
Eggs Benedict
Cinnamon Porridge with Caramel Figs & Cream
Fresh Fruit & Yogurt Parfait served with freshly baked Banana Bread
Smashed Avocado & Poached Eggs on Sourdough Toast
Smoke Salmon & Cream Cheese Bagels
LUNCH
Lemon & Herb Baked Seabass served with a Pineapple & Avocado Salsa
Tequila Shrimp served with Mediterranean Pearl Couscous, Caeser Salad and Fresh Focaccia
Seared Tuna Salad with Mango, Avocado and a Soy Vinaigrette
Blackened Mahi-Mahi Tacos served with a Pineapple & Mango Salsa, Fresh Guacamole and Sriracha Sour Cream
Fresh Tuna or Salmon Poke Bowls
Tropical Honey & Mustard Chicken Salad served with a Roasted Tomato Focaccia
Fish Cakes served with an Orange & Watercress Salad
APPETIZERS
Coconut Shrimp served with a Sweet Chili Sauce
Fresh Fish Ceviche
Caprese Salad topped with a Fig Balsamic Glaze
Selection of Cheese & Charcuterie Platters served with French Baguette
Ahi Sesame Soy Tuna Tartar
Spinach & Ricotta Parcels
Grilled Asparagus wrapped in Proscuitto
DINNER
Rack of Lamb served with a Mustard Herb Crust, Mediterranean Vegetable Tian and Sauté Potatoes
Thai Red Curry served with Prawns
Honey Roasted Duck Breast served with a Madeira Jus, Dauphinoise Potatoes and Green Beans
Macadamia Crusted Grouper served with Coconut Rice and Caramelised Plantains
Grilled Lobster with a Lemon Herb Butter, Creamy Mashed Potatoes and Sauté Asparagus
Beef Filet with Café Paris Butter, Rosemary Roasted Potatoes and Honey Carrots
Pan Fried Scallops & Mushrooms with a Truffle Cream Sauce and Butternut Puree
DESSERT
White Chocolate Cheesecake served with a Berry Compote
Rum Fudge Pie
Chocolate Fondant served with Homemade Vanilla Custard
Coconut Crème Brule
Honey Panna Cotta with Caramelised Figs
Key Lime Pie served with Fresh Lime Whipped Cream
Toffee Banana Crumble
Mediterranean Sample Menu
by Chef Isabella
BREAKFAST
Selection of Cheese, Bread, Fruit, and Jams
Choice of Eggs – Scrambled, Fried, Poached, or Benedict
Homemade Pancakes
Homemade Overnight Oats/Chia Seed Pudding with a Variety of Toppings
Omelets with Fresh Veggies, Smoked Salmon and Avocado
Smashed Avocado, Fresh Cherry tomatoes and Pached Eggs on Toast with available Herbs
Spinach, Mushroom and Cherry Tomato Frittata
LUNCH
Sesame Soy Tuna/Salmon Poke Bowls
Crispy Chicken with Miso, Ginger and Lime served with a Roasted Butternut, Red Onion, Za'atar & Tahini Salad
Lamb & Feta Meatballs served with a Roasted Root Vegetable Salad and a Poached Egg, Avocado & Broccolini Salad
Fishcake Tacos served with Mango, Lime & Cumin Yogurt
Grilled Beef Sirloin served with a Roasted Beetroot & Rocket Salad and Homemade Focaccia
Lemon & Herb Baked Seabass with a Pineapple & Avocado Salsa
Lamb Gyro served with Fresh Tzatziki
ANTIPASTI
Baked Brie with Nuts & Honey
Selection of Cheese & Charcuterie Platter
Homemade Butterbean Hummus with a fresh Baguette
Crudites with Homemade Dips and Fresh Pita Bread
Caprese Salad topped with Fresh Rocket and Fig Balsamic Glaze
Melon wrapped in Prosciutto
Grilled Marinated Aubergine with Garlic, Lemon and Mint
STARTER
Roasted Tomato Soup with Garlic and Thyme
Trout Tartare served with Burt Butter and Pistachios
Burrata Salad with Fresh Rocket, Figs and Balsamic Glaze
Fresh Fish Ceviche
Roasted Garlic Prawns with Lemon and Herbs
Steamed Mussels in Sauvignon Blanc and Herbs
DINNER
Butternut Gnocchi with Gorgonzola Cream
Chicken Marbella served with a Sweet Potato Mash & Lime Salsa
Pan Fried Trout with Lemon, Dill & Apricot Butter Sauce served with Roasted Asparagus
Spaghetti Carbonaro served with Crispy Pancetta & Parmesan
Rack of Lamb served with Mustard Herb Crust, Mediterranean Vegetable Tian and Sauté Potatoes
Beef Filet served with Café Paris Butter, Rosemary Roasted Potatoes and Honeyed Carrots
Traditional Moussaka
DESSERT
Honey & Cinnamon Panna Cotta
Madagascan Vanilla Crème Brule
Homemade Raspberry Ice Cream
Honey & Yogurt Cheesecake
Vanilla Meringues with Berry Compote & Cream
Chocolate Fondant
Tiramisu
Ed Hamilton & Co. endeavors to provide the most up-to-date yacht information, availability and rate details, however, all information published on this site is subject to change without notice. Please contact us for the most current yacht information, availability and rate details.