Guests

8

Cabins

4

Model

Cat

Year Built

2019
Additional Rate Information
Additional Rate Information
Charter Rates Per Week
| Rate Period | Terms | 2 Guests | 3 Guests | 4 Guests | 5 Guests | 6 Guests | 7 Guests | 8 Guests |
| --- | --- | --- | --- | --- | --- | --- | --- | --- |
| Winter 2021 to 2022 | Inclusive | $36,500 | $37,000 | $37,500 | $38,000 | $38,500 | $39,000 | $39,500 |
| Summer 2022 | Inclusive | $36,500 | $37,000 | $37,500 | $38,000 | $38,500 | $39,000 | $39,500 |
| Winter 2022 to 2023 | Inclusive | $36,500 | $37,000 | $37,500 | $38,000 | $38,500 | $39,000 | $39,500 |
Additional Rate Information
GENERAL NOTES:
MINIMUM NIGHTS: 5 (Inquire for less) – for 6 night charters, divide weekly rate by 7 nights X 6 nights. For 5 nights or less, divide weekly rate by 6 nights X number of nights.
RELOCATION FEES: For down island please inquire and subject to calendar.

If cruising area includes BVI, rates are PLUS permits, licenses and fees which are to be paid by client.
HALF-BOARD: Includes: 7 breakfasts, 4 lunches & 3 dinners. Requires 3 lunches & 4 dinners ashore at client expense.
2/$36,200 3/$36,550 4/$36,900 5/$37,250 6/$37,600 7/$37,950 8/$38,300
LOCAL FARE MEAL PLAN: Includes: 7 breakfasts, 5 lunches & 6 dinners. Requires 2 lunches and 1 dinner ashore at client expense.
2/$36,350 3/$36,775 4/$37,200 5/$37,625 6/$38,050 7/$38,475 8/$38,900
CHRISTMAS/NEW YEARS: 7 night minimum
THANKSGIVING: 1-8 guests @ $40,500</font color>
CHRISTMAS: 1-8 guests @ $47,500 – charter must end on 12/26 or earlier
NEW YEARS: 1-8 guests @ $50,500 – charter may not start prior to 12/27
*** SPECIAL OFFERS ***


None at this time.
Location Details
Summer Area: Caribbean Virgin Islands, Caribbean Leewards, Caribbean Windwards
Winter Area: Caribbean Virgin Islands, Caribbean Leewards, Caribbean Windwards
***CREW FOR JANUARY 2022 – JULY 2022***
TO BE ANNOUNCED
***CREW FOR JULY 2021-JAN 2022***
MAGNUS WITTERSO – ADAM WILSON
***MAGNUS & ADAM ARE FULLY VACCINATED FOR COVID-19*****
Captain Magnus hails from the frigid fjords of Norway with several captains in his blood line. He spent his entire childhood regatta racing, teaching sailing and working for the King in the Norwegian Navy before he felt himself being drawn to far more tropical latitudes. Now, thawed out, and after several years of cruising on his private sailboat, multiple ocean crossings and chartering the most stunning waters and island groups in the world, he can guarantee a fantastic experience with well thought out itineraries and adventures.
Before our Dive Instructor Adam moved to the US Virgin Islands in February 2016, he was working for Carnival Cruise Lines onboard for 4 years. He worked in Camp Carnival with the kids for almost 2 years and then I became an Entertainment Host. He got to travel all over the Caribbean, Bahamas, Alaska, and Australia. Since moving to St. Thomas, he has become PADI MSDT (Master SCUBA Dive Trainer) as well as a 50-ton USCG Masters License Captain.
***MAGNUS & ADAM ARE FULLY VACCINATED FOR COVID-19*****
| | | | | |
| --- | --- | --- | --- | --- |
| Captain | Magnus Wittersø/TBA | Norway/TBA | 1988 | English |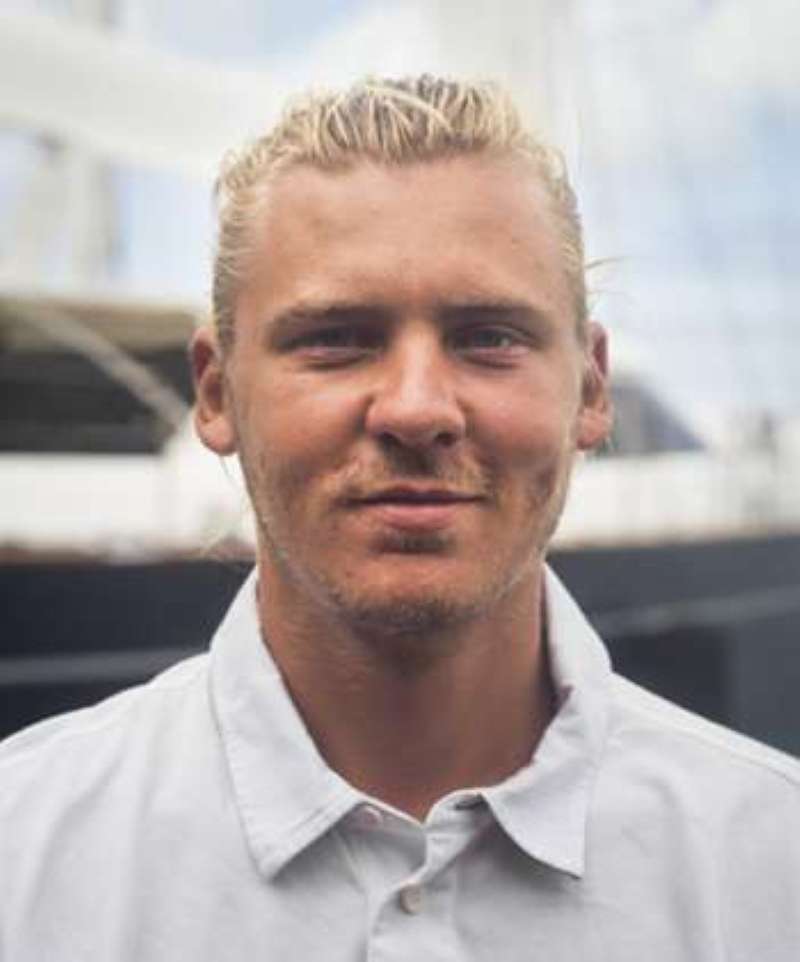 Captain June 2020-January 2021
Magnus Wittersø
Ammenities
Water Maker
73.92 gallons/h, 1
General
Guest Smoke
Smoking on aft sugar scoop ste
Leisure
Dinghy
15' RIB center console
Dive Info
Included in your charter for no extra charge.
All dives will be guided by our onboard Dive Instructor.
If your last dive was more than a year ago, we'll start with a refresher dive.
We offer 4 complimentary guided dives during your charter.

Two GoPro's ready to record your experience.

**Ian Quigley is Dive Instructor January 15-July 15

**Adam Wilson is Dive Instructor July 15-January 15


Dive Costs
All gear is supplied on the vessel.

Discover Scuba" dive to a depth of 40'. You will need a medical form and if you have any physical conditions that present risk a Doctor's signed waiver that you are OK to dive. Charge is $150 and paid directly to our own board instructor.

PADI Advanced Open Water Instruction and certification
We will offer this course for up to 4 students at a time. This is open to anyone who is a PADI open water certified diver. After completion of this course you will certified to dive deeper than 60'. To fully enjoy dives such as "The Wreck of the Rhone" we recommend this during your trip. This costs $300 per student. To be paid directly to our Dive Instructor.

4 dives are included per guest. Additional dives are offered at $50 per guest per dive.


Other Specs
Pref Pickup
St. Thomas, USVI
Other Pickup
BVI inquire limited to 7
Turn Around
48 pref, inquire for less
Engines
2 x 110 hp diesel engines2 x Onan generators3 x 3,000w inverter
Water Capacity
2 x 240 L / 4 x 63 US Gal
Swim Platform
Hydraulic platform & Scoop Ste
Boarding Ladder
S/S off scoop steps
Green Other
Only re-usable silicone and bamboo straws.No single-use plastics onboard.
Resort Course
$150 per diver
Full Course
$300 with book work & pool work completed before charter
Other Entertain
TV in every cabin and one in the saloon, with access to Apple TV

Communicate
Unlimited WIFI throughout the yacht
Other Toys
Sunlounger pads for the trampoline
2 Sub-Wings
Wakeboard
Water Skis
2 x 2-person kayaks
2 x SUP boards
Inflatable Floating Dock
Large towable Tube
2 x GoPro's with Underwater Dome and multiple adventure mounts
Large ergonomic pool noodles
Inflatable unicorns
Inflatable Flamingo
Inflatable Whale shark


Mahasattva accommodates 8 guests in 4 spacious queen cabins with en-suite with stall showers and electric freshwater flush toilets with bidets. All cabins also has 32″ Smart TV's and USB charge ports for your devices.
Large salon for lounging with a large pop-up TV, or formal dining. Large aft deck lounge and alfresco dining area with access to the water on two wide sugar scoops with SS steel ladders and deck showers. On top, a spacious fly-bridge with a 360-degree view, fridge, bar, and lounge area. On the bow, two large lounge areas, trampolines, and bow seats for spotting dolphins.
Mahasattva is fully air-conditioned 24/7.
Two (!) wine fridges.
The Crew has separate accommodations and separate shower and restroom facilities.
 MENU

BREAKFAST
– Fresh Local Fruits, Yoghurts, Smoothies and Cereals
– Banana/Blueberry Pancakes or Waffles w/ Homemade Rum Syrup, Fresh Berries and Crisp Bacon
– Perfectly Poached Eggs Benedict w/ Homemade Hollandaise, Dill Sour Cream/Smoked Salmon/Caper OR Seared
Vegetables, Bacon & Avocados
– Omelette Bar to Order w/ Fruit Salad & Hash Browns
– Caramel and Almond Crusted Vanilla French Toast & Spiced Sausages
– Freshly Baked Muffins
– Spinach and Mushroom Quiche
– Fresh Local Bread, Croissant's & Baguette Breakfast Sandwiches
– Coffee, Coffee, Coffee…and Variety of Teas
LUNCH
– Blackened Caribbean Shrimp Caesar Salad w/ Homemade Garlic Bread, Tangy Reduction and Parmesan Crisps
– Basil/Black Bean Cheese Hamburgers In Paradise w/ Homemade String Truffle Fries
– Mediterranean Style Buffet w/ Lemon, Herb & Honey Baked Chicken and Garlic Butter Flatebreads
– Healthy Seafood Quinoa Salad & Crisp Ciabatta
– All You Can Eat Local Caribbean Style Fish Tacos and All You Can Drink Margaritas
– Spicy West Indian Chicken Roti w/ Fried Plantains Crisps & Papaya/Tomato Salad
– Maryland Style Crab Cakes w/ Curry Mayo & Local Fresh Salad Greens
APPETIZERS
– Fresh Cut Vegetables with Homemade Garlic/Red Pepper Hummus & Tapenade Selection
– Rum Balsamic Reduction On Top Fresh Caprese Salad
– Vegetable or Beef Blue Chip Nachos with Homemade Guacamole/Salsa
– Rare Seared Sirloin Steak, Local Basil On Top Spinach and Cream Cheese Stuffed Mushrooms
– Crispy Top Parmesan Spinach Artichoke Dip with Roasted Pita Bread
– Smoked Salmon, Cream Cheese and Capers On Top Crunchy Toasts
– Grilled Bacon Wrapped Scallops On Top Fresh Local Greens w/ Fig Reduction
– Crispy Stuffed Wontons w/ Sweet Chilli Sauce
– Coconut Shrimps & Deep Fried Buffalo Cauliflower
DINNER
– Sticky Bourbon Grilled Salmon w/ Fresh Greens And Baked Honey Squash
– Spicy Caribbean Red Snapper Over Island Baked Vegetables and Seasoned Wild Rice
– Dijon MahiMahi over Slow Baked Ratatouille and Grilled Teriyaki Bok Choy
– Caribbean Jerk Shrimp over Stir Fried Vegetables, Buttered Jasmine Rice and Teriyaki Reduction
– Fillet of Beef Sud Africane w/ Rosemary Infused Bearnaise Sauce, Proscuitto Asparagus Spears and Roasted
Potatoes
– Grilled and Marinaded Pork Tenderloin w/ Dill Cucumber Salad and Spiced Orzo
– Grouper Al Grecque w/ Pearls of CousCous, Roasted Carrots, Tomato Cumin Sauce & Fresh Feta Walnut Salad
– Pan Seared Wasabi Ahi Tuna w/ a ChimiChurri Salsa and Avocados over a fresh bed of local greens
– Prosciutto And Herb Stuffed Chicken Wrap Bakes w/ Tarragon Cream Sauce over Mushroom Infused Risotto and
Glazed Grape Tomatoes
DESSERTS
– Creamy Classic Cheesecake w/ Salted Pretzel Crust topped Salted Caramel Sauce and Fresh Berries
– Homemade Chocolate Mocha Mousse or Vegan Avocado Mousse
– Classic American Keylime Pie & Vanilla Whipped Cream
– Fresh and Airy Mango Cream Crisp , Whipped Cream and Crushed Pistachio
– Red Wine Poached Pears w/ Mint Sprigs and Homemade Caramel Dressing
– Island Coconut Poke Cake w/ Cafe Rum Sauce
– Banana Caramel Spring Rolls or Frozen and Chocolate Dipped Bananas & Ice Cream
– Homemade Chocolate Oreo Brownies & Ice Cream
– South African Style Peppercrist Crisp Tart w/ Fresh Fruits
– Raspberry Creme Brûlée
COCKTAILS 
Rum Punch – local recipe with island rum
Blackberry Mojito – with fresh berries and mint
Grapefruit Vodka Sunrise – served with fresh grapefruit and a rosemary sprig
Ultimate Bloody Mary – with bacon wrapped shrimp skewers and celery
Classic Mimosa – mixed with fresh homemade orange juice
Pina Colada Sunrise – made with fresh pineapple and coconut
Mai Tai – made with fresh local fruits
007 Dirty Martini – with blue cheese stuffed olives
Painkiller – Cruzan dark rum, pineapple, a splash of orange, coconut, and fresh nutmeg
Classic Margarita – made with fresh limes and top-shelf Tequila
Ed Hamilton & Co. endeavors to provide the most up-to-date yacht information, availability and rate details, however, all information published on this site is subject to change without notice. Please contact us for the most current yacht information, availability and rate details.