Guests

8

Cabins

4

Model

Power

Year Built

2018
Additional Rate Information
Additional Rate Information
Charter Rates Per Week
| Rate Period | Terms | 2 Guests | 3 Guests | 4 Guests | 5 Guests | 6 Guests | 7 Guests | 8 Guests |
| --- | --- | --- | --- | --- | --- | --- | --- | --- |
| Winter 2021 to 2022 | Inclusive | $78,000 | $78,000 | $78,000 | $78,000 | $78,000 | $78,000 | $78,000 |
| Summer 2022 | Inclusive | $78,000 | $78,000 | $78,000 | $78,000 | $78,000 | $78,000 | $78,000 |
| Winter 2022 to 2023 | Inclusive | $78,000 | $78,000 | $78,000 | $78,000 | $78,000 | $78,000 | $78,000 |
Additional Rate Information
Plus 4% Bahamas tax
Christmas & New Years weeks – two separate weeks
Xmas charters must end by the 27th of December, New Years cannot begin earlier than the 27th of December
• Christmas Week – Up to 8 guests: $87,000 plus local taxes.
• New Years Week – Up to 8 guests: $89,500 plus local taxes.
** Charters include up to 3 hours of engine time per day.
Location Details
Summer Area: Bahamas
Winter Area: Bahamas
Location Details: In the Bahamas – based Bay Street Marina, Nassau.
Midnight Moon's super crew will instantly help you feel relaxed and welcomed on your luxurious floating home. The Crew will intrigue and entertain you with their great sense of humor, excellent hosting skills and passionate love for life as they take you on an adventure of a lifetime.
Captain: Byron Tippett, South African (Summer Season)
Born and raised in South Africa, Byron found his love for the ocean at 12 years old when he first started exploring the underwater world as a scuba diver. Since then Byron has been following his passion travelling the world as a PADI scuba instructor, diesel engineer, and yacht captain. Byron is outgoing and enthusiastic, and with his knowledge and vast charter experience will design a perfect trip that is sure to impress you whether you enjoy a secluded beach or a lively hot spot. With such a wide range of skills you are sure to feel safe and relaxed.
On board Midnight Moon, Byron will guide you through some of the most beautiful beaches, snorkel spots and dive sites in the Bahamas, British Virgin Islands, U.S Virgin Islands, St. Maarten, St Barths and on down the Caribbean chain. He will create exquisite cocktails while ensuring a big smile is on your face as you relax in comfort.
Chef: Molly McKernan, American (Summer Season)
Raised on a small river in Iowa, Molly has an inquisitive soul and a nose for adventure. She loves anything outdoors and active and anything involving food. After receiving her degree in Journalism from Iowa State University, Molly kissed the Midwest goodbye to make a life on the ocean. She lived in Maui, HI, for four years where her love of outdoor adventure blossomed working on boats, surfing, diving and hiking to secluded waterfalls. She then made the switch to boats in the Caribbean for the past several years and has been enjoying the constant trade winds ever since. She is a PADI Divemaster and will be your guide to the underwater paradise.
With a passion for great food and a love of fresh ingredients, you will be cared for from the first bite to the last. Molly takes true pleasure in creating a unique and personalized menu each charter on Midnight Moon to fuel your holiday for an unforgettable experience. Taking pride in her work both in the galley and in the water. It's a promise Molly will add exceptional food, fun and laughter to your charter.
Eddie & Danielle Reeves (Winter Season)
Eddie and Danielle Reeves will welcome you aboard MIDNIGHT MOON with a smile, relaxed demeanor and a keen knowledge of top-notch hospitality. They have a visible love of the sea and sailing. Eddie and Danielle enjoy all water activities from sailing the beach cats, kayaking, snorkeling, paddle boarding, fishing, water skiing, tubing, and are always ready for the next activity. They are especially fond of scuba diving, and are both PADI Dive Masters and PADI Rescue Divers. They thoroughly enjoy exploring the underwater world with others and will make your dive a memorable one with their underwater photography and eye for safety.
Eddie holds a USCG 200-ton masters captain's license and is a PADI-certified divemaster. He grew up boating with his family on Long Island Sound and lakes throughout western Connecticut. Upon moving to Rhode Island, he began sailing in Narragansett Bay out of Newport. After delivering boats to Florida and the British Virgin Islands then back to New England, it became apparent that it was time to turn his passion for the sea into a lifestyle.
With a bachelor's degree in marketing and a concentration in psychology, Eddie has also held a variety of career positions. He has worked in fine dining establishments for 14 years, in all positions from busboy to general manager. He has also spent many years as a licensed mortgage loan officer. Eddie enjoys conversing and sharing his experience with adults and children alike.
Danielle first learned to cook by following her mother and Italian grandmother around the kitchen. From there, she continued to gain knowledge of food and cooking techniques from working in restaurants with top notch chefs for over 20 years. She loves using fresh local ingredients and putting a new twist on classic recipes. She grew up in Rhode Island and took advantage of "The Ocean State" sailing and power boating in Narragansett Bay and Newport. She is also a PADI-certified divemaster.
Traveling around the globe and sailing the Caribbean has given her a knowledge of different cultures and a passion for meeting new people and sharing experiences. After attending the University of Hawaii at Hilo, Danielle returned to Rhode Island and graduated from the University of Rhode Island with a degree in sociology.
Her easy-going nature makes her a delight to be around, and you will feel at home in no time.
| | | | | |
| --- | --- | --- | --- | --- |
| Captain | Byron Tippett (S) & Eddie Reeves (W) | RSA | 0 | English |
| Crew | Molly Tippett (S) & Danielle Reeves (W) | USA | | |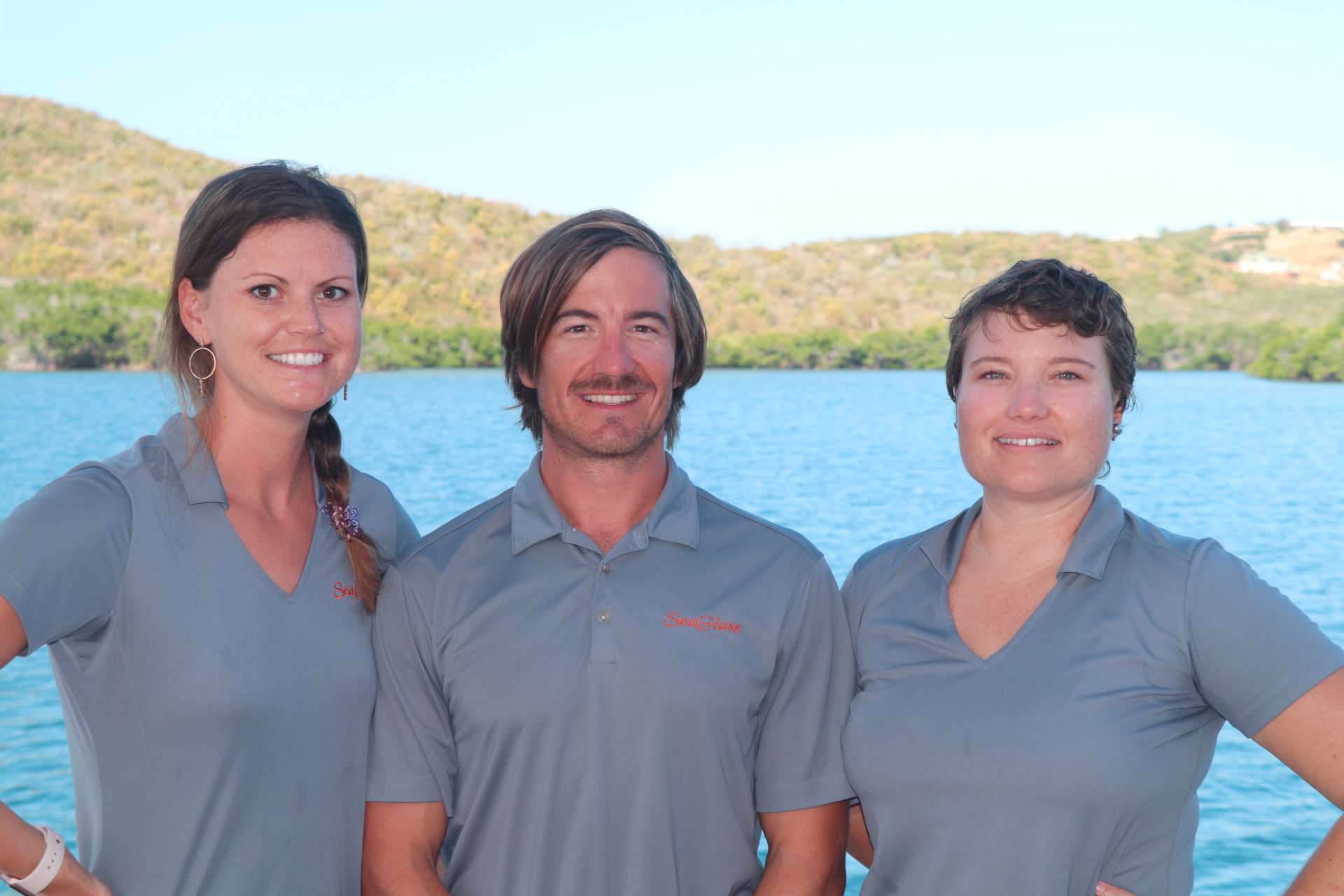 Winter crew on aft deck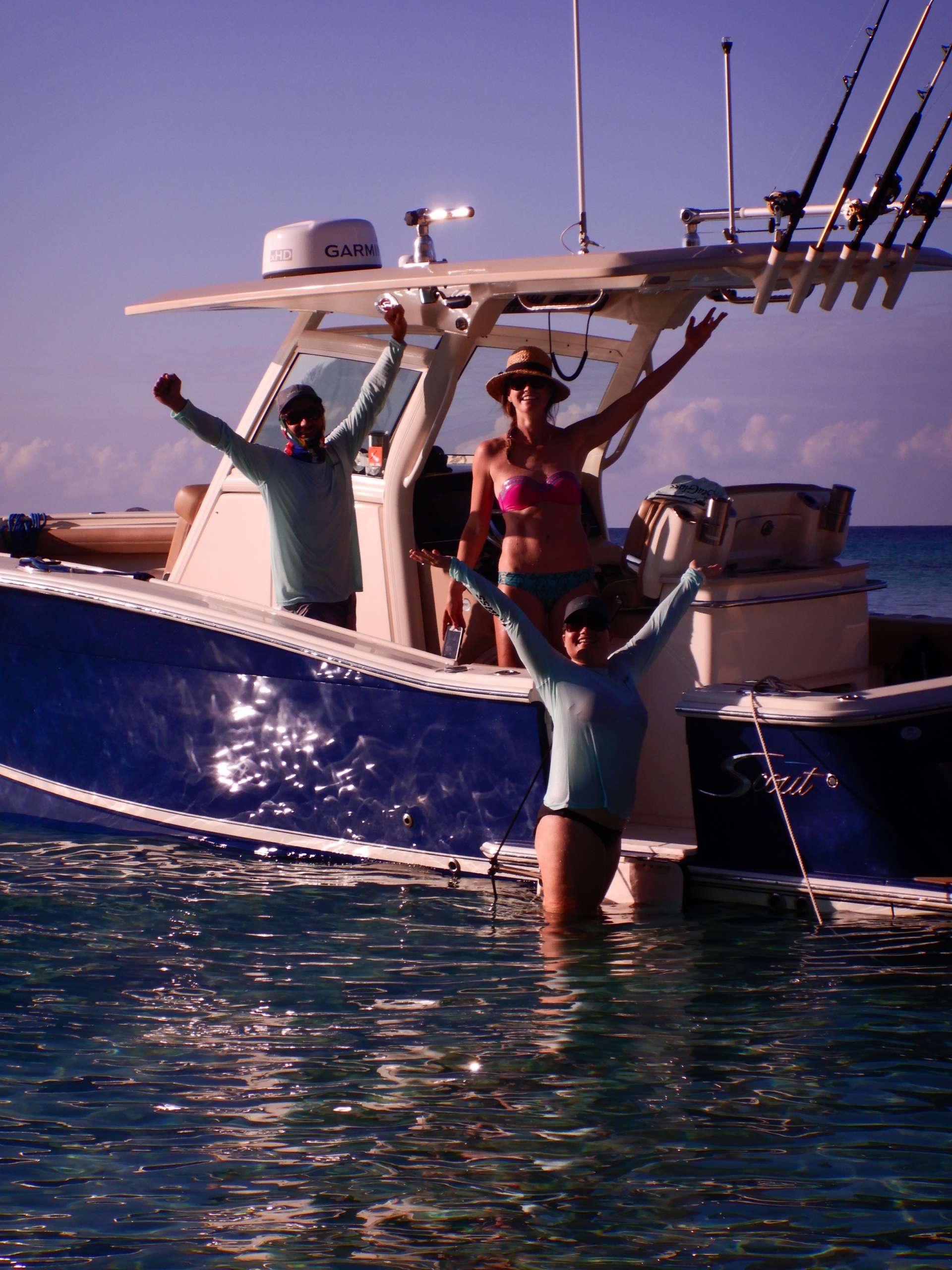 Winter crew on Scout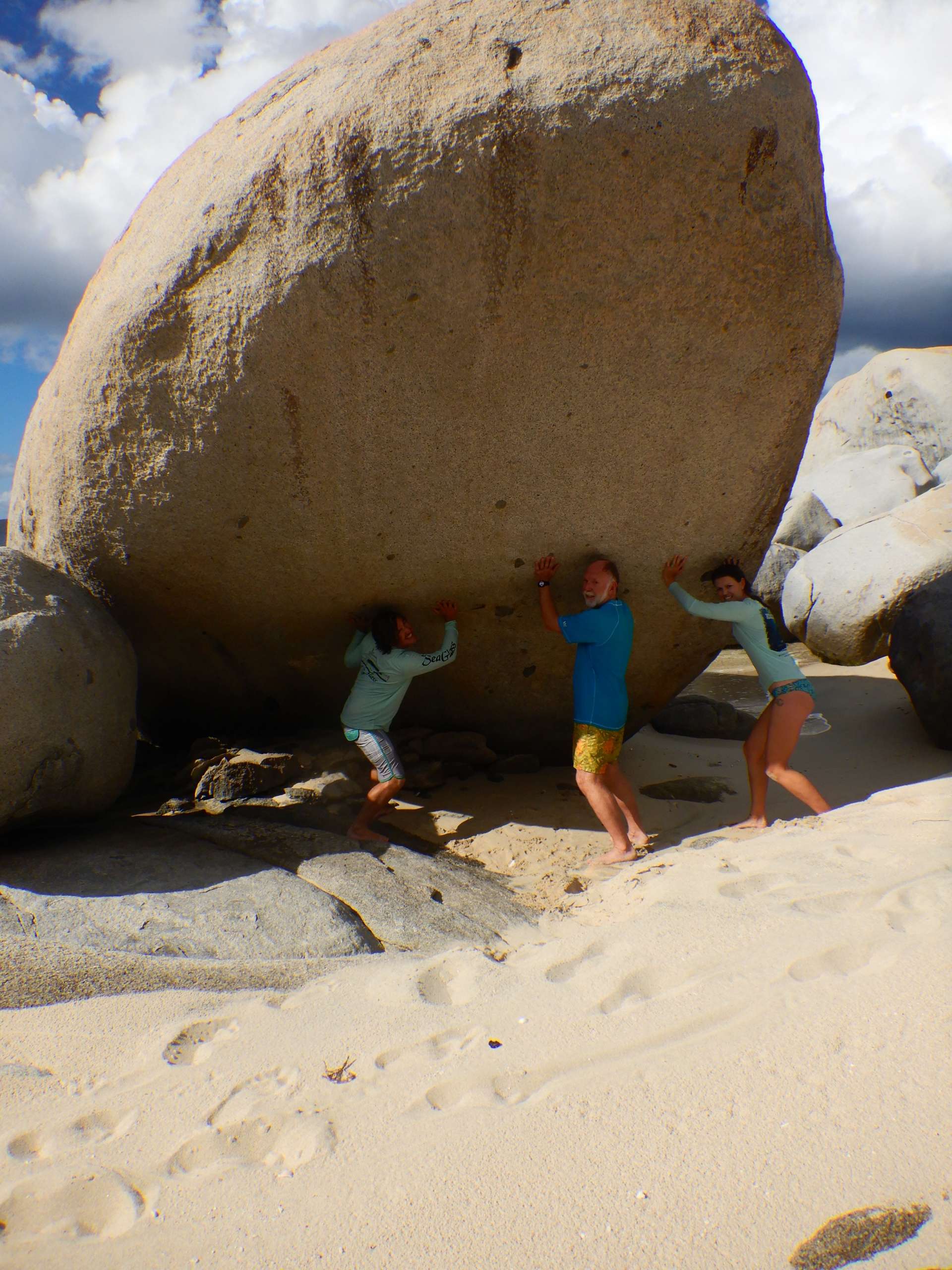 Crew & Midnight Moon's owner holding up Fallen Jerusalem
General
Guest Smoke
Transoms only please
Leisure
Dinghy
30ft Centre Console Scout & 15ft RIB
Dinghy Hp
2 X 300HP on Scout & 70HP on R
Other Specs
Other Pickup
Other Bahamas
Engines
2 X CAT C18A 1136HP2X 27 kW generators.
Fish Gear Type
Trolling, bottom & deep Sea.
Scuba Onboard
Yacht offers Rendezvous Diving only
MIDNIGHT MOON offers her guests bespoke comfort and room in a main-deck master king suite, and 3 queen suites.
Molly's Sample 7 Day Menu (Summer Season)
Fresh Eggs (made to order), Fresh Fruit, Granola, Yoghurt, assorted breads and fresh Pastries of the day.
Lunch
Day 1: Fish cakes with tartar sauce and fresh green salad
Day 2: Italian panini with salami, black forest ham, provolone, red onion, and pimento spread, shredded coleslaw
Day 3: Seared tuna Nicoise salad with olives, hard boiled egg, pickled onions and French loaf, wasabi and soy sauce
Day 4: Mixed greens with light lemon vinaigrette, individual vegetable curry pie topped with mango chutney
Day 5: Grilled chicken and vegetable skewers with cucumber tzatziki dollop on a bed of mixed greens
Day 6: Beef taco salad in a crispy tortilla bowl with fresh guacamole, black bean salsa
Day 7: Shredded lobster tail with garlic butter on a cold quinoa and mixed green salad
Dinner
Day 1: Crispy bacon and feta lettuce cups, Steamed salmon with orange ginger sauce and asparagus, Cheesecake with warm chocolate sauce and fresh berries.
Day 2: Savory butternut squash soup and fresh bread, Mushroom and goats cheese stuffed chicken breast with white wine sauce and steamed broccoli, Warm brownies with vanilla ice cream.
Day 3: Island mango bruschetta with mozzarella on fresh bread, Italian sausage lasagna roll with vodka sauce, Key lime pie with fresh whipped cream.
Day 4: Shrimp cocktail with lemon wedge, Grilled pork tenderloin with rosemary potatoes and apple puree, Vanilla crème Brule.
Day 5: Mahi ceviche with balsamic reduction and French loaf, Steak with béarnaise sauce and glazed carrots, Assorted ice cream with almonds and pistachios topped with chocolate sauce.
Day 6: Pork spring rolls with soy ginger dipping sauce, Seafood pad Thai with fresh herbs and peanut coconut amino sauce, Mixed fruit crumble with caramel drizzle.
Day 7: Arugula salad with caramelized onions and sliced avocado, Pistachio crusted rack of lamb with oven roasted vegetables, Chocolate mousse
Danielle Reeves- Sample Menu (Winter Season)
Breakfast  – Continental: fresh fruit, assorted cereals, granola and yogurt, coffee, and/or tea, and juice
Classic Eggs Benedict with a lemon herb hollandaise sauce
Huevos Rancheros
Fluffy scrambled eggs with bacon, home fries and toast
Blueberry or banana pancake stacks with maple syrup and a side of bacon
Quiches: Lorraine/ Veggie- spinach, mushrooms and caramelized onions with goat cheese

 

Breakfast burrito with sausage, egg, tomato, cheese topped with pico de gallo and sour cream
Ny Style bagels and Lox with smoked salmon, cream cheese, capers, tomatoes, and red onion
Avocado Toast with feta, cherry tomato and micro greens topped with sunny side egg and piri piri sauce
Lunch
Fish Tacos- local catch wrapped in a flour tortilla and layered with habanero lime crema, fresh guacamole, shredded lettuce, and mango pico de gallo served with Island slaw
Seared Yellowfin Tuna Nicoise Salad: fingerling potatoes haricot vert, olives, hearts of palm, tomato, and hard boiled egg in a balsamic vinaigrette
Cheeseburger in Paradise served with french fries
Caesar Salad (or wrap) with grilled shrimp/chicken and garlic crostini

 

Chicken and Mango Salad with toasted almonds, feta, dried berries, pepitas, and tomatoes in a lemon vinaigrette
Mediterranean Salmon Quinoa bowl:

 

spinach, tomato, chick peas, red onion, cucumbers, feta, walnuts, and kalamata olives in a greek vinaigrette

 

Shrimp and pineapple Kebobs with basmati rice
Dinner
Filet mignon in a cabernet peppercorn demi glace finished with gorgonzola cheese s/w mashed potatoes and asparagus
Herb marinated pork tenderloin with roasted brussel sprouts and wild rice
Blackened Mahi Mahi with a mango salsa served with pearled couscous and snap peas
Ginger and garlic glazed Salmon topped with a mango salsa served with basmati rice and green beans
Thai shrimp and scallops in a coconut curry reduction over almond rice
Pan seared Yellowfin Tuna over jasmine rice topped with a spicy aioli and avocado salsa
Lemon and parmesan chicken with arugula, cherry tomatoes and vegetable quinoa salad
Chicken and steak fajitas with all the fixings
Dessert
Key Lime Pie
Sorbet

 

Flourless chocolate torts with raspberry coulis
Vanilla Cinnamon and Lime panne cotta
Strawberry shortcake with homemade biscuits and cream
Cheesecake with berries
Chocolate cake
Gelato
Ed Hamilton & Co. endeavors to provide the most up-to-date yacht information, availability and rate details, however, all information published on this site is subject to change without notice. Please contact us for the most current yacht information, availability and rate details.