Guests

6

Cabins

4

Model

Sail

Year Built

2003
Additional Rate Information
Additional Rate Information
Charter Rates Per Week
| Rate Period | Terms | 2 Guests | 3 Guests | 4 Guests | 5 Guests | 6 Guests |
| --- | --- | --- | --- | --- | --- | --- |
| Winter 2021 to 2022 | All Inclusive | $12,000 | $12,500 | $13,000 | $13,500 | $14,000 |
| Summer 2022 | All Inclusive | $12,000 | $12,500 | $13,000 | $13,500 | $14,000 |
| Winter 2022 to 2023 | All Inclusive | $12,000 | $13,000 | $14,000 | $15,000 | $16,000 |
Additional Rate Information
Christmas Week: $15,400
New Years Week: $16,100
All rates are for 7 nights, 8 days. To prorate these rates:
For 6 nights divide weekly rate by 7 and multiply by 6
For 5 nights or less divide weekly rate by 6 then multiply by number of nights.
Rates quoted are all inclusive. On a week-long charter, 2 dinners to be taken ashore at guest's expense, so guests can have the opportunity to experience local bars, restaurants and beach barbecues – the crew will guide guests about the many options available.
PER CABIN CHARTERS AVAILABLE:
1 Pax = $3650
2 Pax = $5650 (one cabin)
Delivery fees – return trips:
SXM to Antigua – $1,000
SXM to BVI – $1,500
SXM to Grenadines – $2,500
St Vincent / Union to St Lucia – $250
Grenada to St Vincent / Union – $500
Grenada to St Lucia – $750
Grenada to Martinique – $1,000
Please inquire for delivery fees to other islands
Location Details
Summer Area: Caribbean Windwards
Winter Area: Caribbean Virgin Islands, Caribbean Leewards, Caribbean Windwards
Location Details: BVI and SXM for March 2021
Trip examples:
3 Nights / 4 Days:
SVG: St Vincent Blue Lagoon – Wallilabou – Mustique – Bequia – St Vincent Blue Lagoon
BVI: Penn's Landing (Tortola) – Soper's Hole – The Indians – Norman Island – Cooper Island – The Baths – Penn's Landing
7 Nights / 8 Days:
SVG: St Vincent Blue Lagoon – Wallilabou – Mustique – Mayreau – Tobago Cays – Union Island – Bequia – St Vincent
SVG to St Lucia: St Vincent Blue Lagoon – Mustique – Bequia – Walliabou – Soufriere (St Lucia) – Marigot (St Lucia) – Rodney Bay (St Lucia)
BVI: Penns Landing (Tortola) – The Baths & Virgin Gorda – Neckar Island & Gorda Sound – Guana Island & Little Jost – Jost Van Dijk – Norman Island – Cooper Island – Beef Island (Trellis Bay)
9 Nights / 10 Days
St Lucia to Antigua: Soufriere (St Lucia) – Marigot / Rodney Bay (St Lucia) – Les Anses D'Artlet (Martinique) – San Pierre (Martinique) – Roseau (Dominica) – Prince Rupert Bay (Dominica) – Îles de Saintes (Guadeloupe) – Deshais (Guadeloupe) – English Harbour (Antigua)
Grenada: Grenada – Carriacou – Union Island – Bequia – Walilabou – Mustique – Tobago Cays – Union Island – PSV – Carriacou – Grenada
Neil and Sam are happy to come up with a tailor-made itinerary for you.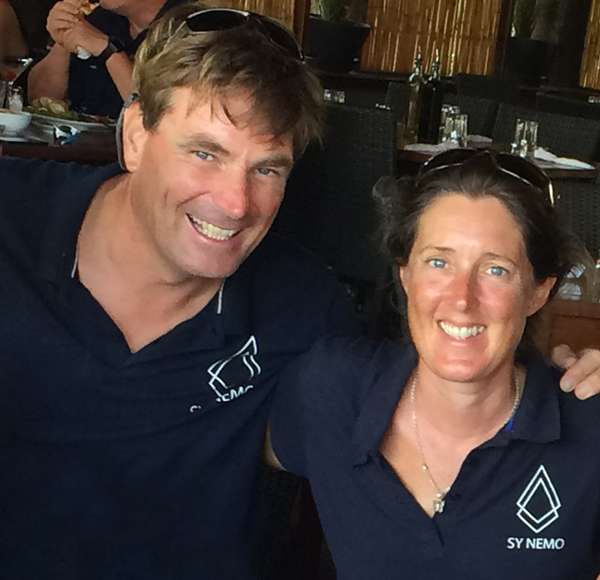 CAPTAIN NEIL COLLIER:
Neil is very knowledgeable and very nice. He inspires confidence, which makes him an excellent teacher and great fun to be around. Neil grew up in Birmingham. As a teenager, he was already competent at sailing many types of boats, from Hobie Cats to yachts. He was also an accomplished football player. But his greatest determination was success as a RAF fighter pilot. He spent a lot of time as a RAF cadet, flying gliders, small airplanes and honing a natural facility for mechanics and engineering. His eventual pursuit of sailing qualifications was coincidentally inspired by a RAF cadet adventure training week aboard a yacht.
Neil graduated university with a degree in mechanical engineering. From there he built and ran a very successful design and manufacturing company. But after 20 years ashore he could no longer resist the lure of the sea. In 2014 Neil achieved his Ocean Yachtmaster and established a reputation for excellence and integrity teaching sailing as a RYA cruising instructor and charter skipper. He loves to involve everyone in the enjoyment of sailing and the unique peace and excitement that can be found at sea.
Neil has mentored teenage students, counseled on a telephone helpline, and taught English as a second language. His endearing charm and easy going demeanor make him very approachable and unintimidating. "Aboard NEMO we have an interactive charter style," says Neil. "We encourage a hands-on approach with sailing and watersports. I especially enjoy teaching beginners. During a holiday guests are relaxed and receptive, plus there is no pressure for certificates and deadlines. It is very rewarding to see guests' excitement as they improve their knowledge, even if they are already experienced sailors! Per glowing testimonials, guests wholeheartedly agree!
CAPTAIN/CHEF SAMANTHA BURROUGH:
Samantha Burrough, affectionately called Sam, is truly a citizen of the planet. Her father was a RAF fighter pilot and growing up on bases in the UK, Germany and Belgium offered many privileged experiences. Sam had ponies and competed in dressage, show-jumping and cross-country. In Germany, fabulous skiing, just out the back door, consumed her weekends. Most of all, living abroad instilled a love of international travel.
Sam was super excited about a future working in Europe and studied German, Spanish and politics at Bradford University where she earned a BA Hons. Despite training to do simultaneous translation, she applied her language skills in the global IT industry. For the next 20 years, she was living the dream in Italy, Spain, Germany, Singapore, Australia and the US. It was in San Francisco, sailing around the bay, that first inspired a career change. She obtained US sailing qualifications, then her Yachtmaster in the Caribbean.
Sam speaks fluent English, German, and conversational Spanish. She also has an impressive repertoire of Italian food words. Because, it was Italy that ignited her passion for cooking. She took a one-month cordon bleu cookery course and was then whisked off to work in the Italian alps. In a word, "fabulous"! As the Chef aboard NEMO, Sam brings a range of cooking styles and flavors to the table, including Italian. Her menu has repeatedly earned her rave guest reviews, such as "seriously delicious", for her Roasted Mahi Mahi with Feta & Herb Crumble. Guests also admire her endless energy, attentive caring, and most delightful sense of humor. Aboard NEMO, prepare to eat, drink and be merry!
Crew Interview with Neil & Sam: https://www.youtube.com/watch?v=22_c0JHiKMY
| | | | | |
| --- | --- | --- | --- | --- |
| Captain | Neil Collier | British | 1970 | English, German, conversational Spanish |
| Crew | Samantha Burrough | British | | |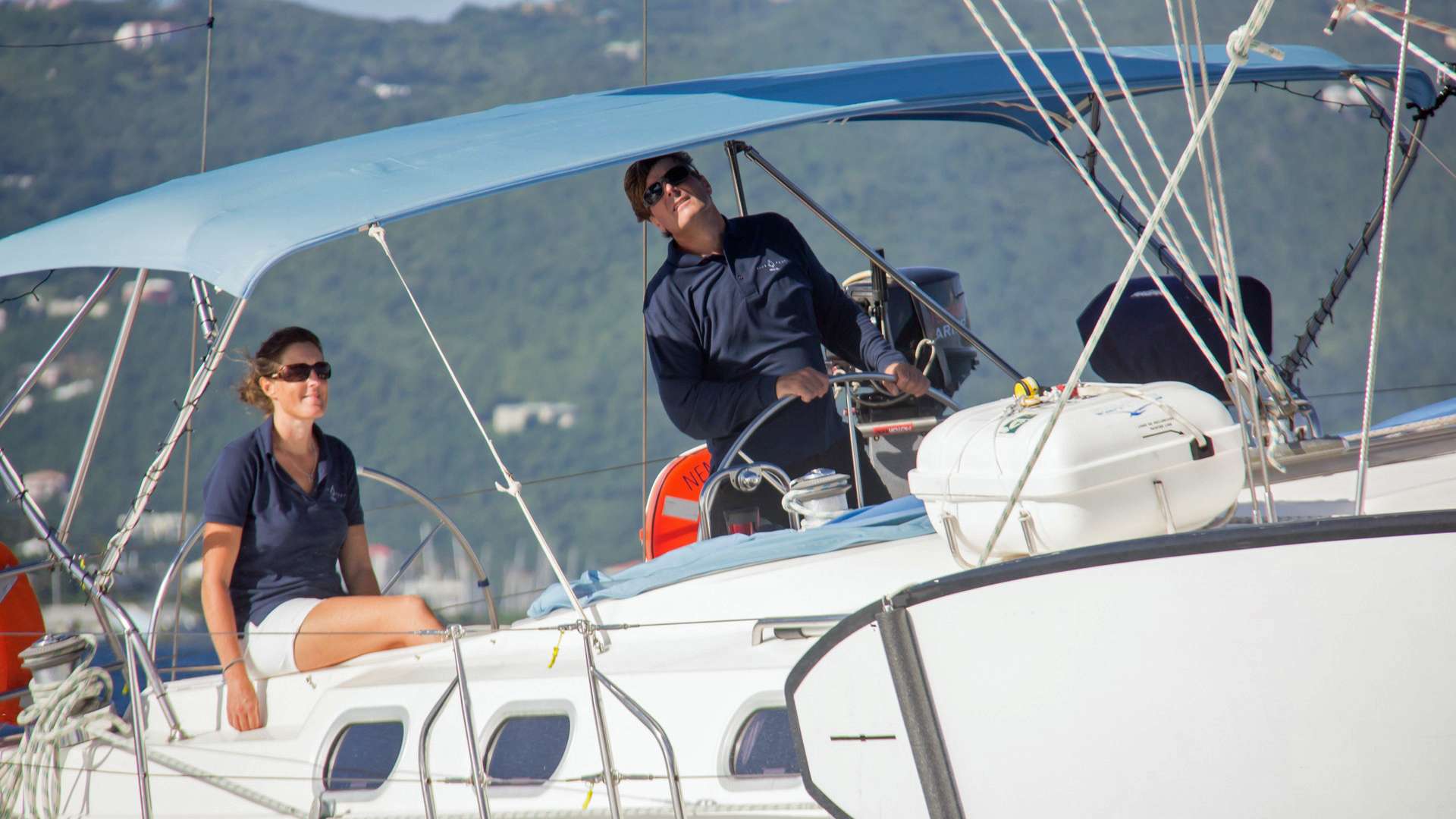 Captain & Chef
Neil & Sam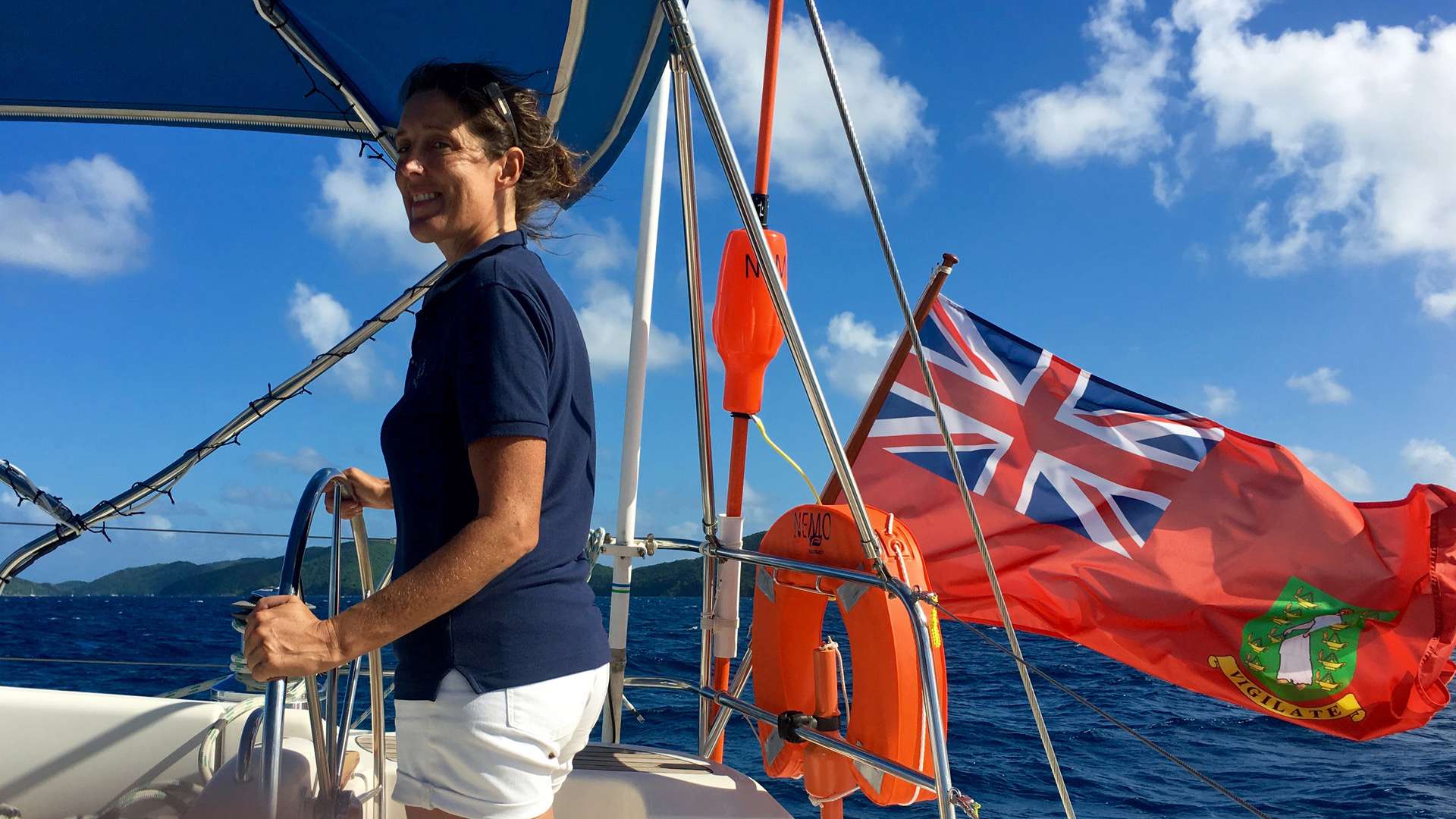 Sam at the helm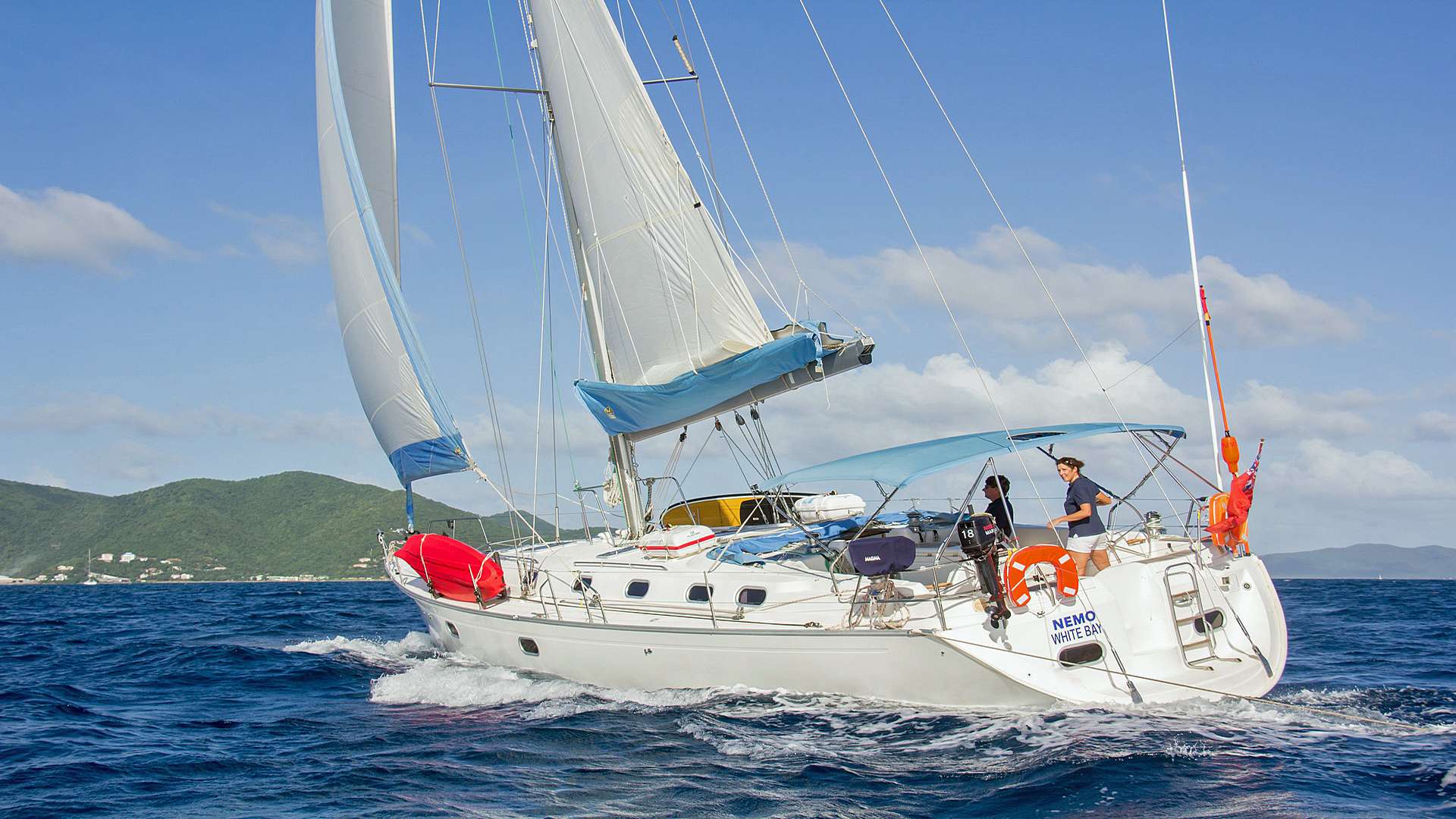 Come Sailing with Neil & Sam!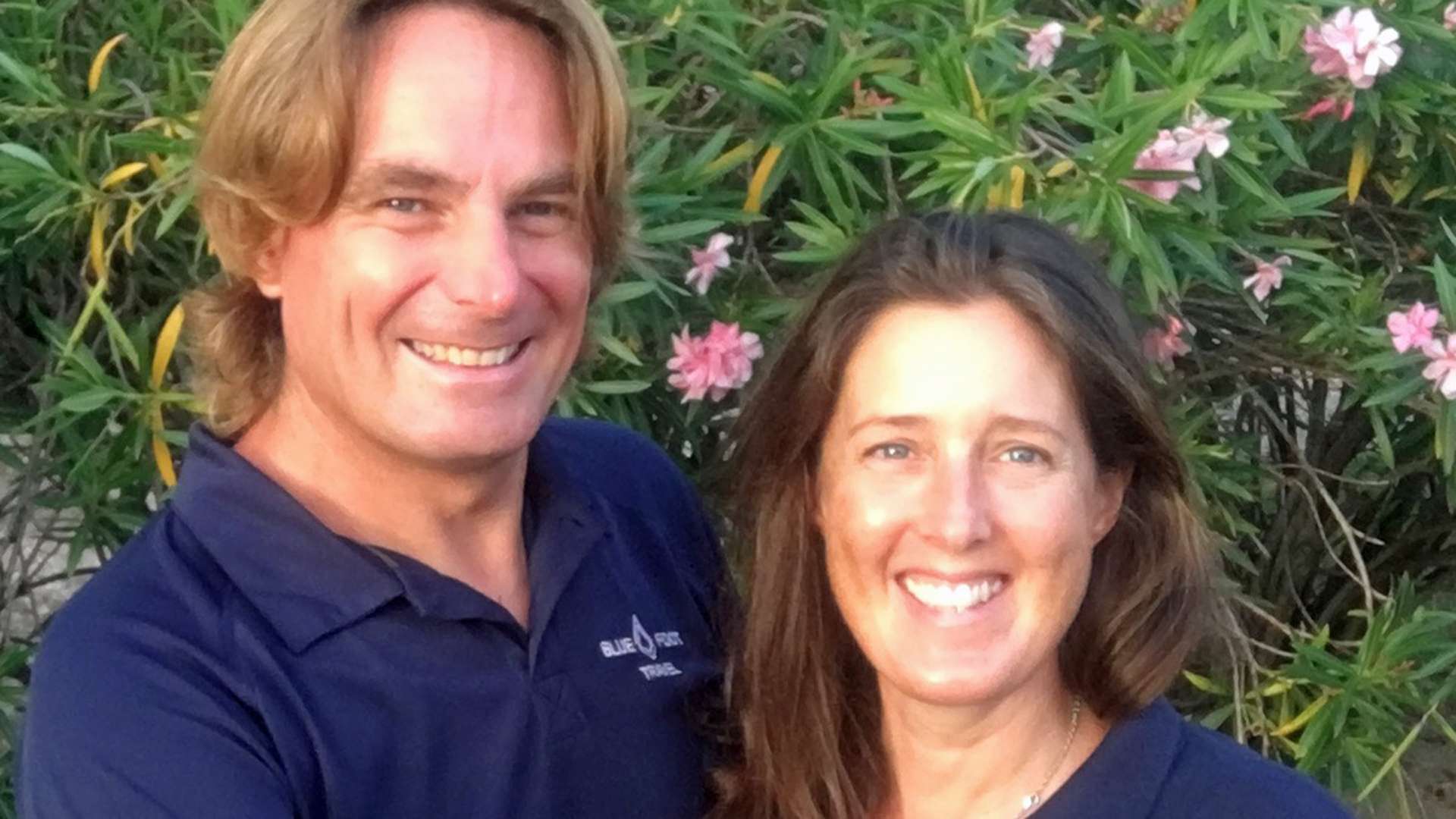 Neil and Sam happy to be sailing on NEMO!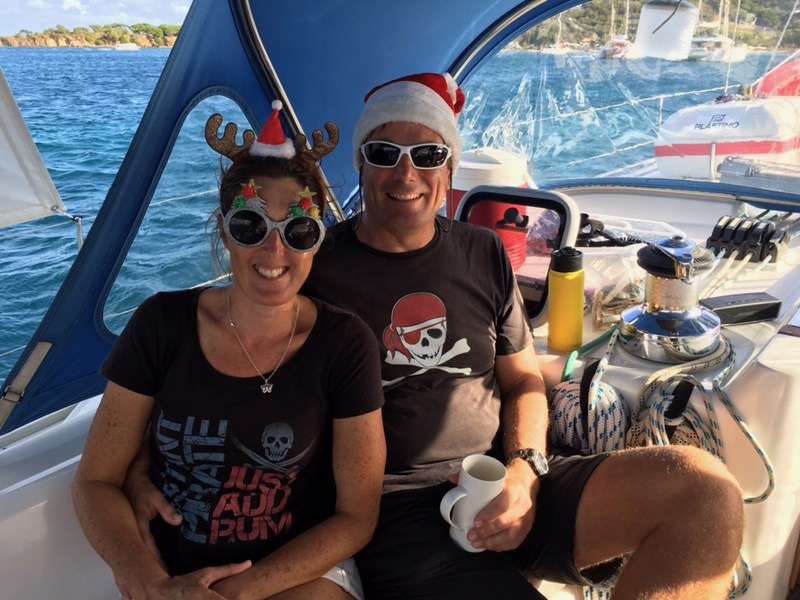 Sam and Neil in the Christmas spirit!!
General
Guest Smoke
Yes / Back of yacht / downwind
Min Child Age
5 years & can swim
Other Toys
1 floating arm chair, 2 x inflatable mattress for deck and shore (Kaisrs)
Beach games: kite, ball etc
Underwater video: GoPro

S/Y Nemo has a wooden interior with lots of light throughout as she has 29 hatches / port lights. The main saloon and dining area is open plan, light and airy, and can comfortably sit six guests, all of whom can sit back, relax and enjoy the delicious breakfasts, lunches, aperitifs and dinners served on board. All the new upholstery is cream to continue the light and airy feel.
The cockpit is one of S/Y Nemo's best features. Her twin helm design and pass-through transom combine to create a great space when sailing and an extremely comfortable area to relax in. Guests tend to enjoy dinning on deck the most, and here S/Y Nemo can also easily sit all six guests. Her swimming platform provides great water access, as well as easy access to the dinghy, kayak and paddleboard. On deck we have Kaisrs and a hammock for guests to relax and soak up the tropical sunshine on.
All guest cabins are queen-sized cabins, and have an ensuite shower room. The maximum capacity is 6 pax, but the 4 cabins are a great choice for single guests.
Each of the four guest cabins has three windows, and one in the ensuite, continuing her light and airy feel. Two of the cabins can also be converted into twins. The crew have a separate cabin and ensuite. All the cabins have electric fans.
Each cabin is themed with art to support wildlife we 'adopt' annually through the WWF – Blue Footed Booby, Green Sea Turtle, Bottlenose Dolphin, Brown Pelican, Humpback Whale and Harbour Seal.
Salon headroom: 6' 6"
Cabin headroom: Aft: 6'4", FW: 6'5"
The Dolphin Cabin (Port Forward). Has 1 electric fan.
Queen Layout: L 6.5 x W 4.9 ft
Twin Layout: 2 x L 6.5 x W 2.5 ft
The Seal Cabin (Port Aft). Has 1 electric fan.
Queen Layout: L 6.5 x W 4.9 ft
The Turtle Cabin (Starboard Forward). Has 1 electric fan. Queen Layout: L 6.5 x W 4.9 ft
Twin Layout: 2 x L 6.5 x W 2.5 ft
The Pelican Cabin (Starboard Aft). Has 1 electric fan.
Queen Layout: L 6.5 x W 4.9 ft
We can cater for Vegetarian, Celiac and Alergies – Nuts, Citrus Fruit, Onion, Chocolate etc
We use the freshest ingredients available to us on the islands and will often pop into markets as we island hop to pick up local fresh vegetables and fruits.
Breakfast
Every day we will offer a variety of the following:    
Tea or Freshly Ground Coffee
Fruit Juices & Fresh Fruit
Natural Yoghurt with Island Honey  
A selection of Cereals and Mueslis    
Freshly baked Banana Bread
Fresh Bread or Toast
Granola, Yoghurt, Berry & Passion Fruit Parfait    
Pancakes with Maple Syrup
Muffins or Bagels with Marmalades
Eggs made many ways…Scrambled, Poached, Baked, Omelette or Mini Stratas
 Snacks
Biscuits, Snack Bars, Brownies, Cakes and Fruit
 Lunch
We will be serving yummy dishes. Examples of our lunch menu are:
Salad Olivieh (Persian Chicken Salad) with Green Salad and Pitta Bread
Le Migliori Polpette Di Tonno (Tuna Meatballs) with Spaghetti
Ciabatta or Pitta sandwiches with a selection of delicious meat and cheeses
A delicious Salad Niçoise
Tortilla Española with Green Salad
Rigatoni with Sweet Tomatoes, Aubergine, and Mozzarella
Spinach & Bacon, Vegetarian or Gluten-free Quiche served with Potato & Green Salad
Pasta alla Siciliana
 Dinners Aboard
Dinners aboard are a social and delicious affair. Examples of our dinner menu are:
Tuna Bakes followed by Cheese and Charcuterie Platter with Salads, Fresh Breads & Crackers
Homemade Hummus with Baked Pita Chips followed by Chicken and Vegetable BBQ Skewers with Herbed Feta Dressing and Sides
Buttery Corn-on-the-Cob followed by BBQ Pork Ribs with Homemade BBQ Sauce, Stuffed Christophines, Tomato Salad & Green Beans
Mango Chutney Cheese Ball followed by Tasty Thai Green Prawn Curry with Baby Bok Choy and Cashews
Rum Glazed Baked Camembert served with Sliced Apples and Fresh Bread, followed by Grilled Jerk Chicken with homemade Coleslaw, Green Salad and New Potatoes
Italian Soldiers followed by Roasted Mahi Mahi with Feta & Herb Crumble, Creamy Mashed Potatoes and Courgette & Tomato Tian and a dessert of Caribbean Tiramisu
Ed Hamilton & Co. endeavors to provide the most up-to-date yacht information, availability and rate details, however, all information published on this site is subject to change without notice. Please contact us for the most current yacht information, availability and rate details.