Guests

8

Cabins

5

Model

Cat

Year Built

2020
Additional Rate Information
Additional Rate Information
Charter Rates Per Week
| Rate Period | Terms | 2 Guests | 3 Guests | 4 Guests | 5 Guests | 6 Guests | 7 Guests | 8 Guests |
| --- | --- | --- | --- | --- | --- | --- | --- | --- |
| Winter 2022 to 2023 | Inclusive | $18,450 | $18,950 | $19,450 | $19,950 | $21,500 | $21,800 | $22,200 |
| Summer 2023 | Inclusive | $16,605 | $17,055 | $17,505 | $17,955 | $19,350 | $19,620 | $19,980 |
Additional Rate Information
MINIMUM NIGHTS: 5 (Inquire for less) – for 6 night charters, divide weekly rate by 7 nights X 6 nights. For 5 nights or less, divide weekly rate by 6 nights and multiply by the number of nights.
RELOCATION FEES: **No relocation fees for Summer 2023 Bookings**
Neuroseas will travel up to Martinique in the north and Grenada in the south.
Grenada Drop Off or Collection : $750US
St Lucia Drop Off of Collection : $750US
HALF-BOARD: Includes: 7 breakfasts, 4 lunches & 3 dinners. Requires 3 lunches & 4 dinners ashore at client expense.
Subtract $150US/person from the weekly rates.
CHILD SPECIALS : Where one child is under 5 years, this child is not counted in the price. E.g. 4 adults and one child under 5 years can be charged at the 4 pax rate.
XMAS AND NEW YEAR : $24,840US / 7 nights / All Inclusive
ADDITIONAL CHARGES:
Mustique Mooring $85US, Canouan Marina $100US, Tobago Cays Fees $40 – $60US.
Gratuities at 15 – 20% Payable in cash onboard
Itinerary : Charter starts are typically from one of the Grenadine Islands or St Vincent. St Lucia, Grenada and Martinique starts also available.
Location Details
Summer Area: Caribbean Leewards, Caribbean Windwards
Winter Area: Caribbean Leewards, Caribbean Windwards
Location Details: 2022 – 2023 (Sept) – Based in Grenadines.
Charter Start options: St Lucia Rodney Bay, St Lucia Marigot Bay, St Vincent, Bequia, Canouan, Mustique, Le Marin, Port Louis Grenada.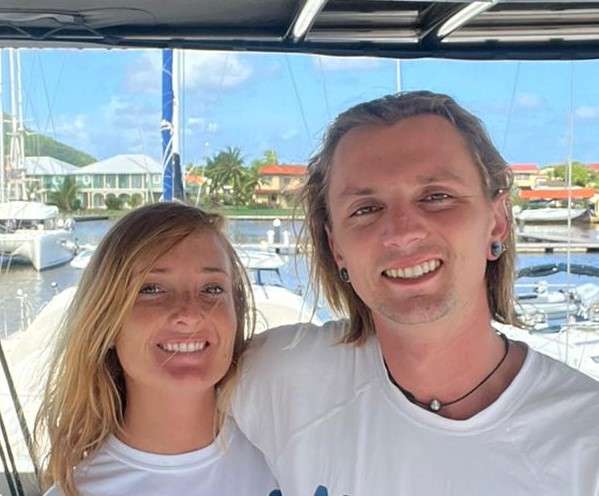 Captain Zander
During his childhood, Zander spent summers exploring all parts of Washington including the beautiful San Juan Islands and the Cascade mountains. He also heavily enjoyed sports like soccer and snowboarding when the colder weather settled in. He grew up with a family that had adventuring in their blood, from SCUBA divers and sailors to backpackers and explorers on both sides. When it's time to relax, Zander's favorite games included chess and billiards, which he still always loves to bring around for a friendly challenge.
Zander graduated with a degree in marine ecology and studied coral conservation in Thailand which he is still passionate about today. While in education he was a whale watching guide where he discovered the beauty of working with people on the water and sharing his love for the ocean. However, after sailing across the Pacific Ocean he realized that life aboard a sailboat is the best life for him and trained as a professional yacht captain.
With Zander's diverse range of knowledge and experience he is very comfortable on any vessel he is skippering and his love for the ocean allows him to bring a relaxed and joyful experience to all his guests.
Chef Amanda
Chef Amanda's passion for cooking and travel has taken her all over the world gaining a diverse set of skills. Her favorite place she worked as a chef was in the mountains of Ecuador where she was free to create and experiment with new dishes. Following this, whilst going to school for Studio Art she eventually landed in Hawaii where she was able to cook and apprentice under Master Chef Phillipe Chin.
Amanda's love for the underwater world also let her explore new skill sets which led her to becoming a professional underwater videographer for Manta Rays and Dolphins. Love of the Hawaii islands and culture kept her there for 10 years and she now calls Lahaina, Maui her home. She has worked as a whale watching guide, marine naturalist, a diver for a semi-sub, a cook, a hostess and a boat captain.
Her dedication and hard work first allowed her to become first mate on a voyage to Tahiti, Palmyra Atol, New Zealand and various places around the Caribbean. Through her travels she has been able to learn various local delicacies that she loves incorporating into her cooking. Her drive and dedication has given her valuable experiences and knowledge which only travel and time at sea can provide.
Amanda spends much of her spare time in the water; snorkeling, freediving, and spearfishing. She enjoys BBQ'ing on the beach with friends, jumping off waterfalls, a good book in a hammock and playing chess. Fortunately, she has been able to blend her love for sailing, cooking, videography, free diving and marine education.
Amanda has worked as first mate and chef on various charter vessels from 40 – 60ft over the past 10 years and more recently together with Zander. Her cooking and menus have developed during her travels and vegetarian, tapas, vegan and gluten free requests can be easily accommodated. She enjoys creating healthy fresh meals with locally sourced ingredients and combines cooking with excellent customer service and a good knowledge of bar tending. Most importantly, Amanda's diving and fishing skills mean there will be fresh fish on the menu!
Zander and Amanda have worked on crewed charter vessels together since they met. Arriving in the Grenadines in September 2022, they have over 3,000 nautical miles together operating crewed charters and are fulfilling their common dream to create unique experiences together in the Grenadines for their charter guests. Amanda has a warm personality, responsible nature, and excellent sense of judgement. This is matched with strong water skills and an eclectic knowledge of the culinary arts. Zander was born into a family of sailors and explorers and was sailing before he can talk. He has an calm and attentive personality with a wide range of knowledge about sailing and the marine environment. They look forward to welcoming you onboard NeuroSeas to experience the real Grenadines, the sailing, the marine life and the true caribbean culture.
| | | | | |
| --- | --- | --- | --- | --- |
| Captain | Zander | American | 0 | English |
| Crew | Amanda | American | | |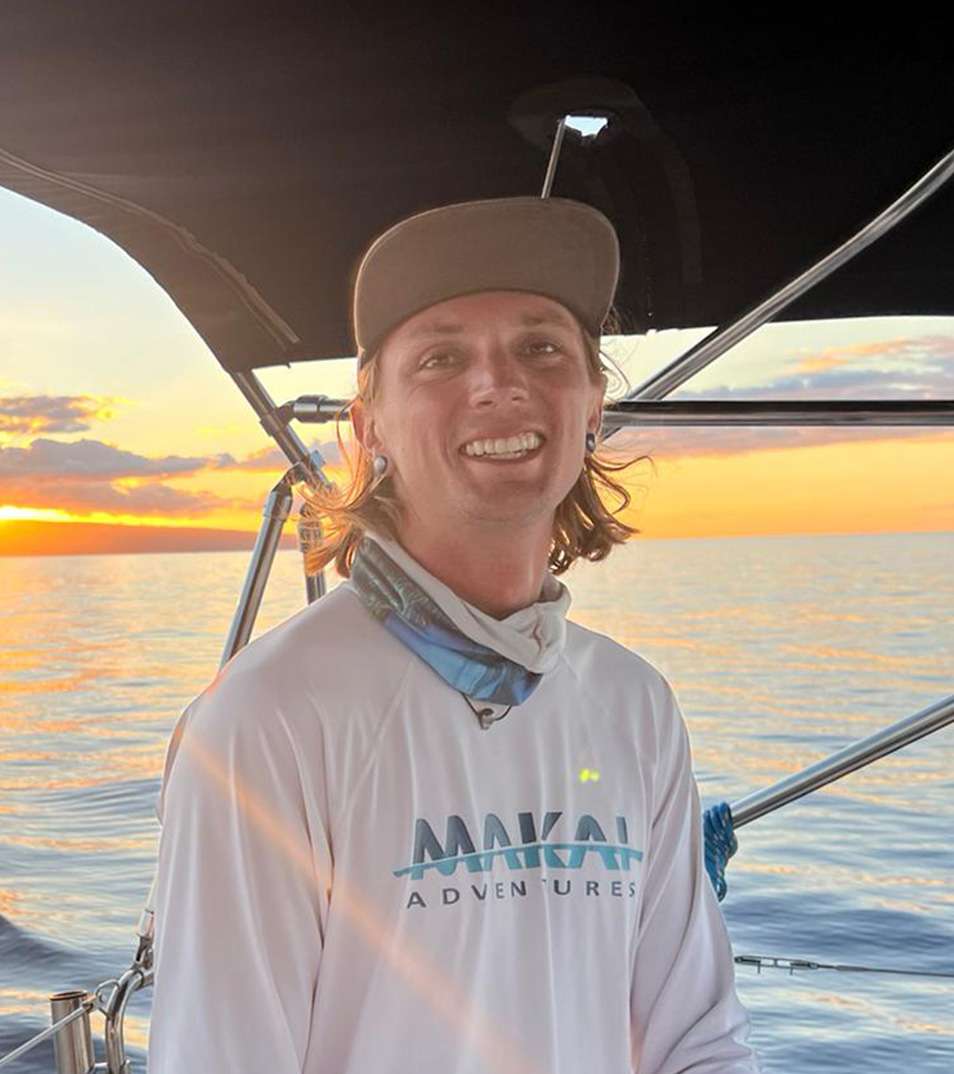 Captain
Zander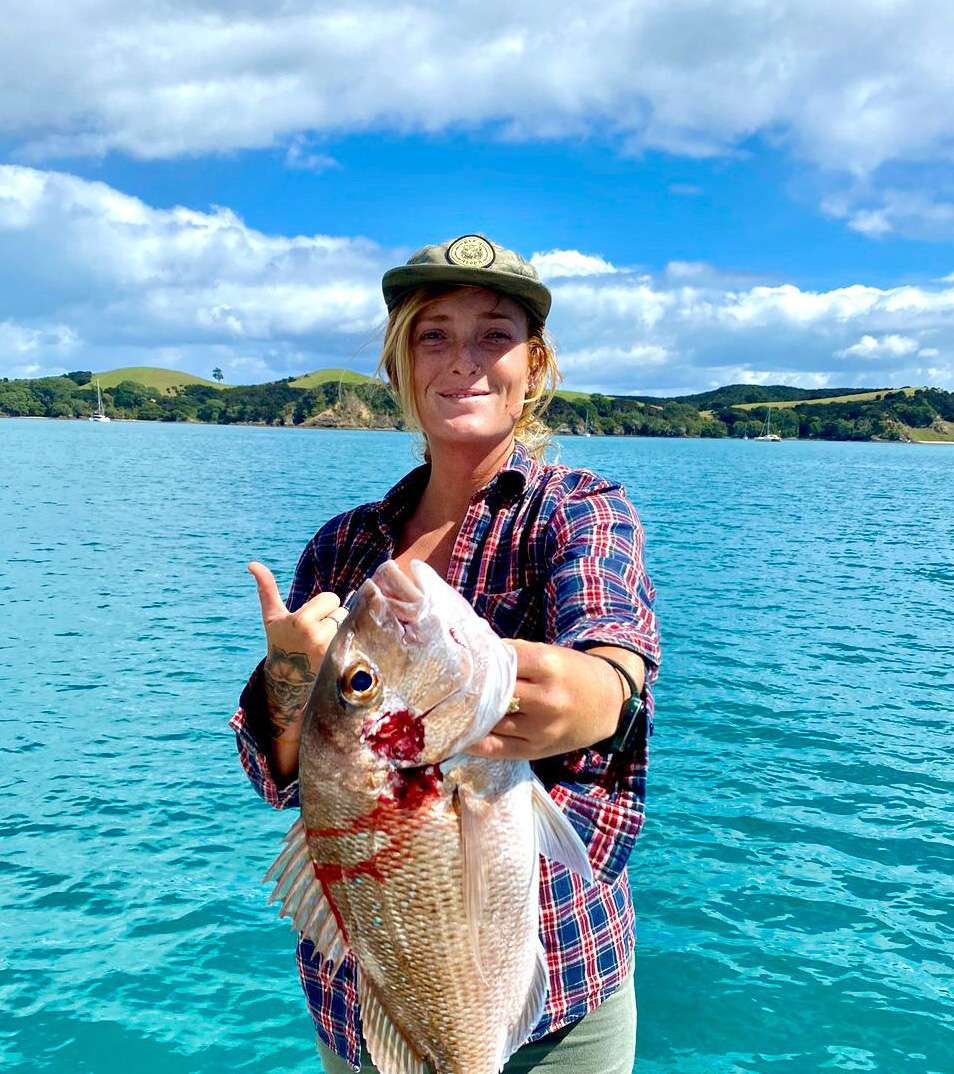 Chef
Amanda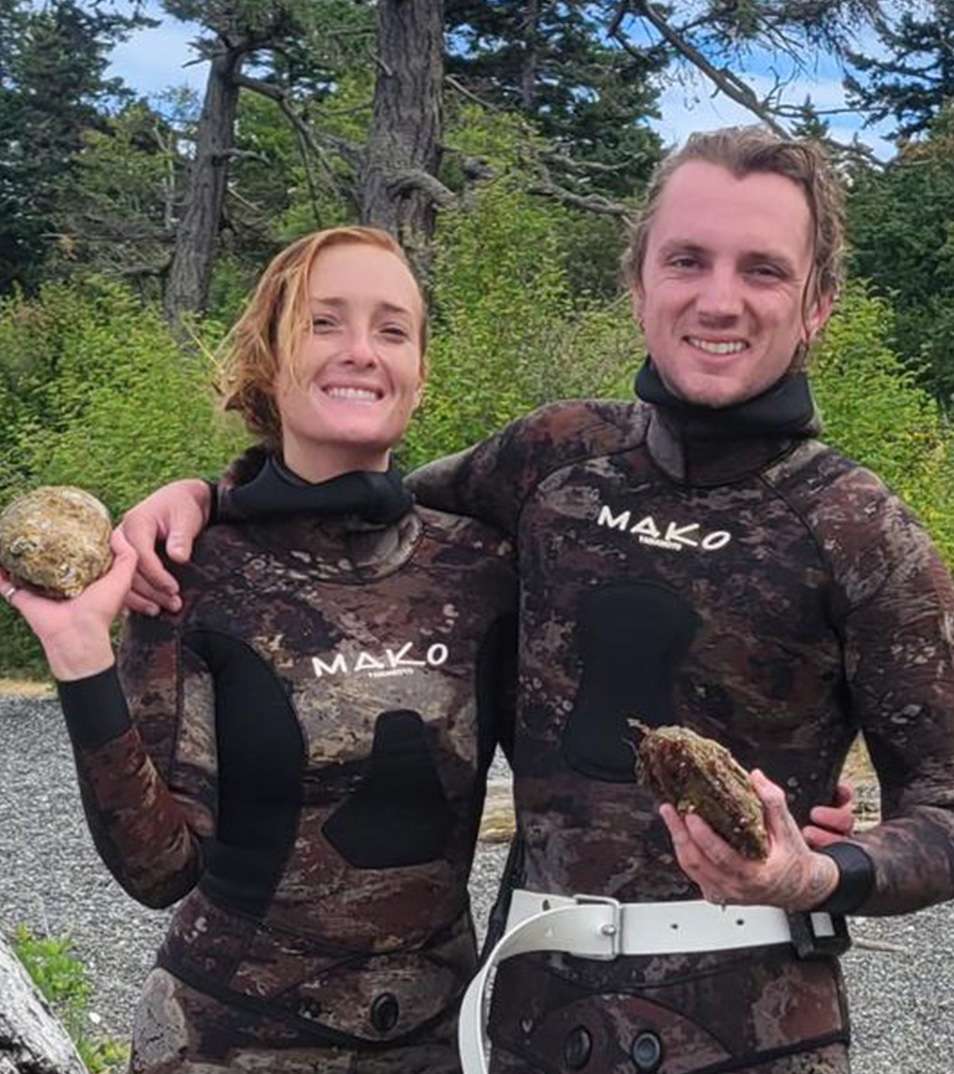 Leisure
Dive Info
For small groups, dive equipment can be provided on board for use during the charter and tanks refilled from all islands. Dive Guides can meet guests and take them diving from the boat (and bring new tanks each dive as the yacht doesn't have a compressor) or a Dive Guide can be booked as a third crew member for the week (sleeps in the pulmans berth forward).

A local Dive Guide is required by law in many of the Dive Sites in the Grenadines.
Dive Costs
Rendevous Diving $140 - $180US / 2 Tank Dive / person in the northern Grenadines. A private dive boat for rendevous diving in the southern Grenadines can be $200 -$600US per trip.

PADI Lessons - please enquire
Other Specs
Other Pickup
St Lucia or Martinique
Water Capacity
237.6 gallons
Kite Boarding Details
Experienced Kiters can launch from the beach or boat in the Grenadines and crew will provide dinghy support. Less experienced kiters must take lessons or book a Kite Guide. The Guide can be provided on a daily basis for Rescue and Some Instruction (Surcharge Applicable). No Gear is provided onboard.
Fish Gear Type
Trolling Lines
Green Other
Do not use plastic bottles.
Scuba Onboard
Yacht offers Rendezvous Diving only
Communicate
Wifi Hotspot for Checking Emails
Other Toys
- Inflatable Noodles
- Inflatables Loungers
- Yoga Mat
- Inflatable Tube for Towing
- Hammock
- Children's Kayaks on request


Neuroseas accommodates 8 guests. She has Three Guest Queen Cabins with Two en-suite dry electric heads and separate shower One en-suite wet electric heads and separate shower. There is One Bunk Cabin with two single beds with a private heads/wet shower. Additionally there is a single pulman berth with en-suite heads/shower forward, accessible from the deck or the port cabin (with prior arrangement).
BREAKFAST 
Breakfast each day will consist of fresh coffee, tropical juices and freshly brewed tea. All breakfasts come with fresh fruits, toasts and a choice of sides.
Amanda'a breakfast burrito stuffed with scrambled eggs, bacon, herb smashed potatoes, avocado, pico de gallo, shredded cheese and special sauce.
Supreme Omelette topped with fresh herbs and a choice of fresh local veggies, proteins and cheeses
Spinach avocado benedict with sauteed spinach, avocado, poached egg, hollandaise and mango salsa. 
Stuffed cinnamon apple french toast with toasted coconut and dark chocolate chips with a choice of syrups.
Avocado Toast on grilled sour dough, topped with bacon, poached egg, ripe tomatoes. 
Homemade Banana Pancakes topped with toasted coconut and dark chocolate chips with maple or coconut syrup.
Yogurt layered with fresh fruit, granola, passion fruit sauce and toasted coconut. 
PUPUS 
Fresh Lemon, Cilantro, and Cajun Seasoned Shrimp Cocktail
Lobster Cake with Roasted Poblano Chile, Cilantro, Onions and A Dijon Mustard Aioli
Tahitian Poison Cru with Fried wontons
Ceviche with Tortilla chips
Loaded quasadilla with a choice of chicken, cheese, cabbage, black beans, corn tostaga, mango salsa and pickled red onions.
Parmesan Lobster Brushetta with Blackened Seasoning
Caribbean Chicken Wings
Smoked Deviled Eggs
Coconut Fried Shrimp

SALADS
Spicy Caeser salad with lettuce, shaved parmesan cheese, bacon and garlic herb croutons
Caprese Salad with Tomatoes, Mozarella Cheese, Basil and Balsamic Glaze
Roasted Beet and Goat Cheese Salad with Arugula, Avocado and Roasted Walnuts with a Dijon Balsamic Dressing
Greek Salad with Baby Greens, Tomato, Cucumber, Chickpeas, Olives, Red Onion, Feta and Lemon Tahini
Arugula and Spinach Mix with Sweet Onions, Tomatoes, Roasted Cashews and Cilantro Lime Dressing.
LUNCHES
Spicy Ahi Poke Bowl with carrots, cucumbers, onions, sesame seeds on a bed of hot sticky rice topped with wasabi and spice aioli.
Blackened or Grilled Mahi Mahi Fish Tacos with a sweet miso slaw, avocado and cilantro and tropical salsa. 
Lobster stuffed grilled cheese with a creamy butter sauce, cheese, tomatows, cabbage and lava source with a side of creamy tomato soup.
California Avocado Bacon Burger with cheese, lettuce, tomato, pickles, onions, and thousand island dressing on a toasted bun with a side of sweet potato fries.
BBQ Chicken Sandwich with cheddar cheese, lettuce, tomato and onions or Pinapple Grilled Chicken Sandwich with cole slaw, cheese, tomato and red onions on a toasted bun with seasonal fries or mac salad.
Made to order thin crust pizza served with garlic bread.
Local fresh Fish bowl on a bed of rice, tropical mango salsa and basil. 
Traditional 'Rotis'
DINNERS 
Smoked Stuffed Chicken Drumstick with a Port Wine demi glaze, Herb Mashed Potatoes and a side of Roasted Brussel Sprouts. 
Sauteed Shrimp Linguini with Spice Fradiavolo Sauce.
Thai Yellow Curry with Mango, Red bell peppers, Broccoli, Cashews and Rice.
Grilled Lobster with Tropical Salads and Local Vegetables.
Grilled Chicken stuffed with Goats Cheese, Cranberry and Basil with a side of Garlic Green Beans and Roasted Almond Lemon Wild Rice. 
DESSERTS
Flowerless Molton Lava Cake with Fresh Berries 
Chocolate Mint Cheesecake or Lemon Tart and Blueberries Cheesecake or Lilikoi Cheescake
Chocolate covered Strawberry Fudge Brownies
Caribbean Rum Cake 
Toasted Coconut Cream Cake 
Ed Hamilton & Co. endeavors to provide the most up-to-date yacht information, availability and rate details, however, all information published on this site is subject to change without notice. Please contact us for the most current yacht information, availability and rate details.