Guests

6

Cabins

3

Model

Sail

Year Built

2015
Additional Rate Information
Additional Rate Information
Charter Rates Per Week
| Rate Period | Terms | 2 Guests | 3 Guests | 4 Guests | 5 Guests | 6 Guests |
| --- | --- | --- | --- | --- | --- | --- |
| Summer 2022 | Inclusive | $15,700 | $16,200 | $16,700 | $17,800 | $18,900 |
| Winter 2022 to 2023 | Inclusive | $15,700 | $16,200 | $16,700 | $17,800 | $18,900 |
Additional Rate Information
Christmas week or New Years week:
up to 6 guests US$21,000, all-inclusive.
Charters outside the Virgins:
Regardless of whether or not a vessel may or may not include taxes in the vessel's listed charter fees for Virgin Islands charters, in general, no fees, port dues, nor taxes are included in the charter fee for any charter outside the Virgin Islands unless otherwise agreed.
Location Details
Summer Area: Caribbean Virgin Islands (US)
Winter Area: Caribbean Virgin Islands (US)
Location Details: Ocean Star is based from St. Thomas for USVI charters.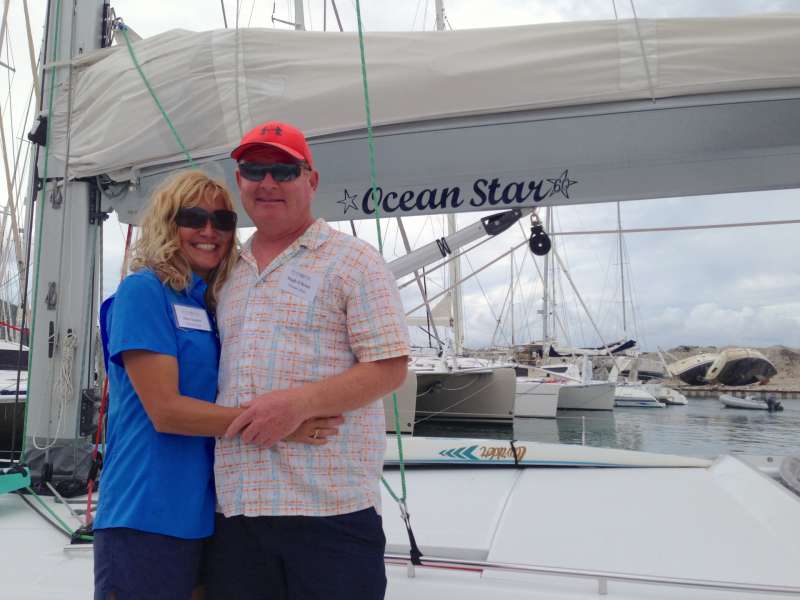 Capt. Hugh – Born in England, now permanent US Resident with a family home in St Augustine, Florida.
Hugh started competitive sailing and ocean racing in the UK & France in 1987 (30 years experience). He completed the intensive Royal Yachting Association (RYA) Yachtmaster 300 Ton Sail & Power Commercial License in 2002, and worked as a Captain & Chef in commercial yachting in the Cayman Islands, Virgin Islands, USA & Asia.
Hugh ran a 50 ft Crewed sloop as a Captain/Chef in the Virgin Islands from 2007-2011.
A 20 year career in Marketing & Sales for IT & Database companies saw Hugh working in some 20 countries and heading up operations in Europe, US, Asia & Latin America.
In 2017, Hugh purchased a new 60 ft Beneteau sloop (Ocean Star) with his partner Ellen in Charleston, leading to a maiden season for the yacht and crew in the Virgin Islands for 2018.
Hugh attended culinary classes in Europe, Japan and France, and specialises in Mediterranean and Asian fresh food dishes with premium ingredients.
Hugh is a social drinker but non smoker, no drugs, no criminal record, clean licenses and a broad sense of humour when trying to catch fish!
Vivianne Swietelsky
Chef/First Mate Ocean Star
Vivianne, or "Chef ViVi" is based in St Thomas & Miami. She is known for her authentic interpretations of the world's great cuisines – American, Mediterranean, Southeast Asian, Indian & Latin American – as well as for being an outstanding pastry chef and cocktail mixologist. For as far back as she can remember, Chef Vivi has been passionate about food and the artistry of its preparation.
Born in the U.S. to an Italian father and a Venezuelan mother, she grew up in the United States, Italy, Switzerland, Germany, and Mexico, and is fluent in five languages. Her family life revolved around the enjoyment of great food and her mother taught her to cook instinctually, from the heart. Another one of Chef ViVi's passions is sailing, and she has enjoyed working on sailboats around the world. She also has an ASA Certificate for Offshore Sailing gained in the U.S. Virgin Islands and has owned and operated several Beneteau yachts.
| | | | | |
| --- | --- | --- | --- | --- |
| Captain | Hugh O'Brien | UK | 1961 | |
| Chef | Vivianne Swietelsky | USA | | |
General
Min Child Age
Swimmers pref'd
Other Specs
Scuba Onboard
Yacht offers Rendezvous Diving only
A master king suite forward, and two queen berth suites aft, one of which may convert to a twin-berth suite
Sample menu plan :-
Breakfasts
Available every morning as a crew & guest breakfast or brunch substitute!
"Ocean Star's Wellness Smoothie"
(Includes Bananas, Blueberries, Strawberrries, Spinach, Kale, Almond Milk, Greek Yogurt,
Honey, Chia Seeds, Flax Seeds, Hemp, Cacao Nibs, Turmeric. Acai Powder, Cinammon, Cayenne Pepper)
Tailored to suit dietary needs and likes. Tastes so much better than it sounds!!
"Chef Hugh's Breakfast Diner" 5am to 11am
Wake up to fresh brewed Swiss coffee with croissants or muffins, baked to dietary needs.
1. Fresh berries & granola parfait
2. Tuscan Farmers Fritata (Organic eggs with grilled bacon & vegetables)
3. Banana stuffed French Toast with Blueberry Coulis
4. Eggs benedict a la mode (solo or with spinach or salmon)
5. Traditional custom eggs wth choice of sides
6. Blueberry pancakes with organic honey, mascarpone and fresh berries
7. Custom omelletes with green salad.
"Chef Hugh's Lunch Truck"
1. Kale Salad with apples, cranberries, pine nuts and pecans– Gluten free
2. Asian chopped salad with ginger dressing
3. Thai styles grilled snapper lettuce wraps with ginger sauce. 
4. Peanut sesame slaw with soba noodles
5. Butternut Squash Chipotle Chilli
6. Lebanese Lamb Lollipops with rice salad.
7. Spicy Thai lettuce wraps
"Chef Hugh's Global Restaurant Dinner Menu"
1. "Shrimp la forchet" – New Orleans favorite!  Twice lightly grilled shrimp with white wine garlic, rosemary and chilli to taste. Served with garlic and pine nut couscous.
2. "Lemon Sea Salt Garlic Oiled Crab Linguine" – Sicilian Favorite! Jumbo lump crab seasoned with a fresh made olive oil paste infused with lemon zest, garlic & himalayan pink salt, tossd with watercress, italin parsley and served over fresh linguine that is finished    with European butter and cracked pepper.
3. "Alskan Halibut Bake" – A Northern lights, dark nights favorite! Premium Halibut baked in white wine, cream, butter and parsley and covered in a delicate layer of potatoes. Served with a medley of fresh grilled vegetables in orange zest.
4. "Venetian Rich Penne Pasta" A Med favorite!  Penne infused in a sauce drawn feom sundried tomatoes, mushrooms, red onions and pine nut pesto with red chili & cilantro garnish to taste.
5. "Peruvian Pesto" A Latin American superfood!  Your favorite pasta freshly cooked al dente and then tossd in this Peruvian favorite pesto sauce with powerful basil, spinach, green beans, onion and white cheddar garnish.
6. "French Filrt Mignon grilled to order, seared in butter with a red wine jus reduction. Served with garlic roasted potatoes, grilled vegetables and steamed broccoli.
7. "Japanese Salmon & Avocado Grill" – Japanese terriyaki glazed salmon served with grilled breadcrumb covered avocado served with Sushi rice and steamed vegetables.
"A La Carte" always available on Ocean Star! Just ask Hugh or Doris to cook or prepare what you love or your favorite recipes?"
Ed Hamilton & Co. endeavors to provide the most up-to-date yacht information, availability and rate details, however, all information published on this site is subject to change without notice. Please contact us for the most current yacht information, availability and rate details.