Guests

6

Cabins

3

Model

Cat

Year Built

2014
Additional Rate Information
Additional Rate Information
Charter Rates Per Week
| Rate Period | Terms | 2 Guests | 4 Guests | 6 Guests |
| --- | --- | --- | --- | --- |
| Winter 2019 to 2020 | All Inclusive | $27,000 | $28,000 | $29,000 |
| Summer 2020 | All Inclusive | $27,000 | $28,000 | $29,000 |
| Winter 2020 to 2021 | All Inclusive | $27,000 | $28,000 | $29,000 |
Additional Rate Information
Rates are plus expenses and Greek VAT
Location Details
Summer Area: W. Med -Naples/Sicily, W. Med – Spain/Balearics, Croatia
Winter Area: W. Med – Spain/Balearics
Location Details: Summer 2021:
May and June – Balearic Islands, Italy or Croatia
July onward – Croatia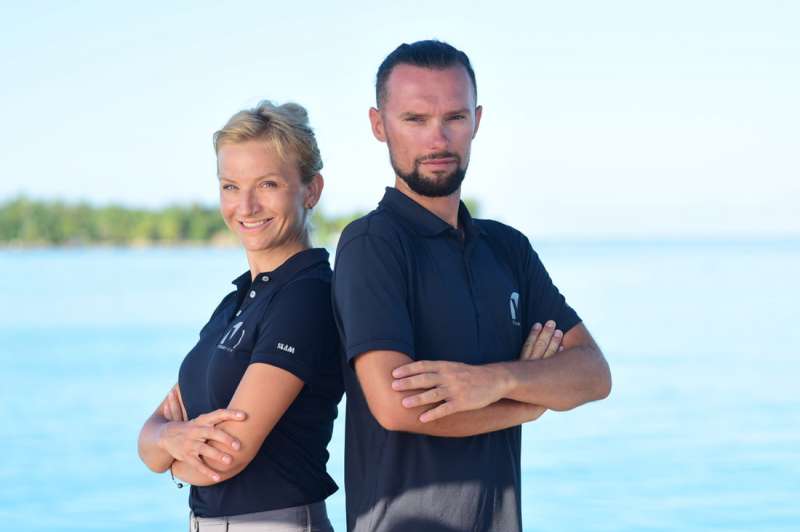 Captain: Maciej Boron
Maciej has been sailing as a skipper on monohulls and catamarans all over the world, with more than 70,000 Nm under his belt he has crossed the Atlantic Ocean several times and led many deliveries, charters and private cruises.
He holds (among many others) the RYA Yachtmaster Ocean Certificate Commercially Endorsed and has a great knowledge of sea safety, first aid and nautical engineering. As a lifelong sailing teacher, he shows excellent interpersonal skills and does his best to nurture a safe, positive and calm atmosphere on board. He is a skillful motorboat operator and will make your tender excursions easy and pleasant. He will also accompany you with all the water sports. He is a life-long learner, always eager to sail, dive or tell enthralling stories from across the seas!
Chef: Krystyna Roszak
Krystyna has been passionate about food for as long as she can remember. Traveling all around the world, cooking with the best chefs or local tribesmen; her curiosity, awareness, and courage made her a creative and skillful chef. Her food is well balanced, free of artificial ingredients, fresh and colorful. She can cater to guests with any dietary requirements and will also advise for wine or whip up a creative cocktail.
She gladly shares her knowledge of natural therapies and nutrition and takes care of the wellbeing of our guests. As a certified yoga teacher, Krystyna will happily lead daily classes on board for both beginners and advanced practitioners. With her can-do attitude, she will respond to all of our guests' needs and will take great care of everyone on board.
A short interview with chef and yoga instructor Krystyna aboard Ocean View:
Q: You have such a passion for the culinary arts, what influenced you to make this your life's journey?
A: One day I just asked myself what I really, really like doing. And I started doing it! I believe that you can be good at things just by practising, but you'll never be great if you don't do it following your heart. I do follow mine. I live, my life is my work, my work is my passion, my guests are my life. A perfect unity 🙂
Q: What do you consider to be your signature dish/es and cuisine style/es?
A: Oh, there are so many styles I love. I match fine cuisine with healthy cooking. I cook with love, respect and smile to both the food and those who eat it. I do magic with vegetables, even the kids start enjoying them:-) Sometimes we fish with full respect to the killed animal and then I serve my absolutely delicious ceviche. I love Middle Eastern food, Arabic influences, Thai and Japanese. And I adore making cheesecakes. No limits for creativity here.
Q: Yoga plays a large part of your daily routine, and you enjoy sharing your expert instructor knowledge with others if guests wish to join you (free of charge aboard Ocean View), what should they be looking forward to?
A: I adapt the classes to my guests, so any level is welcome. We can do private sessions or group classes, all up to their preferences. The total beginners, children or elderly, people with any health issues – everyone can do yoga! It's a mixture of gentle or a bit intense stretching, muscle strengthening and relaxation, with a strong accent on harmony and understanding own body, and unity with nature around. I recommend energizing early morning sunrise sessions or gentle moon yoga right before going to bed. The boat gives us a great opportunity to practise mindfully, with the cleanest air to breath that one can imagine.
Q: Life aboard a luxury catamaran such as Ocean View must really be a joy, in your opinion, what would you say are the yachts best features?
A: Space, comfort, closeness to nature, sun! fresh and delicious food, easiness of lifestyle, lack of internet ;), a broad spectrum of activities. The same boat can be a temple of peace and lively party space, depending on the mood of guests.
Q: Finally, do you have some first-hand tips for future charter guests, in terms of what to bring, and what they absolutely won't need to pack?
A: Don't bring much. What you need is a good book, few swimwears for water activities, light and comfortable clothes, a jumper or shawl, a pair of sandals and sneakers for the shore (we walk barefoot onboard), polarized sunglasses, a hat. Bring your favourite music on the drive if you like. Don't forget your personal medicine. Pack your things into a soft bag so it can be easily stored.
Do not bring any water equipment nor yoga mat as the boat has everything on board. We provide sunscreens, mosquito repellent, soap, shampoo, hair conditioner. Hi-heals and super elegant clothes may be useful if going out in the Mediterranean, but not in Polynesia! Here the dress code is pareo and bare feet 🙂
| | | | | |
| --- | --- | --- | --- | --- |
| Captain | Maciej Boron | Polish | 0 | English, Polish, basic Spanish |
| Crew | Krystyna Roszak | Polish | | |
Other Toys
Tender: Highfield 460, 60 HP
Seabob F5s
Paddleboard x2
Kites: North Evo 9,10,12,14 Neo 7, 15, 18
Boards: Nobile 134 x 40, 140 x 40, 134 x 41
12 x sets of bars and different sizes of belts
Snorkeling x2
Water skis (for kids)
Wakeboard (for adults)
Fishing gear
Diving compressor and diving equipment for 2 people
Yoga (Onboard instructor)
Three double cabins, comprising a master suite and 2 double guest cabins, all with en-suites
Ed Hamilton & Co. endeavors to provide the most up-to-date yacht information, availability and rate details, however, all information published on this site is subject to change without notice. Please contact us for the most current yacht information, availability and rate details.