Guests

6

Cabins

3

Model

Power

Year Built

2008
Additional Rate Information
Additional Rate Information
Charter Rates Per Week
| Rate Period | Terms | 2 Guests | 3 Guests | 4 Guests | 5 Guests | 6 Guests |
| --- | --- | --- | --- | --- | --- | --- |
| Summer 2021 | Plus Expenses | $20,000 | $20,000 | $20,000 | $20,000 | $20,000 |
| Winter 2021 to 2022 | Plus Expenses | $23,000 | $23,000 | $23,000 | $23,000 | $23,000 |
Additional Rate Information
Winter weekly rate (From November 15 to 30 April)
2-6 guests : US$ 23 000 + 30% APA / Myba terms
Summer weekly rate :
2-6 guests : US$ 20 000 + 30% APA / Myba terms
Christmas/New Year weekly rate :
2-6 guests : 10 days minimum required based on US$ 26 000 / week + 30% APA / Myba terms
Delivery fees from Martinique (round trip):
STE LUCIA $ 1 500
ST VINCENT $ 3 000
GRENADA $ 4 000
GUADALOPE $ 3 000 (on request)
SXM $ 7 000 (on request)
Commercial Vessel
Pick up Martinique or Guadeloupe subject to 8,5% VAT
Customary Crew gratuity at charterers' discretion.
Please bring your inquiry. 
Location Details
Summer Area: Caribbean Windwards
Winter Area: Caribbean Windwards
Location Details: Summer/Winter home port: Martinique – Ideal for Grenadines cruises.
Leeward Islands on request with 2 weeks charter minimum and delivery fee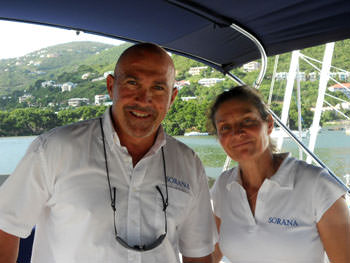 Captain : Jean Marc GUEVARA
Sailing Boat Skipper Certificate PPV / STCW 95
English speaking
Jean-Marc GUEVARA has been working for 8 years aboard the NEMOs fleet.
He was captain for the VPM Company on these big catamarans (Nautitech 82) and was in charge most of the time of NEMO MARTINICA & NEMO GRENADINES.
He has acquired then a huge experience in crewed yacht charters in the Caribbean, from the BVIs to Grenada, but also in French Polynesia.
Then he set sail on a Privilege 585 GO FREE and chartered the Mediterranean Sea from Croatia, Greece, Turkey to Italy, Sicily, Sardinia, Corsica & the Balearic Islands.
He crossed the Atlantic 12 times, the Pacific 1 time & made some nice journeys from Martinique to the Brazil & Europe.
Jean-Marc has settled his family in Martinique since more than 13 years. He did come home, close to the people he likes working aboard S/Y TIPUTA during 2 years in Caribbean.
Working onboard M/Y SORANA now more than 7 years, he enjoys more and more cruising and sharing his passion with his guests who really appreciate his professionalism and his high sense of service on board.
More than a captain, a great trustful man!
Chef – Hostess: Marie-Claude JOUGLA
French, Spanish & English speaking
Marie has been sailing for the last 20 years as crew; mostly as hostess/chef on Charter vessels; Montefigure 55, Matoutou 57, Calaf, 62, Darius, 62, Huzard III 65 (in Patagonia), Nemo 82, Ojala 60 (in Spitzberg & Norway), Chrysalis T 77 etc.
She has been crossing the Atlantic 11 times and sailing over a total of more than 100 000 miles!
When she is not working, she likes observing & studying the cetaceans on her own 12 meters boat.
She has covered a large scope from Spitzberg to Patagonia and from Mediterranean to Caribbean Sea; a true adventurous globe trotter!
She has been running the Ranch a restaurant in the South of France for more than 7 years before flying away for CHILE.
She has lived there for 4 years, managing a fashioned Restaurant bar & modern Chilean art gallery boutique named Gibran in Los Angeles with a team of 10 people to handle.
Besides her passion for the oceans, Marie is also a performing Chef and a cheerful crew member. Her natural gentle mood and her professional experience are real assets for SORANA and for her guests.
A sweet & good-natured temper with a great spirit!
| | | | | |
| --- | --- | --- | --- | --- |
| Captain | Jean Marc GUEVARA | French | 0 | |
| Crew | Marie Claude JOUGLA | French | | |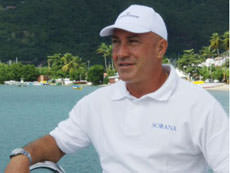 Captain
Jean Marc GUEVARA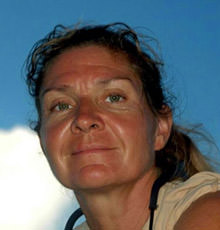 Chef Hostess
Marie Claude JOUGLA
Other Toys
Towing Ring Donut / Bouee
3 doubles cabin all en suite with private A/C control:
1 master cabin / bed size: 1,70 m large x 1,90 m long
1 VIP cabin / bed size: 1,50 m large x 1,90 m long
1 Twin / beds size: 2 x 0,66 m large / 1,80 m long
SAMPLE MENU
M/Y  PRINCESS 67 – SORANA
 
BREAKFAST
Fruit juice, selection of teas, coffee, milk
bacon and eggs with french baguette or toast, butter, honey, marmelade
fresh caribbean fruits, muesli , yogurt, freshly baked croissants
pancakes with mapple syrup
LUNCH
 
Spinach salmon and ricotta lasagnes                                        
Letucce salad                                                                                 
Assorted ice cream                                                                            
 
Chicken kebbab                                                                             
Coliflower taboulé                                                                          
Rum flamed banana                                                                          
 
Tuna tartare in caribbean style                                                    
Rice sauté / raw veggies                                                              
Assorted sorbet                                                                                  
 
Grilled scallops                                                                                     
Farfales al pesto
Hot and cold pineapple
 
Turkey nuggets
Kohl slaw
Assorted ice cream
 
Prawns flamed with whiskey                                                        
Squash puré / grilled tomato                                                        
Warm pear with cream                                                                   
 
Quiche lorraine                                                                              
Greek salad                                                                                    
chocolate mousse
DINNER
 
Caprese salad
Beef filet mignon with green pepper sauce
Potatoes gratin / green beans
Tarte tatin with vanilla ice cre
Melon and procciutto duo
Mahi-mahi fillet with passion fruit sauce
Tagliatelles / carrots mousseline Tiramisu
 
Zucchini salad with parmesan chips
Grilled lamb chops with provence herbs
Mashed sweet potatoes / grilled veggies
Mango and pineapple crumble
 
Warm goat cheese aumonière
Thai style salmon
Steamed vegetable
Strawberry Bavarrois
 
Smoked fishes carpaccio
Duck fillet with mushrooms sauce
Potatoes sautés / brocolis mousseline
Chocolate fondant
 
Avocado and smoked salmon verrine
Red snapper fillet with caribbean sauce
Yam gratin / steamed carotts
Lemon pie
 
Zucchini and goat cheese cold velouté
Semi cooked tuna with Japanese flavors
Wasabi mashed potatoes / greens
 
 
APPETIZERS
Toasts brushettas Hummous and dips
Cold cuts and cheese Guacamole and corn chips
Home tapenade and toasts Assorted mini kebbab
Feuilletés
Ed Hamilton & Co. endeavors to provide the most up-to-date yacht information, availability and rate details, however, all information published on this site is subject to change without notice. Please contact us for the most current yacht information, availability and rate details.