Guests

8

Cabins

4

Model

Cat

Year Built

2017
Additional Rate Information
Additional Rate Information
Charter Rates Per Week
| Rate Period | Terms | 2 Guests | 3 Guests | 4 Guests | 5 Guests | 6 Guests | 7 Guests | 8 Guests |
| --- | --- | --- | --- | --- | --- | --- | --- | --- |
| Winter 2019 to 2020 | All Inclusive | $21,000 | $21,500 | $22,000 | $22,500 | $23,000 | $23,500 | $24,000 |
| Summer 2020 | All Inclusive | $21,000 | $21,500 | $22,000 | $22,500 | $23,000 | $23,500 | $24,000 |
| Winter 2020 to 2021 | All Inclusive | $21,000 | $21,500 | $22,000 | $22,500 | $23,000 | $23,500 | $24,000 |
| Summer 2021 | All Inclusive | $21,000 | $21,500 | $22,000 | $22,500 | $23,000 | $23,500 | $24,000 |
Additional Rate Information
Med Rates (Euros) can be converted to USD at the time of booking.
Price in Euros for 8 people, 6 nights/ 7 days:
April 3 – May 28: 10,000
May 29 – July 2: 11,000
July 3 – 16: 11,600
July 17 – August 20: 13,250
August 21 – September 3: 11,600
September 4 – 17: 11,000
September 18 – October 29: 10,000
Please add 20% APA
Skipper's Mandatory fee – 250 euros per day
Chef / Hostess – (optional) 250 euros per day
Note – charters start at noon on a Saturday and finish at noon on a Friday – 6 nights/7 days and pick up/drop off is Ajaccio, Corsica.
Location Details
Summer Area: W. Med -Riviera/Cors/Sard.
Location Details: Corsica and Sardinia for Summer 2021
No charters in Caribbean 2020/2021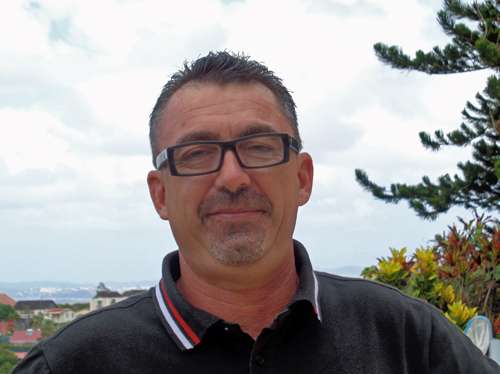 Captain: François Labbé
François is a citizen of the world. He grew up in Paris, Egypt, and the USA. He traveled extensively in South America. He has sailed across the Atlantic Ocean and the Mediterranean Sea, His native language is French, and he is also fluent in English and Spanish. He has made lifelong friends around the world. Wherever guests come from, he knows intuitively how to make them feel welcome aboard TRILOGY.
François began sailing at four years old, took a few years off and then went back to the water at the age of 12, on every type of boat available: skiff, funboard, racing monohulls, Hobie Cat 16, Optimist, 420, 470, and vintage sailboats. In 1995 he was a Federal Sailing Instructor and by 1999 had earned his 1st degree sailing instructor certification. He sold power boats for 10 years and achieved a degree in Yachting Business. Then he launched his career in charter yachting.
Whether guests prefer an interactive or discreet charter, his goal is to provide the very best service. As an expert captain, he says, "I am there with great pleasure, but doing my job properly is my priority; safety first, then pleasure, then fun." Friends describe him as highly reliable, responsible and with a good sense of humor. In addition to sailing, he enjoys bodyboarding, snowboarding, mountain trekking, traveling and sharing dinners with family and friends, both old and new. As a charter yacht captain, his motto is ideal: there is no problem, there are only solutions. Whatever the dreams and desires of guests, his goal is to make it happen.
Chef: La Mya Bouatir
La Mya is a French national who has been in the food industry since 2008 and has worked as a yacht chef since 2012. Her extensive experience in restaurants and yachts has taken her all over the world. Everywhere she travels she adds to her repertoire of gourmet recipes. Guests aboard TRILOGY should prepare to loosen their belts.
La Mya excels at French cuisine and also specializes in Bulgarian, Italian, Corsican and Creole recipes. She also speaks fluent English and Bulgarian and basic Italian. Menu planning can escalate to deliciously unconventional for charter guests who are foodies or gourmets with a sophisticated palate. For most charter guests, her traditional dishes and comfort food get rave reviews. Whatever your preferences, La Mya is certain to step up to the plate.
| | | | | |
| --- | --- | --- | --- | --- |
| Captain | François Labbé | French | 1969 | French, English, Spanish |
| Crew | La Mya Bouatir | French | | |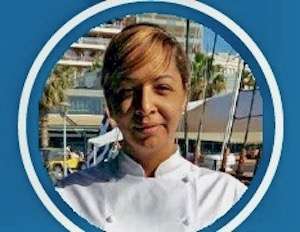 Chef
La Mya Bouatir
General
Guest Smoke
outside only at designated are
Leisure
Dinghy
semi flexible 11.16 ft
The main cabin on upper deck and the 2 lateral pontoon cabins below are QUEEN size beds (160x200cm)
The V-berth front cabin in the central hull has a triangular bed (180 x 145cm) The bathroom is not ensuite. It is outside the bedroom and two steps down. Only when under sail the crew must use this bathroom as the deck access to the crew bathroom underway is prohibited.
Caroline LAUNAY – SAMPLE MENU
BREAKFAST
Coffee, tea, milk, chocolate milk, fruit juice, fruit plate, toasts, cereals,
yogurts, croissants, jam, honey, butter.
Special of the day: Bacon and scrambled eggs, omelet, fried eggs, sausages, ham and cheese,
salmon, pancake, French toasts
LUNCHES
Mahi Mahi tartar Caribbean style with baby spinach salad
Sea Breeze ice cream cup
Cheese Burger in Paradise with salad
Ginger melon salad
Salad Niçoise
Nectarine crumble
(on request) Salad Perigourdine
with smoked duck breast and foie gras, Fig gratin
Prawn cocktail salad with avocado and grapefruit
Strawberry soup with almond paste
Chicken parmesan salad with authentic Caesar Dressing
Piña Colada composed with ice cream
Prosciutto feta pasta salad
Pineapple Carpaccio
DINNERS
Saint Marcelin cheese puff pastry with arugula salad
Rosemary filet mignon, Normandy mashed potatoes and spinach
Raspberry Tiramisu
Chilled cucumber and mint soup
3 herbs salmon "papillote" with green beans fagot,
tagliatelles and a creamy lime sauce
Caramelized spiced pineapple with Vanilla ice cream
and raspberry coulis
Tomatoes with Buffala mozzarella, pine nut,
basil and emulsion vinaigrette
Beef filet "a la plancha" with 3 sauces and gratin Dauphinois
Crème brûlée
Saint-Jacques carpaccio
Tataki tuna steak with ponzu sauce,
Jasmine rice and braised leek
Tarte Tatin with Chantilly Cream
Cauliflower mousse with beacon
Cockerel with red wine and cèpe sauce,
penne rigate and grilled zucchini
Cheese cake with blueberry compote
Fava bean and basil milk shake
Grilled lobster tail with butter and garlic sauce, Caribbean sauce,
wild rice and stewed tomatoes cherry
Flamed banana
Spanish Gazpacho
Rack of lamb with thyme infusion, semolina and broccoli
Chocolate mousse
Ed Hamilton & Co. endeavors to provide the most up-to-date yacht information, availability and rate details, however, all information published on this site is subject to change without notice. Please contact us for the most current yacht information, availability and rate details.