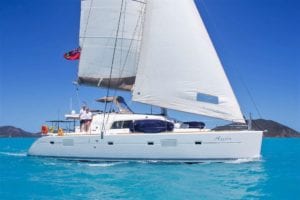 What better way to spend Christmas than aboard a Lagoon 500 Catamaran sailing in beautiful blue waters with one of the most experience crew in the British Virgin Islands? Can't think of any? Snag this deal to enjoy the most memorable Christmas ever.
Catamaran AZURIA is offering an unheard of Crewed Yacht Charter 6 night rate for Christmas week of $20,000. Sail from Friday December 21 to Thursday December 27, 2010 and be home in time for New Year's Eve.

Better book this one fast as this week with Azuria won't stay available
for long.
For more information call us at 800 621 7855, email us or fill out our quick contact form.
Your lovely crew for the week…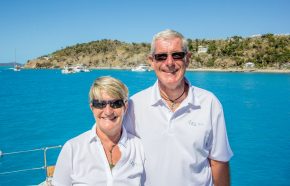 Now in their 15th year of chartering, Mark and Sally Duncan are one of the most experienced crew in the BVI. Having chartered for many years on their own catamaran, VIKING DREAM until she was sadly lost in Hurricane Irma in 2017, they have earned an extensive reputation as a fun loving and highly knowledgeable Captain and First Mate/Chef. Cruising the islands and seeking out that idyllic palm fringed bay, where the sea, the sky and the sand invoke that feeling of total tranquillity, and being at one with nature, is what they love to share with their guests. If you'd like to learn about sailing they are both qualified instructors and love to impart their knowledge, but are equally happy to pass you a cushion and bring you an iced drink while they sail the yacht! They are also very passionate about food and presenting their guests with fine cuisine, wines and cocktails. Sallys' dishes are an exceptional variety of styles, reflecting her extensive travels and experience of different cultures. Marks cocktails are legendary, both self styled and classics. They are also known as Captain Cocktail and Sally in the Galley!