Guests

12

Cabins

7

Model

Power

Year Built

2010
Additional Rate Information
Additional Rate Information
Additional Rate Information
A minimum of 1 week is required for high season bookings (July and August)
For less than a week please divide the weekly rate by 6
30% APA is standard
A security deposit may be requested for corporate charters
Location Details
Summer Area: W. Med -Naples/Sicily, W. Med -Riviera/Cors/Sard., W. Med – Spain/Balearics
Location Details: Summer 2021 – Mediterranean, South of France, Italy, ideally Sicily, Corsica, Sardinia area. (owners will base the yacht around confirmed charters).
CAPTAIN: Michael Woudenberg – Dutch
Joined Winter 2020/2021
Michael comes from a town under the shadow of Amsterdam but now lives with his family on the beautiful island Florianopolis in Brazil.
Seventeen years ago, Michael decided to join the yachting industry after a career in the Royal Netherlands Navy followed by a period of being an entrepreneur.
Describing himself as an all-round professional fulfilling his duties with enthusiasm and commitment. His loyalty and leadership having been proven on previous yachts.
Michael was employed for the past few years by the same owner firstly on 45m M/Y Flying Dragon and most recently on the 60m M/Y Samurai where he cruised Summer seasons in the West Med, focusing on the Balearics, Sardinia and the Amalfi Coast, then heading over to the Caribbean for the Winter season. Michael assisted greatly in making Samurai a very popular charter yacht.
Starting his career in yachting as First Officer on the 35m M/Y Bonita and moving quickly onto the 50m M/Y Mosaique, taking up his first Captains role in 2017.
Now as Michael steps onboard the 68m M/Y ICON bringing with him a wealth of experience in all areas of being a large yacht Captain and with extensive knowledge of Mediterranean and Caribbean waters, he is looking forward to his new and exciting role.
Michael has a passion for kitesurfing and cycling.
Languages: Dutch, English, Portuguese, French, German
Previous Yachts: M/Y Samurai (60m), M/Y Flying Dragon (45m), M/Y Teleost (50m), M/Y Mosaique (50m)
CHIEF OFFICER: Mark Lambert – Australian – Rotational
Joined Summer 2017
Australian born Mark is well used to growing up around the sea having previously worked on Maxi sail yachts in the Whitsundays, dinghy sailing to national level on 420's and instructing children to sail. In his spare-time he enjoys surfing, diving and is a qualified dive instructor. Mark has a 10 year career in yachting having done multiple charter seasons. He will be able to help maximize your experience onboard coordinating watersports and tender runs so you can have an enjoyable trip.
Languages: English
Previous Yachts: M/Y Mosaique(50m), M/Y Seven Sins
CHIEF OFFICER: Daniel Lambert – Australian – Rotational
Joined Summer 2017
Daniel is Australian born and twin brother of Mark Lambert. He also worked on Maxi yachts, sailed dinghys with his brother and is a qualified dive instructor. Daniel has a 10 year career in yachting working both private and charter vessels. He will be able to help with all your outdoor needs while onboard to make sure you have the best experience possible.
Languages: English
Previous Yachts: M/Y Unbridled, M/Y Larisa, M/Y Emerald
2ND OFFICER: George Thatcher – British
Joined Summer 2017
George began his career in yachting at a young age completing a superyacht cadetship at UKSA where he gained a clear understanding of the superyacht industry. Due to his hard work and focus he progressed quickly over the next 5 years achieving his officer of the watch. George enjoys water skiing, wakeboarding and football having an oxford football scholarship and completing a trail for Chelsea football club. George has lots of charter experience and is the chief jetski instructor onboard, feel free to ask him for a course or a quick lesson if needed before jumping on.
Languages: English
Previous Yachts: M/Y Mosaique (50m)
CHEF: Michelle Bonnetti – Australian/Swiss
Joined Summer 2017
Australian born Michelle is a culinary trained chef well versed in all cuisines, she has worked alongside many Michelin star chefs, she has also completed an intensive sushi training course.
Joining the yachting industry early 2015 she went on to win first place at the 2015 Antigua Boat Show Chefs Competition on board M/Y Zeepard.
Michelle spent the last two Med seasons prior to Icon on the 50m M/Y Mosaique 'wowing' guests with her culinary expertise.
Prior to joining the yachting industry Michelle was 'Chef de Partie' at Print Hall one of Western Australia's best restaurants.
Michelle's objective is to satisfy culinary desires, embrace local produce, and provide guests with the highest level of cuisine.
Languages: English, Swiss-German
Previous Yachts: M/Y Zeepard, M/Y Mosaique (50m)
SOUS CHEF: Kate Lewis – British
Joined Spring 2020
Enthusiastic, experienced, and adaptable are 3 great words to describe Kate as a professional crew member!
She enjoys cooking healthy balanced meals and she can cater for anything from vegan, vegetarian, to fine dining.
Similarly, Kate understands that food allergens and intolerances are a common occurrence and can arrange any dish around them to suit.
During her 7 years in the yachting industry, Kate has gained valuable experience as a sous/crew chef, on board busy charter and private yachts to include M/Y Galileo, M/Y Shemara and S/Y Ghost.
In her spare time, Kate thrives on leading an extremely active and healthy lifestyle. She enjoys a multitude of sports and activities, including yoga, surfing, HIIT classes, boxing, cycling, hiking, wakeboarding, and any team sport.
Languages: English
Previous Yachts: M/Y Galileo (56m), M/Y Shemara (64m) S/Y Ghost (37m)
CHIEF STEWARDESS: Mihaela Pownall – Croatian
Joined Winter 2018
Mihaela has taken a two-year break from yachting to have her first baby, prior to this she had eight successful seasons on M/Y Mosaique before moving onto Icon.
In addition to her considerable experience in hospitality and yachting, Mihaela is a qualified pharmacist, an expert in mixing cocktails and silver service. Along with her experience, her warm and friendly nature makes her the perfect hostess onboard, always on hand to anticipate guests' requirements.
Mihaela loves to travel, read and is a very good salsa dancer in her spare time.
Languages: Croatian, English
Previous Yachts: M/Y Radiant, M/Y Mosaique
2ND STEWARD: Gjisbert Groenveld (nickname 'G') – Dutch
Joined Spring 2021
G is an experienced steward and professional butler having studied at an International Butler School. Having worked on busy charter yachts and 2 + years before as chief steward, he's here to use all of this experience within a great interior team and deliver together the highest standard of service. G has worked on well-known yachts Samurai, Santa Maria, and Flying Dragon.
Languages: English, Dutch, basic German
STEWARDESS: Patricia Sostaric – Croatian
Joined Summer 2018
Hailing from a village close to Zagreb, most of Patricija's working experience started with seasonal jobs in tourism while she was studying management at college. It was through her experiences gained in various bars and high-end hotels that she was introduced to the yachting industry when she was hired on- board M/Y Antelope III (43M) during a refit period in Croatia. From that point, she was hooked and was determined to take the opportunities further.
An easy going, quick learner, who thrives on working in a close environment, Paticija invests effort and energy into all she does.
In her spare time, Patricija enjoys, photography, time with young children, and hiking. She also loves pets!
Languages: Croatian, English
Previous Yachts: M/Y Antelope
STEWARDESS: Nefi Veliz – Ecuadorian
Joined Winter 2021
Nefi has worked in the hospitality industry for many years, providing guests with the best experience at her family-owned hotel. Raised in the Galapagos Islands she learned to appreciate a simple life surrounded by nature and wildlife which motivated her to get a University degree in Environmental Management. She grew up loving the ocean and practising water sports like diving and swimming. Nefi is new to the industry but excited to combine her experience in hospitality and her love for travelling while finding new challenges in a professional environment.
Languages: English, Spanish
STEWARDESS: Amy Rose Humphreys – British
Joined Spring 2020
For 3 years Amy worked for a prestigious catering company providing a 5 star service for events across London catering for up to 300 people. She then turned her hand to graphics and was an operator for Sky Sports UK. Amy has a passion for travel and made the decision to join the yachting industry and in 2019 when she joined as Junior Stewardess the 44m M/Y Lammouche.
When Amy has any down-time she enjoys travelling and exploring new cultures.
Languages: English
Previous Yachts: M/Y Lammouche (44m)
STEWARDESS: Angela Llado – Spanish
Joined Spring 2021
Angela is an experienced stewardess having completed multiple seasons working in both housekeeping and service. She has completed courses in silver service, mixology and wine (WSET level 2). She always works towards giving guests their best experience on board, and really enjoys the creativity and coordination required to make this happen. In her spare-time she enjoys rock climbing, yoga, hiking and is an avid diver.
Previous Yachts: M/Y New Waves (43m), M/Y Vertigo (67m), M/Y J'ade (60m),
Languages: English, Spanish
STEWARDESS/PT: Leah Ponting – British
Joined Spring 2021
Leah is a fitness professional who is passionate about fitness and wellbeing to ensure individuals enjoy life to their full capacity through good mental and physical health, pain-free and move with ease. Feel free to ask her for a personalised session in the gym onboard followed by a stretch and massage. She is a qualified Fitness and Personal Trainer (CYQ) level 2 and 3, has level 3 qualification in sports massage and has over 200 hours of Vinyasa and Ashtanga yoga. She is also a qualified nutritional therapist at the health sciences academy. Leah leads an active and outdoor lifestyle which encompasses activities such as hiking, snow-sports, water sports, Yoga and mindfulness to name a few. In her free time she enjoys socialising, reading/studying, sampling exciting foods, appreciating art, visiting and exploring new locations
Previous Yachts: St. David (60m), M/Y Blue II (56m)
Languages: English
CHIEF ENGINEER: Zelijko Milanovic – Croatian – Rotational
Joined Winter 2017
Chief Engineer Zelijko grew up in Split and studied marine engineering at university before obtaining his license. Zeljko started working on container vessels for 3 years before going back to study, doing his six months mandatory national service before moving on to offshore vessels. One day he had a phone call which gave him the opportunity to work on M/Y ICON and he has never looked back. Zelijko likes to travel back to Split whenever possible to spend time with his family.
Languages: Croatian, English.
CHIEF ENGINEER: Denis Stojak – Croatian – Rotational
Joined winter 2017
Denis is highly experienced in all aspects of marine engineering having worked as a chief engineer on multiple commercial vessels. Denis previously has 16 years' experience in the oil and gas industry and was an accomplished fleet technical superintendent. Denis enjoys the new challenges of being onboard a superyacht and with his skillset and knowledge keeps the yacht running smoothly for your charter. In his down time Denis enjoys spending time with his family and cooking on the barbeque.
Languages: Croatian, English.
2ND ENGINEER Ivan Antonic – Croatian – Rotational
Joined Winter 2017
Ivan was raised in Rijeka, Croatia, he started his career as a waiter aboard tourist boats, then joined a cruise-ship company as an engineering cadet. After working on cargo vessels for 8 years he decided to join the world of luxury yachting on-board M/Y ICON. Ivan loves basketball, water polo, hiking and cycling.
Languages: Croatian, English,
2ND ENGINEER: Ivica Skrobica – Croatian – Rotational
Joined Winter 2017
Ivica has over 18 years of experience as a 3rd and 2nd engineer on cargo vessels and cruise ships including the carnival lines. Using this experience, he now enjoys making sure Icons systems are up and running all the time. Ivica has a great sense of humor and in his spare time loves travelling and repairing bikes.
Languages: English, Croatian, Italian
ETO: Jozo Siskov – Croatian – Rotational
Joined Summer 2018
Jozo studied for a Bachelors degree in electrical engineering and electronics at the University of Split in his home country of Croatia.
Prior to joining the super yacht industry on M/Y ICON, Jozo was employed from 2009 to 2018 as an Electrical Engineer on bulk carriers around the world.
His interests lie in the oil & gas industry, new technology water-polo and diving.
Languages: Croatian, English
ETO: Andrej Jakasa – Croatian – Rotational
Joined Autumn 2017
Originally from Split, Croatia, Andrej has completed a host of Electrical Engineering and Electronics related studies and has accrued over 10 years' experience in this field onboard cruise liners.
He joined the super yacht industry on M/Y ICON in October 2017 and understandably, has never looked back!
Andrej is also an experienced dive instructor and his interests and hobbies include photography and graphic design.
Languages: Croatian, English
BOSUN: Joshua Harbut – British
Joined Autumn 2017
Joshua first started sailing at the age 10 where he developed a love for the water and he decided that his future would lie in yachting. Studying at UKSA where he gained valuable experience and skills. Joshua spent a season on-board a 27m sailing yacht as sole deckhand and later joined M/Y Mosaique for the 2017 Med season where his position gave him new challenges. Joshua holds a Power Boat Level 2 instructors certificate. Joshua joined ICON as a deckhand and now holds the position of bosun.
Hobbies include: Tennis, rugby and squash.
Languages: English
DECKHAND: Philip Davies – South African
Joined summer 2020
Phil is a well-travelled South African from Durban, he's got a degree from University of Stellenbosch. Phil has 3 years' experience in the industry having just crossed the South Pacific Ocean. Phil is an experienced large tender driver, having driven boston whalers and wajers he will make sure you are transported smoothly to your destinations. Phil is an avid photographer, drone flyer, fisherman and sports fan.
Languages: English
DECKHAND: George (nickname due to 2 Georges – 'Junior') Robinson – British
Joined Spring 2021
George started in yachting at 18 years old being selected for a cadetship. He has worked on a few prestigious yachts Katara, Madame Gu and Utopia before joining Icon. He is an experienced in tender driving, watersports and a qualified dinghy instructor. George enjoys keeping fit and leading a healthy lifestyle. He enjoys videography and flying drones, ask him if you would like some videos of your trip with us.
Languages: English
DECKHAND: Catriona Still – Scottish
Joined Winter 2021
Cat grew up in a small town called Gourock on the River Clyde, Scotland. She enjoys keeping fit, cycling, socialising and travelling. She spent a season in the snow where she grew a much-loved passion for snowboarding, spending the majority of her time up the mountain. Having grown up by the water, she holds a strong affinity with boats, sailing and different water sports. Cat started sailing dinghies when she was 13 moving on to keel boats when she was 16 racing solo and as a team.
Previous Yachts: M/Y Invictus (66m), M/Y Albatross (72m)
Languages: English
| | | | | |
| --- | --- | --- | --- | --- |
| Captain | Michael Woudenberg | Dutch | 0 | English, French, Italian, Spanish, Dutch, Swiss-German, German, Russian, Swedish, Croatian, Portuguese |
| Crew | Michelle Bonetti | Australian/Swiss | | |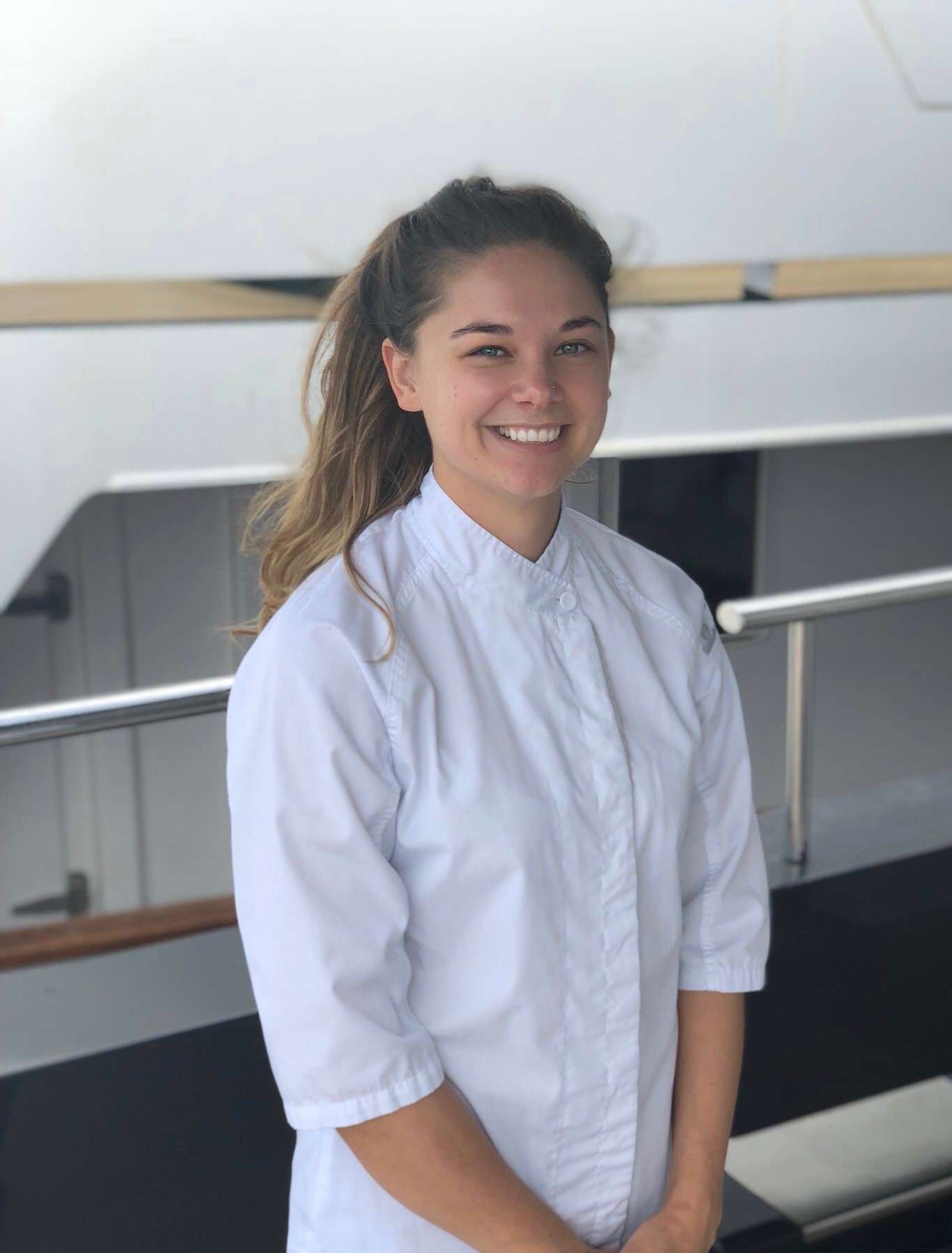 Chef
Michelle Bonnetti
Amenities
Generator
3 x Generator sets Sandfirden
Leisure
Dinghy
Long Island 26 tender
Dive Info
4 x Scuba Diving sets (rendezvous diving)
Fins & Masks

RENDEZVOUS DIVING ONLY
Other Toys
1 x Long Island 26 tender with 315hp inboard engine
1 x 25.59 ft RIB X with Mercruiser 270hp diesel inboard engine
1 x MOB 25hp/beach drop tender
2 x Yamaha 4 stroke VXR 180hp jet ski
1 x Yamaha stand up jet ski
2 x Sea Bob
2 x Water Skis + 3.28 ft Ski
2 x Wake boards
2 x Kayaks
1 x Airstream
1 x Chariot
2 x Doughnuts
5 Person Banana
2 x Paddle Boards
3 x Nautiboy tender/toy platforms
4 x Scuba Diving sets (for rendezvous diving)
Fins & Masks
Fishing gear
Miscellaneous beach toys
Sauna
Massage room
Shower room
Jacuzzi (on bridge beck)
Sea water swimming pool (on main deck)
Gym including – Technogym, home gym/cross trainer/recumbent bike/cable station/ various free weights.

CHILDREN:
Full range of water activities & toys
Variety of board games
Video consoles & games
ICON offers accommodation for up to 12 guests in 6 staterooms + up to 2 occasional workers with 1 in extra staff cabin (space in all cabins for an extra camp bed if needed).
MAIN DECK:
Owner's duplex suite reached either by the lobby on the main deck or via the study/lounge on the upper deck. The suite has 2 temperate controlled walk in dressing rooms located of the entrance corridor, forward is the main cabin and master en-suite incorporating bath, double sink unit, shower and toilet. Private staircase to the study/lounge on the upper level.
The Study/lounge can either be closed off as part of the master suite or accessible for all the guests. with full blackout blinds this area can also be used as a cinema room. There is direct access both port and starboard sides to the fore-deck.
UPPER DECK:
Guest Double stateroom with en-suite shower room.
Staff cabin with standard size single bed and en-suite shower room.
LOWER DECK – all 4 cabins are convertible double/twin so very flexible layout depending on the make-up of the charter party.
Central lobby with guest drinks fridge area leading on to:
2 larger Double/Twin staterooms, en-suite with single sink units, shower and toilet.
2 double/Twin staterooms en-suite with single sink units, shower and toilet
BED SIZES:
Master Suite: 260 x 220cm
VIP stateroom: 200 x 200cm
2 x Guest Double staterooms: 180 x 200cm
2 x Guest Twin staterooms 90 x 200cm
1 x staff cabin 140 x200cm
BEACH CLUB:
This exceptional space accommodates a bar with stools, lounge area with TV, sun loungers and the gym (to port) as well as day-head / shower, diving equipment center to starboard (NB: for RDV diving only), steam-room and Sauna.
Further shower on swim platform for use after swimming etc.
The area comprises approximately 9.75m x 6m and has direct access from the 4 lower guest staterooms.
Ed Hamilton & Co. endeavors to provide the most up-to-date yacht information, availability and rate details, however, all information published on this site is subject to change without notice. Please contact us for the most current yacht information, availability and rate details.