Guests

10

Cabins

5

Model

Power

Year Built

2020
Additional Rate Information
Additional Rate Information
Additional Rate Information
Location Details
Summer Area: W. Med -Naples/Sicily, W. Med -Riviera/Cors/Sard.
Winter Area: W. Med -Naples/Sicily, W. Med -Riviera/Cors/Sard.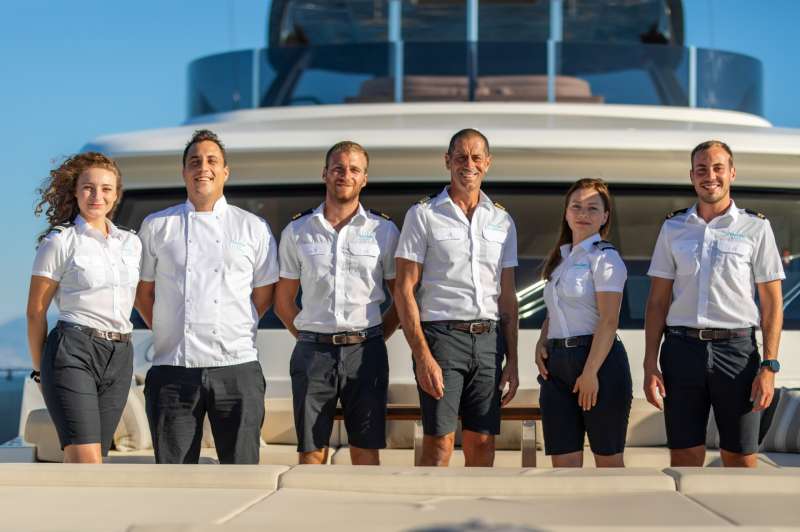 Captain: Alessandro Abbate, Italian 50 y.o.
Alessandro is a reliable and highly skilled Captain, with many years of experience in the maritime field. His father introduced him to sea life since his young age, bringing him to sea aboard his boat.
Alessandro also has great technical expertise: he oversaw the maintenance and refit of private sailing and motor yachts on different occasions.
His passion for the sea is not limited to the career: in his spare time Alessandro participates in important international regattas, achieving exemplary results and gaining the podium on several occasions.
Italian native speaker, speaks good English.
Chef: Virgilio Revello, Italian, 24 y.o.
Born by the sea in the marvelous Ligurian Coast, Virgilio follows his passion for culinary art, attending the Technical Institute of Gastronomy and Hotel Services of Genoa where he graduates. Later he has been working for 4 years as Commis Chef in the main resturants of Genoa and surroundings where he deals with the making of main dishes of the traditional Ligurian Cuisine.
In the meanwhile he attends the advanced cooking course in theoretical and practical training of Alma Culinary School of Parma and once completed it, he moves to London for 1 year where he employees as Chef de Partie in the main starred luxurious restaurants of the city, dealing with orders' management and offering an international European cuisine with high quality products.
In 2020 he moves to Copenaghen where has the great chance to work for the 2 Michelin stars Noma, among the best restaurants in the world.
With such determination and passion, Viriglio has gradually become an expert chef in international and local cuisine, an hard working professional chef, willing to create contemporary and challenging dishes for guests' satisfaction.
Italian mother tongue, he speaks a good English and a basic French.
First Mate: Gregorio Daversa, Italian 25 y.o.
Gregorio is a young deckhand, dynamic, efficient and professional.
Coming from a family of maritime operators, his passion for the sea is deeply rooted, and he pursues the dream of becoming a Captain.
He took his degree at the Nautical Institute with dedication and determination, obtaining all the necessary qualifications to enter the yachting industry. Fond of fishing and water sports, Gregorio is a discreet and kind sailor, always ready to do its best to guarantee guests a relaxed and friendly atmosphere.
Italian native speaker, has a good knowledge of English.
Chief Stewardess: Simona Leto, Italian, 48 y.o.
Willful and energic, Simona was born in Calabria and was since ever fond of sea, thanks also to the family activity in the Yachting Industry.
After the scientific degree, she started working very young aboard yachts as stewardess, ensuring a daily cleaning service of the interior areas, dealing with table service and supporting the Chef in the preparation of meals.
Flexible and used to work in group, Simona holds good communications and organization skills enhanced by the latest experiences aboard luxury yachts where she managed guest activities and supported Captain during the mooring.
Italian mother tongue, she speaks a good level of English.
Stewardess: Marika Daversa, Italian 24 y.o.
Marika is a very young and energetic woman, fond of sport and of the sea. She's very meticulous and hard working and she loves meeting people from all around the world.
She was raised in close contact to the sea, due to her parents holding a boat, and she merged her passion for the sea with her passion for the sport by practicing free-diving. After taking a diploma in Business and Marketing, she opted for a dynamic job that could suit her active nature and decided to embark as a stewardess on board charter yachts.
Her attention to the detail and her positive approach make her a valuable addition to the crew, and a very pleasant presence for guests to interact with. Italian mother-tongue, she has a basic knowledge of English.
Antonio Bleve, Second Deckhand, Italian, 24 y.o.
Antonio is a young, friendly and efficient crew member. Fond of sea life since ever, in 2016 he achieves the Technical Diploma in Transports and Logistics "Conduction of the naval means", gaining a solid knowledge in the field of Mechanical Engineering and Machinery, Law of navigation, Logistics of flows and Cargo handling. In 2018 he has the chance to implement his skills, working as sailorman during the summer season in Puglia at the guidance of a boat- powered by 9mt., training to perform approaches and berths at the docks. Later he has the opportunity to improve his English knowledge, during a 5 month stay in the United Kingdom. Once back in Italy, Antonio gives up again to the call of sea and embarks as Official Blanket Cadet on a 24mt yacht pleasure vessel used for charter where he carries out the duties related to all phases of navigation (support to the commander in mooring operations and assistance to navigation) and extraordinary activities like support to the staff of yard in the operations of cleaning of hull and flap and launch of the ship. Used to work in team, he holds also the knowledge of the main on-board software.
Italian mothertongue, Antonio speaks a good level of English.
| | | | | |
| --- | --- | --- | --- | --- |
| Captain | Alessandro Abbate | Italian | 50 | Italian, English, Spanish, Russian |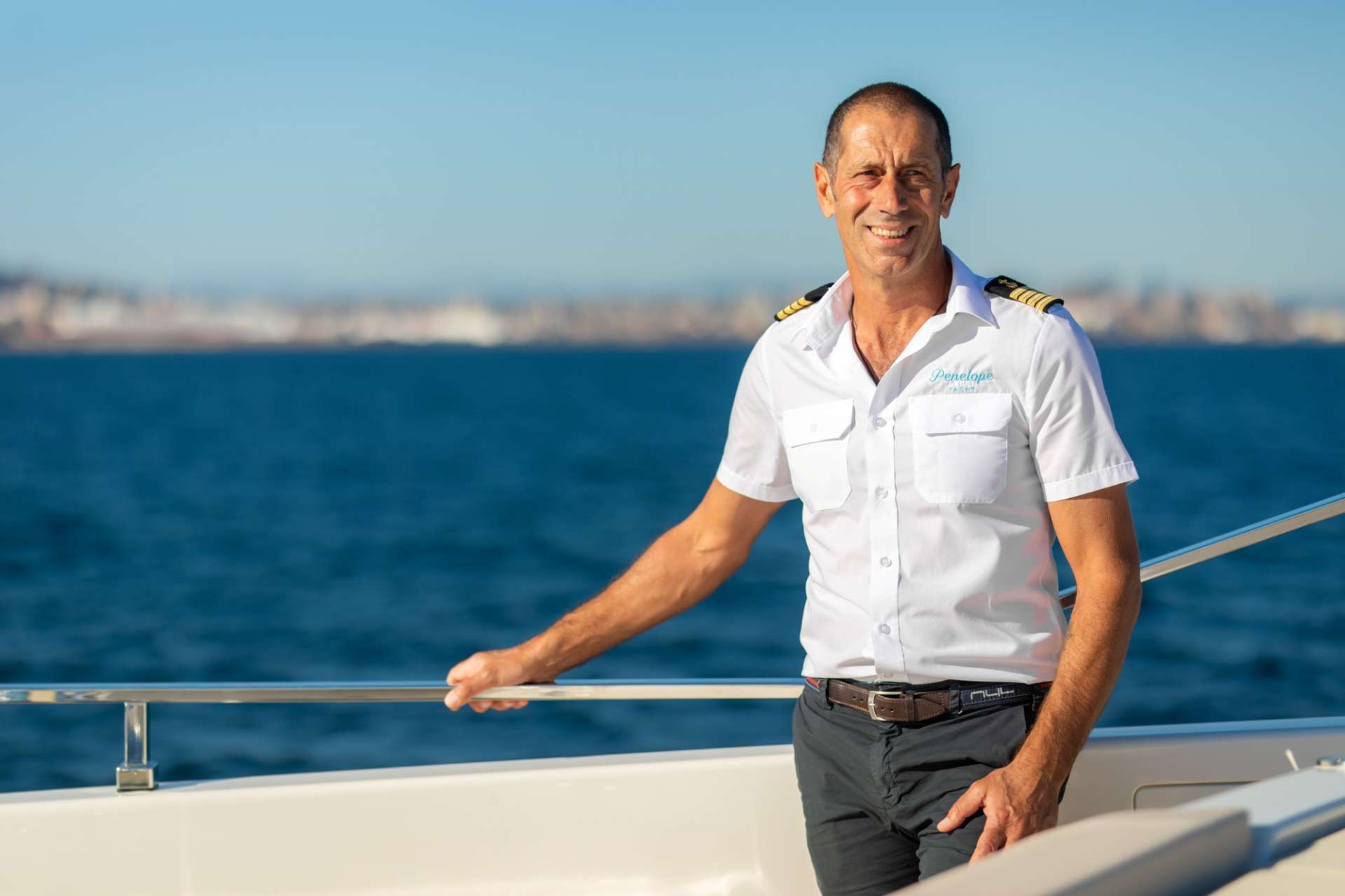 Captain
Alessandro Abbate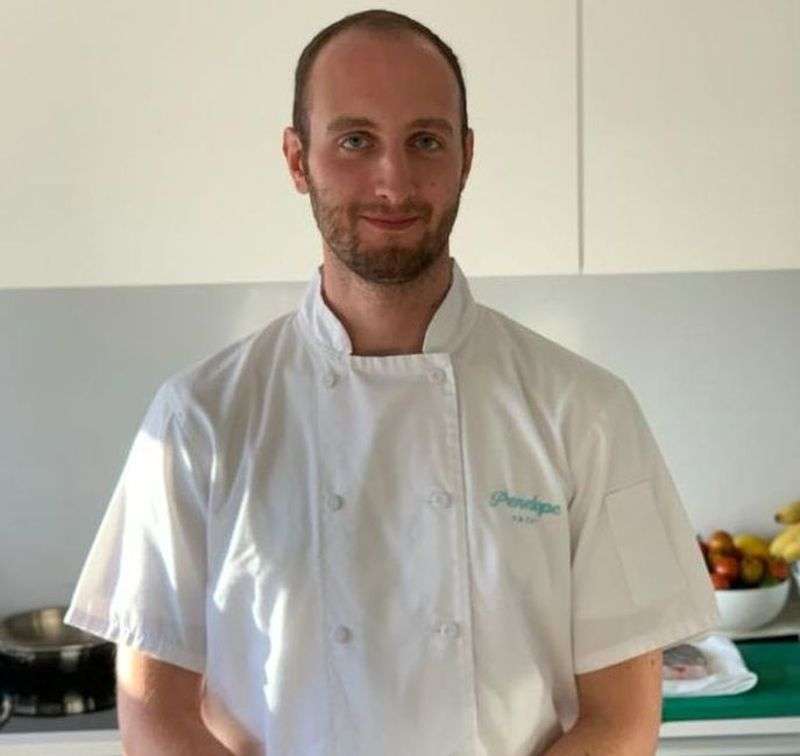 Chef
Virgilio Revello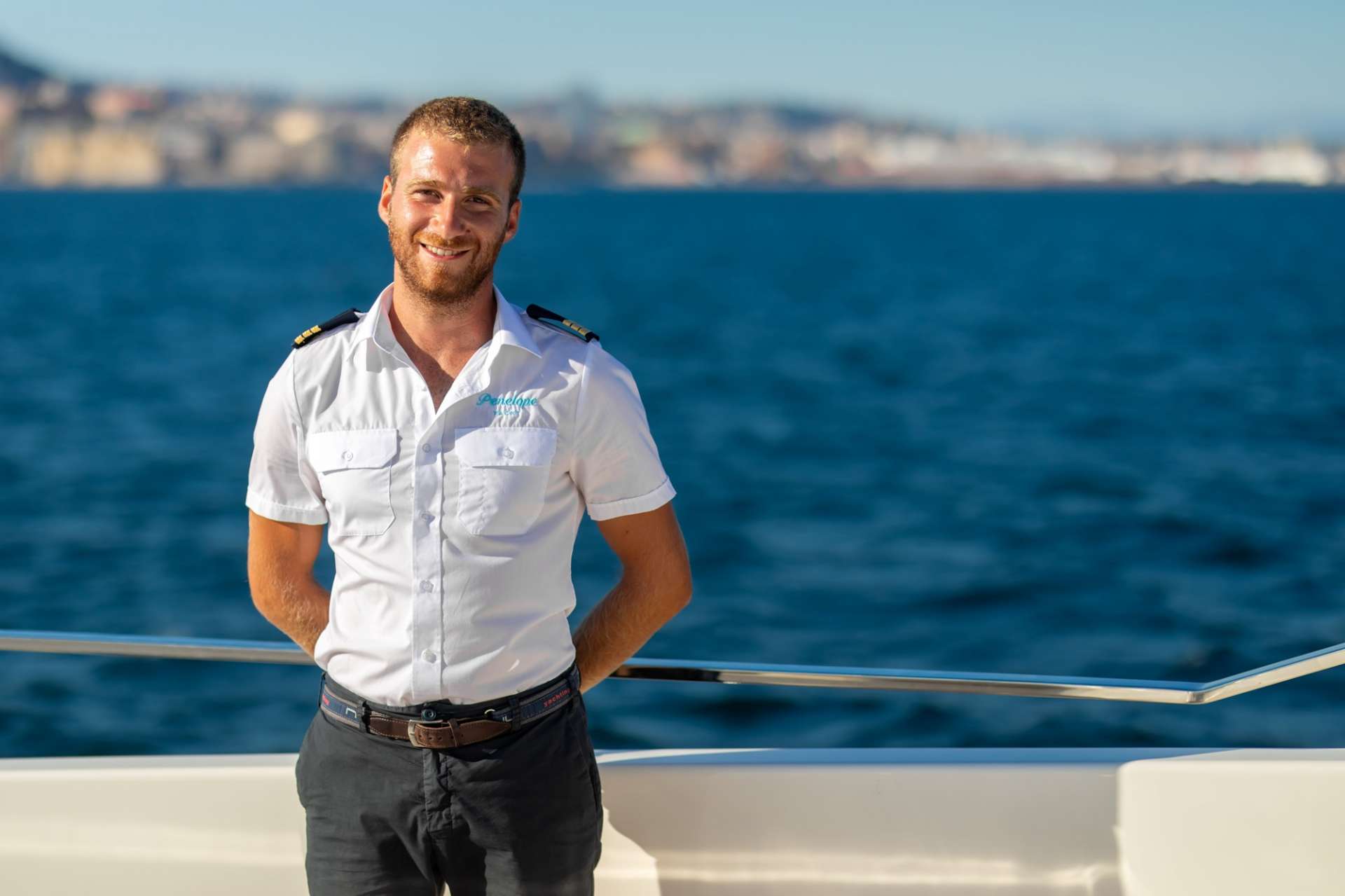 First Mate
Gregorio Daversa
Chief Stewardess
Simona Leto
Stewardess
Marika Daversa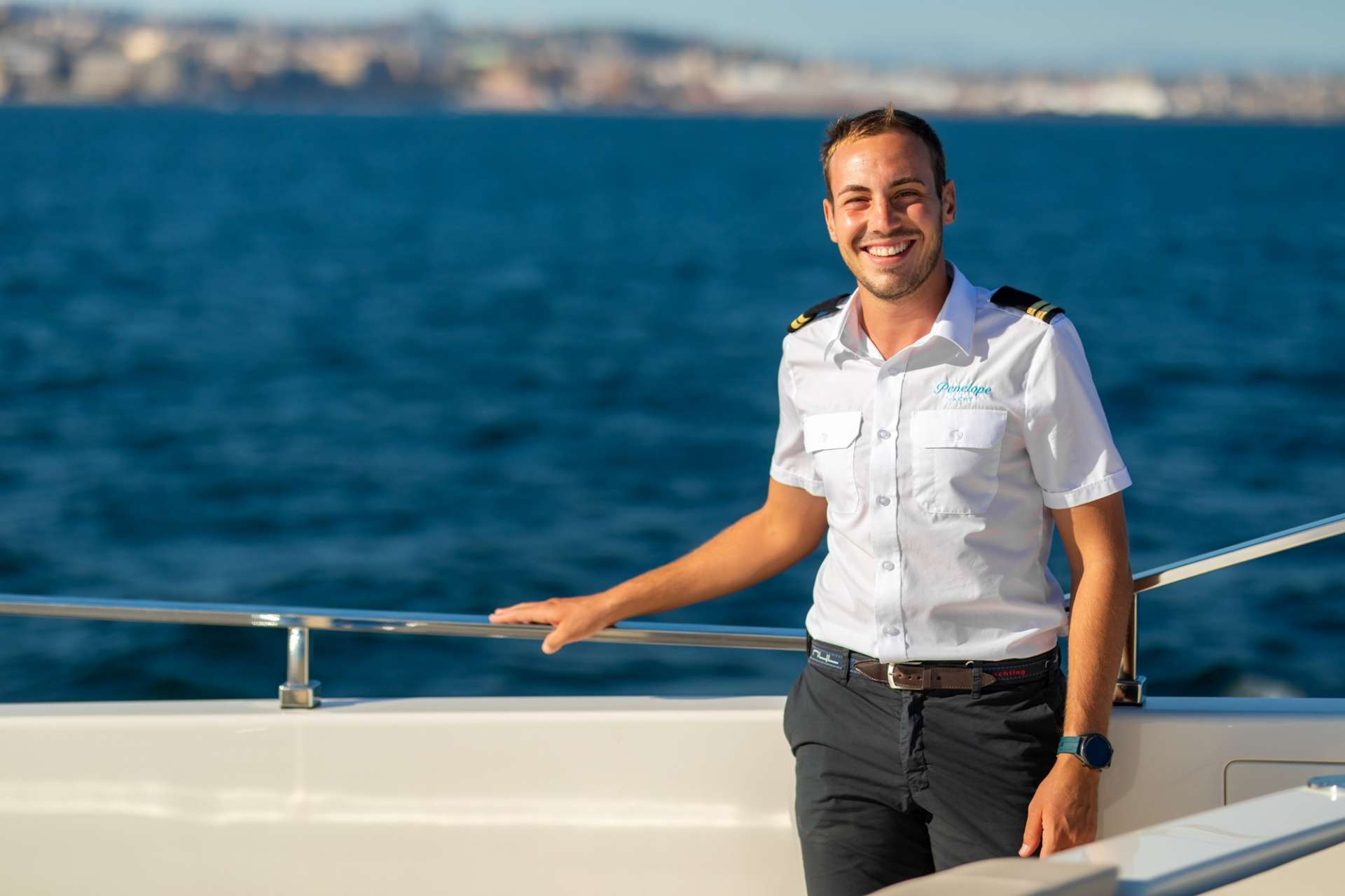 Second Deckhand
Antonio Bleve
Penelope sleeps up to 10 guests in 5 cosy cabins: One Master suite on the main deck, 3 double and one Twin with separate beds.
Ed Hamilton & Co. endeavors to provide the most up-to-date yacht information, availability and rate details, however, all information published on this site is subject to change without notice. Please contact us for the most current yacht information, availability and rate details.