Guests

10

Cabins

3

Model

Sail

Year Built

1982
Additional Rate Information
Additional Rate Information
Additional Rate Information
Summer seasons on the Med:
Low season – May 1 to 31 & October 1 to 31
2 pax – 11,500 euros
4 pax – 12,500 euros
6 pax – 13,500 euros
8-10 pax – 14,500 euros
Mid season – June 1 to 30 & September 1 to 30
2 pax – 12,500 euros
4 pax – 13,500 euros
6 pax – 14,500 euros
8-10 pax – 15,500 euros
High season – July 1 to August 31
2 pax – 13,500 euros
4 pax – 14,500 euros
6 pax – 15,500 euros
8-10 pax – 16,500 euros
Children under 10 are free.
No Delivery fees for Croatia and Montenegro for 2020.
VAT 13% for Croatia charters. No VAT if charter itinerary remains in Montenegro, and no VAT for Ionian Sea and Dodecanese islands in Greece.
Breakfast and lunch included
Dinner onboard is on a pre-booked basis, cost is 50 euros per head including local alcohol
Fuel is included and mooring for arrival and drop off is included
Local bar is included but fine wines and spirits are not.
20% APA
Noon to Noon for embarkation / disembarkation (good for flight connections) if required.
Charters for Corfu, Greece to embark / disembark in Albania, and Turkey for Dodecanese islands, to comply with Greek charter rules.
Location Details
Summer Area: Greece, Croatia
Winter Area: Greece, Croatia
Location Details: Based in Montenegro. Please inquire for itineraries in Croatia.
Bellacha is also available in Greece, Ionian Sea for Corfu.
Also inquire for South Dodecanese islands (capital island is Rhodes) and North Dodecanese islands (capital island is Amos)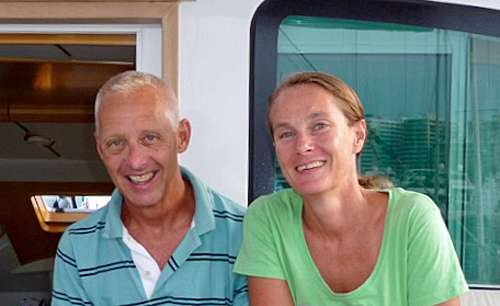 CAPTAIN DANNY ROBINSON
Danny has always loved sailing, it's in his blood. As a small child he was inspired by his Dad. Sailing was a passion they both shared. He recalls, "I started dinghy sailing aged eight, when Dad purchased a mirror dinghy kit that we built together. We started to race together right away." No doubt, this close bond with his Dad led to his enjoyment in having kids on board today. He says he loves their energy. "Happy kids and happy parents."
Danny's nautical accomplishments began early. He was a keen racer in the Enterprise dinghy class, youth division and won many events. At 14, he became the UK Youth National Champion. He went on to enjoy a naval career in the UK Merchant Navy as a Marine Engineer. He attended Leith Nautical College, Edinburgh, Scotland and UKSA in Cowes, obtaining naval engineering and sailing qualifications, respectively.
In addition to a remarkable navy career, Danny is a professionally qualified yacht captain with a commercial endorsement and 30 years of experience. He has captained private sailing yachts, catamarans and charter yachts. He was a Flotilla Captain for eight summer seasons in Turkey and Greece. The Ionian Islands are favorite cruising grounds. He's definitely a serious sailor, but he's also funny, enthusiastic, energetic and fun. He is a gentle instructor for those who want to learn something new, and a delightfully entertaining host.
Danny and his wife Lisa are both highly experienced in the marine industry. From 1995-2005 they operated their own charter sailing yacht, an Irwin 52, in Turkey, Greece, Montenegro and Croatia .Since 2005, they've worked together as professional yacht crew for private owners in the Mediterranean and the Pacific. Today, they are thrilled to host charters aboard their beautiful, Italian-built, custom-designed, 70' sloop, BELLACHA.
MATE/COOK LISA ROBINSON
Lisa was born in a land-locked, village in East Sussex , England, called Wadhurst. So, it was by a strange stroke of luck that she learned to sail. She recalls that when she was very young, work began to construct a reservoir by damming and then flooding a valley about 20 minutes from her home. Bewl Water was created, which is now the largest body of inland water in south east England. She says, "The new reservoir gave me the chance to learn dinghy sailing. I started sailing Optimists, then moved on to the Mirror, the Topper, the fireball ,and finally got onto windsurfing." Thus, her lifelong passion for sailing began.
After finishing school, Lisa studied interior design at the London School of Furniture. She worked weekends in local gastro pubs, picking up cooking tips in the kitchens and serving tables. After receiving her diploma, she went to work for Neilson Holidays. She says, "Working for Neilson gave me a great base in the hospitality industry. I gained my dinghy and windsurf instructor certification and a lot of experience teaching sailing. Also, for two winter seasons, I was both managing and cooking in ski chalets in Italy and Austria."
"My inspiration and passion are for Mediterranean cuisine using fresh, local, and when available, organic produce. My cooking style reflects my extensive experience cooking in Turkey, Greece, Croatia, Italy and Spain. My guests' favorites are fresh lobster & seafood pasta. My personal favorite foods are fresh juices and whole foods."
While Lisa specializes in Mediterranean cuisine, she also excels in preparing restricted menus including Kosher, allergy-free, vegetarian, vegan and gluten free meals. Lisa values an active lifestyle and a healthy diet. She believes in the health properties of individual foods and vegetables including 'super foods. Her goal is to delight guests aboard BELLACHA with cuisine that not only tastes amazing, it makes them feel amazing as well.
| | | | | |
| --- | --- | --- | --- | --- |
| Captain | Danny Robinson | British | 1958 | English, French, basic Turkish |
| Crew | Lisa Robinson | British | | |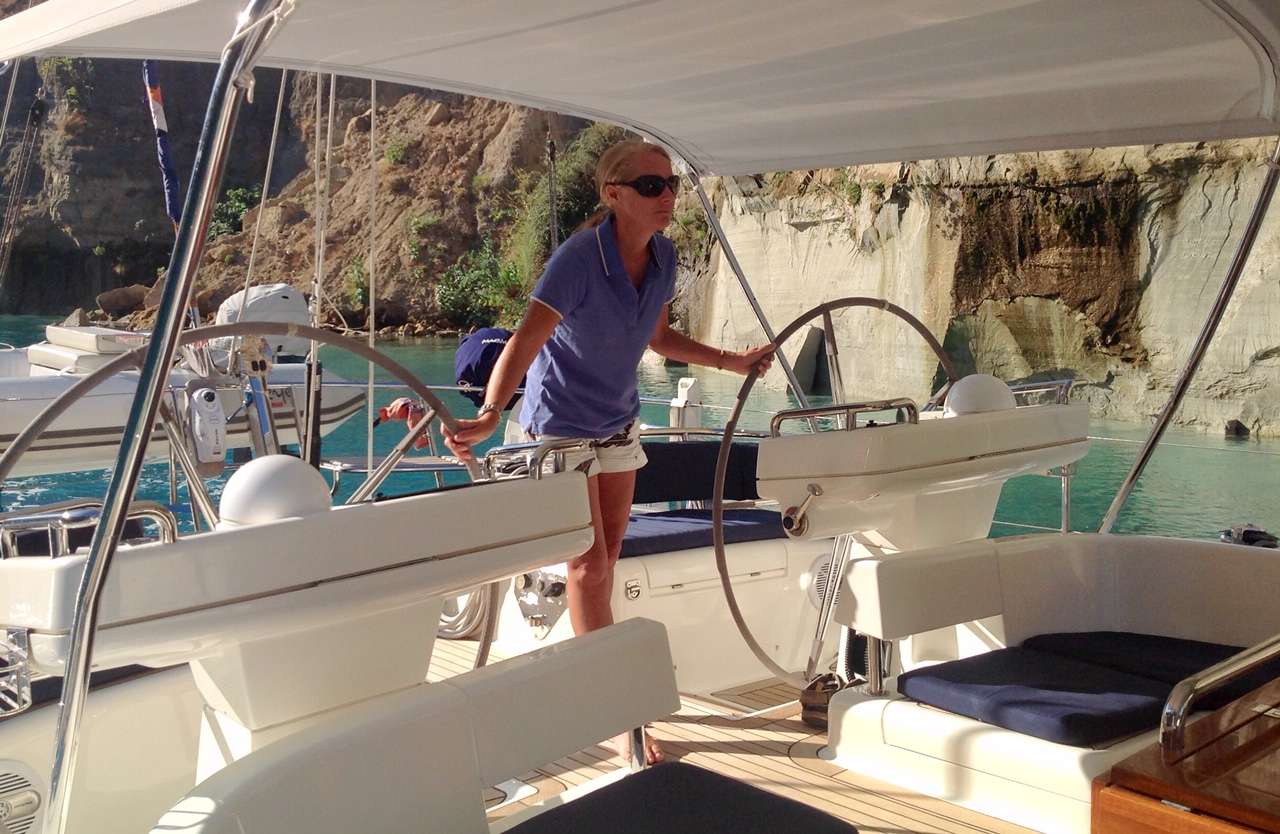 Chef
Lisa Robinson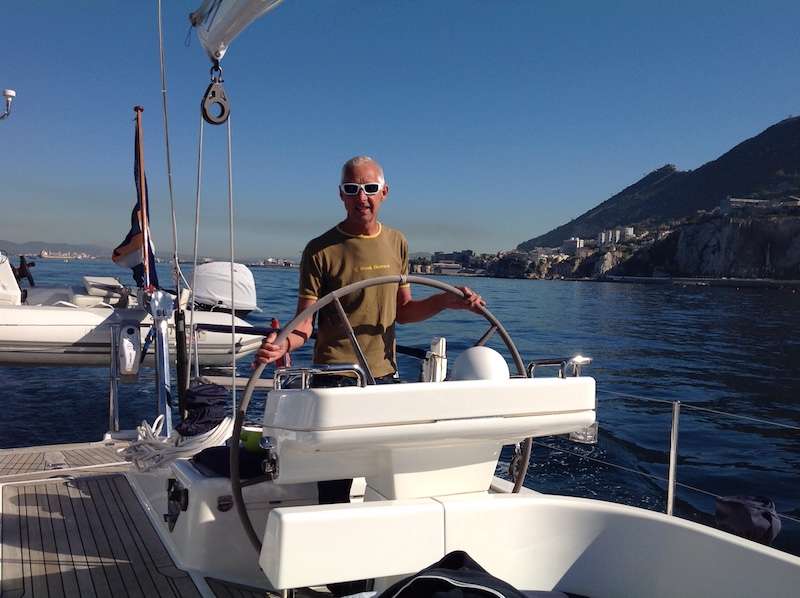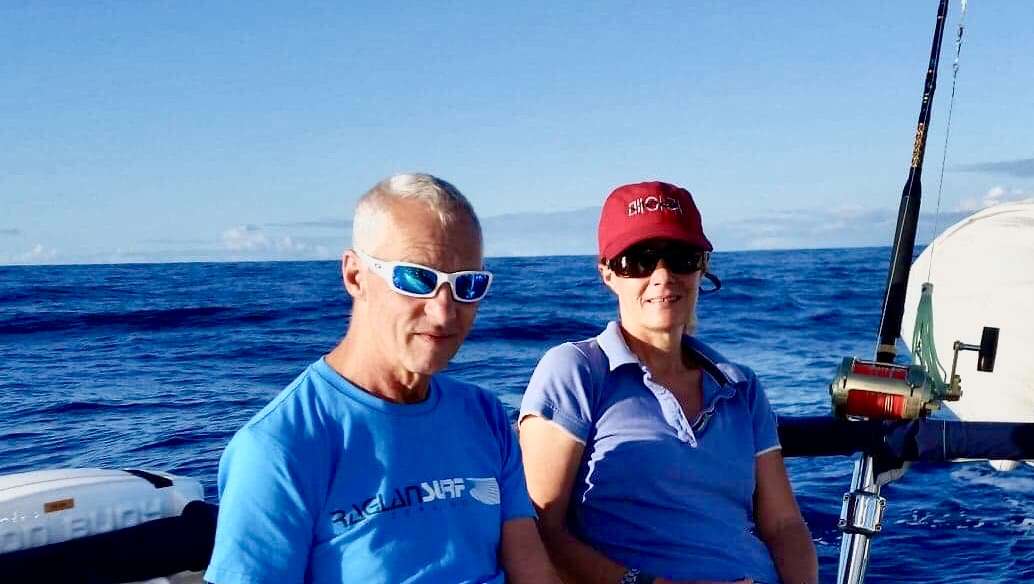 Other Toys
Note on versatile accommodations - Total guest capacity 6-10:
-1 aft cabin with queen size berth
-2 identical twins with one fixed bunk, one fold down bunk and two single berths that can convert to a queen size berth.
1 aft cabin with queen berth
2 identical twins wiith one fixed bunk, one fold down bunk and two single berths that can convert to a queen size berth. Total guest capacity 6-10. Guest toiletries provided.
Crew is captain and chef/deckhand with our own accommodation forward of the galley.
Menu- can be personalized for each charter to suit preferences and food intolerances
Daily Breakfast: Your choice of; Tea, coffee & fresh juice. Fresh seasonal fruit. Cereals and granola. Local yoghurt. Toast, pancakes & Eggs to personal preference. Continental cheese and ham breakfast also available.
Day 1
Lunch: Red rice & quinoa salad with smoked salmon or Tofu (v)
Tea: Brownie
Nibbles: Bruschetta 
Dinner: Marinated salmon fillets with lemon couscous, green vegetables and roasted carrots
Desert: Lemon posset with almond shortbread 
Day 2
Lunch: 2 chicken fingers with Parmesan crust and Caesar salad
Tea: Cakes
Nibbles: Nachos
Dinner: Chicken fillets stuffed with sun dried tomatoes and wrapped in pancetta ham. Served with sautéed potatoes, green vegetable and roasted field mushrooms. Roasted miso marinated aubergine
Desert: Plumb and almond slice
Day 3

Lunch: Pasta puttanesca with French bean salad
Tea: Muffins
Nibbles: Blinis 
Dinner: Pan roasted white fish fillets served with broccoli and wasabi purée and sweet potato skins.
Desert: Panacotta
Day 4

Lunch: Tuna Thai fish cakes with noodle & stir fry vegetable salad
Tea: Cookies
Nibbles: Anti Pasta Plate
Dinner: BBQ Pork tenderloin marinated in mustard and brown sugar served with ratatouille, organic rice and greens, halumi and vegetable kebabs marinated with pesto
Desert: Poached nectarines
Day 5

Lunch: Mini lamb meat balls ( v: chickpea balls) with Moroccan couscous and sweet potatoes salad
Nibbles: Cheese Board
Dinner: Seafood risotto served with baked vine tomatoes & asparagus
Desert: Molten chocolate souffle
Day 6

Lunch: Wraps stuffed with avocado, baby spinach, fried halumi cheese, baby tomatoes and pumpkin seeds
Nibbles: Artichoke dip 
Dinner: Orange marinated fillet steak cooked to your liking with fresh tomato sauce on the side, rosemary roasted new potatoes, green vegetable and stuffed red peppers. V: twice cooked cheese soufflé
Desert: Ricotta cream caramel with blue berries
Day 7

Lunch: Greek salad with feta cheese and herby lemon roasted new potatoes.
Nibbles: Parmesan wafers with hummus
Dinner: BBQ lobster with garlic bread, baked potatoes and green vegetable
Day 8

Lunch: Poached chicken and couscous salad
Ed Hamilton & Co. endeavors to provide the most up-to-date yacht information, availability and rate details, however, all information published on this site is subject to change without notice. Please contact us for the most current yacht information, availability and rate details.