Guests

8

Cabins

4

Model

Cat

Year Built

2020
Additional Rate Information
Additional Rate Information
Charter Rates Per Week
| Rate Period | Terms | 2 Guests | 3 Guests | 4 Guests | 5 Guests | 6 Guests | 7 Guests | 8 Guests |
| --- | --- | --- | --- | --- | --- | --- | --- | --- |
| Winter 2022 to 2023 | Inclusive | $23,000 | $23,500 | $24,000 | $24,500 | $25,000 | $25,500 | $26,000 |
| Summer 2023 | Inclusive | $23,000 | $23,500 | $24,000 | $24,500 | $25,000 | $25,500 | $26,000 |
| Winter 2023 to 2024 | Inclusive | $26,000 | $26,500 | $27,000 | $27,500 | $28,000 | $28,500 | $29,000 |
Additional Rate Information
GENERAL NOTES:
MINIMUM NIGHTS: 5, Inquire for less
For 6 night charters, divide weekly rate by 7 nights X 6 nights. For 5 nights or less, divide weekly rate by 6 nights X number of nights.

SLEEP ABOARD: Sleep aboard the night before charter dates. Available for $300 per cabin, with a 3 cabin minimum. Includes boarding after 4pm, welcome cocktail and canapes plus a light breakfast the next morning. Dinner is to be taken ashore at client expense.
HALF-BOARD: Includes: 7 breakfasts, 4 lunches & 3 dinners. Requires 3 lunches & 4 dinners ashore at client expense.
THROUGH SUMMER 2023: 2/$22,700 3/$23,050 4/$23,400 5/$23,750 6/$24,100 7/$24,450 8/$24,800
WINTER 2023/2024: 2/$25,700 3/$26,050 4/$26,400 5/$26,750 6/$27,100 7/$27,450 8/$27,800
LOCAL FARE MEAL PLAN: Includes: 7 breakfasts, 5 lunches & 6 dinners. Requires 2 lunches and 1 dinner ashore at client expense.
THROUGH SUMMER 2023: 2/$22,850 3/$23,275 4/$23,700 5/$24,125 6/$24,550 7/$24,975 8/$25,400
WINTER 2023/2024: 2/$25,850 3/$26,275 4/$26,700 5/$27,125 6/$27,550 7/$27,975 8/$28,400
CHRISTMAS/NEW YEARS:
CHRISTMAS: 1-8 guests @ $34,800 – charter must end by 12/26/23
NEW YEARS: 1-8 guests @ $37,700 – charter may not start prior to 12/27/23
Location Details
Summer Area: Caribbean Windwards, Caribbean Virgin Islands (BVI)
Winter Area: Caribbean Virgin Islands (BVI)
Location Details: Yacht is BVI based through summer 2023.
Yacht will be based in the Bahamas starting November 2023.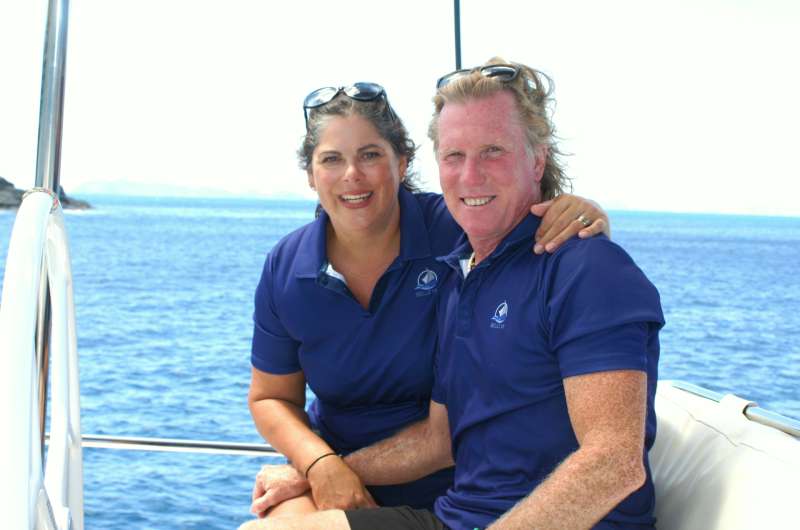 ROB BIO
Born in South Africa and growing up on the East coast of Kwa Zulu Natal, Rob has been a "water boy" his whole life. He is an accomplished sailor with over 30,000 sea miles under his belt on a range of vessels.
Worthy of mention was the family sailing adventure where Rob, Belinda and their 2 children embarked on a 4-year world cruise on their catamaran, Shayile. They cruised the East Coast of Africa, Indian Ocean, SE Asia, Indonesia, and Australia.
Rob has a passion for the ocean and loves water sports. He is a qualified surf life saver, pilot, advanced diver, and avid fisherman. He has a particular passion for salt water flyfishing. He loves to go out and hopefully return with something delicious to toss on the BBQ. Mountaineering is Rob's other passion, and he has hours of adventures on mountains spanning the globe. His epic adventure to Mt. Everest is worth listening to over a cocktail sundowner!
When Rob is not out skippering and entertaining, you will see him working in the galley with Belinda. Cocktails and the BBQ are part of Rob's regime, and he knows the perfect stories to tell while you enjoy them!
BELINDA BIO
Born and raised on the East Coast of South Africa, Belinda has spent her life close to the sea, camping, swimming, scuba diving and fishing as well as hiking and climbing the inland Drakensberg mountains.
She is a 'people's person' and in addition to her culinary training, is also trained as a professional nurse, specializing in maternity.
Belinda is a generous and passionate cook who has been influenced by travel and time spent in many different countries. She is particularly fond of Asian cuisine, Thailand, Malaysia, and Vietnam, but also enjoys spicy Mexican, Indian and Mediterranean influences.
She loves to cook fish and seafood and pair it with local, fresh, seasonal ingredients. She enjoys bright and bold flavours, especially citrus notes which do well to compliment the Caribbean climate. Delicious cool and creamy desserts round off dinner and ensure full and satisfied guests!
Waking up to fresh morning coffee and watching the sun set with drinks and appetizers are the absolute essence of life aboard and she can't wait to welcome you!
| | | | | |
| --- | --- | --- | --- | --- |
| Captain | Rob Bentley | South African | 1963 | English |
| Crew | Belinda Bentley | South African | | |
Other Specs
Other Pickup
Tortola, BVI
Engines
2x57HP Yanmar13Kw Onan Generator
Swim Platform
Scoop steps
Boarding Ladder
S/S ladder of scoop steps
Green Other
Reef safe/eco-friendly sunscreens, toiletries and cleaning products.
Scuba Onboard
Yacht offers Rendezvous Diving only
Other Toys
10 ft. floating dock
Underwater lights
Subwing
Floats / Noodles
Hookah Diving System
4 queen berth guest cabins each with a private en-suite electric head, shower and sink/vanity. Starboard side heads have dry stall showers, port side heads have wet showers.
All cabins have individually contract air-conditioning for each cabins comfort.
Top desk fly-bridge with lounging and seating with a 360 degree view.
Forward cockpit and lounge and dining area.
Aft cockpit with seating and dining accommodations.
Main deck has a bright and airy main salon (fully air-conditioned) as the galley direct access to the forward cockpit lounge area.
BERTH SIZES:
All queen berths are 5'w X 6'6″L
Bunks: Top bunk 32″W x 75″L; bottom bunk 36″W x 75″L
B's Delicious Dishes – Sample Menu
Breakfast:
For the Table: – Freshly brewed coffee, tea selection, chilled fruit juices, yoghurt, and cereal selection. Seasonal local fruit platter with a selection of pastries, toast and preserves.
Eggs Benedict with Black Forest ham or crispy bacon or wilted spinach on an English muffin or black mushroom (V/GF)
Crispy sauteed potatoes with anyway eggs, grated cheddar cheese and herby tomato
Individual phyllo breakfast cups with three-cheeses, baby tomato and spring onion
Pillowy buttermilk blueberry pancake stack with sticky, syrupy blueberry sauce
Honey and mustard glazed pork sausages with scrambled eggs, caramelised onions and rocket
Shaved smoked salmon with lemony cream cheese and dill on a bagel
Halloumi cheese fingers with roasted baby tomatoes and basil pesto (V)
Soft scrambled eggs with zingy green cilantro chutney on a crunchy Indian crisp (V)
Avocado on toast with crispy bacon or crunchy seed topping (V)
Caramelised French toast with banana, honey and cinnamon
Bake of the morning eg date & banana / bran & raisin / carrot & pineapple muffins / croissants / pastry
Lunch:
Black and white sesame crusted seared tuna with hot and spicy Asian vermicelli salad
Pan-fried 'fish of the day' with spiced turmeric Zanzibar potatoes and crispy garden salad
Juicy chicken skewers with herby tabbouleh and yoghurt cucumber tzatziki ( substitute halloumi for Vegetarian)
Sizzling garlic prawns with avocado salsa and fresh bread to mop up the garlic butter
Juicy Cheeseburger with BBQ sauce and salty oven baked potato wedges
Fresh fish fillet on smashed potatoes with herby green salsa verde sauce
Whole Spiced BBQ Fish with savoury nutty rice and green beans
Crunchy Salt and Pepper Squid with garlicky lime aioli and mixed salad
Grilled steak taco with red onion, avocado salsa, lime and crumbly white cheese
Steamy White Wine Mussel Pot with and hot garlic bread
Asparagus crepes with a creamy cheese sauce (V)
Happy Hour Appetisers: 
Yacht cured fish gravlax with toasted rye bread, Dijon crème fraiche and pickles
Charcuterie platter of cured meats, lavash cracker bread, assorted cheese, salty nuts,
seasonal fruits and pickles
Sweet and spicy fried chicken wings
Catch of the day Ceviche with tortilla chips
Vietnamese colourful crystal spring rolls with dipping sauce
Tomato, basil and haloumi skewers
Sticky pork riblets
Mediterranean Mezze of flat bread, vegetables, and dips
Devils on horseback (bacon wrapped prunes) and cream cheese stuffed jalapeños
Hummus loaded with pine nuts, olives, parsley, and olive oil with focaccia
Baked brie topped with mixed nuts and honey
Dinner: 
Crispy topped fish with olives, tomato and crunchy capers on zucchini noodles
Beef steak with cauliflower puree, sauteed mushrooms and spinach
Chicken roulade stuffed with mozzarella, basil and sundried tomatoes on roasted pumpkin squash and parmesan green beans.
Creamy chicken korma curry with basmati rice, sambals and crunchy pappadums
Blackened Cajun Mahi-Mahi on smashed garlic potatoes with roasted corn salsa
Seafood spaghetti Marinara or spicy Tomato Arrabbiata(V)
Herbed pork fillet with cheesy potatoes dauphinoise and charred lemon broccoli
Peppercorn crusted beef tenderloin mustard mashed potato and seasonal greens
Mongolian beef stir fry with fragrant steamed white rice and fresh cucumber salad
Persian spiced lamb chops with chilli and herb drizzle and Turkish white bean salad
Stuffed butternut squash with feta and pesto (V)
Spaghetti Limone with grilled asparagus (V)
Dessert:
Zesty lemon meringue roulade with whipped cream
Spiced poached pears with amaretti biscuits and vanilla bean ice cream
Espresso tiramisu with a touch of Kahlua
Coconut panna cotta with toasted coconut and mango mint salsa
Chilled stem ginger Cheesecake with ginger syrup drizzle
Pavlova pillows with whipped cream and seasonal fruits
Grilled pineapple with buttery rum sauce and ice cream
Double chocolate tart with fresh orange segments
Cream puffs with hot chocolate sauce
South African Tipsy Tart with vanilla ice cream
Ed Hamilton & Co. endeavors to provide the most up-to-date yacht information, availability and rate details, however, all information published on this site is subject to change without notice. Please contact us for the most current yacht information, availability and rate details.