Guests

12

Cabins

6

Model

Power

Year Built

2010
Additional Rate Information
Additional Rate Information
Location Details
Summer Area: Bahamas, Cuba
Winter Area: Caribbean Virgin Islands, Bahamas, Caribbean Leewards, Caribbean Windwards, Cuba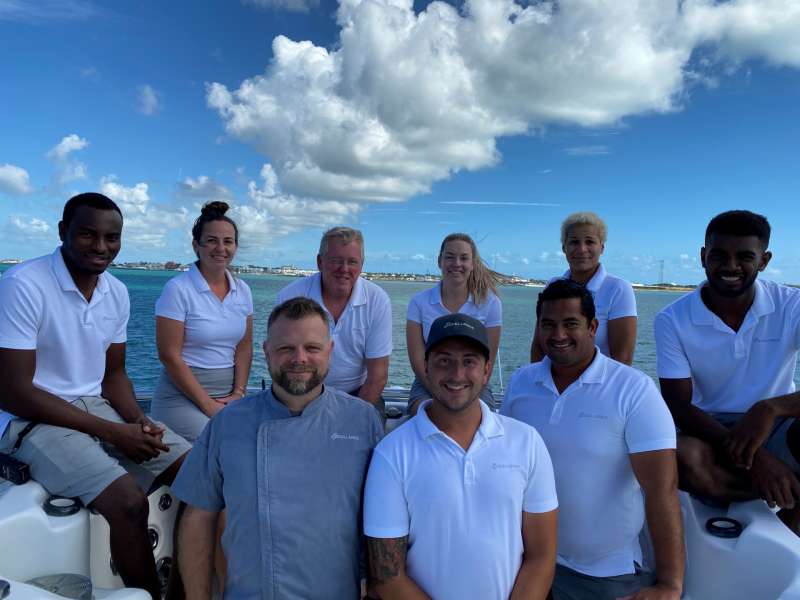 Captain – Thomas White
Tom joined the Excellence team in August of 2016 after his previous vessel sold. His extensive knowledge and experience as a captain and welcoming Southern spirit will insure a great time for your friends and family. Tom's career on boats began when he joined the Coast Guard as a search and rescue officer in Louisiana and the West Coast of America.
After 6 years of service in the Coast Guard, Captain Tom joined the commercial shipping industry, sailing in and out of the Bayou. He has completed many trans-ocean passages and commanded vessels traveling from Alaska to Bermuda, Western Canada, Central America, Cuba and the Eastern and Western Mediterranean Sea.
For a break, Tom loves diving, horseback riding, and reading history biographies.
Engineer – Oshain Clark
Oshain is from Falmouth, Jamaica. He grew up with a big family and is the youngest of 8 siblings. He is a very passionate and hardworking individual who dedicates himself to excel in the craft of engineering. Oshain went to Muschett High School followed by Caribbean Maritime University where he studied marine engineering. Through-out life's journey he has developed a love for soccer, experiencing different cultures and music such as roots reggae. He will happily give you a tour of the engine room and show you the operations.
Chef – Danny Davies
Danny is a 9 Year British Army Veteran, who served 5 tours of duty where he honed his culinary skills, self- discipline, work ethic and of course team building experience. Leaving the forces in 2007 as Corporal Davies, Chef Class 1, he served his last year in the Household Cavalry Regiment, Windsor, UK where his responsibilities included preparing meals for Princes William and Harry, in the officers' Mess, high profile dining nights and also in the field during their training exercises. He is a true culinary professional with the most diverse 20 + year's experience on land and at sea, including working at many 5*, Diamond, Michelin Star & Rosette levels of fine dining experience. Danny's international experience broadens his appetite for creating outstanding menus, paired with the perfect wines, and presented in a most welcoming and memorable environment. He prides himself on exquisite food presentations and has a passion for the sweeter things that come out of the oven.
On a personal level, Danny is married with two adorable young daughters, who are already skilled "cheffettes". He enjoys all kinds of sports, including scuba diving and paddle boarding, running and cycling. Danny continues to consult around the globe and maintains residences in London and South Florida.
First Mate – Ned Fisher
Born and raised on the island of Ovalau in the Isles of Fiji, Ned has always been attracted to anything and everything to do with the sea. Ned started his career as a flight attendant in 2007 and then in 2009 moved into the Cruise Ship industry in the Pacific. In 2014, Ned decided to chase his dream and enroll with the Australian Super Yachts where he attained his Certificate for Professional Deckhand Training. A year later he was offered a permanent job with Excellence where he's proved to be an asset to the team. Through hard work and extensive schooling he has worked his way up to the first mate position. Ned's innovative, easy going and versatile demeanor ensures that he is well liked by guests and crew alike. He also ensures that all guest access are safe and well kept. In his spare time Ned loves training, diving and reading.
Bosun – Patrick Fisher
Patrick grew up in the beautiful Islands of Fiji. He lived by the coast of the Old Capital of Fiji. Here he enjoyed various water sport activities particularly diving as his dad worked for a dive company. As the tourism industry is the biggest economy contributor Pat worked as a Night Manager in a hotel. After 5 years working in the hotel industry he thought he should try working on yachts. Pat hasn't looked back since. With his smile and happy demeanor you will definitely find his company refreshing. Pat Is ready to make your experience on Excellence a memorable one.
Deckhand – Quinn Mulvihill
Quinn Grew up in New Jersey, spending his summers at the Jersey Shores and winters driving up to Vermont for snowboarding trips.
If not at the beach or on the mountain you could find Quinn playing guitar or skateboarding. While working towards his associates' degree, he traveled as far west as Colorado working Music Festivals for a food and beverage company. After finishing his degree he discovered the world of yachting and he immediately moved to Fort Lauderdale to immerse himself in the industry. Whatever your outdoor needs shall be, Quinn will be happy to help you conquer your fears on the slide or learn how to maneuver a jet ski while onboard Excellence.
Chief Stewardess – Bintu Omagbeni
Bintu grew up in southern Sweden with her Swedish mother and Nigerian father.
At the age of 16 she was assisting in the management of a world music club and booking international artists. Prior to her yachting career she was studying marine biology in the archipelago of Gothenburg. One too many cold winters and her love for the ocean led her to join the yachting industry in 2006. With a genuine interest for snorkeling, diving and all things aquatic she still loves life on the high seas. On her spare time she loves to read and practice yoga. She just completed her YTT-200 and will happily teach you yoga on the sundeck. Bintu has a particular love for custom flower arrangements and creative table settings, she has all the experience with just enough flare to make every moment special! She is very excited about hosting you onboard M/Y Excellence. Designing refreshing cocktails to suit your tastes and providing seamless service in a comfortable atmosphere are a few ways she plans to make your stay on board the most best yachting experience you've ever had.
2nd Stewardess – Jamie Bredenkamp
Jamie grew up in the inland city of Johannesburg, South Africa. After school she studied event management and worked in the industry for 3 years. She was always drawn to the ocean and took every chance she could to travel down to the coastlines of SA. She traveled to Europe on holiday in 2014 and this sparked a great interest in traveling abroad, she decided she wanted to see as much of the world as possible. With her pull to the ocean and passion for traveling it seemed an obvious choice to work in the yachting industry. On her spare time Jamie enjoys water sports, fitness and experiencing as much of her surroundings as possible.
With her bubbly personality and excellent service skills, she will make sure that you're always happy and comfortable.
3rd Stewardess – Jennifer Walker
Jen was born and raised on the Sunshine Coast, Queensland, Australia. She has owned and operated a produce store that focused on fresh organic goods direct from the farm and healthy lifestyle and living. Jen joined the yachting industry at the beginning of 2019 to learn new skills and fulfill a desire to travel more. Jen comes from a large family with three siblings and enjoys art, fishing, cricket and beach camping. Jen is the newest addition to the Excellence crew and she is very excited get out of her way to make your stay an unforgettable experience.
| | | | | |
| --- | --- | --- | --- | --- |
| Captain | Thomas White | American | 0 | |
| Crew | Bintu Omagbemi | Sweden | | |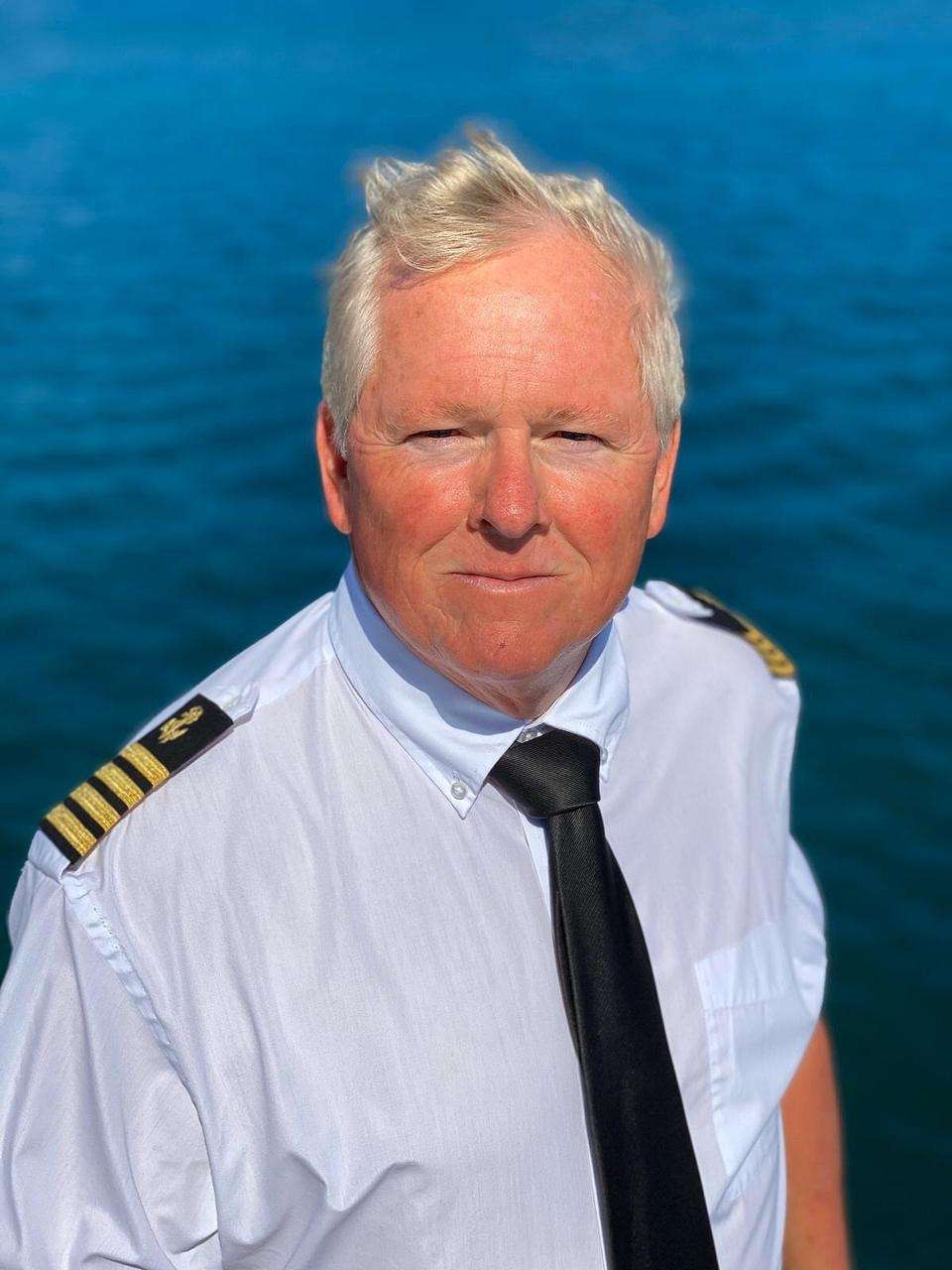 Captain
Tom White
First Mate
Ned Fisher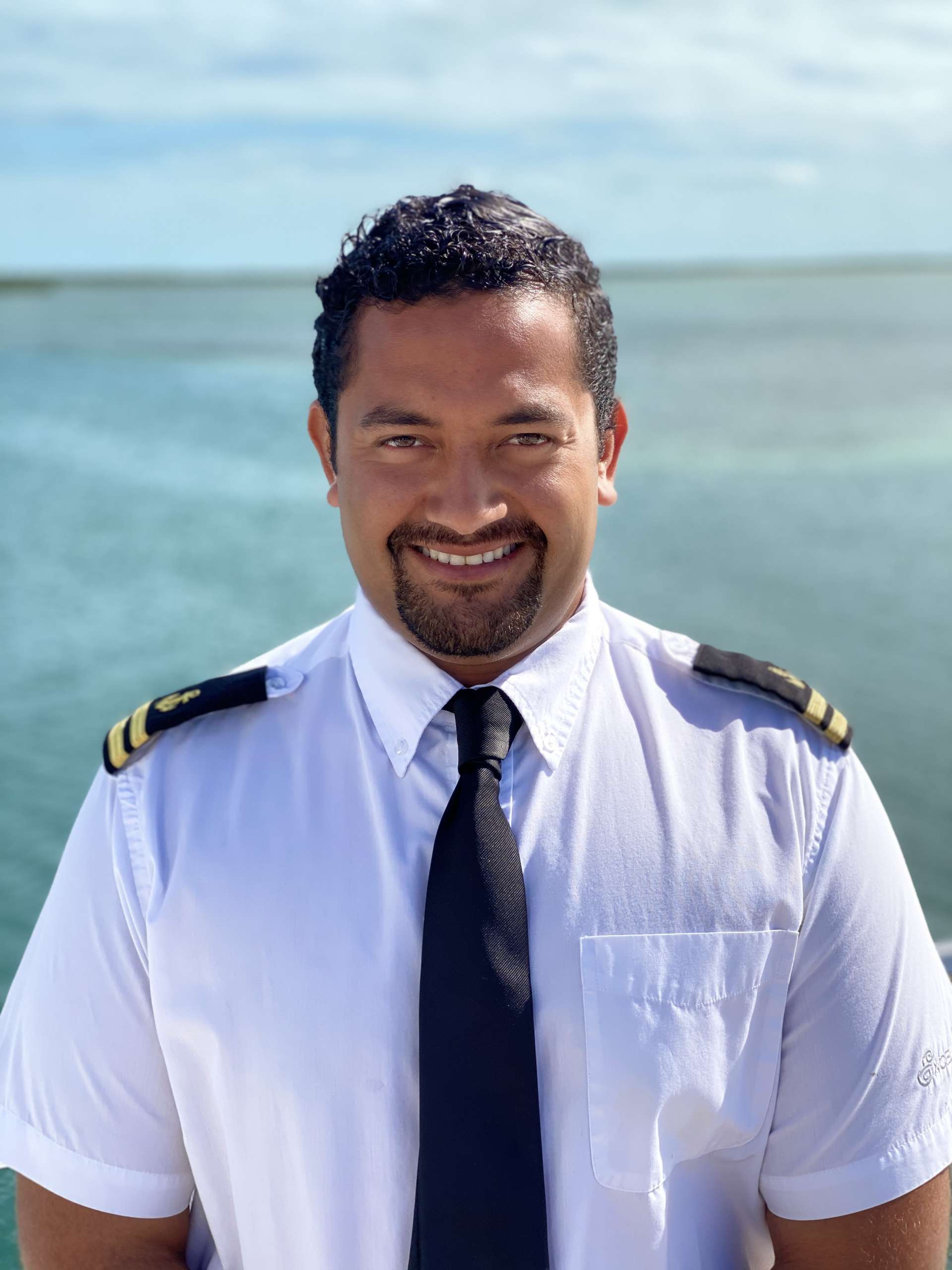 Bosun
Patrick Fisher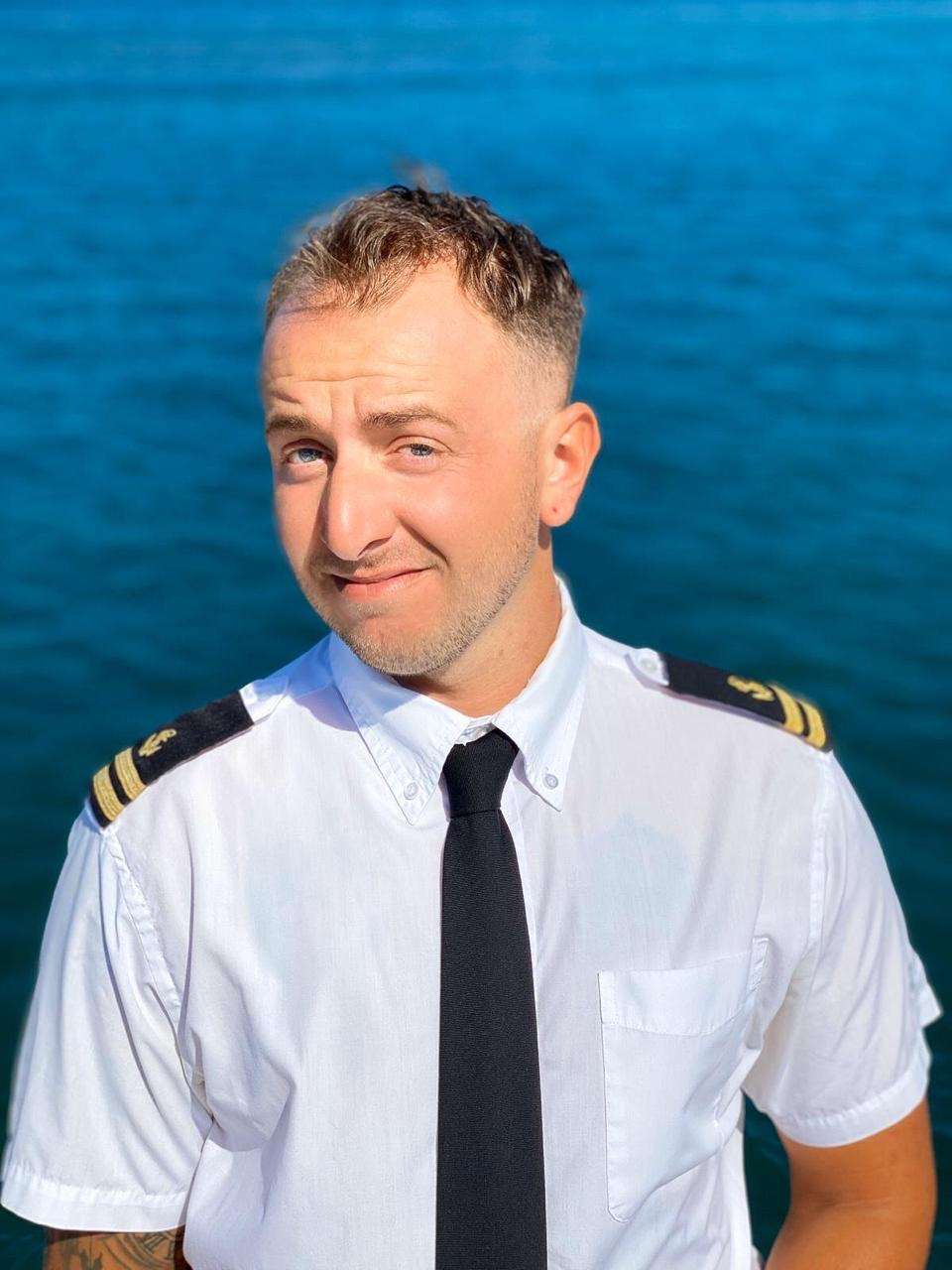 Deckhand
Quinn Mulvihill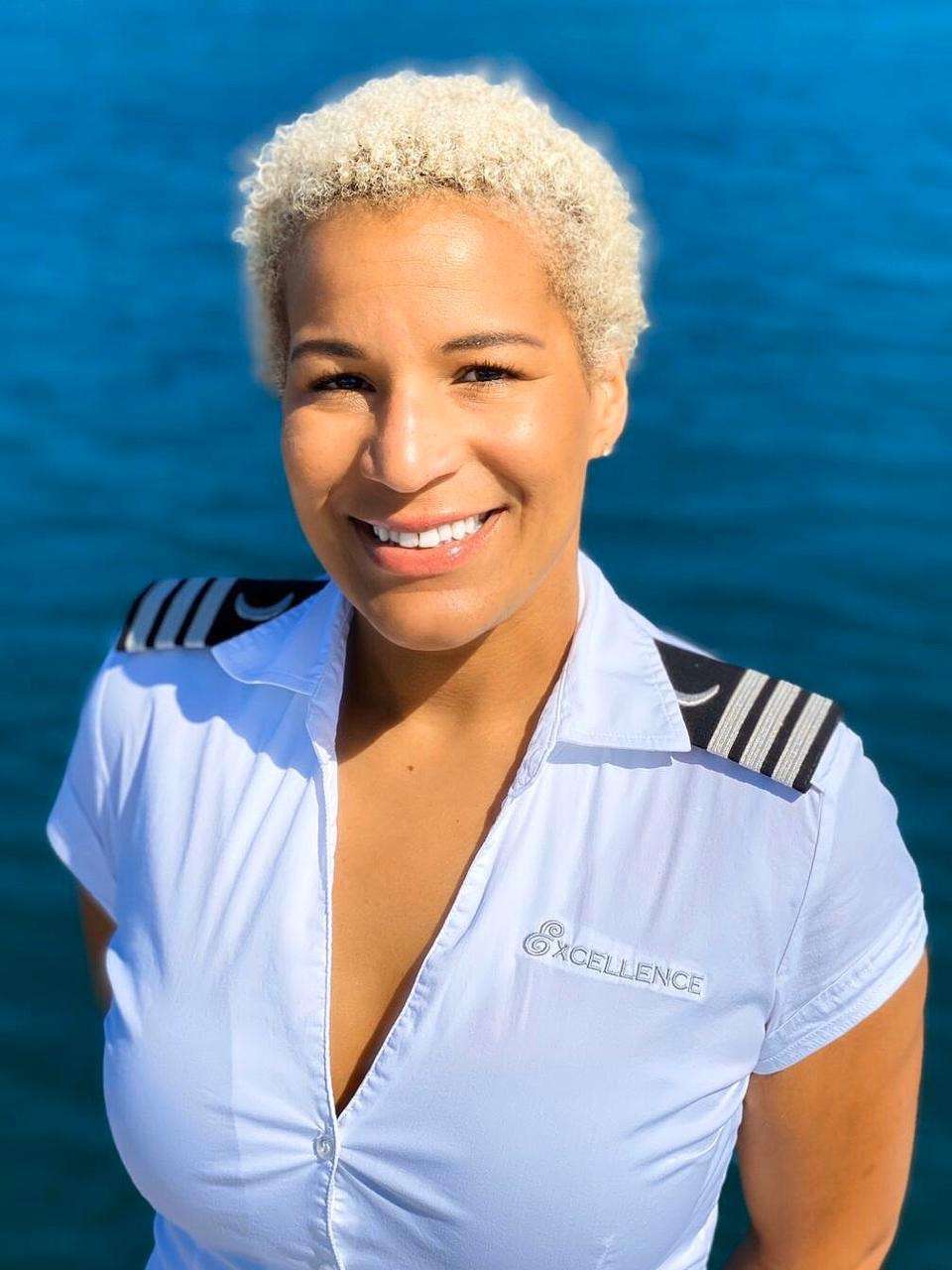 Chief Stew
Bintu Omagbemi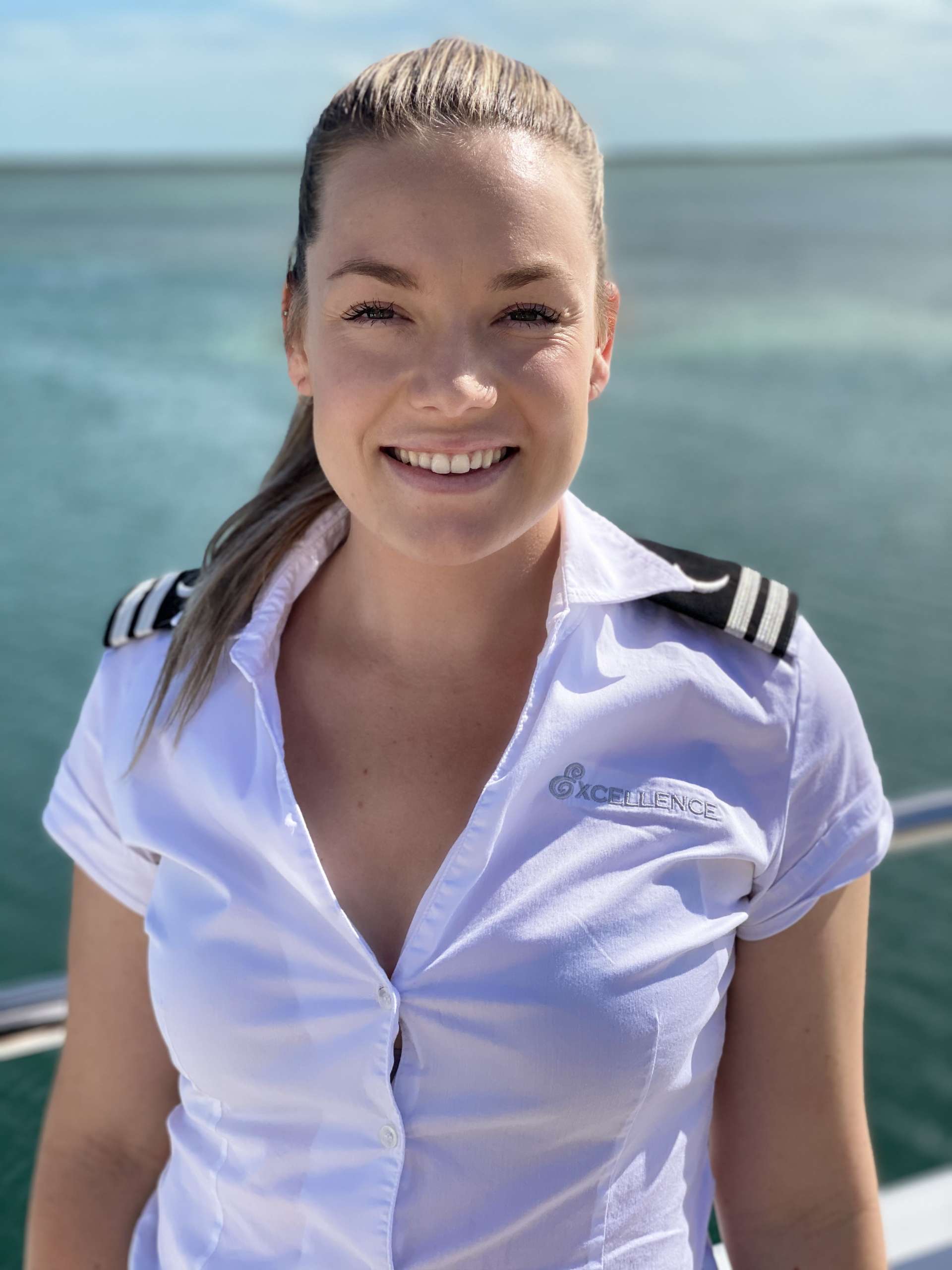 2nd Stew
Jamie Bredenkamp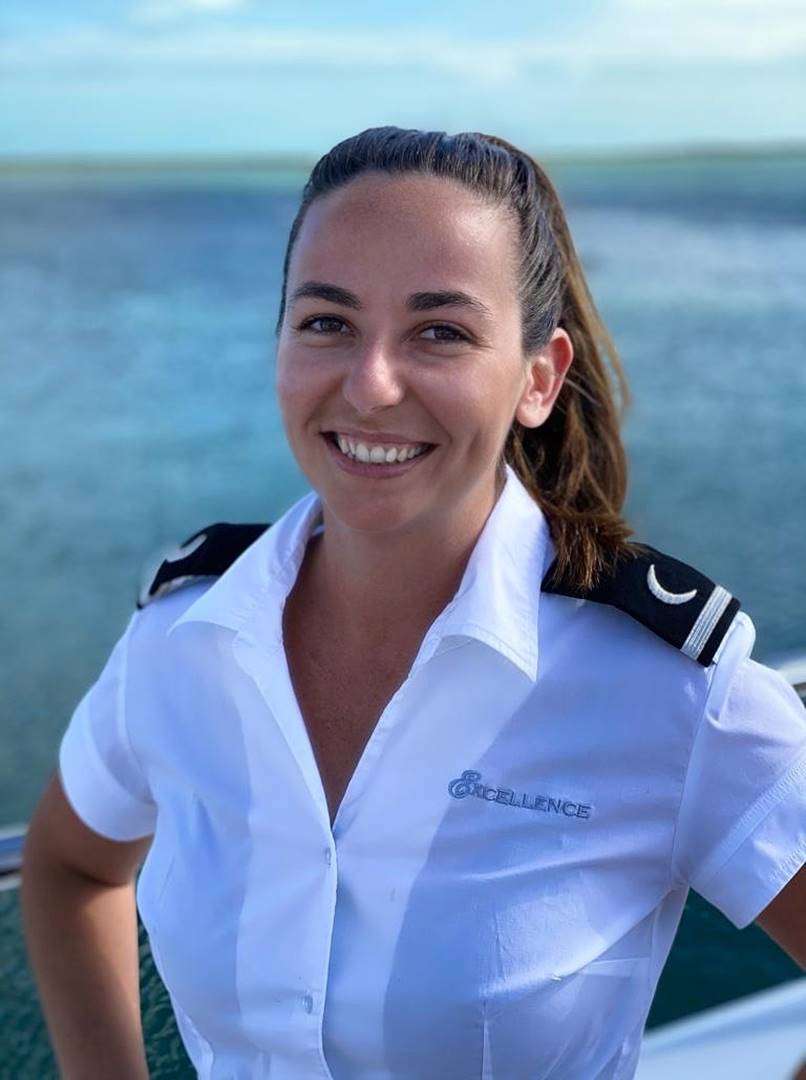 3rd Stew
Jennifer Walker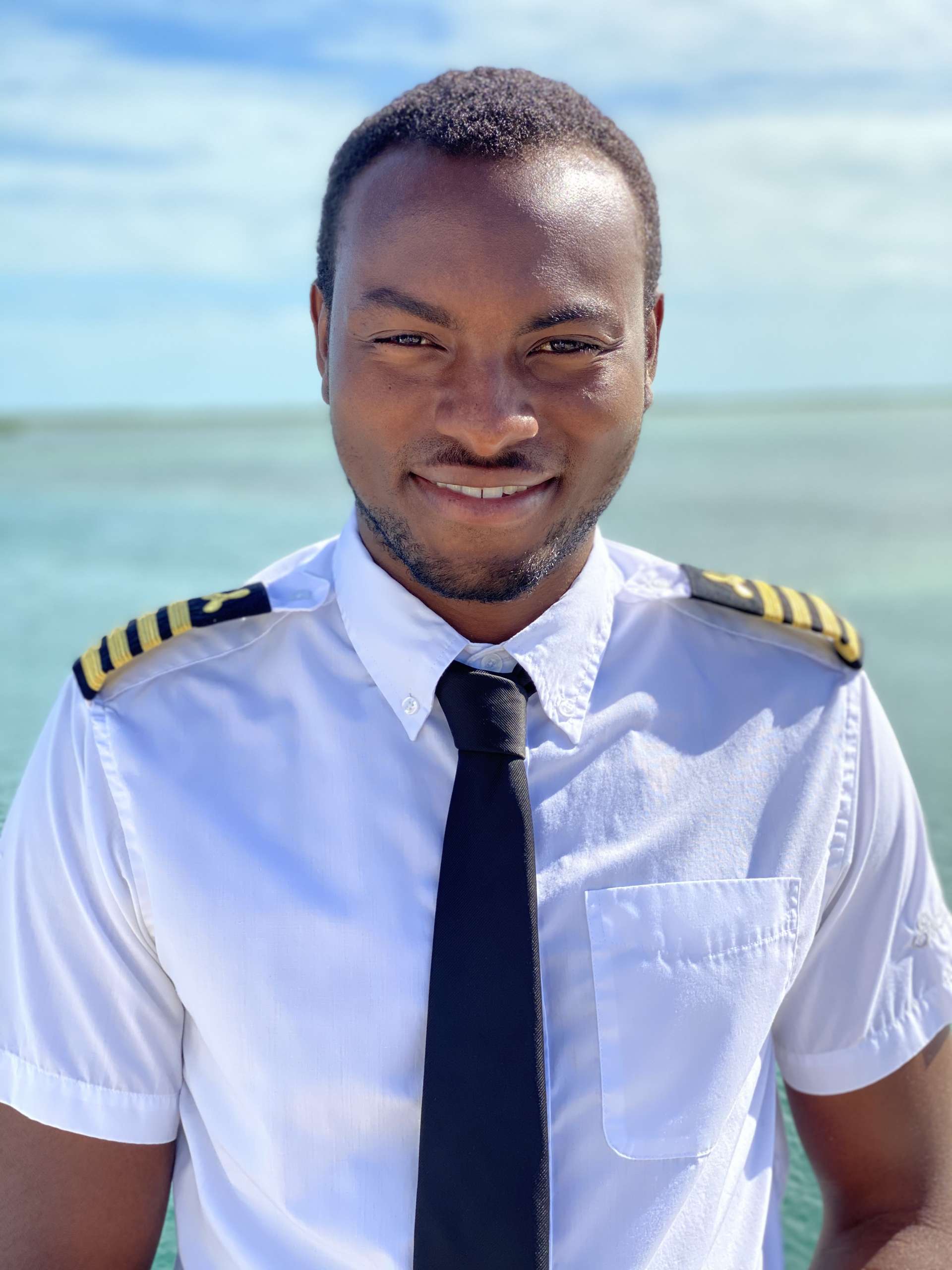 Engineer
Oshain Clark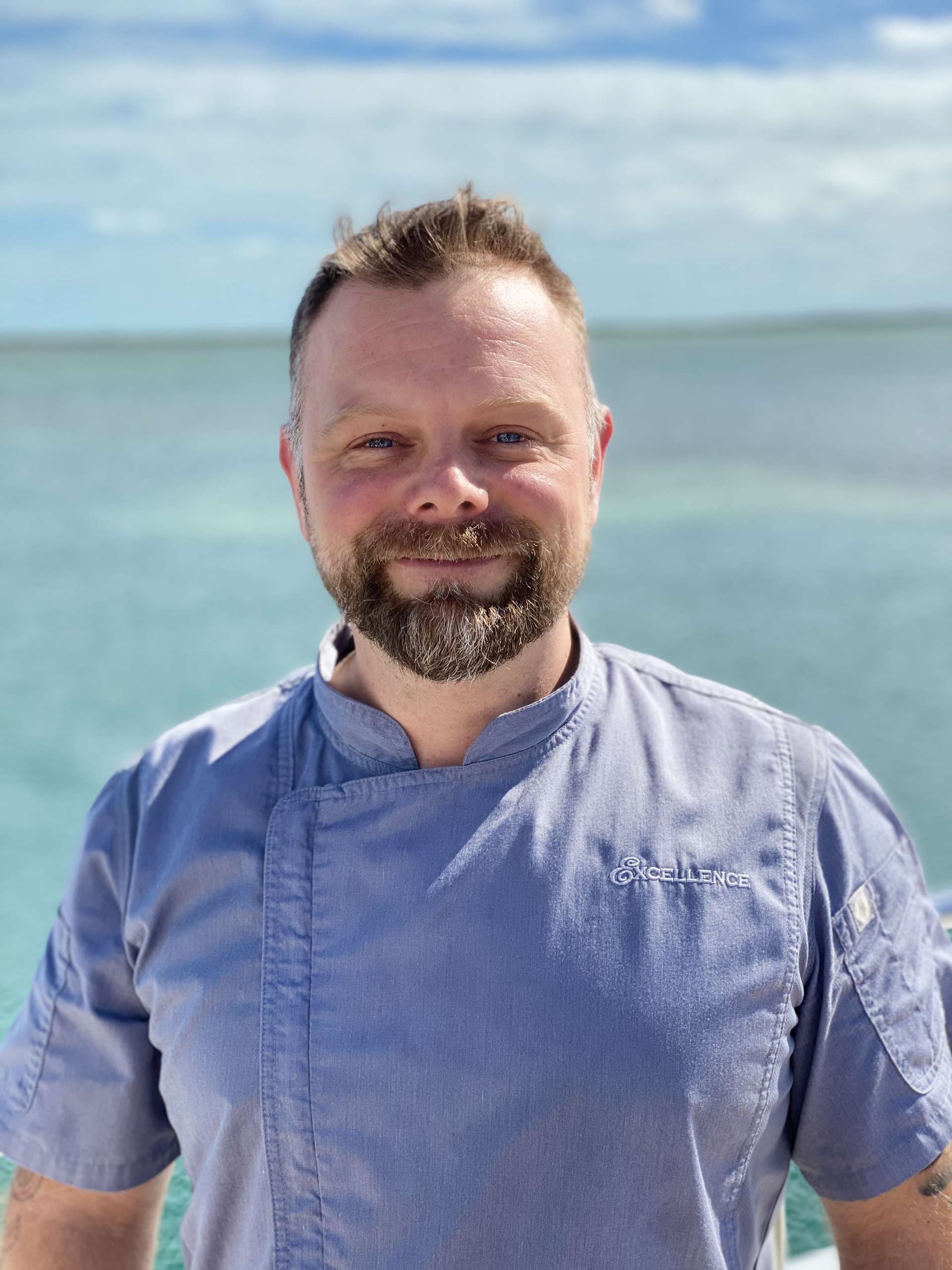 Chef
Danny Davies
Amenities
Generator
2 85kw Northern Lights
Other Toys
38' Fountain tender, brand new 2019 with triple 350hp engines
Slide from top deck
32' inflatable swimming pool (extends off swim platform)
1x Jet Lev
4x Seabobs
2x Wave runners
4x Paddleboards
2x Kayaks 1 or 2 person
Snorkel Gear
Fishing Gear
Towed Toys
Banana Boat
Treadmill
Weights
Yoga Instruction available on Board
Beach set up - Tent, tables, chairs, beach loungers
Beach Volley Ball set up
MASTER STATEROOM – Main Deck
King Size Bed
His & Hers ensuite Onyx Bathroom with large Jacuzzi Tub, Multi Head shower and 2 LCD Tv's
Walk in closets
46″ LCD TV
Separate Sitting area with 46″ LCD TV with Kaleidescape
PORT FWD GUEST STATEROOM – Lower deck
Queen Size Bed
Ensuite with granite counter-tops and marble floors
TV with Kaleidescape
PORT AFT GUEST STATEROOM – Lower deck
Queen Size Bed
Ensuite with granite counter-tops and marble floors
TV with Kaleidescape
STBD FWD GUEST STATEROOM – Lower deck
2 x Twin Beds
Ensuite with granite counter-tops and marble floors
TV with Kaleidescape
STBD AFT GUEST STATEROOM – Lower deck
Queen Size Bed
Ensuite with granite counter-tops and marble floors
TV with Kaleidescape
VIP STATEROOM – Bridge deck
Custom Double size Bed
Ensuite with granite counter-tops and marble floors
TV with Kaleidescape
**ACCOMMODATIONS FOR ADDITIONAL GUESTS AVAILABLE ON 2019 92′ VIKING SPORTSFISH
Please inquire for rates and availability.
15 Day Charter Menu Plan Plated
Breakfast- Fresh fruit platter, cold press juice, assorted breakfast pastries, yoghurts, smoked
salmon, avocado, cheeses, cereals, granola, muesli, porridge oats, toast, bacon, eggs, hash browns.
Additional cooked to order breakfast items, such as omelettes, eggs benedict, pancakes and
waffles, etc are available, plus Chef will recommend a daily, breakfast special for your guests.
Day 1 Lunch
Butternut squash and ginger soup served with fresh bread rolls.
Chopped vegetable salad- Endive and radicchio lettuce topped with roasted corn, tomatoes, carrots,
chickpeas, Parmigiano-Reggiano cheese and dressed with a sun dried tomato vinaigrette.
A salad of couscous, roasted beets, kale, plum tomatoes, lemon zest and arugula. Char grilled king
prawns in garlic and parsley olive oil.
Dinner
Basil Pesto potato gnocchi with gorgonzola cheese.
Chilean Sea bass marinated in a miso & sake emulsion, broiled and finished with a ginger & miso
glaze. Brownie and ice cream sundaes.
Day 2 Lunch
Classic French onion soup, served with a floating grilled cheese croton.
Chicken Caesar salad, grilled chicken tenderloins served with chopped romaine lettuce, cucumber,
celery, croutons, shaved parmesan, crispy pancetta and served with a Caesar dressing.
A salad of carrot, fine green beans, pan fried quinoa, pumpkin seeds and orange.
Dinner
Loaded Nachos, Black beans, corn, cherry tomatoes, chopped avocado, jalapenos and nacho cheese,
topped with cilantro.
Taco buffet- Hard and soft tortillas with the following to choose from- Grilled citrus chicken
strips, fajita style shrimp, fried fish and spicy beef, shredded green cabbage, cheese, cilantro
and onions, sour cream, mild salsa and guacamole.
Freshly made Churros with chocolate dipping sauce, cinnamon sugar and a light fruit salad
15 Day Charter Menu Plan Plated
Day 3 Lunch
Antipasti and cold cuts selection- Salami, mortadella, prosciutto, Parma ham, bresaola, pastrami,
grilled artichoke hearts, sundried tomatoes, olives, grilled vegetables, cheeses all served with
garlic bread.
Sicilian seafood pasta- A fennel and tomato sauce, pan fried garlic and herb catch of the day,
pasta, topped with saffron potatoes.
Zucchini carpaccio and fennel salad
Dinner
Calamari served with a saffron and garlic aioli, crisp salad and lemon wedge.
Seared center cut filet mignon, béarnaise sauce, served with truffle roasted fingerling potatoes,
sautéed greens and roasted beets.
Red velvet cake and crème Chantilly
Day 4 Lunch
Zucchini soup
Seared Ahi Tuna with ginger and sesame seed, Chinese leaf salad
Quinoa, broccoli, cucumber, zucchini, Garbanzo bean, yellow capsicum pepper, and roasted beets
salad
Dinner
Mushroom and fennel tartlets with roasted plum tomatoes
Dry mustard rubbed chicken stuffed with Gouda wrapped in prosciutto ham served with green
peppercorn jus
Lemon meringue pie
Day 5 Lunch
Beach BBQ- BBQ pork ribs, rib eye steaks, lemon and basil grilled chicken, beef burgers, sausages
served with a selection of salads, BBQ beans and corn.
Dinner
15 Day Charter Menu Plan Plated
Hand made fresh pizza, French fries, garden salad and slaw- Pizza are made from scratch and guests
can choose their own toppings to suits their taste. Cheese, mozzarella, tomato, Pepperoni, salami,
grilled chicken, mushroom, artichoke, asparagus, tuna, shrimp, red onion, rocket, lobster tail,
bacon, garlic and fresh spinach.
Double chocolate fudge cake and hot fudge sauce
Day 6 Lunch
Cream of leek and potato soup served with homemade bread and butter Jerusalem artichoke and parsnip
risotto with parsnip crisps and fresh truffle
A green salad of lamb's lettuce, cucumber, celery, white radish, arugula, toasted pine nuts and
sesame seeds.
Dinner
Slow roast pork belly, zucchini squash puree, spring greens
Thai green king prawn and conch curry served with coriander rice, pickled vegetables and peanut
sauce Apricot bread and butter pudding served with crème analgise
Day 7 Lunch
Tomato soup and garlic bread
Lebanese baked salmon with a warm tabbouleh couscous, fresh mint and feta cheese salad
A waldorf salad of endives, green apple, walnuts, red onion, celery, broccolini and asparagus tips
Dinner
Tomato and mozzarella caprese salad
Red wine braised beef brisket, baby onions, mushrooms, roasted parsnips and whipped potatoes Pear
tarte tatin with toffee creme fraiche
Day 8 Lunch
15 Day Charter Menu Plan Plated
Broccoli, blue cheese and pear soup served with garlic crisp bread Spinach, mushroom and ricotta
tortellini
A green salad of avocado, celery, cucumber, green beans and fennel.
Dinner
Grilled lamb cutlets with green beans, mint and shallots Miso-baked grouper with sesame dressing
and pak choi Toasted almond panna cotta
Day 9 Lunch
Roasted chicken Ramen noodle soup served with a soft boiled egg
Hachis Parmentier- Classic French comfort food. Similar to Shepherds pie and served with green
beans and carrots
A quinoa salad of broccoli, roasted butternut squash , kale, spicy baked chickpeas and toasted
pumpkin seeds.
Dinner
White almond soup
Grilled Lobster served with garlic butter and New York strip steak, portobello mushrooms, grilled
corn, celeriac and Kohlrabi slaw
A selection of sorbets
Day 10 Lunch
British style Fish and chips served with peas and lemon wedges Porcini mushroom and kale risotto
served with focaccia crisp bread Dinner
Chinese style crispy duck, cucumber, green onions, pancakes
Sweet and sour chicken served with chow mein noodles and egg fried rice. Key lime pie and chocolate
ice cream
15 Day Charter Menu Plan Plated
Day 11 Lunch
Clam chowder- New England style served with San-fran style sourdough toast. Chilled Jumbo stone
crab, creamed spinach, corn, coleslaw
Dinner
Burrata, tomato, basil and balsamic dressing Osso Buco served with risotto alla Milanese
Custard filled Profiteroles with dark chocolate sauce
Day 12 Lunch
Bento box style selection of hand-made sushi including tuna Hosomaki roll, Salmon roe Ikura gunkan,
teriyaki chicken, avocado and cucumber Chu maki, Nigiri-zushi, soya dipping sauce, pink pickled
ginger and wasabi
Roasted red pepper and garlic hummus salad with celery, radish, cucumber, bell peppers and crisp
tortilla
Dinner
Pork and mushroom arancini served with an Amatriciana sauce
Seared veal chop, mashed potatoes, broccoli, Brussels sprouts, mixed greens. Vanilla crème brulee,
poppy seed shortbread biscuits
Day 13 Lunch
A warm salad of roast chicken, tender stem broccoli, asparagus, kale, sugar snap peas and penne
pasta with blue cheese croutons
Mushroom and garlic bread wellington, prosciutto, asparagus duxelles, mustard, mushroom veloute and
chives.
Dinner
Fresh potato crab cakes made with green onions and lemon, served with a mixed leaf salad and a
light mustard dressing
15 Day Charter Menu Plan Plated
Spring lamb, aubergine compote, cheese and chive pomme croquette, port and cherry jus. British Eton
Mess- crushed meringues with cream and strawberries
Day 14 Lunch
Heritage tomato and burrata salad with balsamic glaze, olives, and a basil oil dressing Grilled
chicken, creamy mushroom linguine served with baby spinach and red vein sorrel
Dinner
Tuna tartare with fennel tops, pickled pink ginger and a sweet soy dressing Prawn orzo risotto with
monkfish and red snapper
Ribeye steak serve with truffled mushroom mac 'n' cheese, greens and baked beetroot puree Poached
pear, honey and mascarpone mousse with a oat crumble
Day 15 Lunch
Sweet potato & chickpea tikka masala, sticky coconut rice, mint raita and flatbread
Char-grilled halloumi, quinoa and puy lentil salad with plum tomatoes and romesco sauce
Dinner
Prawn orzo risotto with monkfish and red snapper
Corn fed chicken breast stuffed with roasted garlic and chestnut mushrooms, served with dauphinoise
potatoes, kale, smoked carrot puree and roast chicken jus
A selection of cheese and biscuits
NB.
All Lunch menu will be served with a selection of salads and cold buffet options, as requested.
All dinner menu can be started with an amuse bouche or canapes and finished with the option of ice
cream, sorbets, fresh fruit salad or platter, cheese and crackers or homemade cookies.
ll dishes can be adapted to suit dietary needs or requests. All menus are an example of the dishes
that will be severed and are subject to changed due the location and seasonal availability of
provisions.
Any celebrations, birthdays or religious occasions will be catered for appropriately. Charters over
the Christmas holidays will include a full traditional Christmas Turkey Dinner with all the
trimming, mince
pies, decorations and Christmas pudding, unless requested otherwise.
Ed Hamilton & Co. endeavors to provide the most up-to-date yacht information, availability and rate details, however, all information published on this site is subject to change without notice. Please contact us for the most current yacht information, availability and rate details.