Guests

10

Cabins

5

Model

Power

Year Built

2007
Additional Rate Information
Additional Rate Information
Additional Rate Information
For day rate use high rate divided by 6.
No delivery fees to Nassau for term charters of 5 days or more.
10 day minimum for Christmas / New Year's charter or a 1 week Christmas charter must end by Dec. 27 to accommodate any New Year's charter.
Location Details
Summer Area: USA – New England
Winter Area: Bahamas, USA – Florida
Captain – JD Ducanes
JD obtained his Bachelor of Science degree in Marine Biology from Florida Atlantic University. While attending FAU he became a dive instructor and went on to become a licensed United States Coast Guard Captain on a dive charter vessel out of Boca Raton. His natural progression into yachts began in the Caribbean in the early 1990's. In 1993, he became the project manager and Captain for a 105ft motor yacht built at Broward Marine in Ft Lauderdale, FL and remained Captain over the following four years. JD has been a project manager on four new yacht build projects and continues to manage vessels for clients. He has traveled extensively covering the Caribbean, Bahamas, East and West Coast of the US, Central America, British Columbia, Alaska and the Mediterranean. He is always excited to share his passion for the sea and warmly welcomes you aboard "Plan A".
Chief Stewardess – Nikola Cowie
With roots that stretch from Cape Town, South Africa to Sunny San Diego, California, Nikola has grown up amidst two vibrant cultures. An early love and fascination of people, diversity and travel prompted her to study a BA degree, majoring in Psychology and Sociology. Surrounded by the beautiful and internationally renowned vineyards of Stellenbosch University, Nikola developed a passion for food, wine and the hospitality industry. An avid streak for adventure saw her set sail for the seas where she found her course in yachting. Here, she tackles obstacles with little fear and eagerly embraces every experience as one in which to strengthen and grow. Nikola loves to keep fit and endure everything that life has to offer. Her ultimate goal is to deliver the highest quality of service and to ensure that your stay on board is not only excellent but unforgettable.
Chef – Nicholas Hedemann
Nicholas is well versed in global flavors acquired from extensive travel throughout over 30 countries. With 25 years of professional cooking, Nick has run the gamut of positions within the industry, as a hotel chef, executive chef for various restaurants, yacht chef and catering company owner. He has working privately as a freelance private chef throughout the entirety of his career. He began as a specialist in health supportive cuisine working directly with clients to best accommodate their dietary specific needs. He is well-versed in most all popular diets from macrobiotic, herbal enhanced cuisine, vegan, Keto, Paleo, Gluten-free, Celiac etc. as a caterer in wine country of California Nicholas has worked in hundreds of wineries spearheading farm to table events, large weddings, wine pairing dinners and otherwise general events throughout the nation on yachts or abroad. Nicholas enjoys a diverse spectrum of clientele, including celebrities, prominent families, wineries, and health practitioners.
2nd Stewardess – Amber Petroelje
Amber was born and raised on a farm in Holland Michigan where she developed a love for nature and an incredible work ethic. At the age of eighteen she moved to Hawaii to be a nanny and although she only planned on living there for a year, the island life sucked her in and she ended up staying for almost a decade. The ocean became a huge passion of hers and she spent many years working for a nonprofit organization where she was heavily involved in the education department, as well as with the research and conservation of humpback whales, sea turtles, dolphins and the Hawaiian marine life in general. During her time in Hawaii she attained a bachelor's degree in education and in her spare time she could often be found scuba diving, hiking, camping, or participating in a local triathlon. Over the years Amber has jumped at every opportunity to travel or move to new destinations, some of which include, New Zealand, Uganda, Alaska, Iceland, Europe and South East Asia. Throughout these adventures Amber spent time working at a winery where she was thrilled to gain knowledge and experience in the world of wine. She also spent time working as a barista where she was able to learn the skill of latte art and gain a knowledge of coffee that matched her enthusiasm for it. Yachting has provided her the opportunity to combine her love of high-end hospitality with the adventurous and traveling nature that the industry provides.
First Officer – Lee Couve
Lee is from a small surfer town called Ballito on the North Coast of Durban, South Africa. He studied International Marketing Management after school before starting his yachting career in 2013. Growing up and living on the coast Lee now considers the ocean as his home. He enjoys surfing when the swell is up and fishing on the calmer days.
Engineer – More info. coming soon.
Deckhand – Richard Le'tang
Richard was born and raised in sunny Durban. From an early age he participated in various sports including surfing, cycling and skateboarding. With a background in hospitality he has been conditioned to liaise with guests and work in demanding environments. He entered the yachting industry in 2017 and has been accumulating knowledge from his fellow team members ever since.
| | | | | |
| --- | --- | --- | --- | --- |
| Captain | JD Ducanes | American | 0 | |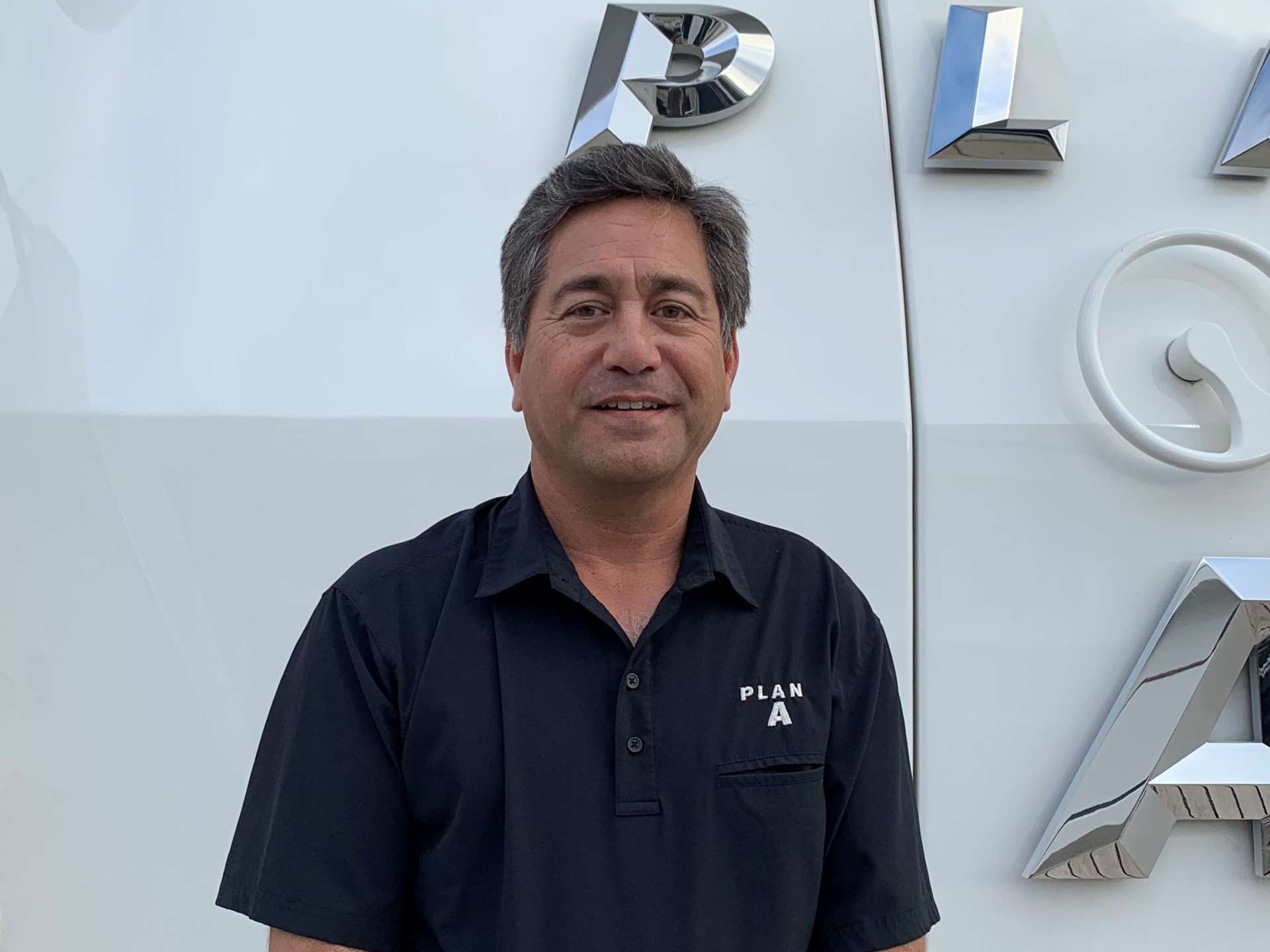 Captain
JD Ducanes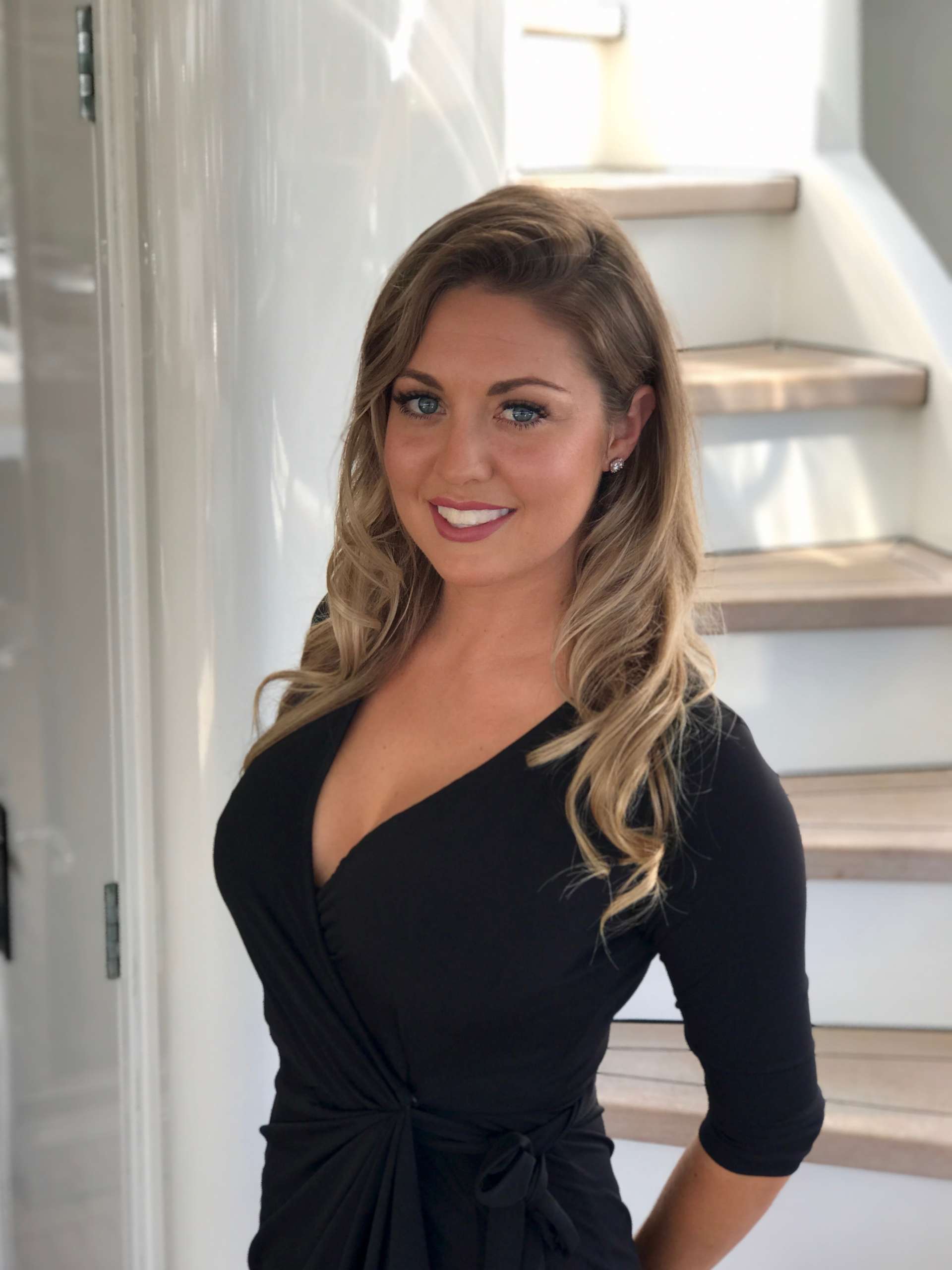 Chief Stewardess
Nikola Cowie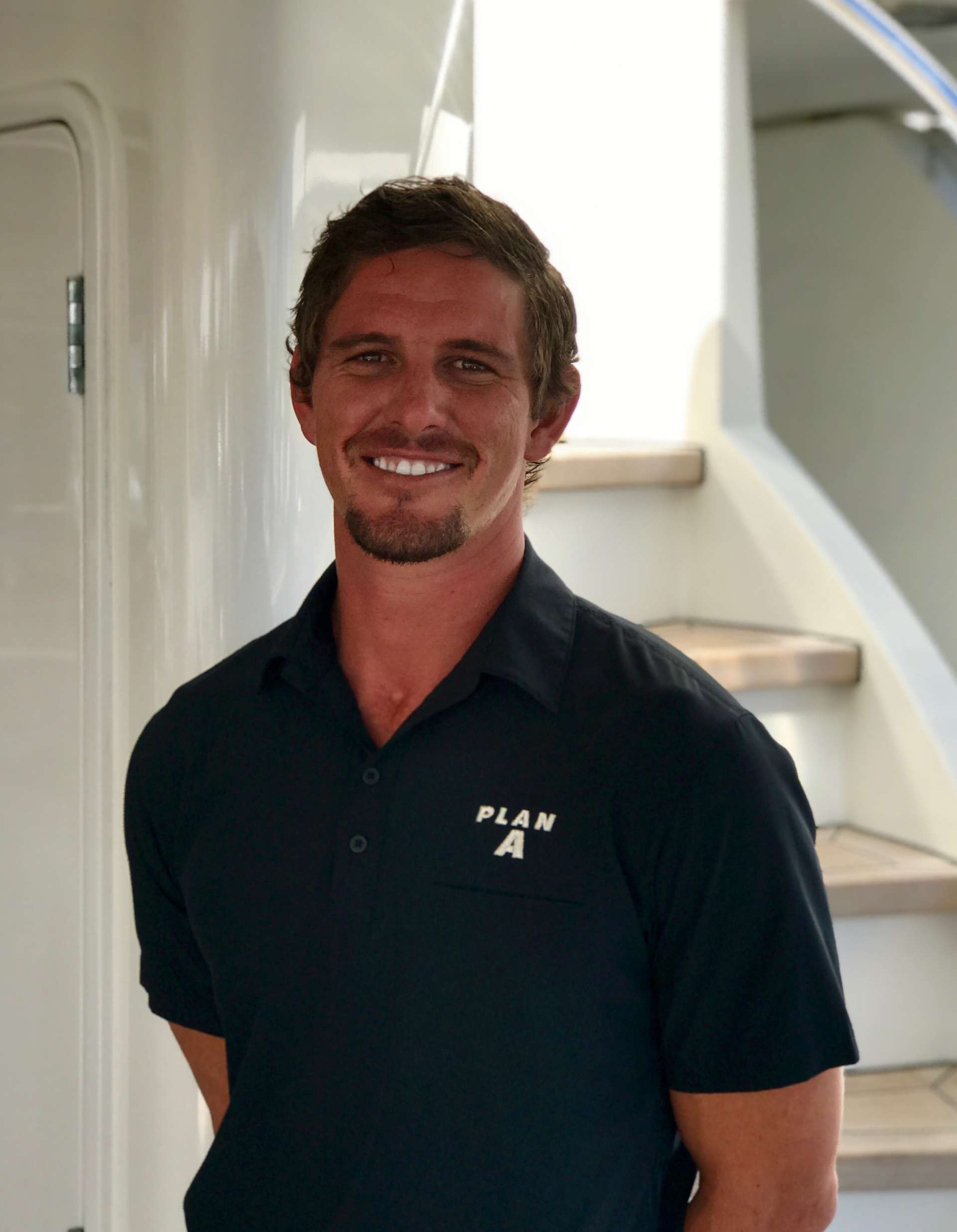 Engineer
Leo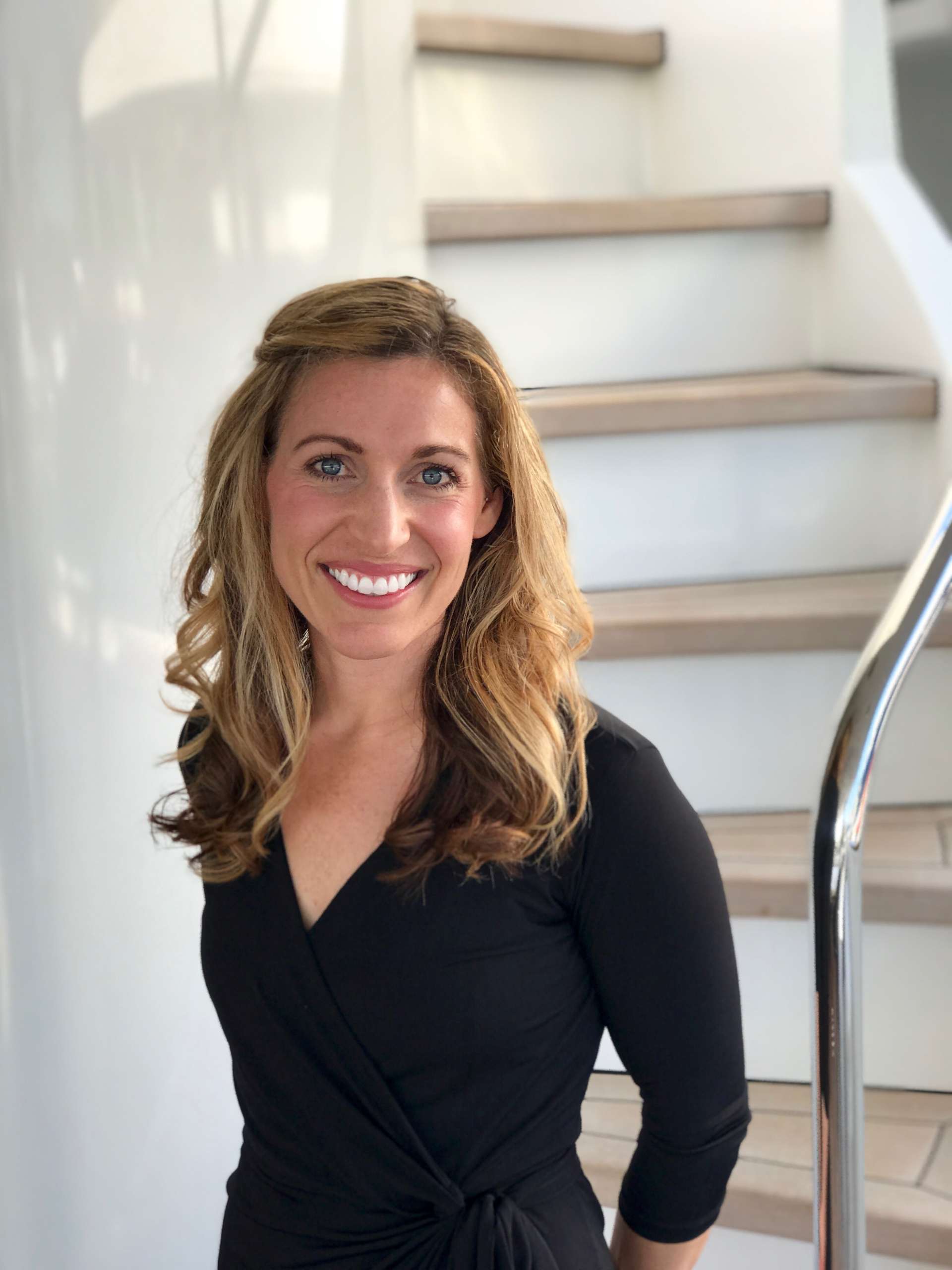 2nd Stewardess
Amber Petroelje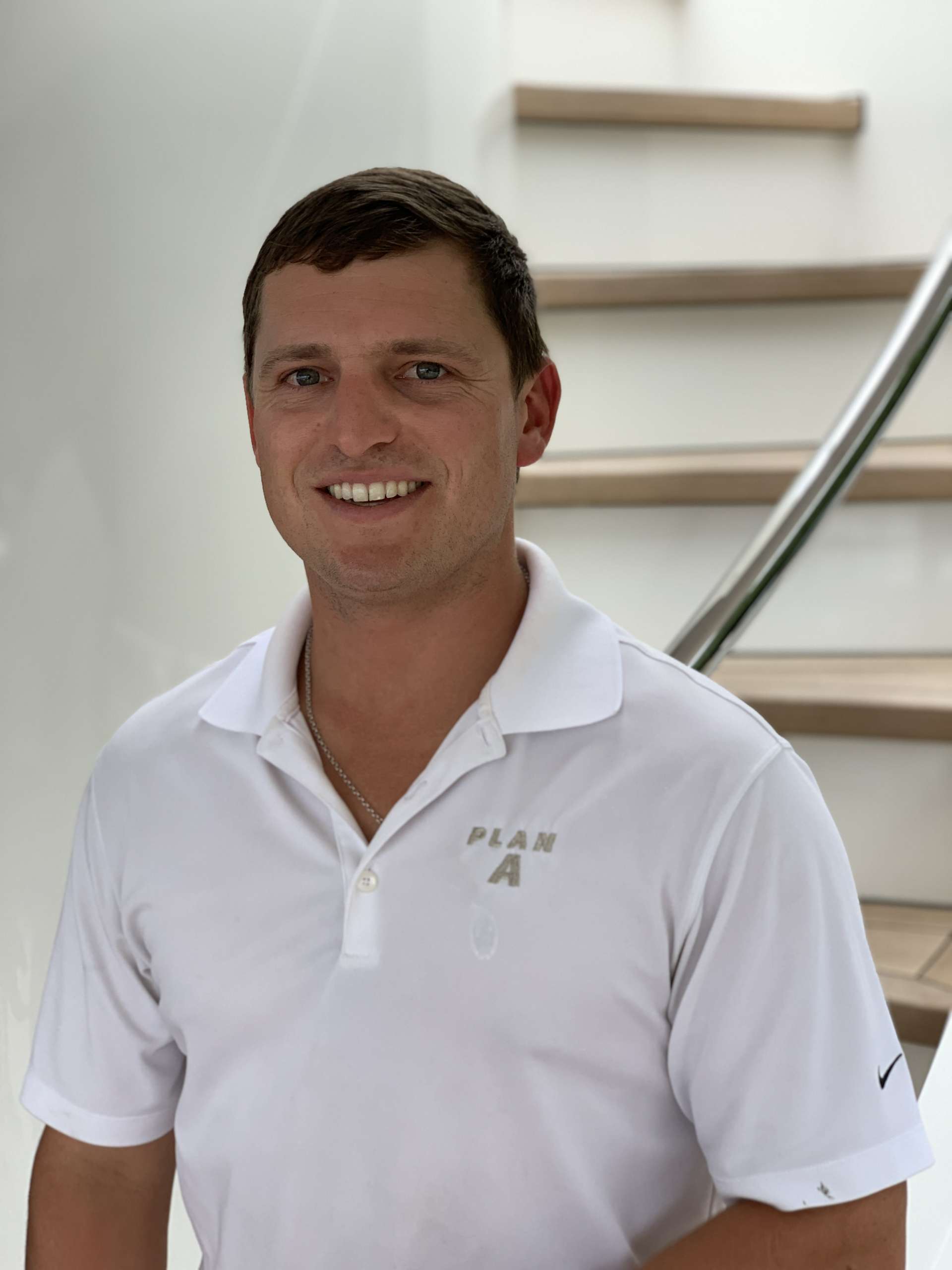 Mate
Lee Couve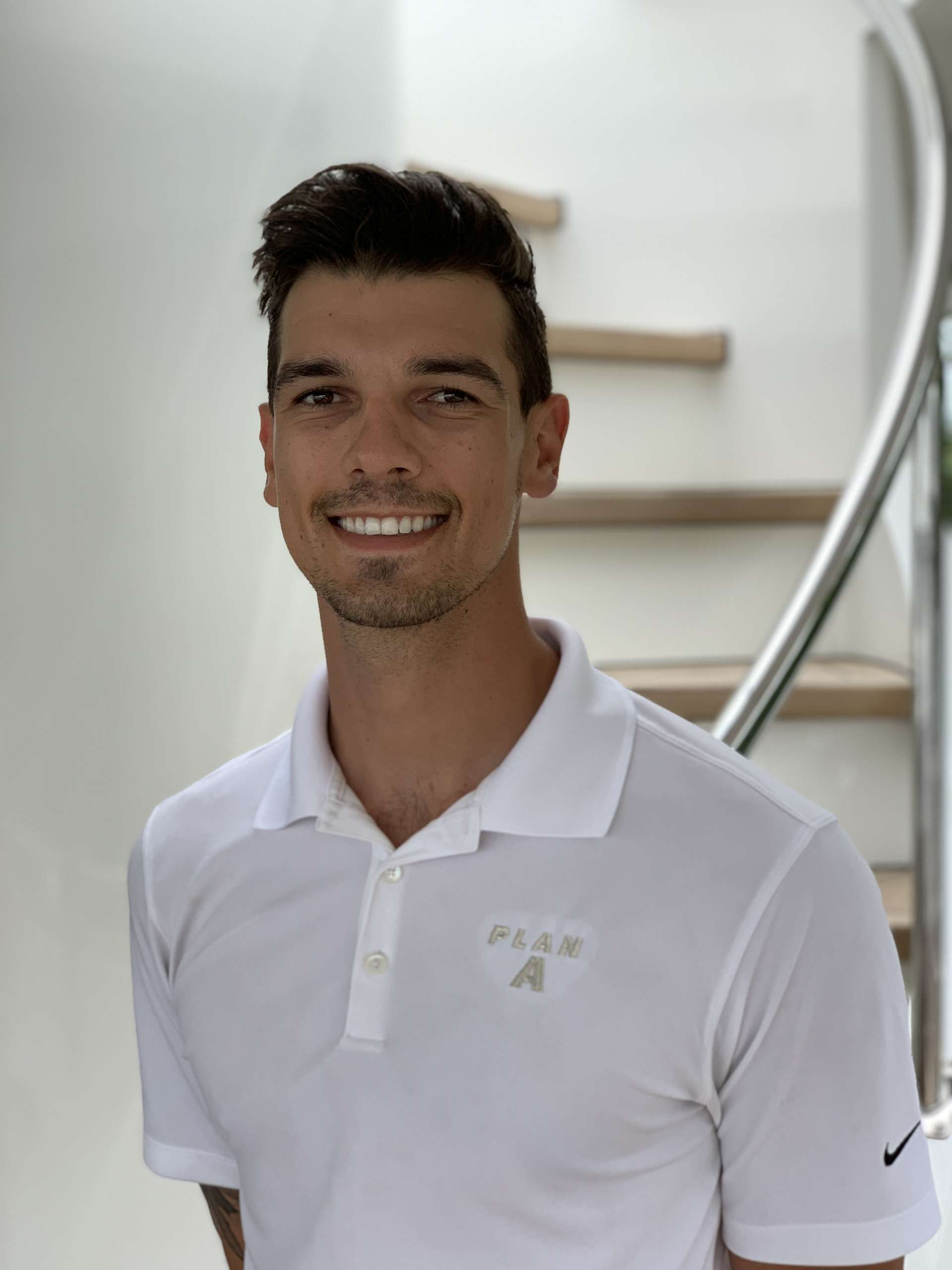 Deckhand
Richard Le'tang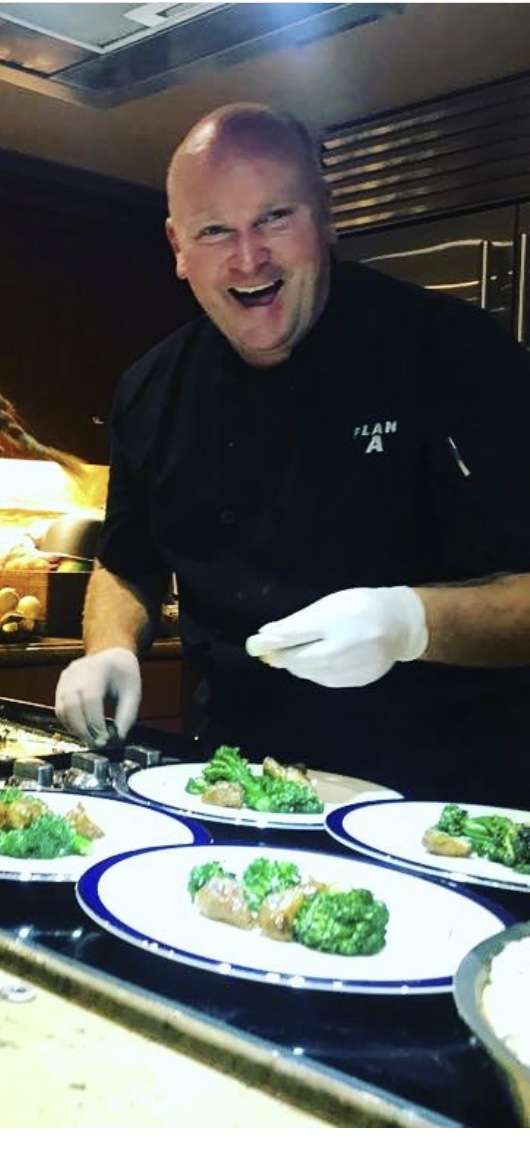 Chef
Nicholas Hedemann
Amenities
Generator
(2) Brand New Northern Lights
Leisure
Dinghy
34' Regulator Center Console Towed Tender
Dive Info
Rendezvous / Charterers Responsible for their own Diving Liability
Other Toys
34' Regulator Center Console Towed Tender
2 x Waverunners
2 x (2) Man Kayaks
Adult Water Skis, Kneeboard, Wakeboard
2 x Towing Tubes
Snorkel Gear - Adults & Kids
6 x Fishing Rods, Deep Sea Fishing
BBQ
Swim Platform & Boarding Ladder
Deck Shower
Sun Awnings
Elliptical machine
Stationary bike

1 Master Stateroom en suite with King bed (on Main Deck)
Below Main deck:
2 X Guest Staterooms en suite with King Beds
1 Guest Stateroom en suite with Queen bed
1 Guest Stateroom en suite with Twin beds (one of which can be folded away like a pullman to make space for exercise equipment or cot)
Day 1
Continental breakfast bar
Coffee, tea selection, fresh fruit platter, whole grain granola yogurt,
and milk, whole grain bread, assorted jam, and sweet whipped butter
"Italian-­‐ toast" Pantone served flambé With brandy sautéed pears & zabaglione
Strawberry papaya w/ lavender honey, toasted macadamia nuts
Thai Indo-­‐Chinese Buffet or family style lunch
Som Tom – Arugula, Napa cabbage, shredded green papaya, Thai chilies,
Cherry tomatoes and peanuts tossed in a Kafir lime-­‐rice vinegar fish sauce vinaigrette.
Grilled butterflied flank steak medallions – Marinated with lemongrass,
ginger, soy-­‐chili, cilantro and scallions Ponzu Demi glace.
Crispy fish – Mirin marinated Swai filets Sweet chili fish stock gastrique Basil and green onion.
Rice noodle with shrimp tomato julienne veg coconut green curry Pasilla peppers, cilantro.
Wok fry Chinese long bean with basil garlic peanut and Oyster mushrooms
Appetizers
Beer battered cod with kosher pickle aioli
Sesame seared Ahi Tuna, wonton cup, spiced slaw, and wasabi cream
Dinner
Mixed greens & matchstick vegetables w / Sesame ginger miso vinaigrette Braised tofu, cashews,
scallions, diakon radish.
Sumac roasted duck breast medallions, Pumpkin spoon bread,
petite vegetable medley, Sauternes reduction, Champagne grapes.
Dessert
Chocolate-­‐chocolate tart w/ vanilla bean whipped cream
Chocolate curls, & raspberry garnish
Day 2
Continental breakfast bar
Coffee, tea selection, fresh fruit platter, and whole grain granola
Yogurt, and milk, whole grain bread, assorted jam, and sweet whipped, butter
Zucchini frittata with mozzarella and cheddar, caramelized onions, Baked with fresh organic eggs
Arrugula with mustard seed tarragon vinaigrette Pickled red onions and bacon lardons
Lunch
Italian vegetable ciabatta
Grilled vegetable medley on ciabatta bread- Zucchini, bell peppers, red onion,
Portobello mushrooms Marinated and grilled, mozzarella, arrugula and pesto
Mixed green salad with white balsamic vinaigrette, pine nuts, chevre Sweet 100 tomatoes, French
green beans, balsamic cured shallots & basil
Appetizers
Lamb, chic pea and coriander kofta w/ mint pesto
Samosa of chicken curry, apple caramelized carrot and onion With a coriander mango chutney
Dinner
Golden tomato soup, basil, panko sautéed chevre, basil oil
Alaskan king salmon
White asparagus, potato vichyssoise sauce Beluga lentils, watercress, cress coulis
Dessert
Banana trifle
Yellow cake, banana
Vanilla custard, Frangelico caramel Whipped cream, shaved nutmeg
Day 3
Continental breakfast bar
Coffee, tea selection, fresh fruit platter, and whole grain granola
Yogurt, and milk, whole grain bread, assorted jam, and sweet whipped butter Sweet brown rice w/
spices & stewed figs, dates & plums
Assorted toasted bagels
Smoked salmon platter, tomato, caper, cured red onion, Dill-­‐Dijon cream cheese
Egg salad, with avocado and radish
Lunch
Nicoise salad, Seared tuna, Haricot vert, Nicoise olives Pickled red onions, egg, anchovies, butter
lettuce
Ham n' cheese – Gruyere, black forest ham, Brie,
Tomato, aioli, caramelized onion, sourdough
Cena Toscana
L'Antipasti
Prosciutto ham, soppresatta "Yerba Santa" chevito goat cheese
Assorted olives, cured crimini Cena Toscana
Fegato – Tuscan Pate' of chicken, Caper, anchovy, grilled bread, olive oil and Crostini
L'primo
Panzanella-­‐ Wild arrugula, foccacia croutons, pignolis White balsamic vinaigrette with truffle
oil and Pecorino cheese
Secondi e Contorni
Ribollita -­ Tuscan stew or cannellini beans, mire poix
Pancetta wrapped roasted squab
Muscato and game reduction, wild rice with herbs & chestnuts, Braised escarole & Tuscan kale
Dolce
Zuccotto Allo Zafferno
Amaretto sponge cake with Saffron cream
Day 4
Continental breakfast bar
Coffee, tea selection, fresh fruit platter, and whole grain granola,
Yogurt, and milk, whole grain bread, assorted jam, and sweet whipped butter
Eggs any style
Roasted red potatoes with rosemary and garlic Diced onions, and spices
Pork breakfast sausage patties
Made with sage, maple syrup and steel cut oats
Lunch
Radicchio di Treviso, frizeé, endive, cambozola cheese en croute, Marcona almonds, lavender
hydrosol honey vinaigrette,
Semolina mahi mahi – Buttermilk marinated Dipped in semolina flour, sautéed and served with
Boiled and grilled yucca with a Meyer lemon chicken stock buerre blanc, Prosciutto, snap peas, pea
shoots, pecorino cheese, roasted lemon segments, peas
Appetizers
Marinated eggplant
Wrapped in southwest seasoned bacon with Chipotle aioli
Braised tri-­‐tip meat empanadas Smoked tomato coulis
Dinner
Carpaccio of Filet Mignon, Truffle aioli Seared capers, Mache & shaved Parmesan
Mushroom duxelle stuffed chicken breast
Cherry port beef demi, Sautéed wild mushrooms, Lemon steamed carrots Garlic sautéed broccoli rabe
Dessert
Triple chocolate tart Frangelico cream
Jasmine lemongrass simple syrup
Day 5
Continental breakfast bar
Coffee, tea selection, fresh fruit platter, and whole grain granola
Yogurt, and milk, whole grain bread, assorted jam, and sweet whipped butter
Spiced buckwheat pumpkin pancakes
Sautéed bananas w/Barbados Rum maple syrup Whipped nutmeg butter
Omelet bar classic omelets, & egg white meringue omelets Prepared accompaniments, vegetables, meats
& cheeses
Roasted bacon
Lunch
Mixed greens and romaine lettuces Pink peppercorn and sherry vinaigrette
Roquefort cheese, pickled red onions and beets
Dungeness Crab cannelloni
Champagne crab bisque sauce, grilled asparagus Finished w/ minced tomato and fennel
Appetizer
5 spiced rock shrimp rice chips, Asian micro mix, and Bonito habanero aioli Pumpkin and wild rice
waffles w/ mushroom walnut pate
Duck strudel Mandarin ginger coulis
Dinner
California Capresse salad, Heirloom tomato varieties Watercress, shredded mozzarella, basil oil
White balsamic, black salt
Porcini & pink peppercorn encrusted rack of lamb Zinfandel demi-­‐glace, rosemary garlic mashed
potatoes Sautéed vegetable medley
Dessert
Meyer lemon cheesecake, golden kiwi coulis Kafir lime leaf chiffonade
Day 6
coffee, tea selection, fresh fruit platter, and whole grain granola,
Yogurt, and milk, whole grain bread, assorted jam, and sweet whipped butter
Citrus supreme
Ruby grapefruit, navel orange & mandarin segments
Fresh baked banana, bran & walnut muffins w/ ginger molasses butter Pumpkin bread w/ nutmeg butter
frosting
Avocado & egg tacos,
Fresh tortillas, egg & avocado salad, salsa verde, queso fresco Served with black bean salad &
cilantro Napa cabbage slaw
Lunch
Gazpacho, avocado mousse, chilies, cucumber Parisian ball
Braised and smoked brisket, rye bread, horseradish crème fraiche, watercress Caesar salad with
foccacia Nori croutons, Parmesan reggiano, Anchovies
Appetizer
Purple Peruvian potato, smoked sturgeon, crème fraiche, beluga caviar Buttermilk crepes filled with
Lemon verbena poached Alaskan salmon
Dinner
Petite arrugula, toasted pine nuts, Parmesan shaved, truffle vinaigrette
Juniper & thyme roasted loin of Venison Blackberry wine reduction, wild asparagus Wild rice
timbale, chanterelle flan
Dessert
Raspberry sorbet
Gingersnap cup, fresh berries, mint
Day 7
Continental breakfast bar
Coffee, tea selection, fresh fruit platter, and whole grain granola, 
Yogurt, and milk, whole grain bread, assorted jam, and sweet whipped butter
Braised Italian sausages, bell peppers, fennel, escarole & cipollini onions Creamy polenta with
feta and rosemary broiled eggs & grilled franchisee bread
Lunch
Stir fried soba noodle, wakame seaweed, julienne poblano peppers, and cilantro, Chinese cabbage
Five spiced hoison baby back ribs
Tempeh salad, Tamari and agave baked tempeh croutons Seared baby shiitake caps, mung sprouts, and
cherry tomatoes Mizuna and Tot soi w/ mustard seed flax oil vinaigrette
Appetizer
Smoked Salmon, English cucumbers, shallots Nasturtium cream, capers & dill
Chorizo and pimento stuffed squid with Marsala butter sauce
Dinner
Fennel and chevre flan Petite greens with gewürztraminer vinaigrette Honey toasted almonds & Bosc
pear
Cold seafood platter
Cajun seasoned gulf prawns, and stone crab claws, accompanied with Spiced cocktail sauce
& pimento aioli, Crab Louis in endive leaf, Thousand island dressing, diced tomatoes. Ahi tartare
sesame wontons, wasabi cream, oysters with mignonette
Broiled halibut, Alaskan red shrimp
Shrimp roe beurre blanc, tomato gastrique Verbena poached white asparagus, celeriac bruniox
Dessert
Apple tartin, vanilla ice cream, brandy caramel, Himalayan salt
Day 8
Continental breakfast bar
Coffee, tea selection, fresh fruit platter, and whole grain granola
Yogurt, and milk, whole grain bread, assorted jam, and sweet whipped butter
Eggs Florentine
Poached organic eggs over steamed spinach
Whole wheat English muffin topped w/ yogurt hollandaise Kalamata Greek turkey sausage
Lunch
Shiitake salad Lightly smoked baby shitake mushroom caps w/ tender greens, tomato concassé, pearl
onions, candied pecans & avocado, tossed in a creamy roma tomato dressing
Yellow tail snapper, curry beurre blanc Cucumber, tomatillo, tomato, salsa, crispy yams Jasmine
rice w/spinach& nigella seed
Appetizer
Gnocchi al Romana quarter sized rounds topped with Gorgonzola & sage
Fresh vegetable crudités
Assorted raw & blanched vegetable medley
Asparagus, summer squash, spring onions, Portobello mushrooms Tri colored peppers. Sugar snap peas,
French green beans Carrots, radishes, Belgium endive, served on a bed of purple kale Romesco
sauce, Goat cheese ranch dressing
Dinner
Lobster bisque, cream fraiche, red pepper and smoked paprika oil Braised short ribs
Cognac mushroom sauce, fresh fava beans
Purple Peruvian potatoes, spring onions
Dessert
Mango sorbet, passion fruit Pavlova meringue, kiwi coulis, star fruit
Kids Menu
Pizza station: Made to order pizzas, with the toppings and cheese
Panko crusted buttermilk chicken tenders
Baked macaroni and cheese
Spaghetti with meatballs
Chicken and kale fritters
Turkey meatloaf, chicken gravy, mashed potatoes, peas and carrots
Roasted lamb, mint jelly, French fries, broccoli
Turkey schnitzel, spaetzel with brown butter, green beans
Minestrone soup, pesto with bruschetta
Matzo ball soup with rich chicken stock
Taco -­‐fajita platter, Spanish rice, black beans
Sweet and sour prawns, vegetable stir fry with brown rice
Ed Hamilton & Co. endeavors to provide the most up-to-date yacht information, availability and rate details, however, all information published on this site is subject to change without notice. Please contact us for the most current yacht information, availability and rate details.