Guests

6

Cabins

3

Model

Cat

Year Built

2022
Additional Rate Information
Additional Rate Information
Charter Rates Per Week
| Rate Period | Terms | 2 Guests | 3 Guests | 4 Guests | 5 Guests | 6 Guests |
| --- | --- | --- | --- | --- | --- | --- |
| Summer 2023 | Inclusive | $15,000 | $15,500 | $16,000 | $16,500 | $17,000 |
| Winter 2023 to 2024 | Inclusive | $15,750 | $16,275 | $16,800 | $17,325 | $17,850 |
| Summer 2024 | Inclusive | $15,750 | $16,275 | $16,800 | $17,325 | $17,850 |
Additional Rate Information
CREW GRATUITY:  It's customary to tip your crew at the end of the charter, crew gratuity is not included the rates. The custom for good service is 15%-20% of the charter fee.
MINIMUM NIGHTS: 5
For 6 night charters, divide weekly rate by 7 nights X 6 nights.
For 5 nights or less, divide weekly rate by 6 nights X number of nights.
CURRENT SPECIAL: Charters booked and completed on BOKETTO between now and July 31st, 2023 will receive a 20% reduction off of the current charter rate. For the discount to apply, the charter must have a minimum of 5 nights. This special cannot be combined with other offers.
HALF-BOARD OPTION:
7 nights ($150 off per person) – Includes 7 breakfasts, 4 lunches & 3 dinners aboard – with all other meals to be taken ashore at client expense
2@$14,700 | 3@$15,050 | 4@$15,400 | 5@$15,750 | 6@$16,100
LOCAL FARE MEAL PLAN OPTION:
7 nights ($75 off per person) – Includes: 7 breakfasts, 5 lunches & 6 dinners. Requires 2 lunches and 1 dinner ashore at client expense.
2@$14,850 | 3@$15,275 | 4@$15,700 | 5@$16,125 | 6@$16,550
SLEEP ABOARD: Available for half of the daily rate. Includes boarding after 4pm, snacks, welcome cocktails & continental breakfast. Dinner ashore is additional. Select option upon booking. EXCLUDES: Christmas and New Year's weeks.
CHRISTMAS 2023: 7 night minimum, 2-6 guests $22,000 – full-board only. Must end by 12/26.
NEW YEARS 2023: 7 night minimum, 2-6 guests, $23,000 – full-board only. May not start prior to 12/27.
Location Details
Summer Area: Caribbean Virgin Islands (US)
Winter Area: Caribbean Virgin Islands (US)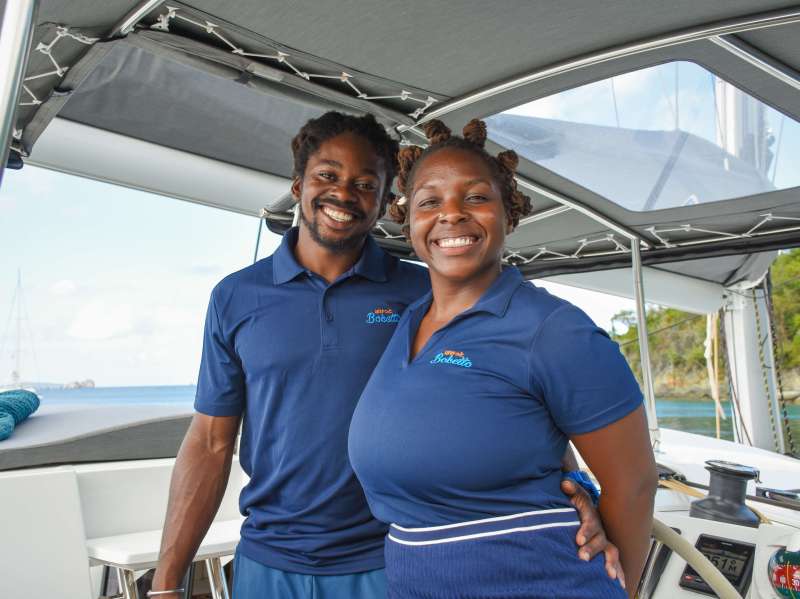 Capt. Lukata Samuel
Lukata Samuel is a 100 ton Master Captain born and raised in the beautiful Virgin Islands with endless knowledge of the Virgin Island and surrounding islands. He began sailing at 8 years old at the St.Thomas Yacht Club where he found a love for sailing and continued learning and teaching . With his mind set, Lukata traveled to St. Vincent and Grenadines to teach sailing to the local youth. After this, he then began working on day charters in the Virgin Islands as well as in Puerto Rico.
Aside from sailing, Lukata is a locally known runner and triathlete and has competed in multiple triathlon events in the Virgin Islands and Puerto Rico. In their down time Lukata and Benita can be found competing in sailing races, volunteering in the local community as well as basking in the sun at some of their favorite hidden beaches. You can also catch them at the sailing and wellness program where they provide the fundamentals of sailing as well as the building blocks to a healthy lifestyle to the youth of St. Thomas.
Lukata has a passion for sharing the beautiful island experience with his guest while they indulge in the Caribbean lifestyle. He is determined to push the bounds of the ocean and create a tropical oasis experience for the guests. Lukata brings a diverse package to every charter. He provides farm fresh provisions, special Island tours, local eateries, local artists and much more to bring you deep into the islands food, fun, and culture . He loves it when his guest have a dream like island experience as this has been his pleasure and pride of his . "The purpose of life, after all, is to live it, to taste experience to the utmost, to reach out eagerly and without fear for a newer and richer experience" a quote that he strongly leads his life by. Come be Irie and catch the wind of wonders on Boketto as Captain Lukata sets sail on a lifetime experience in the Virgin Islands.
Chef Benita Marshall
Captain & Chef Benita Marshall is a flare of bright energy and a lover of sunset swimming & fresh pesto. With 2+ years of experience and upwards of 1000 nautical miles on near coastal waters as well as carrying her USCG Master 100 ton, Benita truly feels one with the ocean and is has surrendered to wherever the waves take her. Hailing from all over the Caribbean with family roots in several islands from Cuba to Trinidad, Benita considers herself "your local island explorer" of food, fun, culture and of course waves.
Benita comes alive in the kitchen and has the best time making art in the galley. With over 5 years in the culinary and restaurant industry, Benita is well versed in various diets and allergies, and believes that whatever you put into your body, should always make you feel better. "Making sure the guests dance when they eat" has always been her thrill and something she looks forward to when preparing delicious food. Benita and Lukata also help operate their local family farms of Meder Mogzit and Greenridge Guavaberry and provide a "farm to table" approach to dining so the freshness and love will always be tasted.
Rising to the motion of the ocean and the light of the sun is always something Benita wants to do for the rest of her life. Benita is a certified yoga and pilates instructor and believes that health is truly wealth, so mindful movement, meditation and breathing are some the things she loves to connect with her guests on. Benita is passionate about feeding the spirit within as well as having fun almost every second of her life, so you probably find her in prayer and meditation at 6am to doing flips off the boat 3 hours later.
Benita and Lukata offer a wide range of activities from farm tours, historic hikes to meeting with local musicians and artists as well as memorable experiences off land for all their guests to take as intangible souvenirs. With their Caribbean essence, Lukata and Benita indulge their guests in a behind the scene experience of culture, food, fun and the true "island life".
| | | | | |
| --- | --- | --- | --- | --- |
| Captain | Lukata Samuel | US | 1996 | |
| Crew | Benita Marshall | US | | |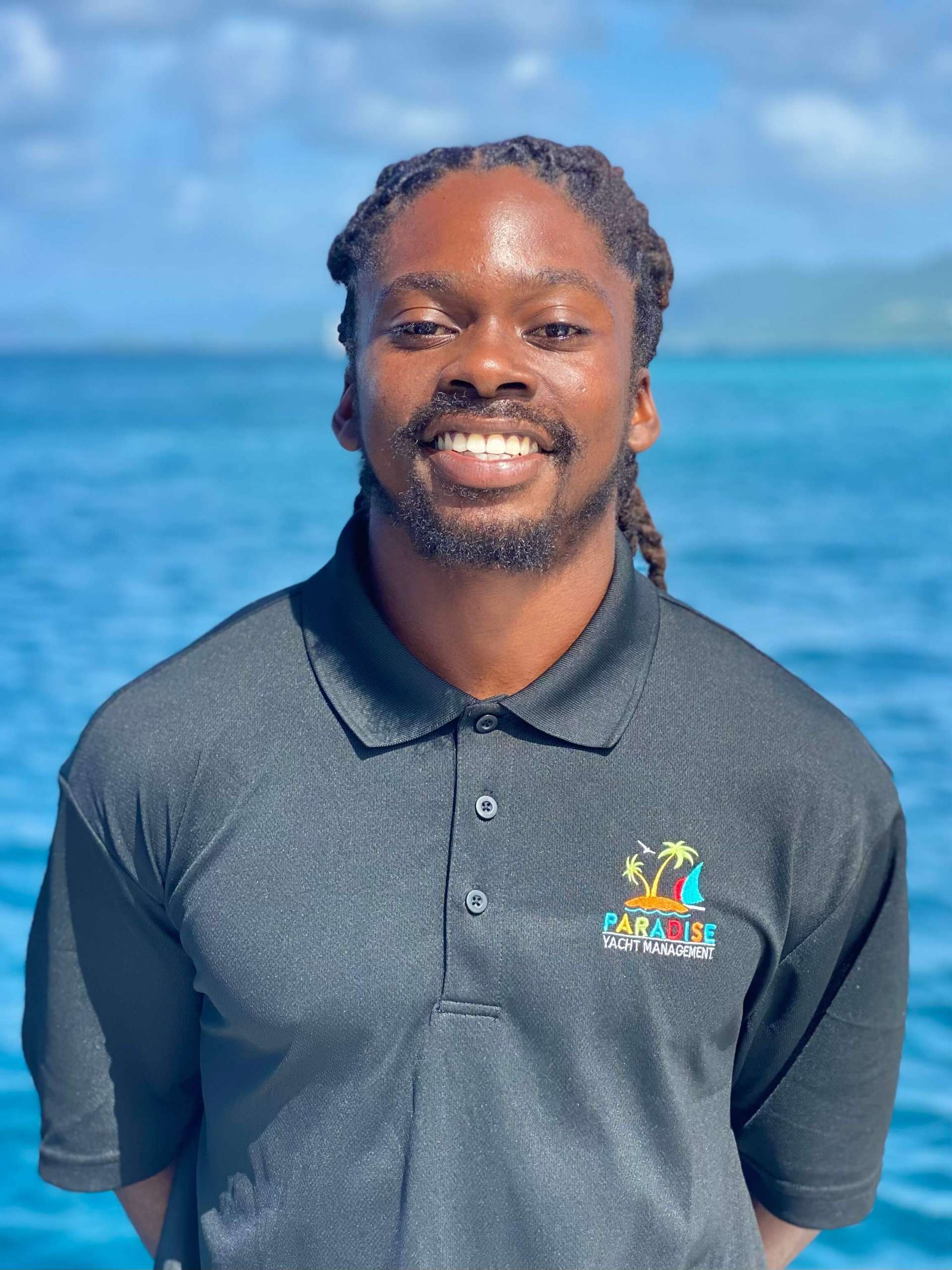 Captain
Lukata Samuel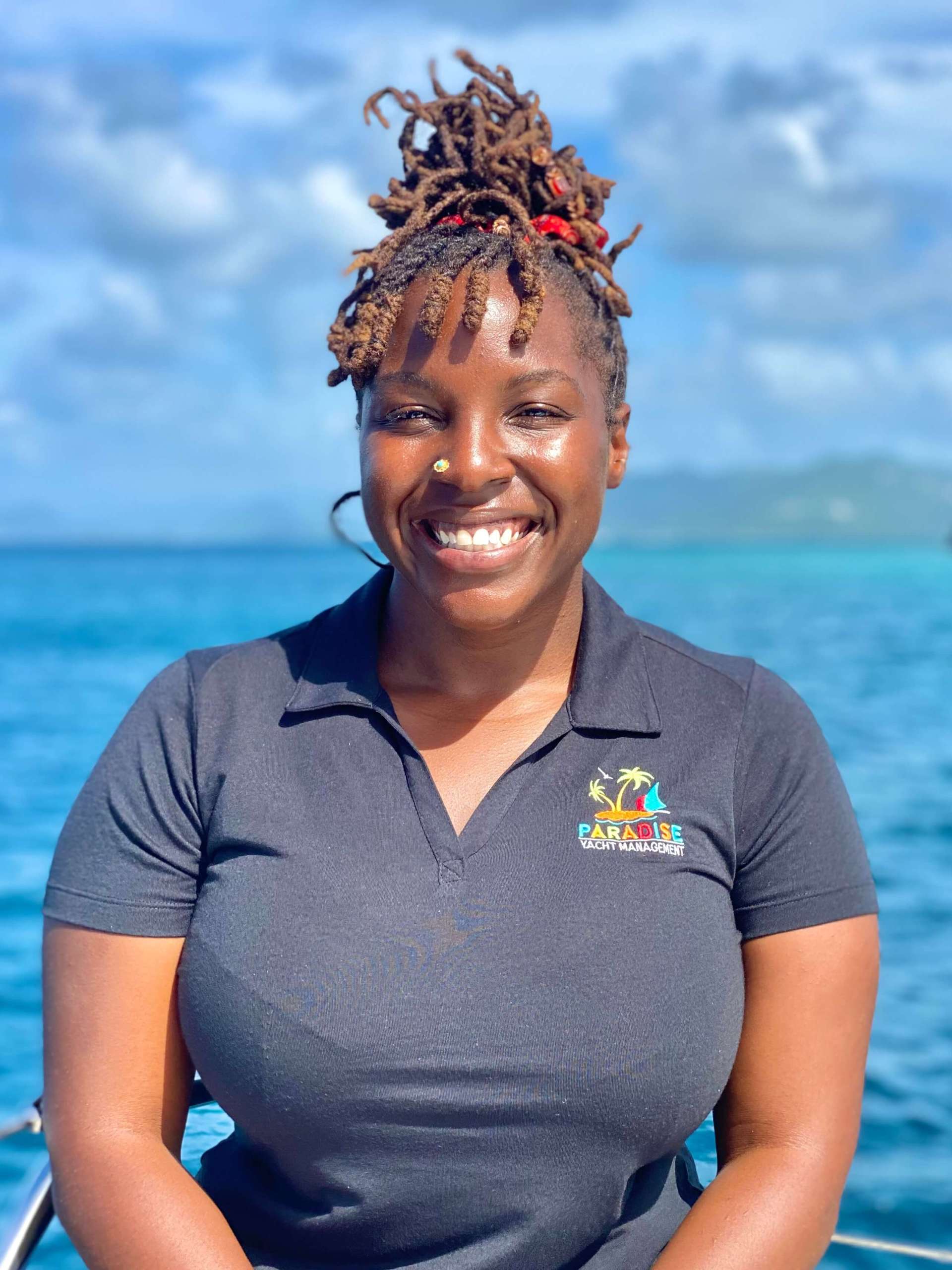 Chef/First Mate
Benita Marshall
Amenities
Generator
9KW 50 hz genset
General
Guest Smoke
aft scoop steps only
Other Specs
Turn Around
48 hrs preferred, Inquire for
Fish Gear Type
Trolling and Casting
Green Other
Organic and local produce when available. Bio-friendly cleaning products.
Scuba Onboard
Yacht offers Rendezvous Diving only
**There are only 2 showers on this vessel. Crew stay in starboard aft cabin. There may be instances where the crew will need to use the starboard shower that the guests use. Each cabin has it's own heads & sinks. See layout for more details.
Bimini for helm station
Exterior window blinds for saloon
Foredeck cushions
2 bow seats
Saloon table converts into a bed
Garmin 2 smart cruising Autopilot
Radar
90 liter freezer
Cockpit fridge
Gas oven
Dishwasher coming soon
4 electric head large bowl
4 electric fans
Air conditioning and heating
9KW 50 hz genset
We will do after market fresh water maker. Boat will be fitted with the intake
Automatic Mainsail hook
Windless chain control counter
Electric winch for Genoa sheet
Electric da it winch
MP10. Life raft
DAY BREAK
Banana Oat Pancakes & Hickory Smoked Bacon, Hickory Smoked Bacon, Bananas, Oats, Strawberries, Blueberries, Butter, Pecans, Whipped Cream & Honey Served With Avocado & Mango Smoothie
Egg & Smoked Sausage Breakfast Wrap, Eggs, Smoked Sausage, Organic Wild Spinach, Mushrooms, Onions, Wheat Tortilla Served With Organic Fruit Parfait
Smoked Sausage Vegetable Frittata, Flour, Nutritional Yeast, Heavy Cream, Potatoes, Zucchini, Organic Wild Spinach, Onions, Olive Oil, Served With Banana & Blueberry Smoothie
Sugar-free Carrot Cake Breakfast Bowl, Carrots, Blueberries, Gluten Free Oats, Oat Milk, Flaxseeds, Walnuts , Peanut Butter Served With Organic Sea Moss & Banana Smoothie
Butterbean Egg & Stripped Organic Chicken Scramble Breakfast Bowl, Organic Chiken Breast,butter Beans, Eggs, Onions, Garlic, Nutritional Yeast, Whole Wheat Toast , Cherry Tomatoes, Bell Peppers, Avocado, Sesame Seeds, Served With Strawberry & Blueberry Oat Smoothie
Chicken & Mango Waffles, Organic Chicken Breast, Buttermilk, Paprika, Cilantro, Salt, Mango, Wheat Flour,cinnamon, Butter, Eggs, Vanilla, Served With Peach Pineapple Smoothie
MIDDAY
Summer Pasta Salad, Chicken Breast, Whole Wheat Gluten Free Pasta, Cherry Tomatoes, Onions, Peppers, Garlic, Olive Oil, Fresh Parsley, Black Olives, Nutritiona Yeast, Feta Cheese, Served With Garlic Toast
Ramen, Beef, Ramen Noodles, Garlic, Carrots, Boiled Egg, Bok Choi, Sesame Seeds, Siracha, Maples Syrup
Curry Salmon Mango Habanero Potato Chick Pea Bowl, Potatoes, Organic Chick Peas, Organic Wild Spinach Jasmine Rice, Onions Peppers, Curry, Coconut Milk
Wild Caught Salmon Veggie Burgers, Wild Caught Salmon, Carrots, Cauliflower, Sautéed Onions & Mushrooms, Tomatoes, Spicy Mayo, Toasted Brioche Bun, Served With Oven Garlic Basil Roasted Potato Wedges
Wild Rice Greek Buddha Mahi Bowl, Organic Wild Rice, Black Olives, Feta Cheese, Oliv Oil, Pan Seared Mahi, Tomatoes, Red Onions, Fresh Basil
Salad Of The Day Charcuterie & Cheese Board
SNACKS
Fish Tacos, White Fish, Cabbage, Onions, Fresh Cilantro, Lime, Avocado, Fresh Mint Basil, Served With Infused Mint Limeade
Curried Chickpea Salad, Chickpeas, Green Onions, Bell Peppers, Mayo, Celery, Carrots, Garlic Quinoa, Lettuce, Feta Cheese, Served With Fresh Ginger Ice Tea
Salad Of The Day
Salmon Poppers, Wild Caught Salmon, Flour, Served With Garlic Basil Potato Wedges Crispy Cheesy Potato Sticks, Potatoes, Corn Starch, Parmesan, Salt
Charcuterie & Cheese Board
MAIN
Salmon Teriyaki Veggie Lo Mein, Lo Mein, Wild Caught Salmon , Broccoli, Onions, Mushrooms, Teriyaki Sauce, Soy Sauce
Trinidadian Doubles , Curried Chicken & Potatoes And Chick Peas, Coconut Barra Patties
Shrimp Enchilada Stuffed Peppers, Bell Peppers, Organic Yellow Rice, Onions, Tomatoes, Corn, Black Beans, Cheddar Cheese, Mozzarella Cheese, Avocado
Mahi Greek Salad, Fresh Mahi, Cucumbers, Cherry Tomatoes, Organic Quinoa, Feta Cheese, Red Onions, Olive Oil, Olives, Fresh Parsley, Served With Garlic Basil Toast
Crispy Spicy Salmon Poke Bowl, Wild Caught Salmon, Carrots, Sushi Rice, Spicy Mayo, Purple Iceberg Lettuce , Avocado , Sesame Seeds, Onions
Creamy Lobster Stuffed Puffs, Fresh Lobster, Bell Peppers, Onions, Cilantro, Organic Wheat Flour Dough
Creamy Garlic Wild Caught Salmon Risotto , Wild Caught Salmon, Organic Risotto, Garlic, Heavy Cream, Mushrooms, Broccoli, Onions, Cilantro
DESSERT
Banana Mango Sorbet, Organic Bananas, Mango, Coconut Milk, Agave
Vegan Berry Lime Cheesecake, Raw Cashews, Mixed Berries, Walnuts, Almonds, Dates, Lime Zest , Lime Juice, Coconut Oil, Fresh Mint
Peanut Butter & Chocolate Rice Crispys , Organic Peanut Butter, Maple Syrup, Rice Cereal/flakes, Organic Bananas, Dark Chocolate, Served With Vegan Vanilla Bean Ice Cream
Berry Ice Cream Bars, Coconut Cream, Strawberries, Black Berries, Blueberries, Coconut Yogurt
Vegan Banana Bread Pudding, Bananas Almond Milk, Maple Syrup, Quick Oats, All Purpose Flour, Served With Banana Sorbet
ALCOHOLIC BEVERAGES
Blood Orange Mimosa
Blood Oranges, Champagne, Simple Syrup Sour Whiskey, Bourbon, Fresh Lemon & Mint , Simple
Syrup Berry Sangria
Red Wine, Brandy, Strawberries, Blueberries, Blackberries
Lemon Corona Sunset
Corona, Tequila, Orange Juice, Grenadine, Lime
NON-ALCOHOLIC BEVERAGES
Limeade, Lemons, Limes, Fresh Mint, Cane Sugar, Spring Water Hibiscus Ginger , Fresh Hibiscus ,fresh Mint, Fresh Ginger , Cane Sugar, Spring Water Celery Mint, Organic Celery, Organic Mint, Cane Sugar, Spring Water
Ed Hamilton & Co. endeavors to provide the most up-to-date yacht information, availability and rate details, however, all information published on this site is subject to change without notice. Please contact us for the most current yacht information, availability and rate details.